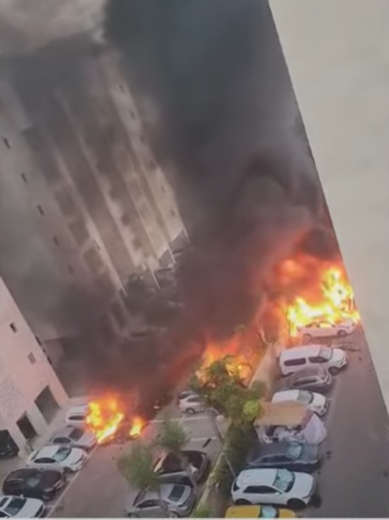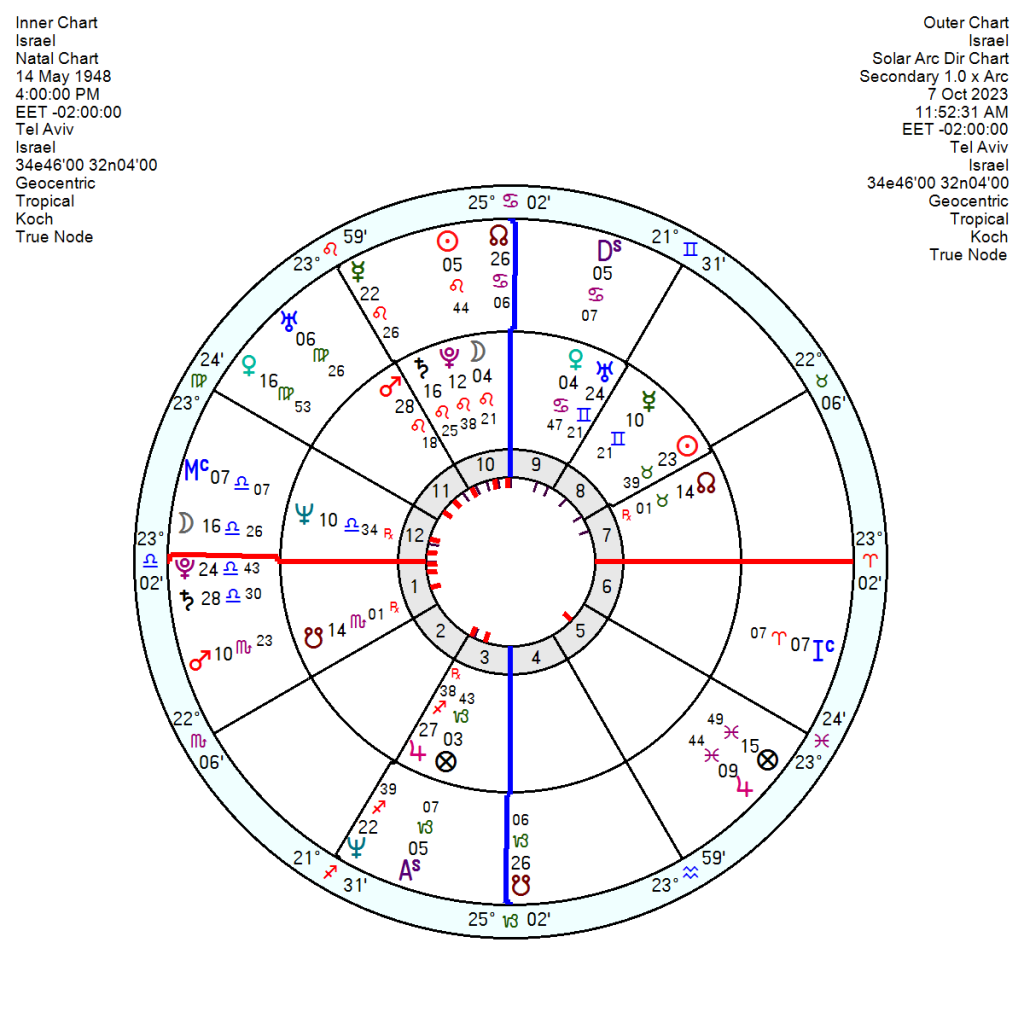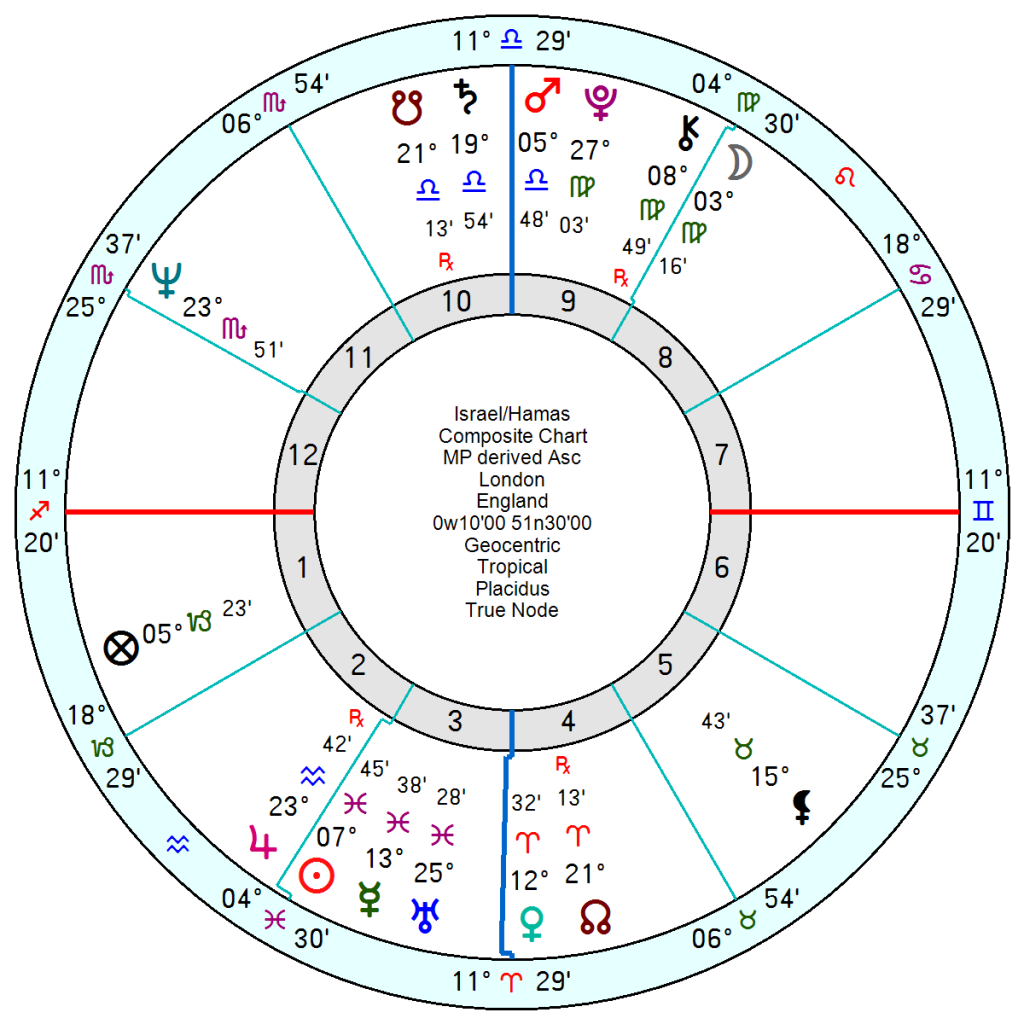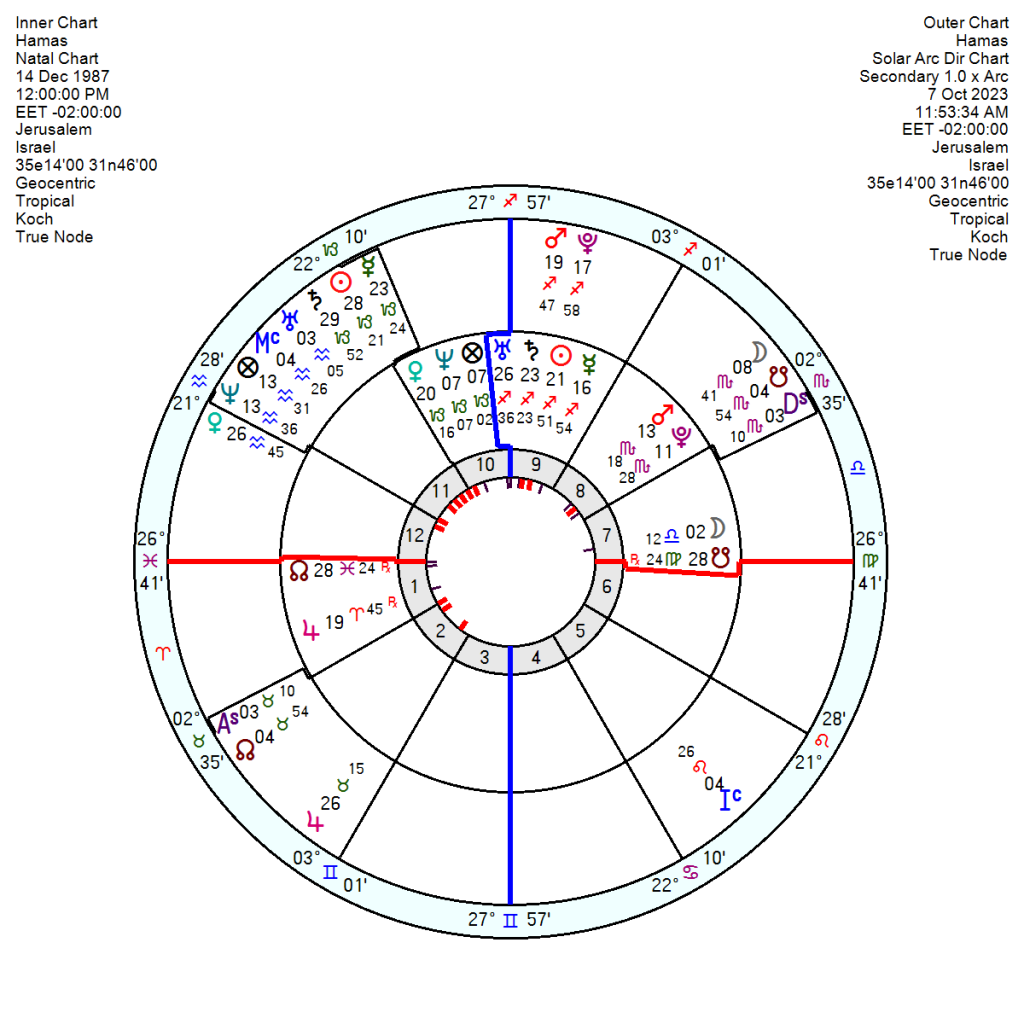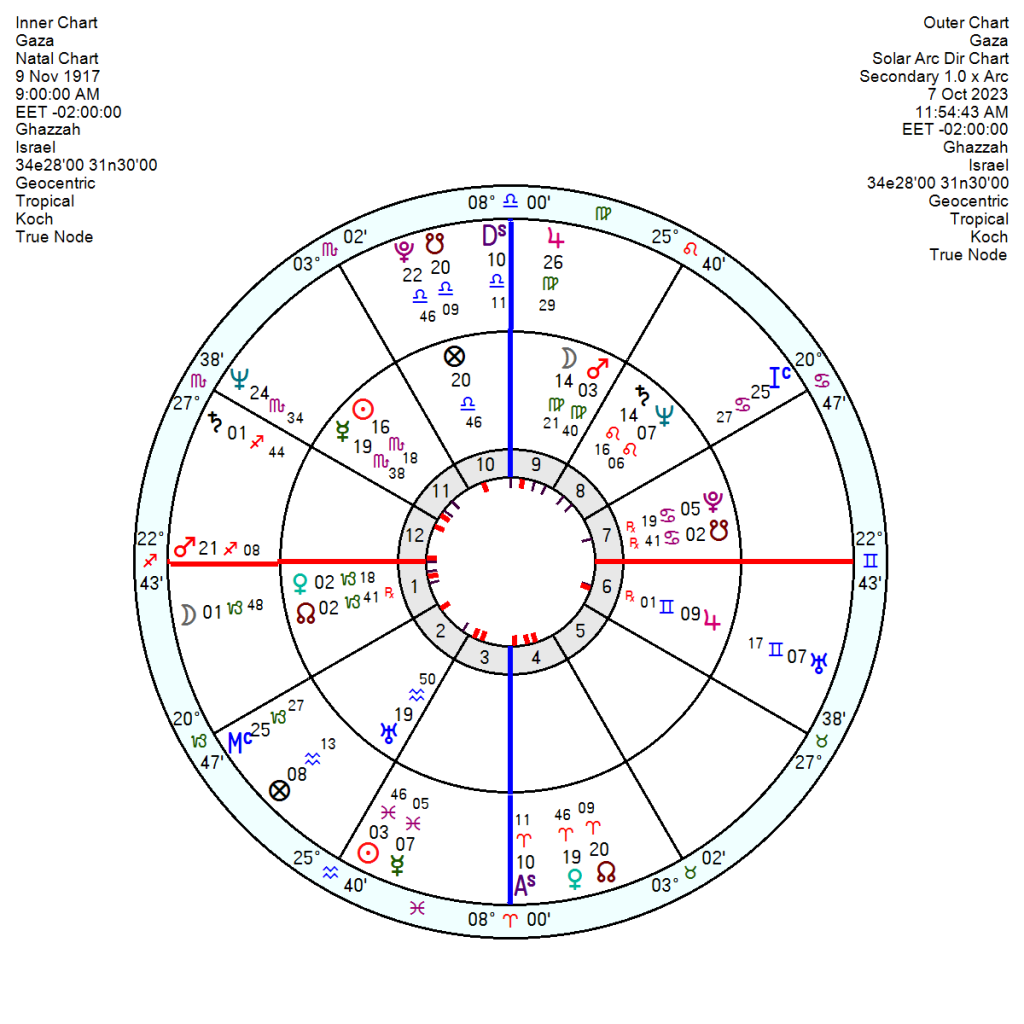 Israeli intelligence was caught by surprise this morning as Hamas militants fired thousands of rockets into Israel from Gaza and gunmen infiltrated the south of Israel. Mohammed Deif, the leader of the Islamist militant group, said it was the launch of what he called "Operation Al-Aqsa Storm". "We've decided to say enough is enough. The occupation has committed hundreds of massacres against civilians. Hundreds of martyrs and wounded died this year due to the crimes of the occupation."
Benjamin Netanyahu retaliated by saying "we are at war." It is the first major outbreak in the more than 15 years since Hamas took control of Gaza and comes after months of violence and rising tension between Israelis and Palestinians. See previous post 3 July 2023 – Violence breeds violence with no end in sight.
It erupted as the Mars Pluto square draws to exact echoing the December 2008 Gaza War which lasted three weeks, kicking off on a Mars Pluto conjunction in Capricorn and resulting in an Israeli win.
The rage and anger of this October 14 Solar Eclipse (see Eclipse below post) is clearly in evidence though the Libra Eclipse degree itself does not impact on the Israel, Hamas or Gaza charts. Though it does on the Hamas/Israeli relationship chart which has a composite North Node at 21 Aries exactly opposition the Solar Eclipse with a 19 degree Saturn in Libra conjunct.
Israel, 14 May 1948 4pm, has been brewing up for trouble throughout this year politically as well as militarily, see previous post 30 December 2022 Israel – on a dark road backwards.
  Israel's deeply entrenched and impossibly obstinate 8th house Taurus Sun picked up the first tr Uranus conjunction in the middle of August and this jolting, forced-change influence runs on and off till early 2025. Tr Neptune square the Israel Jupiter is also in effect undercutting confidence and enthusiasm and also runs until early 2025. In 2025 and 2026 tr Uranus will make a violent, insecure, over-reactive square to the Israel Mars which will be reverberating at the moment since it squares the Israel Sun – making for a longish phase 2023 to 2027 when there will be high risk, shocks and upsets. 2026 also has the Solar Arc Midheaven conjunct the Neptune which will bring disappointment and indecision.
   There is also a tricky run of Israel having a dead-halt SA Mars square Pluto in 2025 and then square the war-mongering Saturn/Pluto midpoint in 2027 alongside SA Mars conjunct the South Node the same year; and SA Mars square Saturn by 2029. Plus tr Pluto opposition the Moon in 2026/27. A relentless pounding for years and years ahead and the 2030s don't look much better with tr Pluto opposition Israel's Saturn and Pluto and all the Mars midpoints thereafter until it opposes the Mars in 2041.
Not that Hamas, 14 December 1987, are looking upbeat with tr Neptune in square to the Uranus this year and next; with a deadlocked or ruthlessly suppressed SA Mars Pluto crossing their Sun in 2025/27.
Gaza, unsurprisingly, looks rattled mid December 2023 to mid March 2024 with tr Uranus square its Uranus and opposition Mercury. The Gaza chart, 9 November 1917 9am has an exact SA Sun opposition its Mars at the moment for a collision-type event.
I suppose it is too much to hope that Mohammed bin Salman gets involved who evidently said an Israeli deal was dependent on the Palestinian problem being settled. The USA won't step up to the mark and no one else makes an impact. The Israel/USA relationship chart has the composite Mars square this Solar Eclipse and the Lunar Eclipse is exactly conjunct the composite Pluto – which looks irritable and stuck. European leaders have condemned the attack.