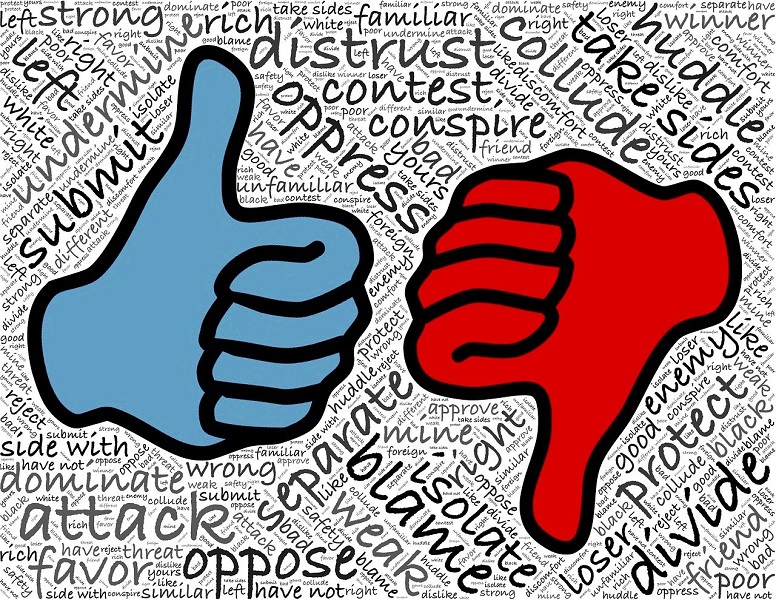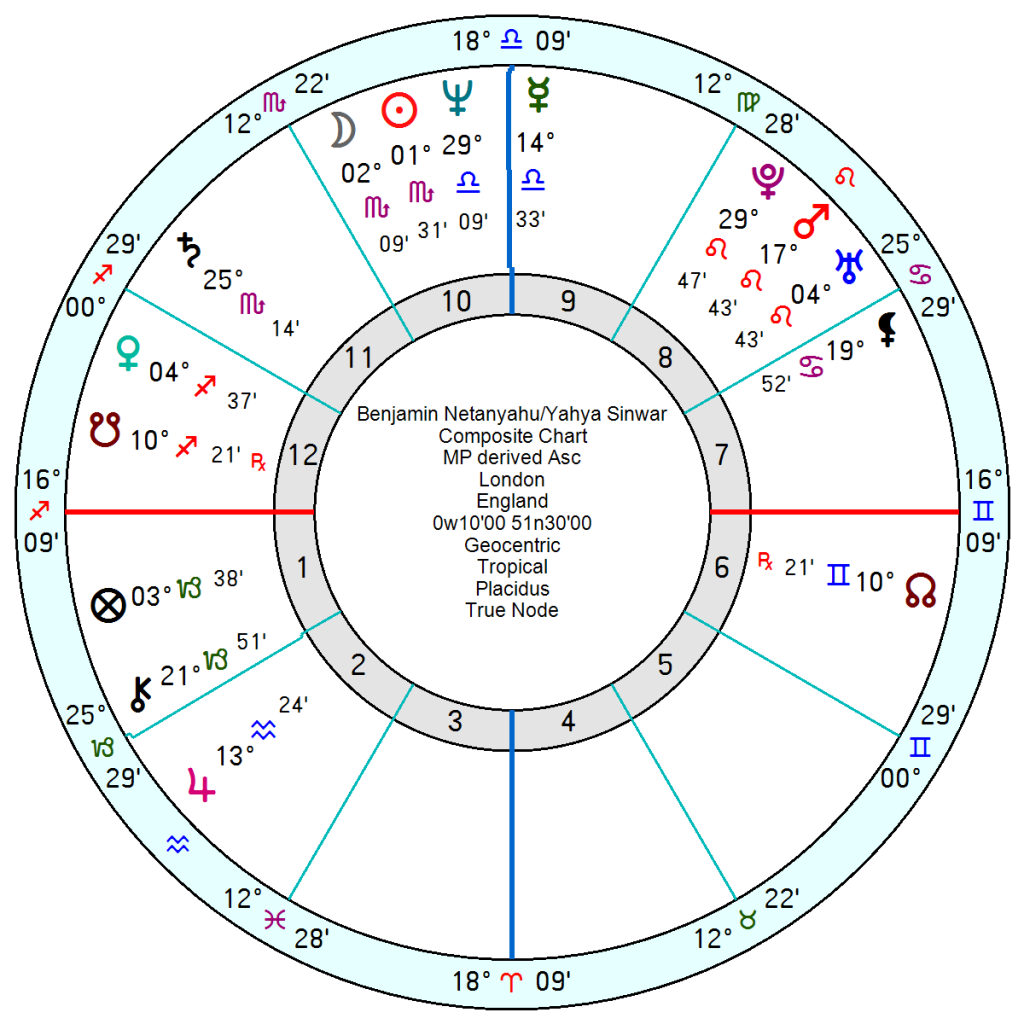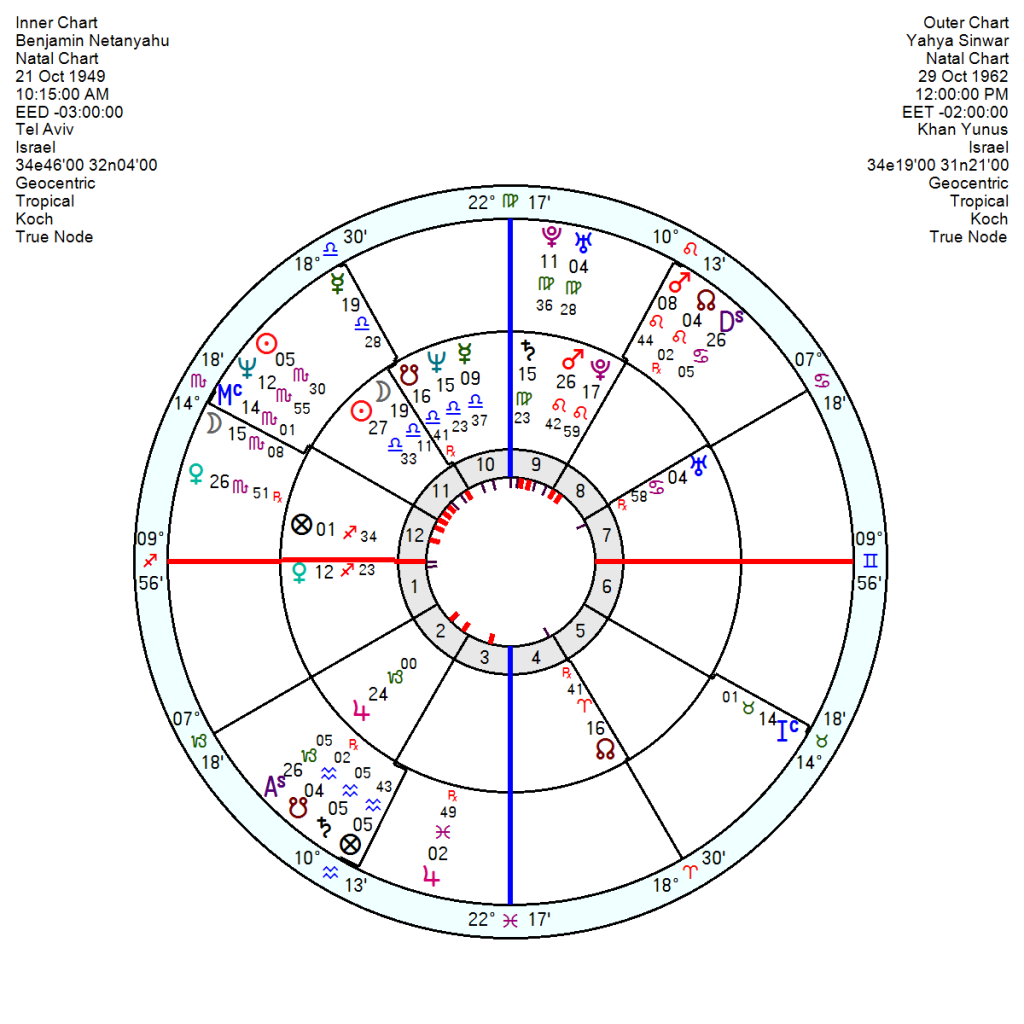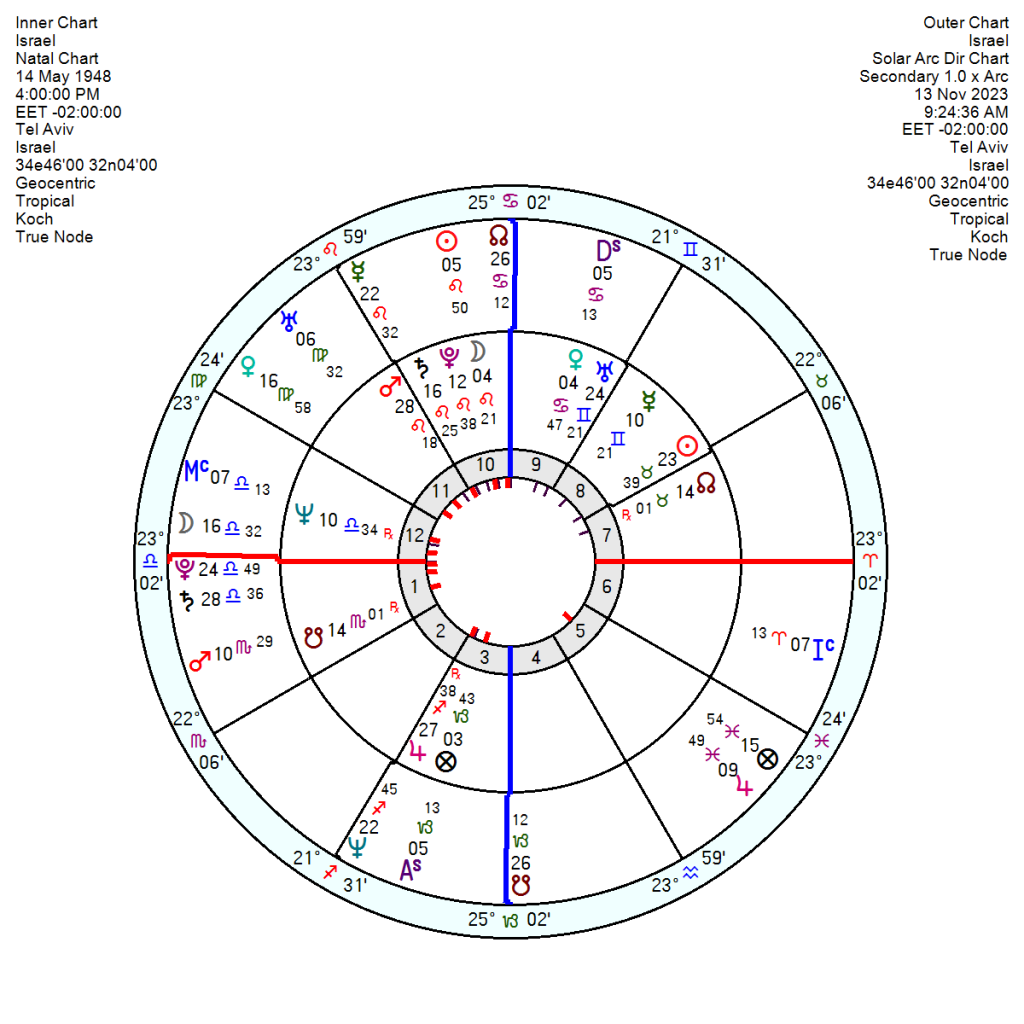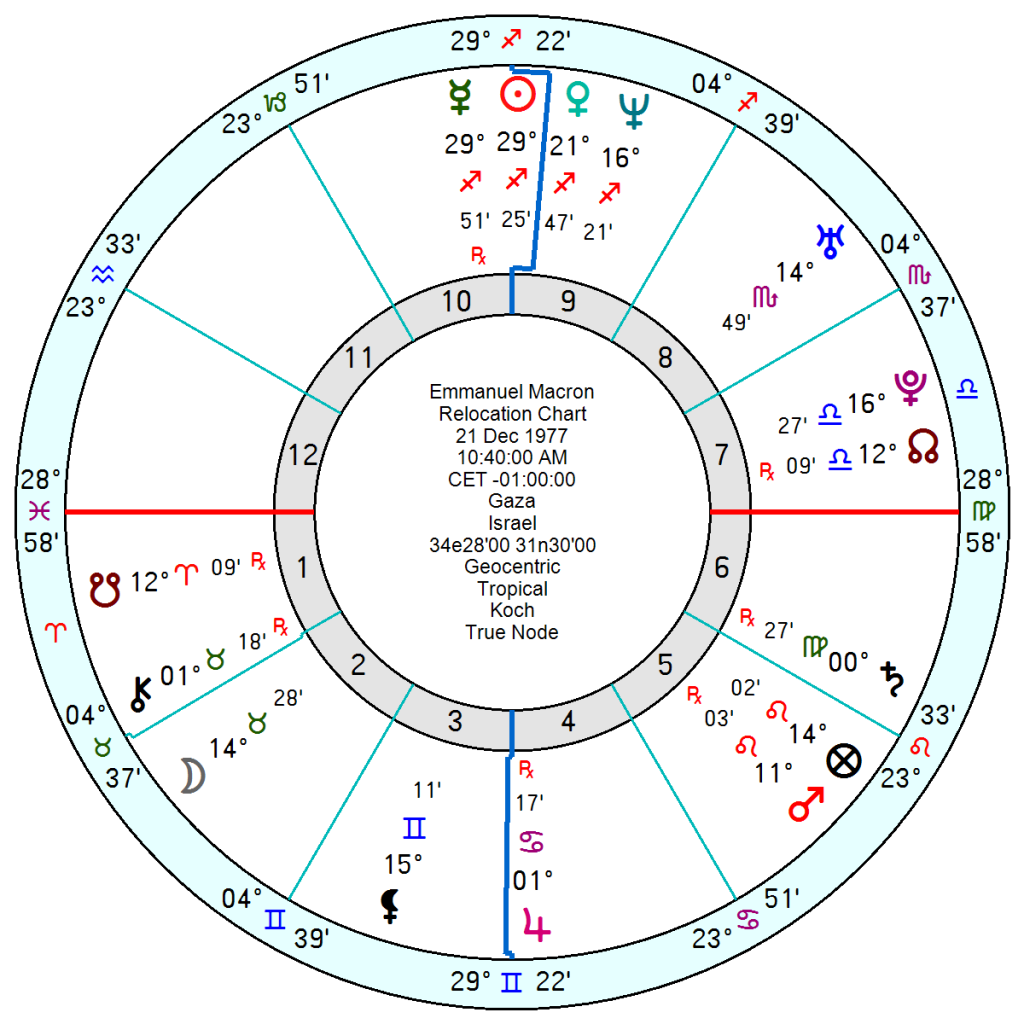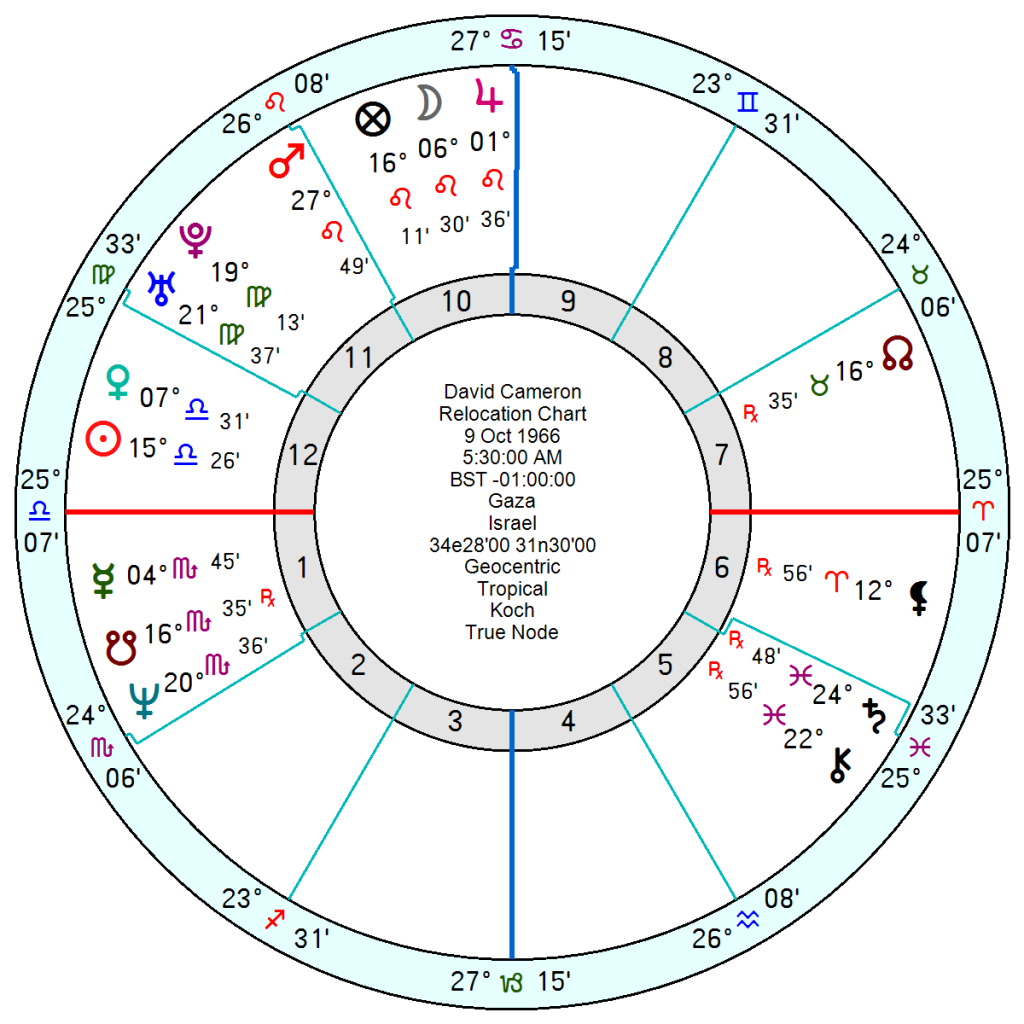 Demands for a humanitarian, political response in Gaza are falling on deaf ears as two determined adversaries refuse to cease hostilities.
Benjamin Netanyahu with his ruthless, do-or-die determined Pluto Mars in Leo is well matched by Hamas's Mars Pluto in Scorpio and their leader Yahya Sinwar's Mars in Leo opposition Saturn square a Scorpio Sun. A recipe for deadlock. Curiously, or maybe not, Sinwar, 29 October 1962 (wiki), has a relationship chart with Netanyahu with an almost certainly composite New Moon = more whole when together, conjunct Neptune and square Uranus. In some twisted way, with opposing agendas, they need each other.
David Steel, former Liberal leader and ex-President of Medical Aid for Palestinians writes in today's Times: " Peace can only be reached in the region by a new effort that should include the de-militarisation of Jerusalem, possibly with a permanent UN peacekeeping force."
"Netanyahu has failed and should go, along with the lacklustre Palestinian president Mahmoud Abbas, to be replaced by negotiators who are willing to revive the idea of a corridor between Gaza and the West Bank, backed firmly by the US, UK and others, including the Arab states led by Saudi Arabia."
There is precious little in the astrology to back up any hopes of a cessation of antagonism any time soon.
Netanyahu's lacklustre Term chart from 2022 appears to be limping along with a revival of confidence running alongside failed plans in 2024. Where there is an indication of major shocks is from mid 2024 onward into 2025. Uranus at 26 Taurus from July 2024 into 2025 – comes up in various related charts in the region – Israel, Netanyahu, MBS etc so that could be when another bonfire is lit.
The Israel/Netanyahu relationship chart also indicates mid 2024 and just after for major disruption and aggravation with tr Uranus square the composite Mars, before it moves on to square the composite Saturn in 2025. Neither of which necessarily suggest a parting of the ways.
The Israel/Hamas relationship chart which at the best of times is fraught and hostile with a composite Uranus opposition Pluto Mars is nerve-stretched over the next few months and on and on for several years.
All the indications from the Israel chart is that they are into the riskiest phase of their existence extending on into the 2030s. Tr Uranus is conjunct their 8th house Taurus this year on and off till early 2025, presumably trying against the odds to uproot them from old attitudes. Their Solar Arc Mars is in a depressing square to the Moon/Saturn midpoint at the moment; then moves to a destructive, potentially deadhalt square to the Pluto in 2025; when there is also an explosive tr Uranus square the Mars. Nothing that looks remotely like peace or even a reversion to the status quo ante. Constant turmoil and danger ahead.
Hamas, equally, or on a similar trajectory with successes and failures over the next year and more – with 2025/26 looking like the end of the road when their Solar Arc Mars Pluto cross their Sun.
Emmanuel Macron has been one of the few voices up to now calling for a ceasefire, which may be motivated by France having the largest Muslim population of any European country because of its historical Algeria and North Africa connection. On his astrocartography, Gaza sits on his Sun Mercury Midheaven, so it could be an area where he takes the lead and comes to prominence. Ireland and Brazil have also demanded a ceasefire.
Tony Blair has also volunteered his services though there's nothing on his ACG to suggest it is a success region for him.
David Cameron, on the other hand, may come into his own since Gaza puts his Jupiter and Moon close to his midheaven. He is a former UK prime minister who steps up as a surprise Foreign Secretary with Braverman gone and Cleverly moved to the Home Office.
A new documentary now on show made by two Jewish filmmakers is trying to put the record straight as they recall their early indoctrination into a one-sided story of the creation of Israel. The film argues that some American Jews are told a story – about Jews escaping persecution and genocide to return to their ancestral homeland – that almost entirely erases the existence of Palestinians. It's a narrative that has been incredibly influential in shaping global attitudes about the Israeli state and US alliances in the Middle East.
They say the process reminded them of what they'd learned in school about the history of the US, "in terms of a people who came to a new country that were refugees or immigrants and created a city on a hill, a beacon of light and a democracy. That narrative is incredibly empowering until you hear about the Native Americans and you realize it lacks some really basic points."
https://www.theguardian.com/film/2023/nov/12/israelism-documentary-american-jewish-israel-palestine-conflict
ADD ON:
Chaim Silberstein, a Jewish settler, can see only one response to the Hamas attack of October 7 — expanding the settlements and solidifying Israel's already tight grip on the occupied West Bank. He is one of 500,000 Jewish settlers in the West Bank, which has had a huge upsurge in violence in the weeks since the rampage by Hamas militants through southern Israel sparked war in Gaza. 167 Palestinians have been killed by Israeli forces in the West Bank since the war broke out, a further eight had died at the hands of settlers. Nearly 1,000 people have been forced from their villages, the UN said.
Some settlers consider the West Bank to be part of the Land of Israel. "The battle isn't just about territory — it's a religious conflict between Judaism and Islam."
Some settlers now feel so emboldened that they even envisage expanding into Gaza, from which Israel withdrew in 2005. Daniella Weiss, head of the radical settler organisation Nachala, spoke recently of "our movement's efforts to return to Gaza, the entire Gaza, and build settlements". Weiss's dream is not widely shared. But in the West Bank, the settlements which most of the international community consider illegal have been gradually expanding, which Palestinians say is destroying all hope of a two-state solution.
The recent violence is down to an expanded IDF presence and to militant settlers. One western diplomat said, "We're seeing a blurring of the division between the IDF and the settlers, who are often accompanied by soldiers in IDF uniform when they go on the rampage." They have also been buoyed by the presence of settlers in the Israeli government, widely seen as the most rightwing in Israeli history. These include finance minister Bezalel Smotrich, who has said the Palestinian people do not exist.
The Israeli human rights group B'Tselem has reported incidents recently of settlers attacking Palestinian residents, "in some cases threatening them at gunpoint or firing at them", as well as damaging property, stealing livestock, felling trees and vandalising water tanks.
Add On: November 18
'Too many taking sides in this conflict miss the true nature of Hamas – and Netanyahu.'
'Both those calling for a ceasefire and those opposing it are making assumptions that don't stack up.'
A sensibly nuanced piece on the Gaza mess by Jonathan Freedland in the Guardian.
'Biden and co are overlooking the fact that Netanyahu and his coalition are utterly opposed to the very arrangement (a political solution) Israel's western allies advocate. This is the most rightwing government in Israel's history. It includes junior ministers who fantasise about flattening Gaza with a nuclear bomb or repopulating it with the Jewish settlements that were uprooted in 2005, and senior ministers who are, even now, wrecking any chance of cooperation with the only body that could plausibly fill the vacuum in a post-Hamas Gaza: the Palestinian Authority.'
'Washington, Brussels and London currently back Israel because they agree that no peace is possible without the removal of Hamas. They are much less clear that no peace is possible without the removal of Netanyahu and his henchmen. Yet both can be true.'
https://www.theguardian.com/commentisfree/2023/nov/17/hamas-benjamin-netanyahu-ceasefire
"The potential solutions to the Israel-Palestinian conflict."
https://www.thetimes.co.uk/article/how-solve-israel-palestine-war-conflict-map-middle-east-ggzg72r2k
 Background piece in today's Sunday Times (paywall).  Does rather back up my gloomy astro thought that there is no solution.
Two state solution: There are nearly half a million Jewish settlers in the West Bank, 60 per cent of which is directly run by Israel, another 200,000 settlers live in east Jerusalem. The settlers believe they have a biblical imperative to live on the land between the Jordan river and the Mediterranean Sea. They are unlikely to move.
One state solution, peaceful coexistence. It could call into question the Jewish identity of Israel and is not supported by Israeli government.
Goes back to James Cameron's thought that 'the aspirations of the Jews and Arabs are irreconcilable' – 'no compromise any mortal man can devise is going to —–'
And that was written fifty years ago.