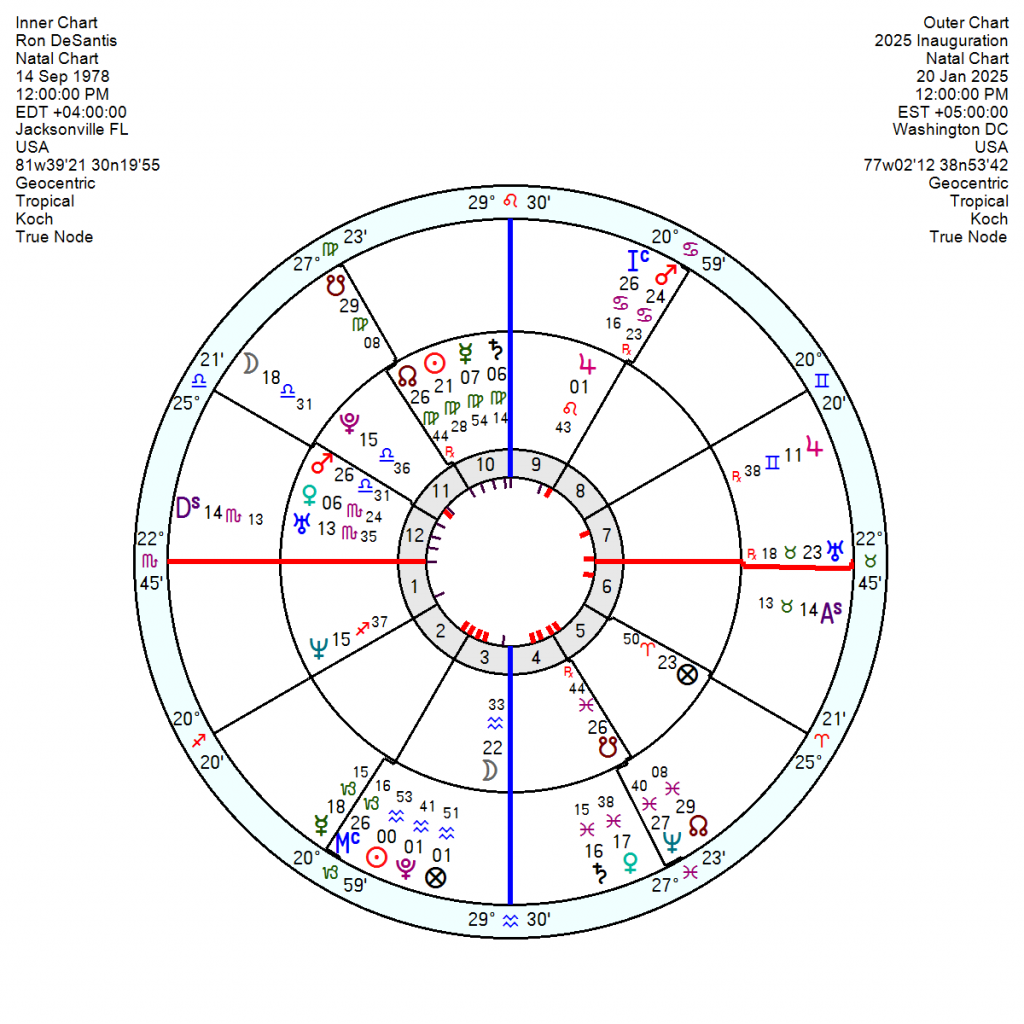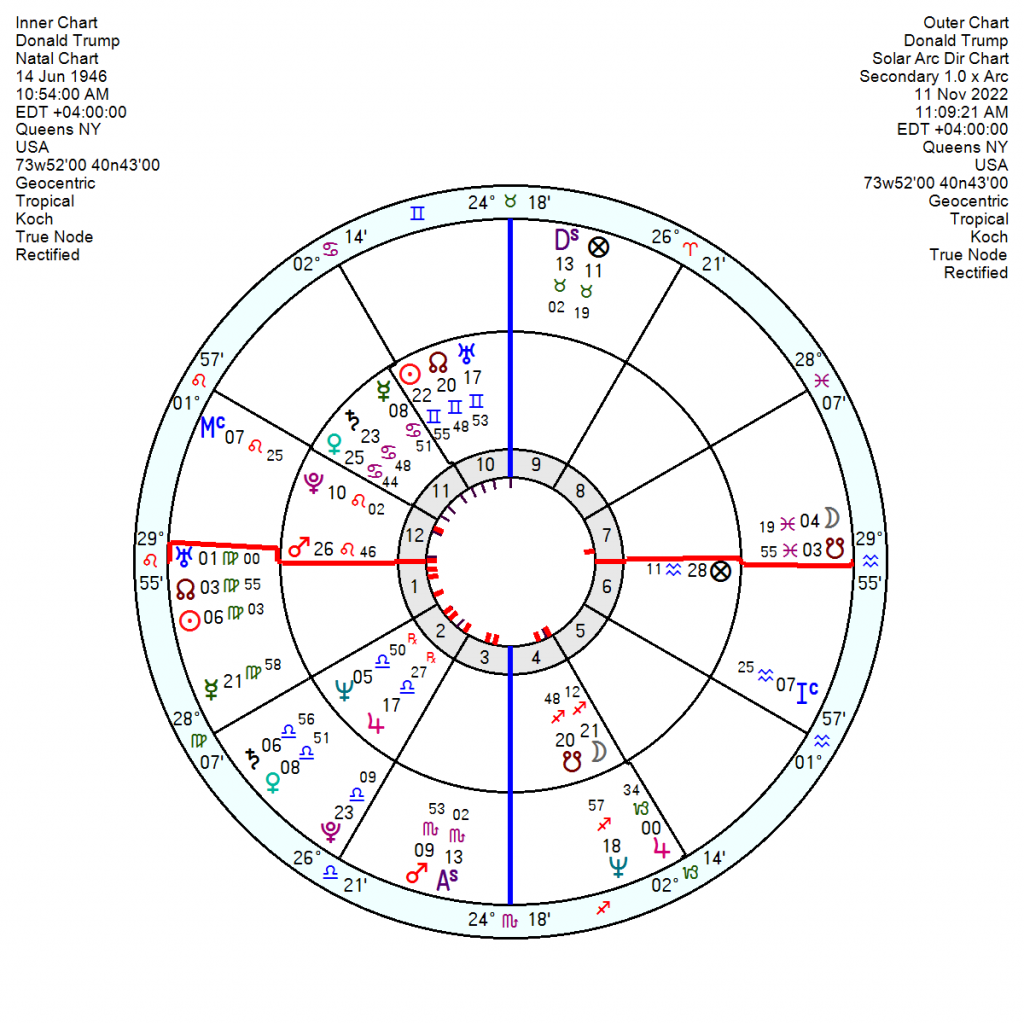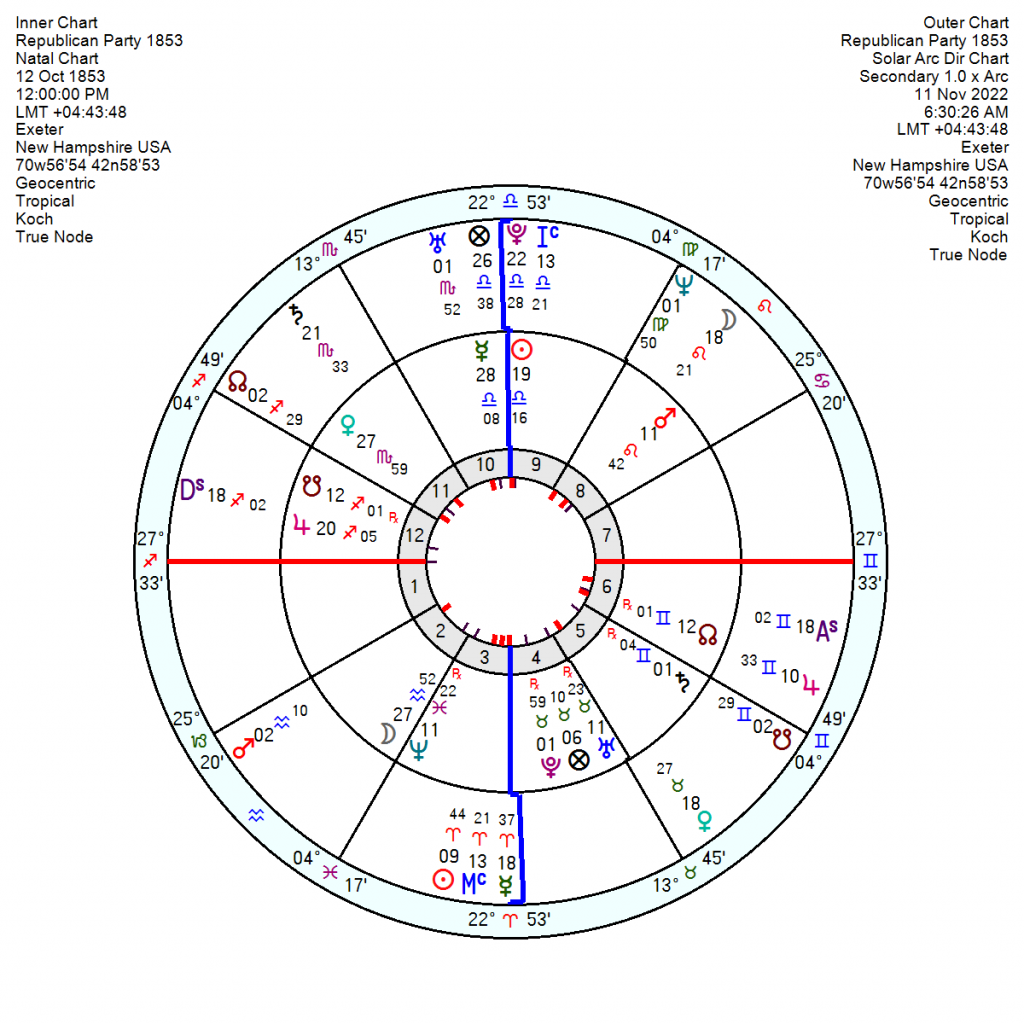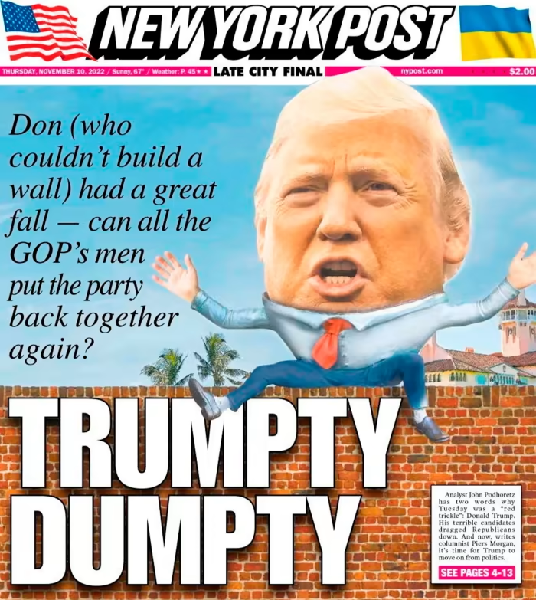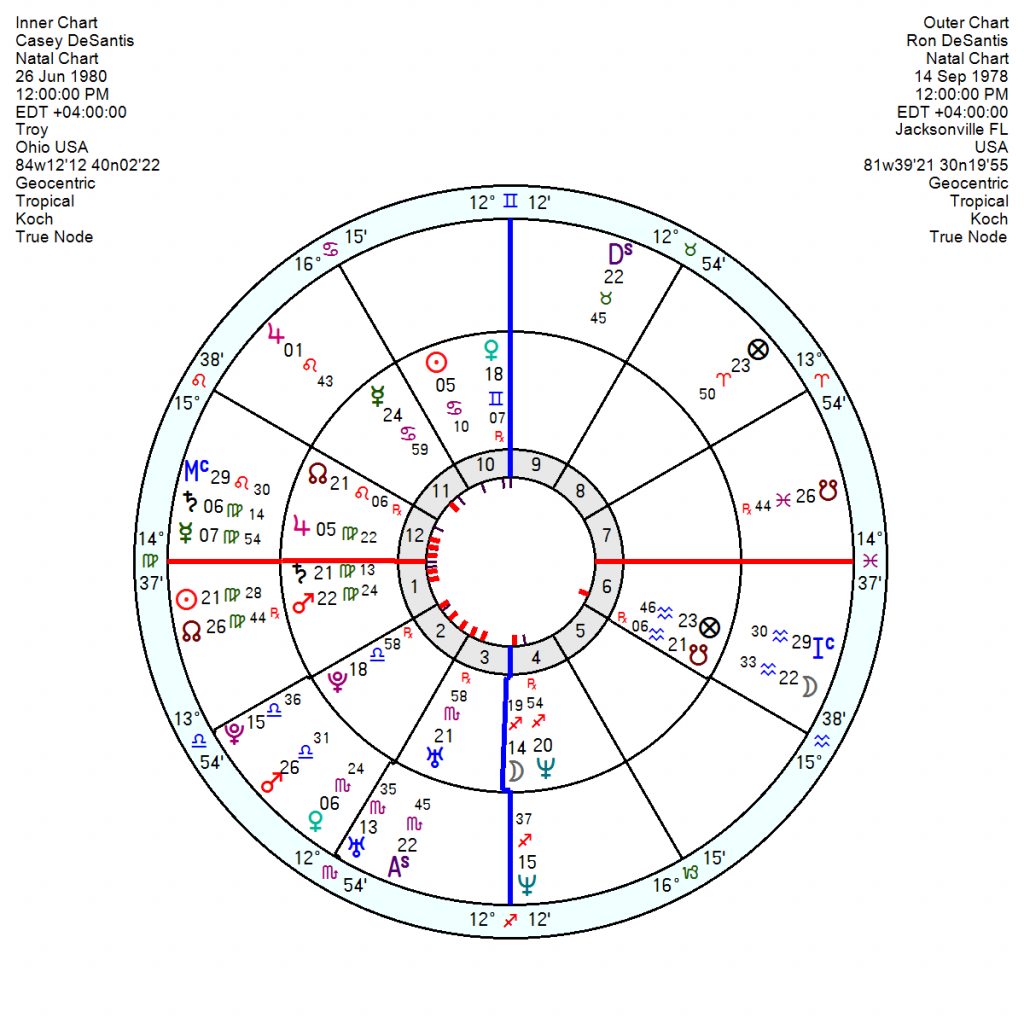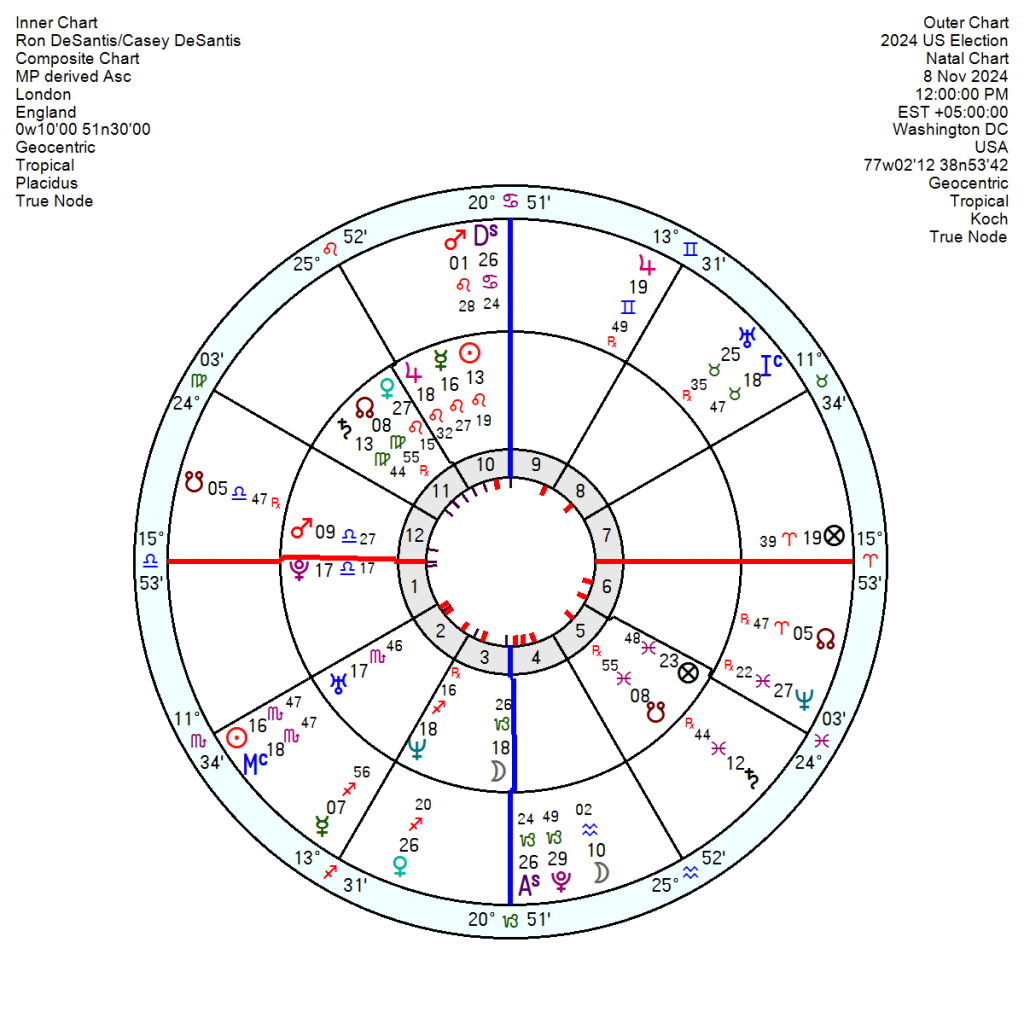 For a man who won convincingly in the race for Governor in Florida and is being talked up as the Republican presidential nominee for 2024, Ron DeSantis is not looking overtly happy. Either the lack of a red tsunami is causing him concern or he's wincing at Trump's sneers.
He's a practical and communicative Sun Virgo in a not-always-realistic and can-be-slippery square to Neptune with an outspoken Aquarius Moon; and a persuasive Venus Uranus in Scorpio with good-for-PR Venus square Jupiter.
Without a birth time there's precious little on DeSantis's chart, 14 September 1978, to suggest a triumphant surge at the moment. He has a trapped, frustrated tr Pluto square his Mars till early December alongside a confused Mercury/Neptune and teeth-gritting Mercury/Pluto; with Uranus hitting his career-loss-making Jupiter/Saturn.
From February 2024, he'll be raring to go with tr Pluto square his Jupiter though in for a fairly ferocious battle with tr Pluto trine his Mars/Saturn midpoint at the same time, throughout 2025 as well. 2028 will be a high point of success and confidence with his Solar Arc Jupiter conjunct his Sun.
Trump is throwing a textbook display of narcissistic rage at being blamed for GOP failures in the Mid Terms, is outraged at being dumped by the Murdoch media and has been sneering contemptuously at DeSantis.
He has a dead-halt and totally-trapped Solar Arc Mars within minutes of a degree in square to his Pluto so it is exactly on cue. His Solar Arc Pluto is also moving to square his Saturn, exact in April/May 2023 which won't have him leaping for joy either. If his birth time is accurate, by the 2024 election he has Uranus just putting a toe into his 10th with tr Neptune on the cusp of his 8th and tr Pluto on the cusp of his 6th – so his life will be facing a major transition on several fronts. He does have Jupiter moving through his 10th from May 2024 which can be successful or it can be a period of grandstanding. But he looks in shock in October 2024 with tr Uranus square his Mars; and down in the dumps over the Inauguration.
His relationship with DeSantis which always was designed for a oneupmanship battle with a composite Jupiter Pluto conjunction is sagging badly understandably through 2023/24.
For what it is worth – since I don't rate political party charts much – the Republican Party, 12 October 1853, has a blocked Solar Arc Mars square Pluto now and the recent Solar Eclipse opposition the Pluto in Taurus – as they contemplate their regrets about not dumping Trump and indeed for having packed SCOTUS with right-wing ideologues out of step with the electorate. There is also a forced-reform Solar Arc Uranus opposition Pluto now. So it does look reasonably OK as a chart for accuracy. 2024 has the Solar Arc Jupiter conjunct the Rep North Node which will help. It is not as obviously upbeat as it was for GWB or Reagan's inaugurations but doesn't have any majorly blocked influences either.
  Trump will continue to slide in popularity with the party through 2023 into 2024. There's a degree of confusion about DeSantis in 2023 but overall he looks a better fit and in good fettle with the GOP over the 2024 election.
ADD ON: Ron DeSantis' wife Casey, 26 June 1980, mother of his three children, is a former TV presenter, his close confidante on political matters and is rumoured to have ambitions to become the next Kennedy-clone family to inhabit the White House.
  She does have leadership abilities with a Leo North Node and strong, not to say dogmatic opinions with Mercury in Cancer square Pluto and trine Uranus. Her family-oriented Cancer Sun is in a lucky sextile to Jupiter. But what is striking in her chart is a hard-edged Mars Saturn in Virgo square Venus opposition Neptune (Moon) in Sagittarius. Emotionally she's all over the place – unrealistic at one level and prone to becoming a victim but capable of giving as good as she gets as well, the older she becomes. She'll be passive-aggressive, gritting her teeth and then letting fly.
Her synastry with Ron is not all sweetness and light with his Virgo Sun conjunct her Saturn Mars for irritations and eruptions; and his Saturn dampening her enthusiasm as it is conjunct her Jupiter. Plus his Mars makes an argumentative square to her Mercury.
Their relationship chart works marginally better – with a composite Sun conjunct a supportive and lucky Mercury Jupiter trine Neptune sextile Pluto – high ambition, grandiose hopes and good fortune. Though with the Sun Jupiter square Uranus it only works as long as there is constant outside stimulation and not too much 24/7 togetherness. Jupiter in Gemini at the 2024/25 election/inauguration will give them both a boost.
  Her personal chart looks panicked and undermined through 2023 with tr Neptune opposition her Mars and a Jupiter midpoint. Though she'll have upbeat phases as well. Late-ish 2025 looks to be her glory time of supreme confidence as her Solar Arc Jupiter is conjunct her Pluto.