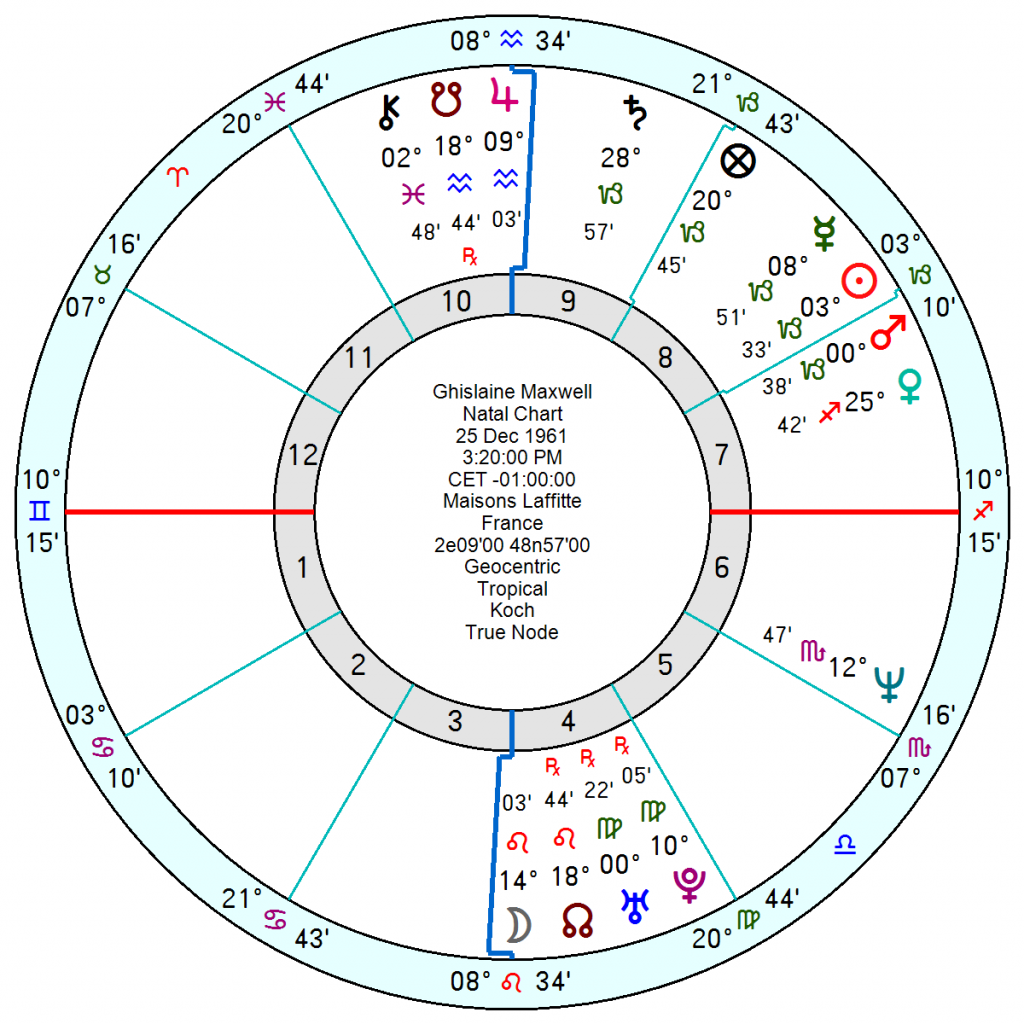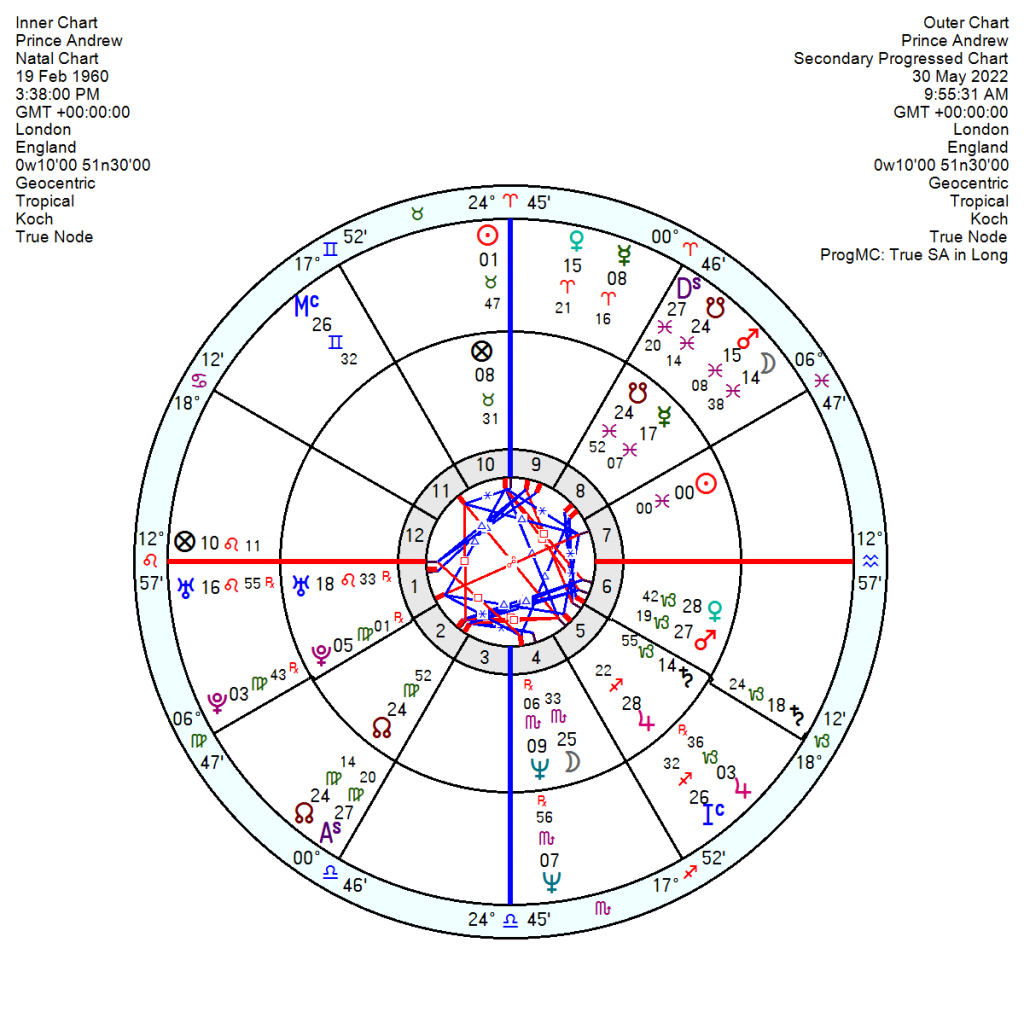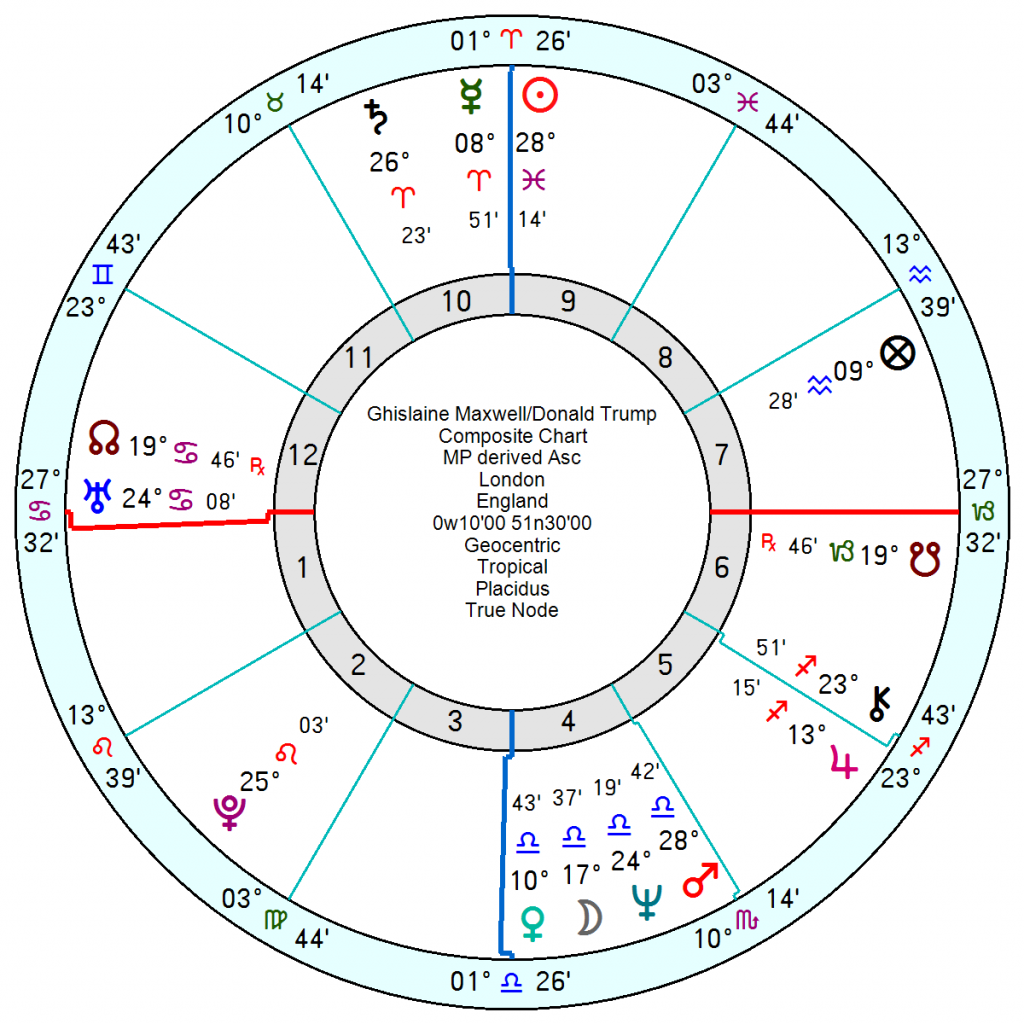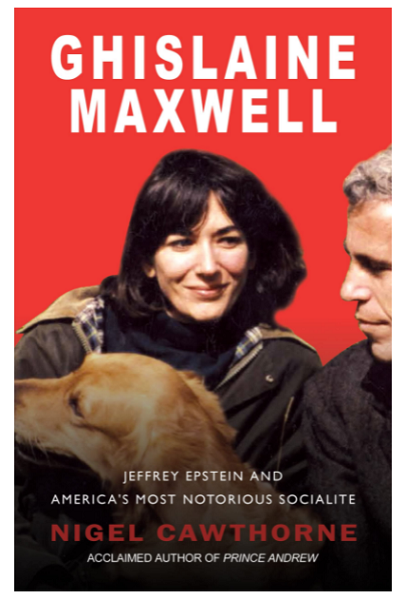 Ghislaine Maxwell has been found guilty on five of the six counts of recruiting and trafficking young girls to be sexually abused by Jeffrey Epstein, including the most serious charge of sex trafficking a minor. It means she could spend the rest of her life in prison. A date for sentencing has not yet been set. There is speculation she may name names of Epstein friends who visited his establishments to shorten her sentence and she is also appealing.
What is most noticeable about her chart is tr Pluto conjunct her 9th house Saturn from March 9th onwards, on and off till late 2023 which is discouraging and tough-going. Her delusional and arrogant Jupiter Midheaven in Aquarius opposition a 4th house Leo Moon square Neptune is being rattled by tr Saturn square her Neptune and then opposition her Moon in January, followed by tr Uranus hard aspects which will bring high anxiety and some glimmerings of hope.
Her Solar Returns look less challenging ahead but that may be because the lower security prison she will be sent to will be 'Disneyland' compared to the tough New York facility she has been incarcerated in for 500 days.
The verdict does not bode well for Prince Andrew though his name did not crop up, nor that of his civil case accuser Virginia Guiffre. He visibly flaunted Maxwell as a friend, inviting her into the inner Royal circle so can hardly escape contamination. His own court case is becoming increasingly desperate with his lawyers' attempts to get it thrown out on technicalities.
He has his Mars Venus in Capricorn at 27 and 28 degrees so it will pick up the tr Pluto conjunction from the 3rd February, running off and on till late 2023 – trapped, scary, enraging, emotionally ramped-up – which could bring on health issues since they are in the 6th. Plus his Solar Arc Moon is conjunct his Mars within a few months which will be testing. His Progressed Moon is moving through his 8th house, from three months back, and staying there for another 18 months which can feel like purgatory (where the spirits of the dead go to suffer for their sins). Or at the very least it feels torn by inner conflict – made worse in his case because his secretive 8th house Mercury in Pisces will catch the Progressed Moon conjunction just after it has collided with his Progressed Mars – all around the middle of this coming year; followed by a downbeat Solar Arc Saturn conjunct his Mercury. It won't be a fun year for him.
  Mind you Virginia Giuffre is not looking overly pleased either with tr Pluto opposition her Mars and square her Pluto Saturn in 2022/23. That court case may come to a stalemate.
Of those who have been named as high-profile Epstein friends, the relationship charts with Maxwell indicate:-
Donald Trump – there is a discouraging tr Pluto square the composite Saturn from January 2nd on their relationship chart at the same time as it squares the panicky Mars/Neptune midpoint; followed by a trapped, high-risk, enraging tr Pluto square Mars from March onwards for two years. And by 2024 tr Neptune will conjunct their composite Sun – so all in all bad feelings are running high.
Alan Dershowitz –also has tr Pluto square the Maxwell composite Mars from this March till late 2023.
Bill Clinton will be rattled from July this year on and off into 2023 with tr Uranus opposition their composite Venus Mars conjunction; with worse in 2023/24.
Andrew's relationship chart with Maxwell will be edgy now till April, but won't get seriously pressured until 2024/25 when tr Pluto is conjunct the composite Sun.
The ripples spread out.