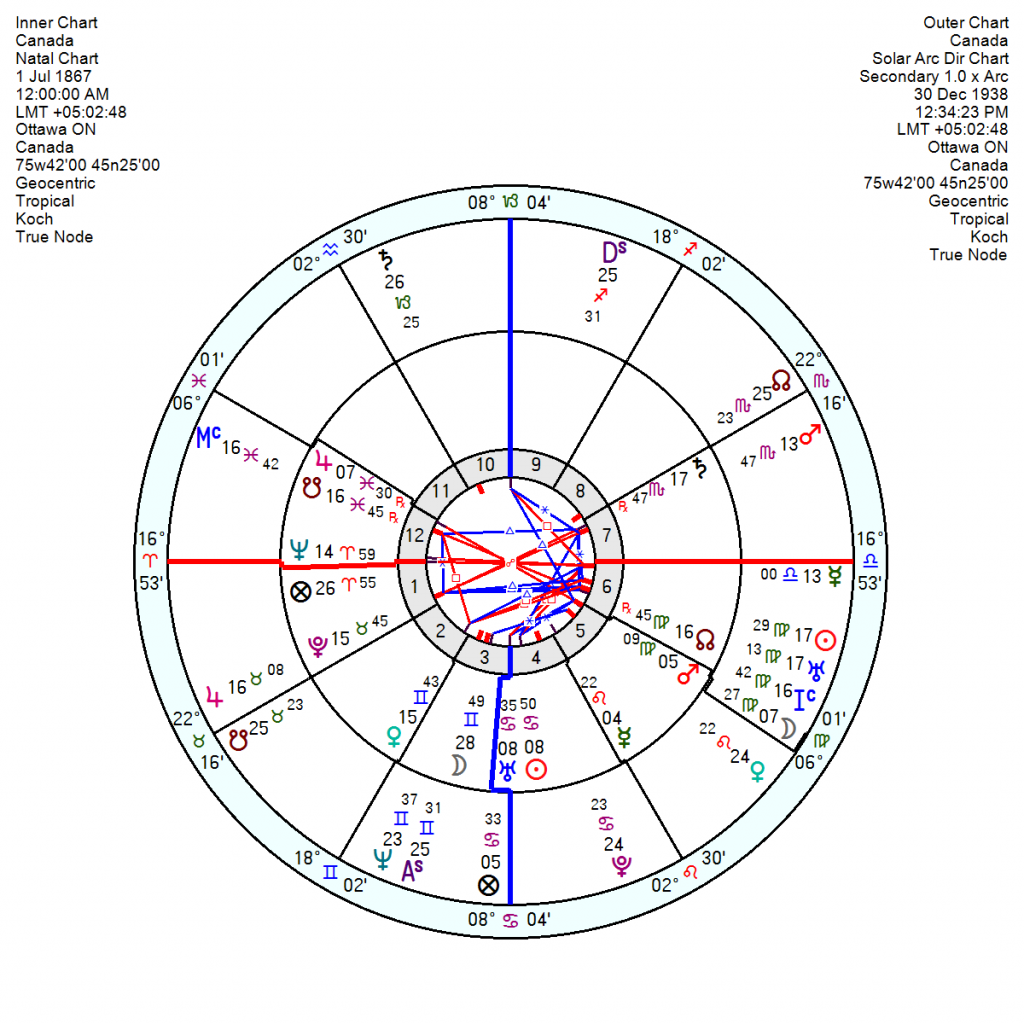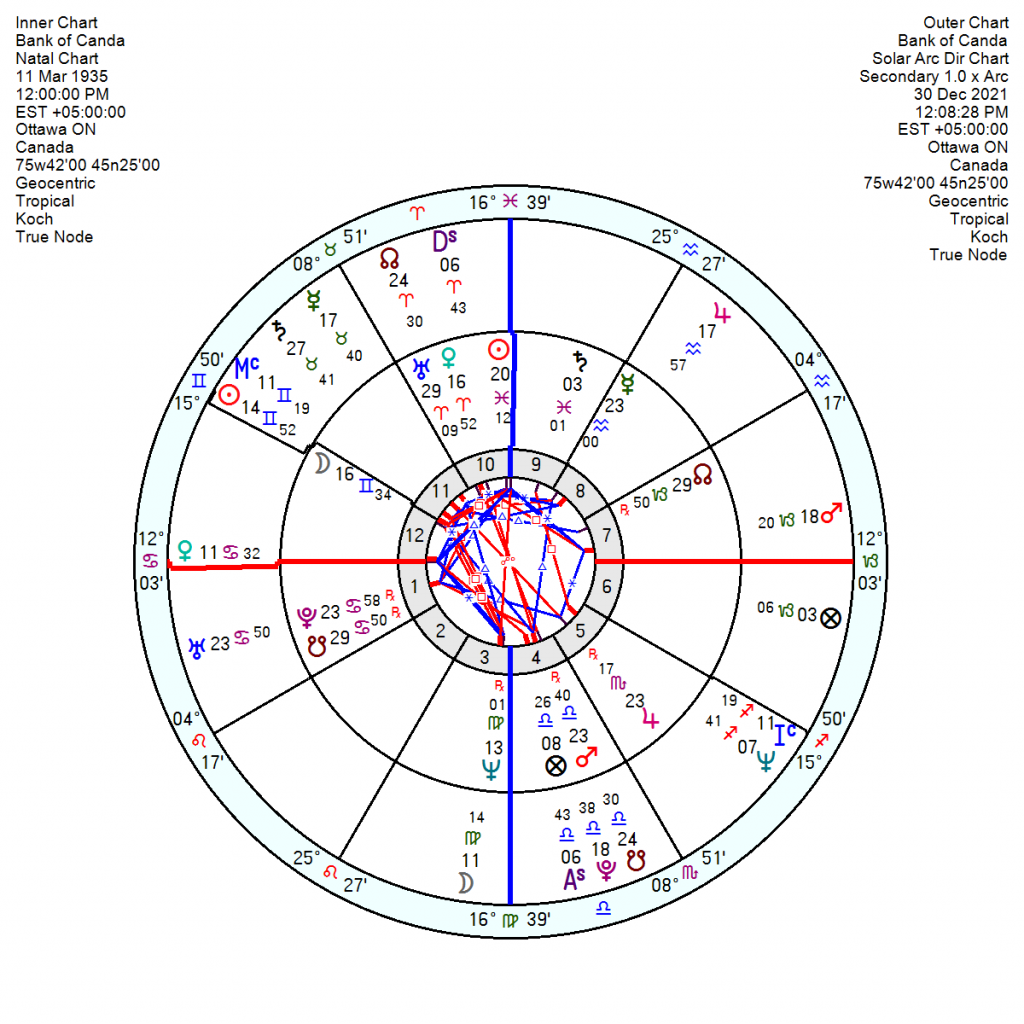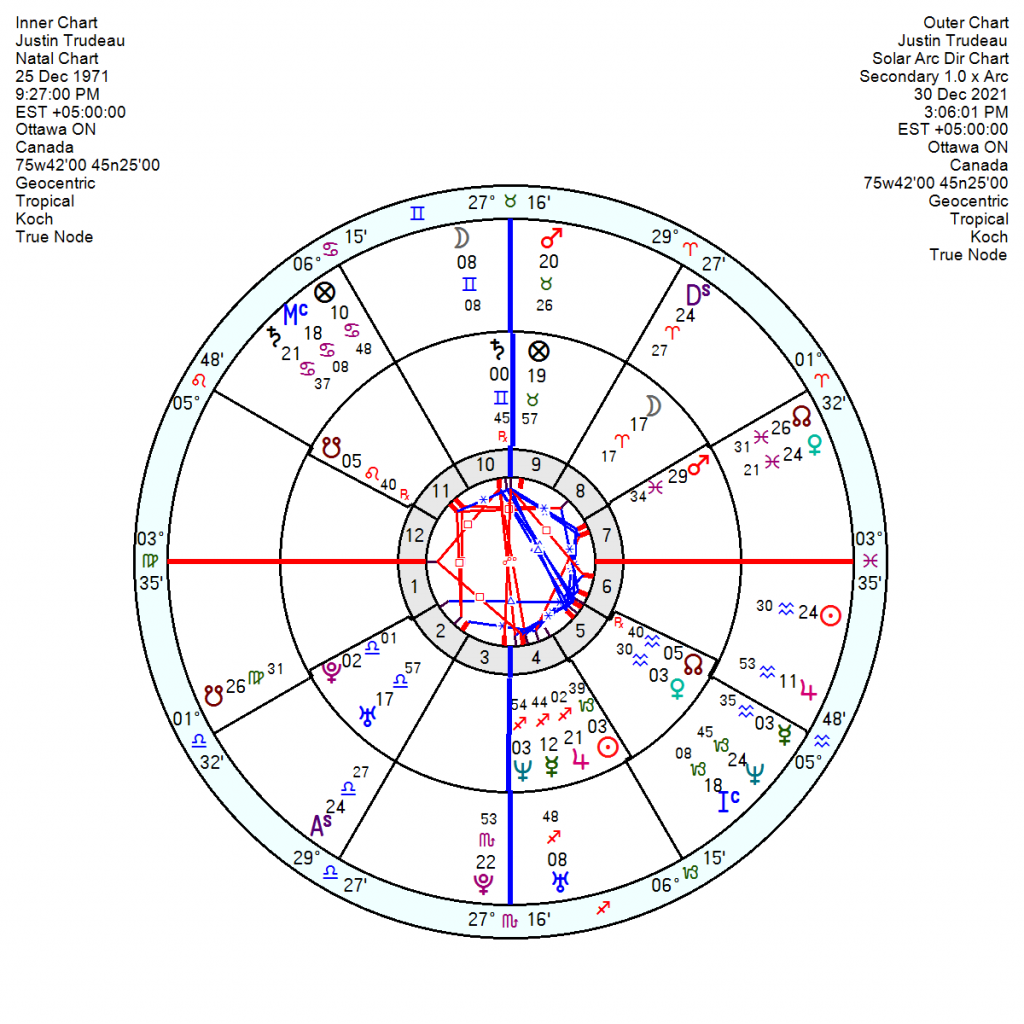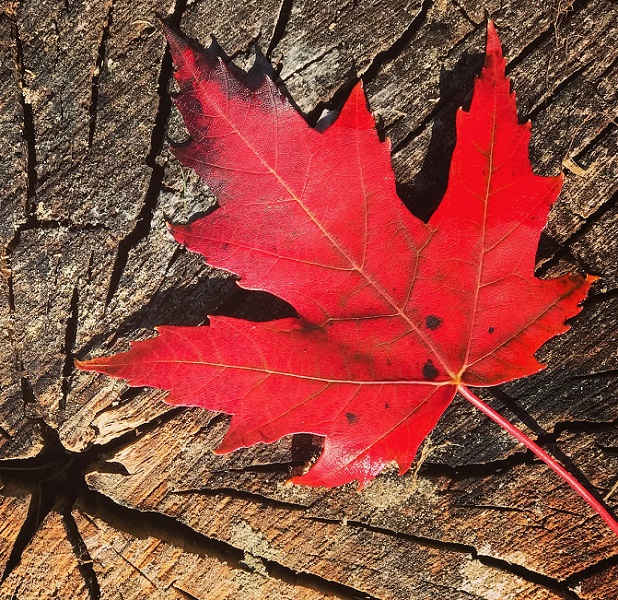 Canada heads into 2022 with an economy roared back to pre-pandemic levels and a full recovery with 5.4% growth in the third quarter. Hopes are that this will continue though there is uncertainty about the impact of the Omnicron variant.
The key factor astrologically is what will happen when transiting Uranus crosses the Canada Pluto in Taurus and opposes the Saturn which picks up from May 2022 onwards for a year thereafter. The only previous time this has occurred was in 1938 to 1940 over the outbreak of World War 11 which is not helpful as a comparison, since it is unlikely to repeat in the same way.
Saturn opposition Pluto is a stubborn streak in the national temperament, the ability to withstand tough conditions and an extreme resistance to change. Uranus will arrive with a thunderbolt, intent on unsettling the status quo. Tensions will rise and there will be a disruptive and unsettled mood at the very least.
The Bank of Canada chart, 11 March 1935 is showing signs of a change of direction at the moment with the the Solar Arc Uranus conjunct its Pluto now and even more so in 2023/24 with tr Pluto square the Uranus so there will be an economic shift but with Uranus involved, the trickster planet, it can go up or down. The significant problems show up for the central bank by 2026.
  The recent surprise unpopular election for which Trudeau was roundly criticized and as a result lost his majority, emerged with no political party happy. A commentator said: "There wasn't really a winner. There was just a whole bunch of losers."
His latest term chart from 26 October 2021 has a deadlocked and scary Mars square Pluto and Sun square Saturn so is not too uplifting. Though Mars trine Jupiter sextile Venus will help in rolling out a morale-boosting charm offensive.
Where Canada starts to really want space from Trudeau will be 2023/2024.
His personal chart indicates 2024 as the change-of-direction year with tr Uranus conjunct his Midheaven and a panicky-failure tr Neptune conjunct his Mars into 2025. Even before then he will be under considerable pressure from 2023 with tr Pluto starting to trine his Saturn.
The crucial factor for Canada in the near future will be what tr Uranus square its incredibly Fixed Pluto in Taurus opposition Saturn in Scorpio brings a few months' hence. And indeed the effect the Eclipses will have on it.