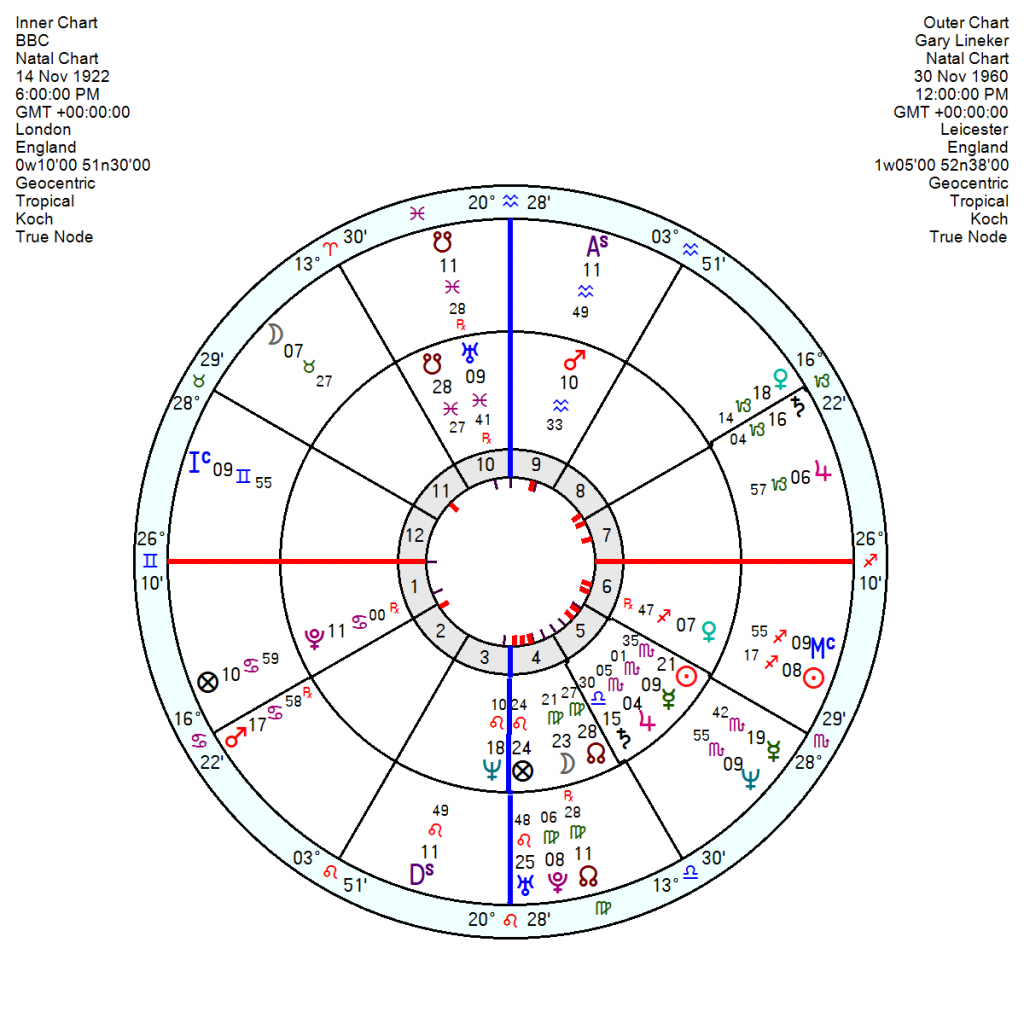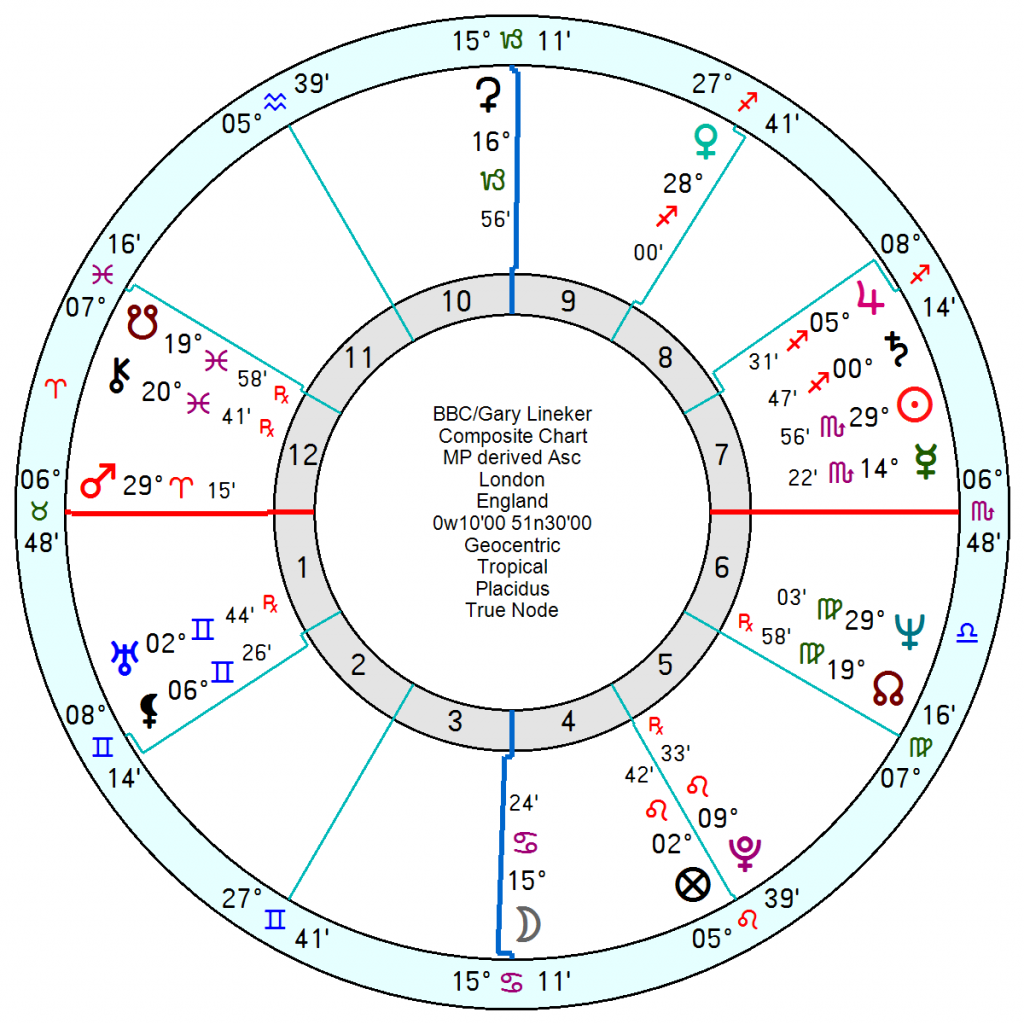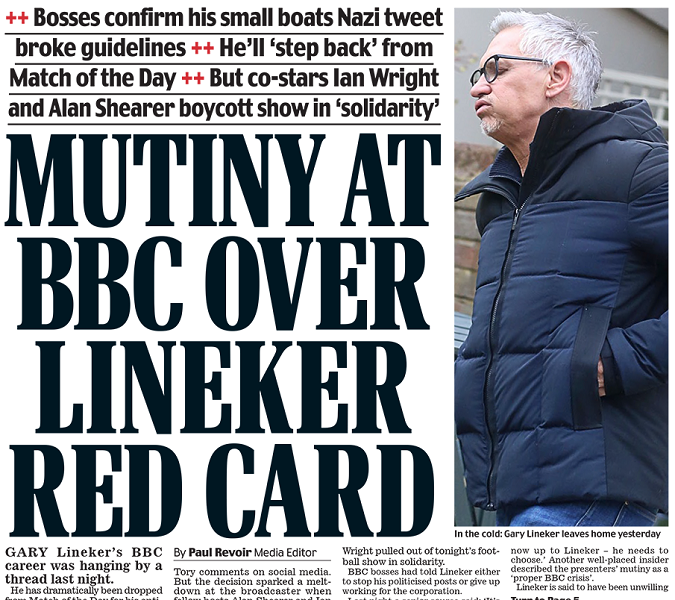 Mutiny on the BBC flagship Match of the Day as striking soccer pundits take umbrage at Gary Lineker being grounded for speaking out of turn. In a plotline from a bad soap opera all football programmes TV and radio may be voiceless as the massed sporting ranks walk out in support of their master.
The issue at stake is Lineker, highest paid by far of BBC stars, slamming government policy on immigration by text. The new Director General, keen on imposing impartiality on BBC staff, say he breached guidelines and hauled him off air. Lineker described the Government's latest small boats policy as "immeasurably cruel" and "directed at the most vulnerable people in language not dissimilar to that used by Germany in the 30s". The left wing media are supporting him, the right-wing not.
Lineker was a footballer and for thirty years has been a BBC pundit which has helped him acquire 8.7 million Twitter followers.
What is intriguing astrologically-speaking is Lineker's interface with the BBC given that he has been a fixture for so long.
He was born 30 November 1960 in Leicester, England, and is an adventurous and outspoken Sun Sagittarius in a determined and controlling square to Pluto North Node in Virgo; with a hard-edged and short-fused Mars in Cancer opposition Saturn Venus in Capricorn.
His Sun is conjunct the BBC's Venus for a friendly link; but his Pluto North Node opposes the BBC's 10th Uranus which is highly disruptive. And his Saturn opposition Mars squares the BBC's Saturn in Libra – thereby crashing his irritable, authority-loathing tendencies into a collision with the BBC's (not always obvious) desire for balance and the BBC's Pluto in Cancer compounding the aggravation.
Even more striking is the relationship chart with an inflammatory and volatile Yod of Sun sextile Neptune inconjunct Mars. Tr Pluto is exactly square that Mars now and on and off till late 2024 – so the boiling cauldron will not cool down anytime soon. Tr Saturn is also square the composite Saturn Jupiter opposition Uranus now and throughout the year dampening enthusiasm between the two.
  If I could pitch a personal viewpoint.  When I started in journalism some decades back it was considered unprofessional for journalists to hold party political views – or at least allow their opinions to interfere with their work. They were there as dispassionate observers to make sense of the political scene. The explosion of social media has given carte blanche to everyone and anyone to voice their opinion. Lineker was never a journalist but he does owe his income and position to an organization that should be seen as impartial.  
  Lobbing grenades at government policy?  Do I care what a former footballer who commentates about men kicking balls up and down a pitch thinks?  Actually not at all. Whether he is right or wrong, or partially right but over the top in voicing his opinion doesn't really matter. If he wants to be an activist he should set himself free of the BBC and do his thing, though I suspect his twitter audience might shrink.  Ditto Chris Packham.