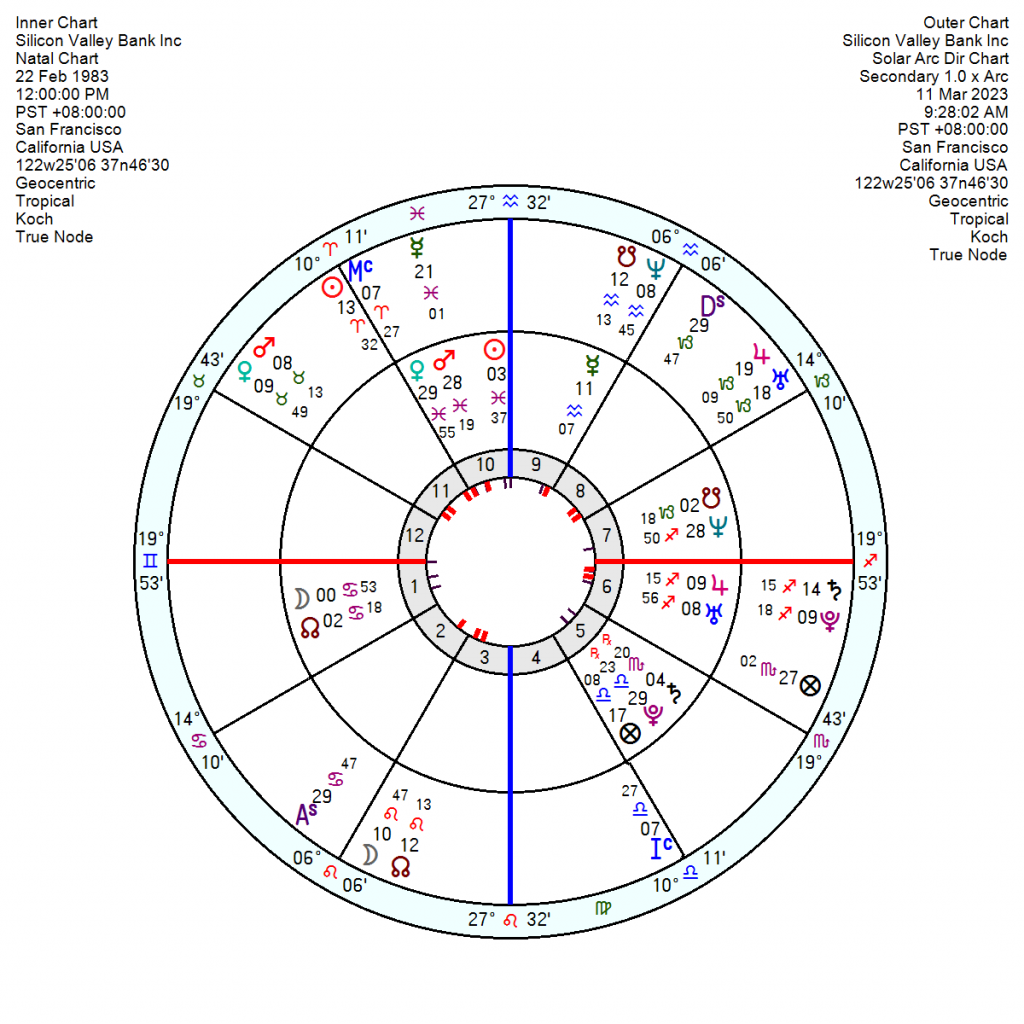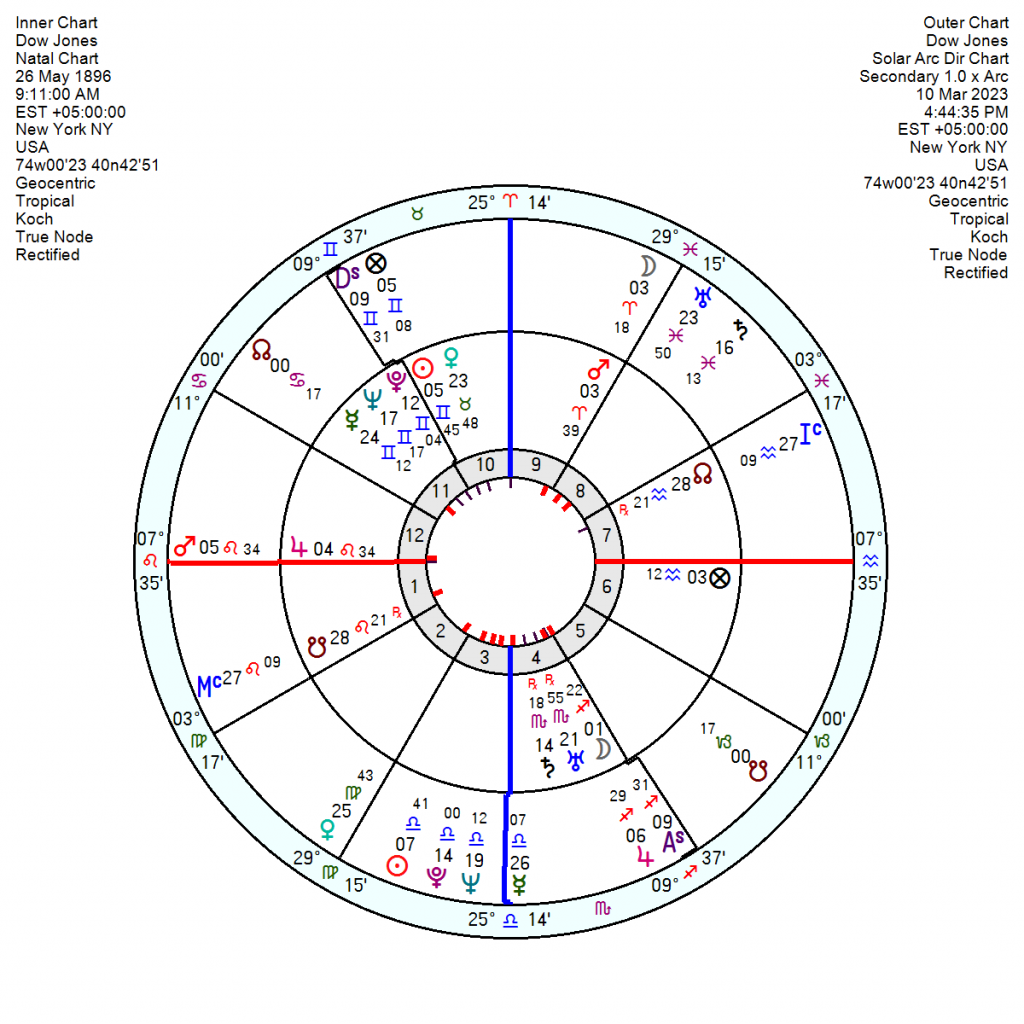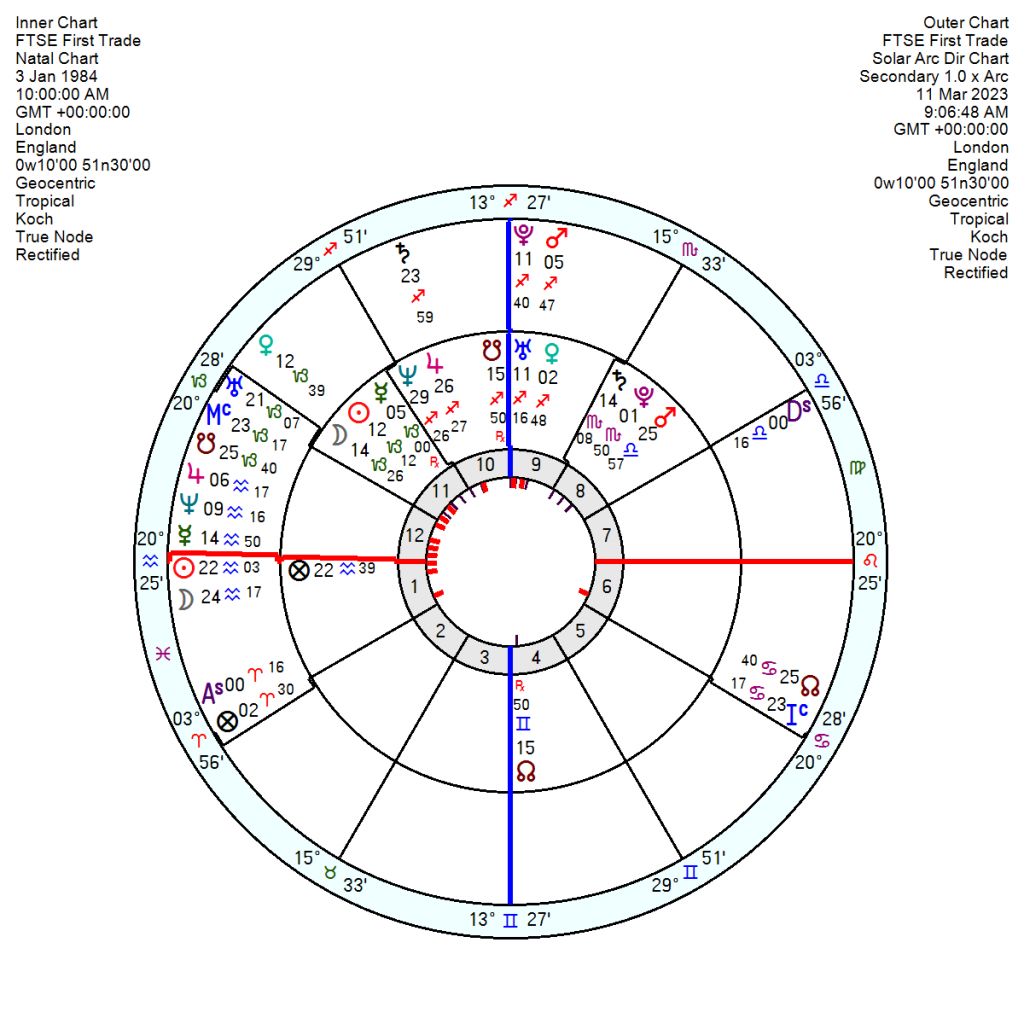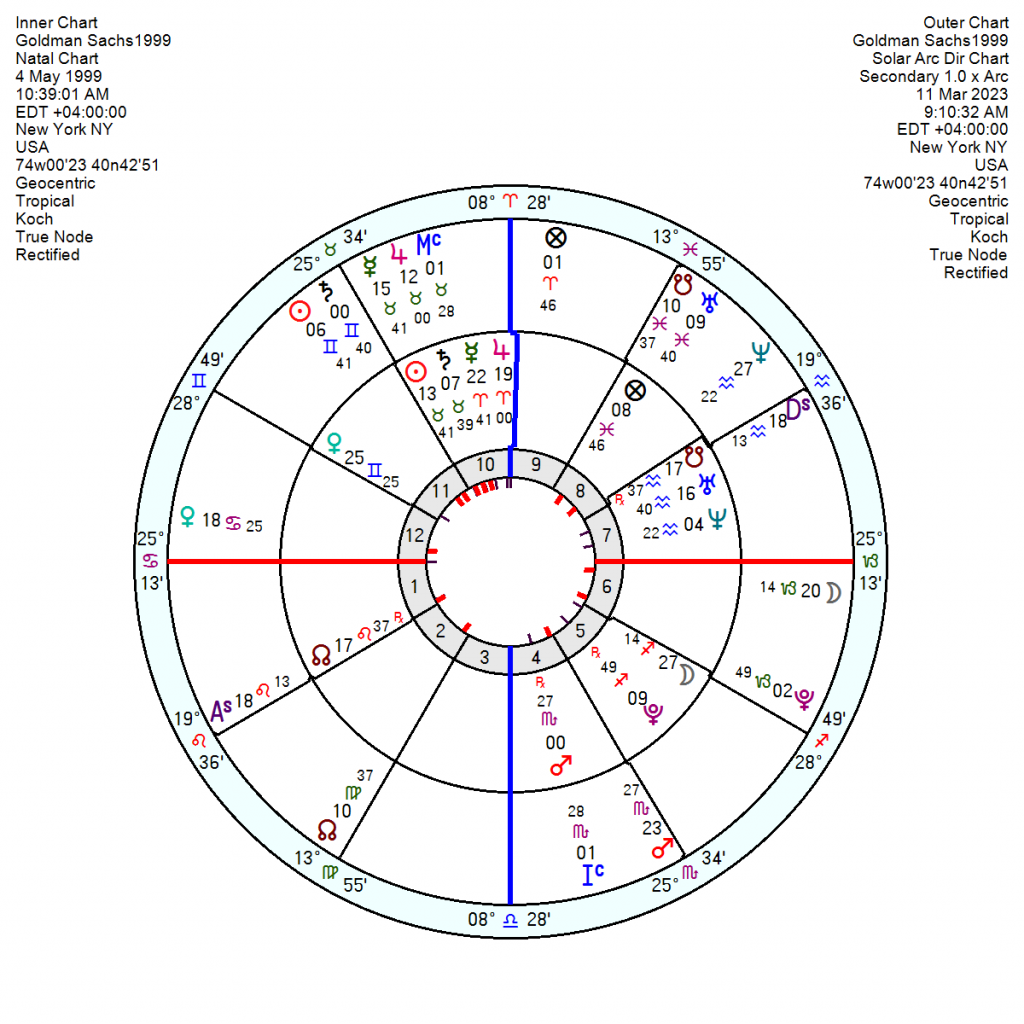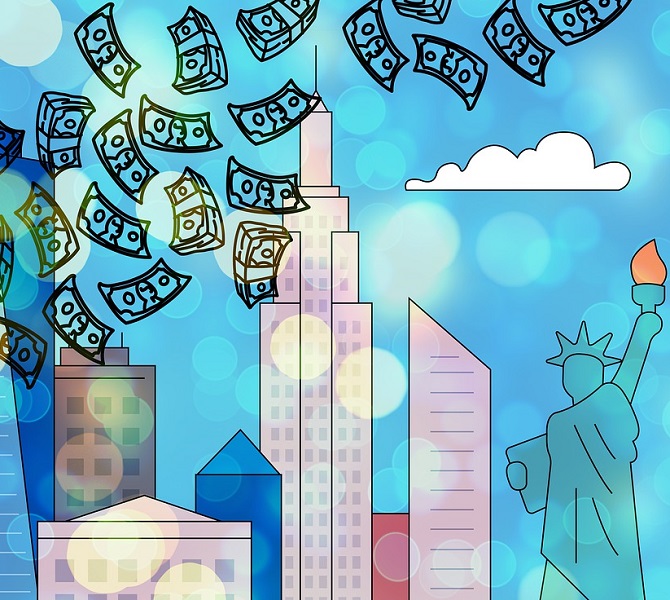 Skittish as a yearling colt the markets were spooked by the collapse of a small Silicon Valley bank which sent shares in major US banks plummeting and rippled across the Atlantic to affect UK and EU financial entities as well. However banking experts say it doesn't seem likely to trigger a wider financial meltdown. Unlike the giant banks that ignited a global crisis in 2008, SVB was heavily dependent on a single risky sector of the economy for depositors and customers.
What seems to have been a catalyst is anxiety about the Federal Reserve raising interest rates which has the money men on a knife edge of panic.
The SVP incorporated on 22 February 1983 has a 3 degree Pisces Sun trine Pluto Saturn. Tr Saturn is just over the trine to its Pluto and now heading to conjunct the Sun as it goes into closure. With further signs of failure and panic in 2024/25 with tr Neptune conjunct the Mars and Venus as the mess is mopped up.
Economic and financial experts are notoriously erratic when it comes to predictions – a good deal less accurate than astrologers. So they may well be mistaken that this is an aberration rather than warning bell. It always seemed likely there would be a financial crisis kicked off by Pluto moving into Aquarius.
From September 10 2021 post:
'A global financial crunch looks likely around Pluto's entry into Aquarius from late March 2023 onwards. It may not be the same as the 2008 Pluto-into-Capricorn crash but there is consternation on several central bank charts.
The US Federal Reserve has tr Pluto opposition the Neptune at zero degrees Leo in 2023/24 which usually indicates devastation of sorts and paralysis running for two years after; followed by tr Neptune square the Saturn Pluto conjunction in 2025/26 which won't be much better. The Bank of Russia has an equally blocked and scary tr Pluto square Mars at zero degrees Taurus in 2023/24. The ECB has Neptune at 1 Aquarius catching the tr Pluto hard aspect in 2024/25.
The Bank of Australia also highlights 2024/25 as years of panic and uncertainty. The Bank of China is nerve-stretched in 2022 and worse in 2024 to 2026 with tr Neptune and Solar Arc Neptune both in hard aspect to its overly confident Uranus opposition Mars Jupiter which will deflate confidence considerably.' The Bank of England has tr Pluto trine Mars at zero Libra – so immense challenges from late this month.
[See previous Sept 10 2021 post for previous examples of Pluto in Aquarius – + Hugh comments.]
Stock market charts tend to be variable in terms of providing illuminating information and bank charts are tricky since their long histories tends to be of mergers and re-sales so it is not easy to pin down effective start dates. For what it is worth, Goldman Sachs, 4 May 1990, looks logjammed from later this month for two years ahead. Bank of America, 1 October 1998, is mired in confused panic this month and financially stressed as Pluto moves into Aquarius with considerable challenges in 2024/25. Citigroup, 16 June 1812, ditto.
The Dow Jones, 26 May 1896 9.11am New York will find its Sagittarius Moon and Gemini Sun depressed by tr Saturn throughout this year; with great uncertainty in 20924 from Solar Arc Saturn square Neptune.
The FTSE 3 January 1984 10am London, is certainly pressured with tr Pluto square the Mars/Pluto midpoint and then Pluto in 2023/24 and has a bubble bursting tr Neptune square the Jupiter (and Neptune) from this April onwards.