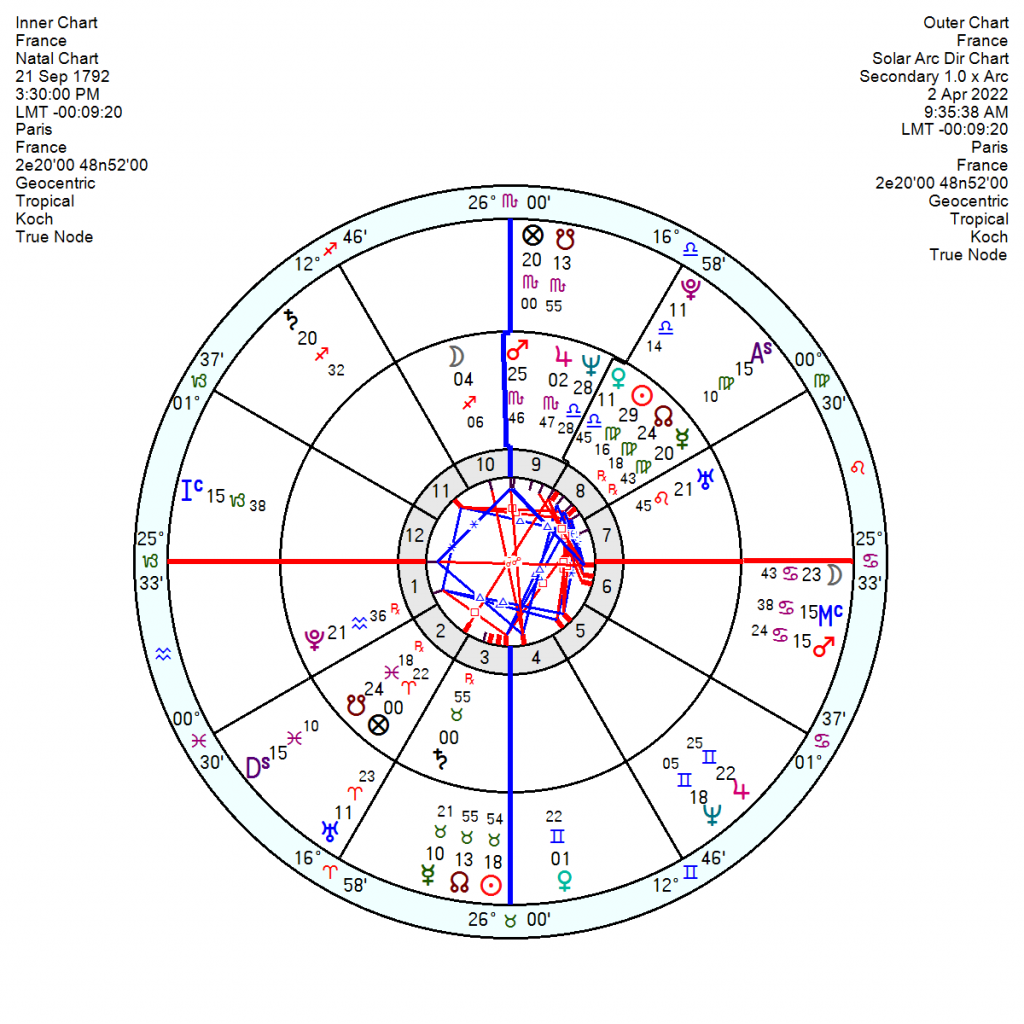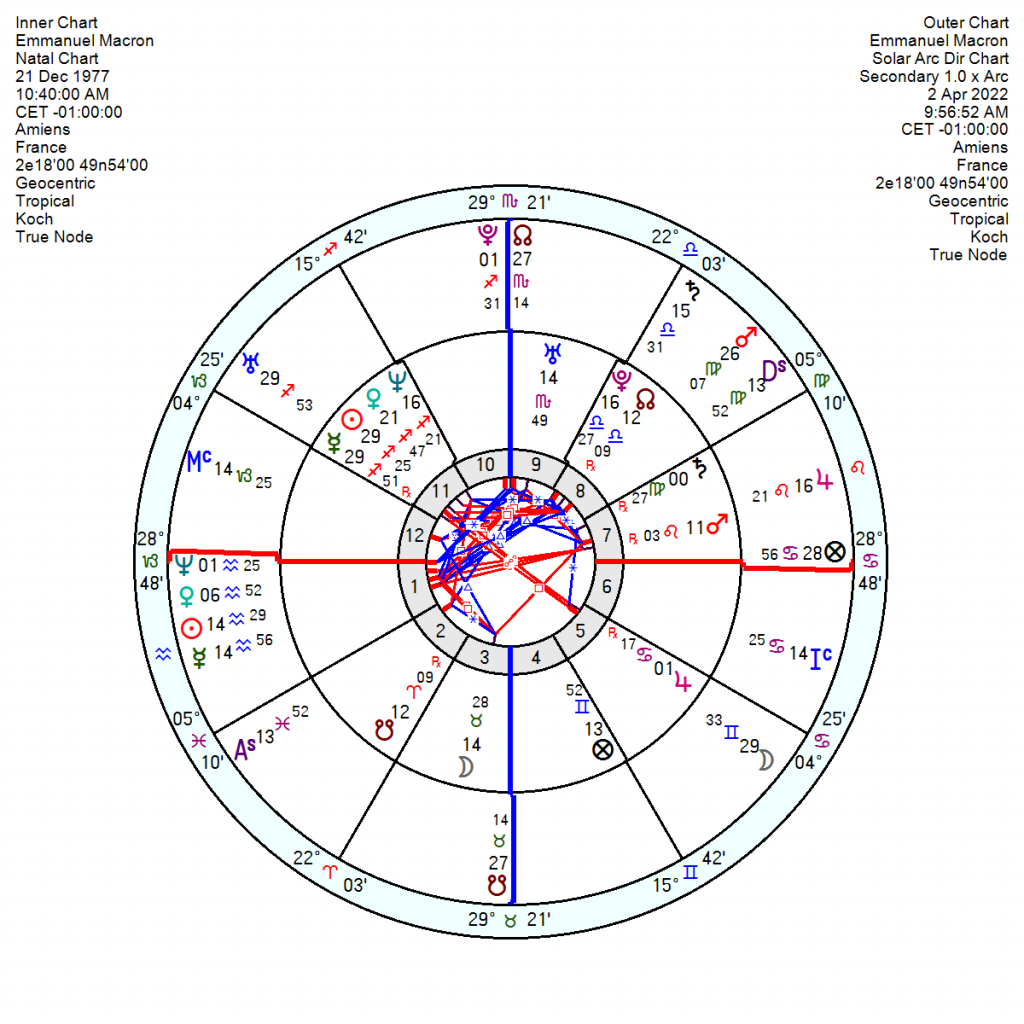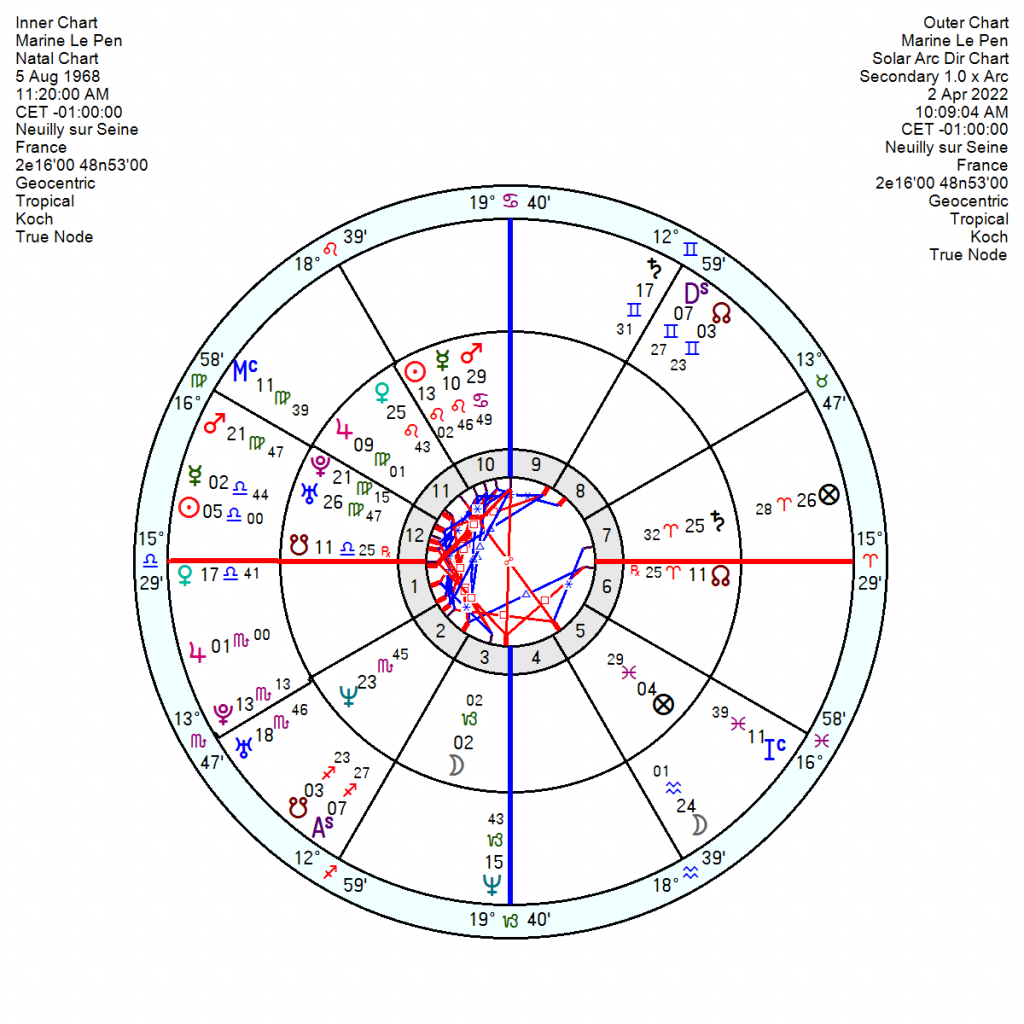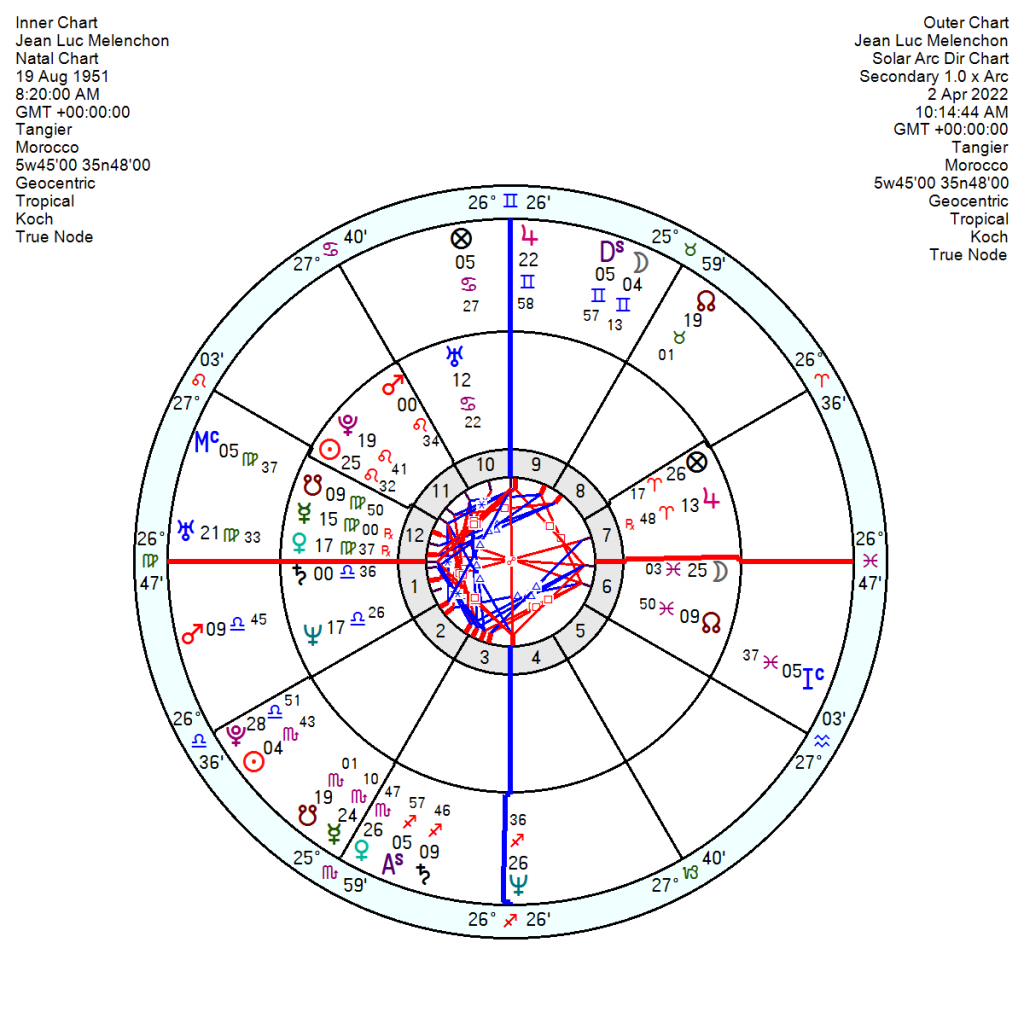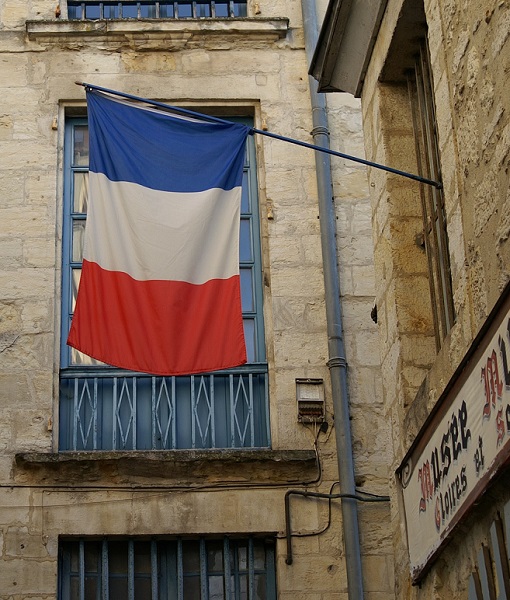 France is holding presidential elections with the first round on April 10th and a second round on April 24th between the top two.
At present Emmanuel Macron leads the polls with 27.9%; Marine Le Pen 20.2%; Jean Luc Melenchon 15% and Eric Zemmour and Valerie Pecresse around 10%. But polls are notoriously bad gauges for the final vote.
Whoever wins or loses by far the more interesting question is what is happening in France? The central T square on the 21 September 1792 chart of Pluto in Aquarius opposition Uranus square Mars (Midheaven) in Scorpio is being depressed this year by tr Saturn hard aspects. This is in preparation for the hugely disruptive and jolting tr Uranus hard aspects – conjunct the Pluto, opposition Uranus from mid 2023 onwards into 2024 when it moves on to the 'shocking', insecure opposition to the France Mars into 2025. Just to add to the pressures tr Pluto will square the France Saturn in 2023/24, which suggests hardship and a dispiriting slog.
Most countries will be rattled over the next few years but the challenges for change in France will be more severe than most.
Across this election there will be widespread confusion with tr Pluto square the France Neptune until June (running on and off till late 2023). Over the first round there is a calamitous tr Uranus square the France Mars/Saturn which may be external events/accidents or a sobering result – that may even hint at a repeat of the 2002 first round result when the electorate woke up to the prospect of Marine Le Pen's father Jean-Marie being within striking distance of the presidency. He was a holocaust denier and far-far-right. In the event Jaques Chirac won on 82 to 18% in the final round.
Over the second round this time there is a more upbeat tr Uranus opposition the France Mars/Jupiter midpoint. But whoever wins will be faced with a very stressed and turbulent term.
Emmanuel Macron, 21 December 1977 10.40am Amiens, France, a centrist, won last time against Le Pen (66 to 33%) on a youthful 'yes we can' campaign, aided by a scandal which removed one of the other front runners. He's been boosted recently with the post-pandemic economic recovery and his high profile stance over the Ukraine invasion.
  Tr Pluto is exactly on his Ascendant with tr Saturn moving through his less successful, low profile first quadrant. He will feel an urge to maintain a strong control and have more influence, hence perhaps his chest-beating performance over Ukraine. But tr Saturn does not indicate a fruitful time ahead. It doesn't mean he won't win, just that he'll slide on multiple banana skins and make misjudgements in coming years. But there will be significant upheavals in his life with tr Uranus conjunct his Moon and opposition his Uranus over the second round which might sound like a domestic move.
His wife Brigitte, much involved in his politics, 13 April 1953 3pm Amiens, France, has a car-crash setback (metaphorically speaking) exact now with her Solar Arc Mars square her Saturn.
Marine Le Pen, 5 August 1968 11.20am Neuilly sur Seine, has attempted to detoxify her party's far-right image and does appeal to a section of working class voters. Her polling has improved in recent weeks. Her Leo Sun is being pressured, first by a tr Uranus square over the first round and also by a blocked Solar Arc Pluto square – the first could change her lifestyle, the second influence bring a setback. She has mildly upbeat midpoints through May and on.
Jean-Luc Melenchon, 19 August 1951 8.20 am Tangier, Morocco, a left-wing veteran is campaigning to lower the retirement age and welcome immigrants which won't go down well though his polling figures have improved in recent weeks. He does have one upbeat Jupiter midpoint running till June alongside unsettling and over-stressed midpoints over the first round which will prompt him to adjust to new circumstances; with some uplift through May.
Eric Zemmour, 31 August 1958 6.45 am, Montreuil, France, anti-immigration and recently convicted of hate speech, was second in polling months back but his pro-Putin stance has damaged his chances. He won't let it stop him since he has tr Pluto square his Jupiter through till June which will power up his confidence though tr Pluto is also square his Sun/Saturn midpoint at the same time which suggests slow to no progress.
Valerie Pecresse, 14 July 1967 12.10am Neuilly Sur Seine, centre-right, self-described as two-thirds Angela Merkel and one-third Margaret Thatcher, she takes a hard line on immigration, wants to slash public spending and fight sexual harassment. She has recently lost out to Le Pen/Zemmour in the polls. In general she's having a frustrating less than productive year with tr Pluto square her Mars on and off.
The usual contradictory hotch potch of influences for the candidates. The only two with Jupiterian luck are Melenchon and Zemmour who don't look likely. So it may reflect their self-confidence more than the result.
But France and Macron are the interesting charts – with Uranus sending out shock waves to both – for France the revolutionary Pluto opposition Uranus being on red alert ahead. And Macron's Moon opposition Uranus being tossed around over the second round.