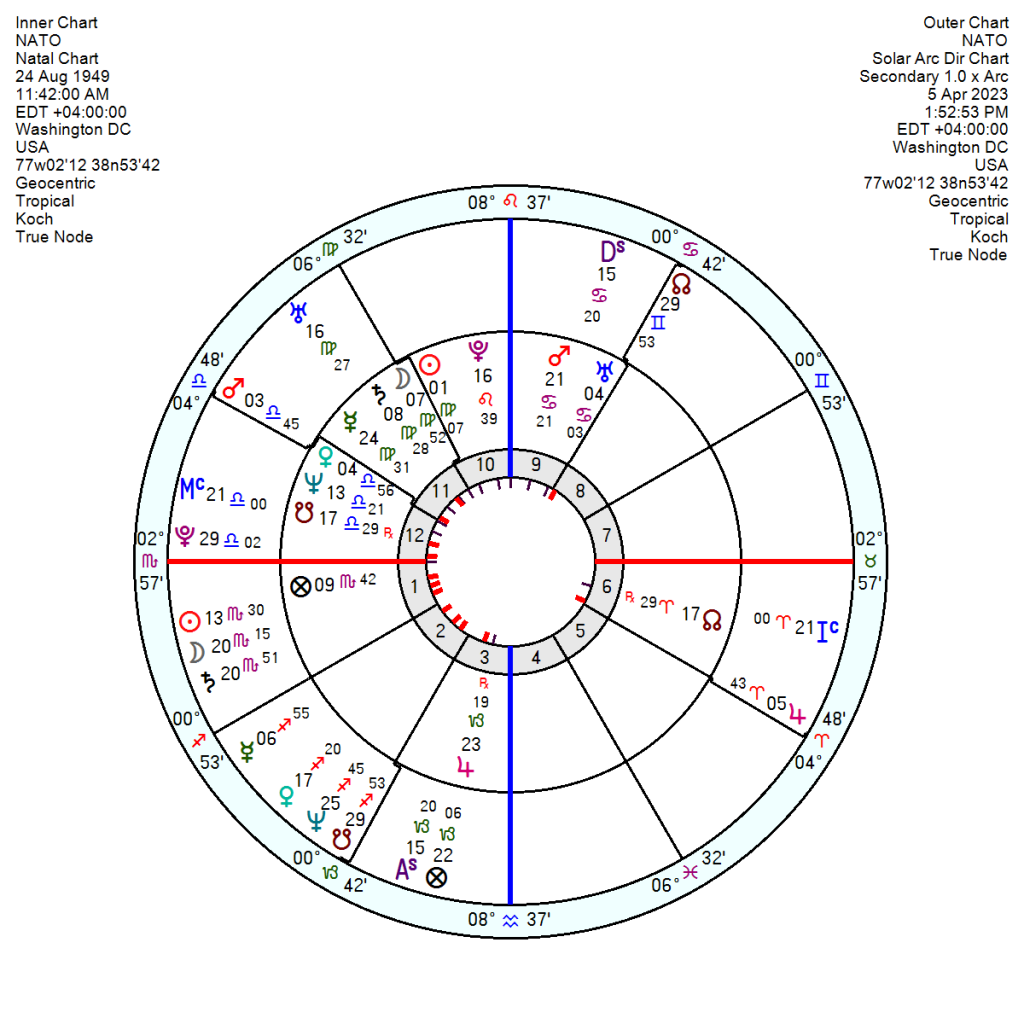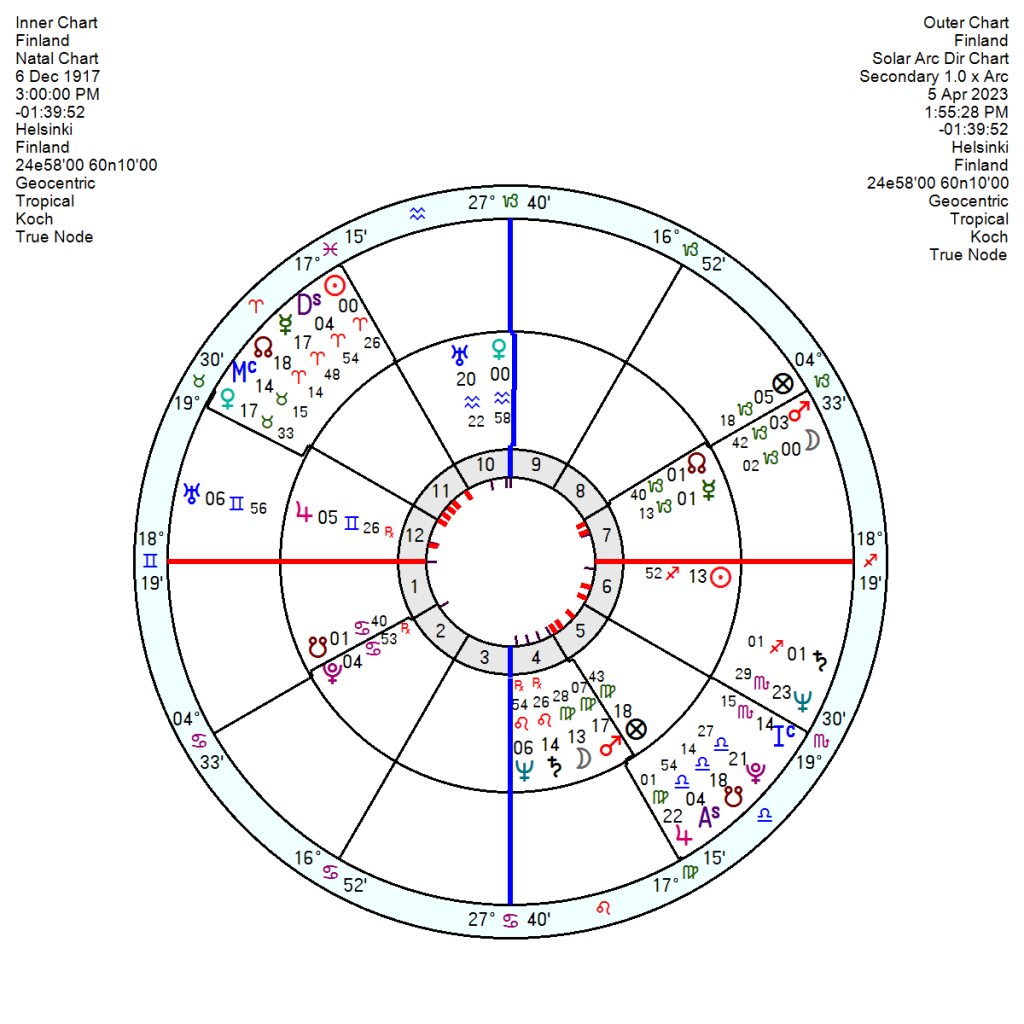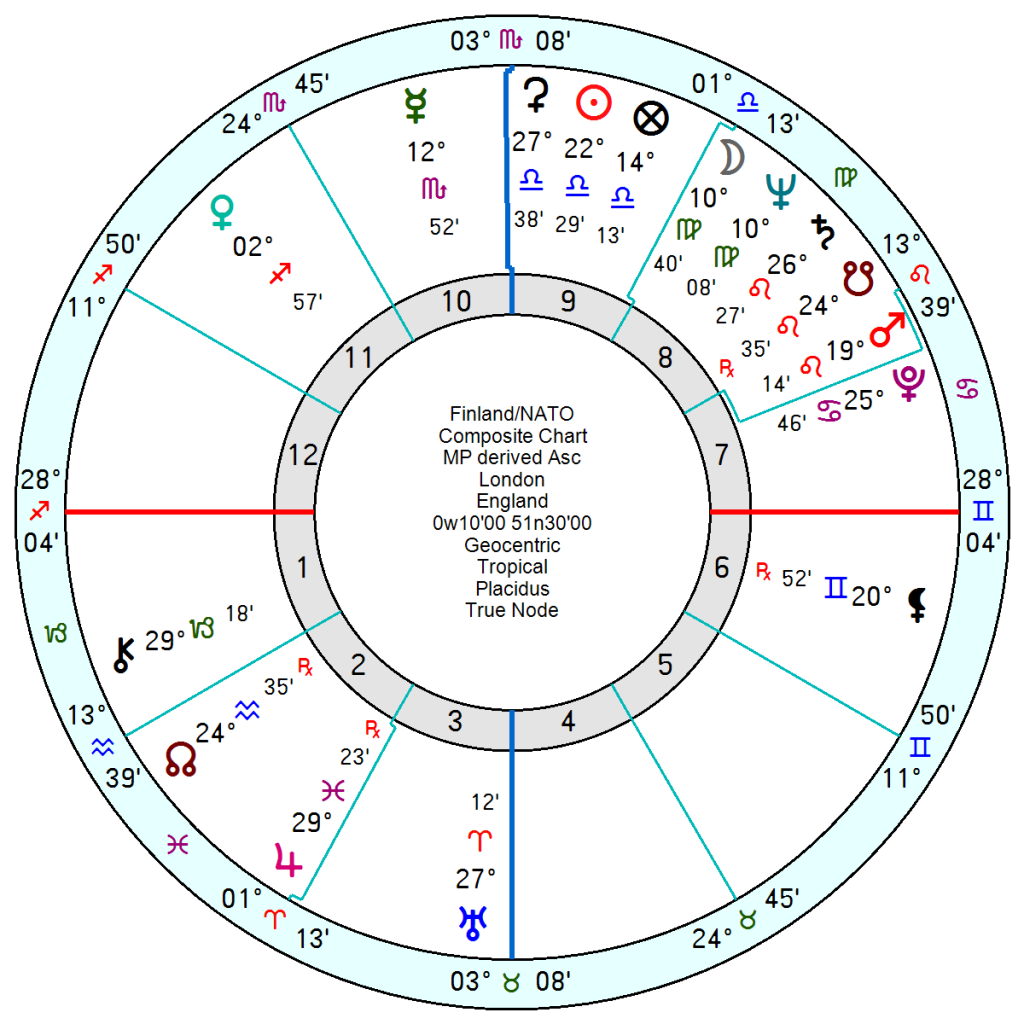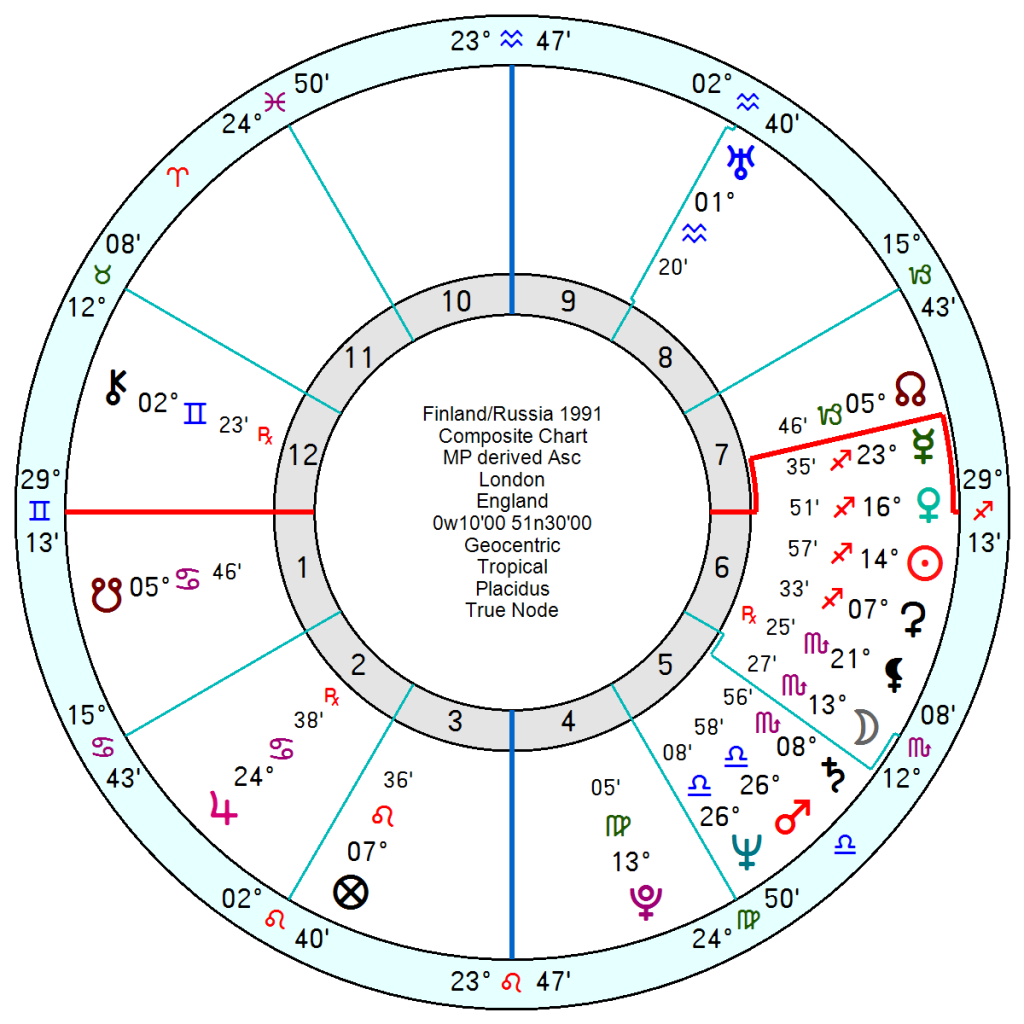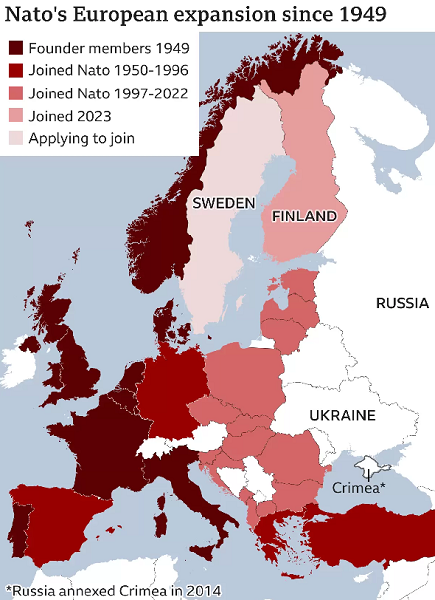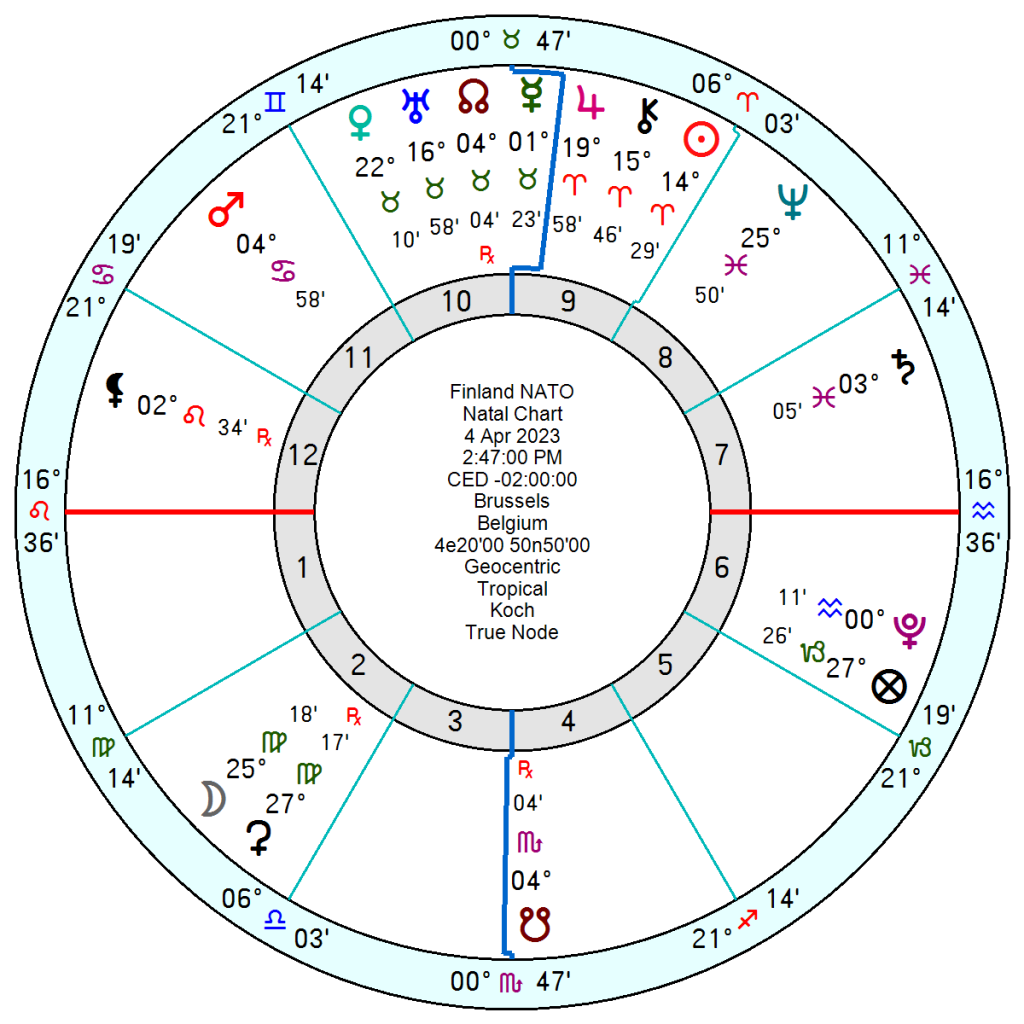 Finland became a NATO member yesterday as a direct result of Russia's invasion of Ukraine which was launched by Putin in the expectation it would check Nato's expansion and weaken Western cooperation. Finland's entry will more than double the size of NATO's border with Russia, adding another 800 plus miles. Finnish support for Nato membership leapt from a third of the population to almost 80% last year.
The application had been delayed by Turkey who have also blocked Sweden from joining because of its support for Kurdish militants. Sweden does not share a border with Russia and can count on bilateral security guarantees from the US and UK even without membership.
The Nato chart, 24 August 1949 11.42 am Washington, DC, indicates a significant change of direction with some disruption as tr Uranus is exactly square the 10th house Pluto at the moment. There are ominous signs of aggravation brewing from two Solar Arcs, exact within four months but in effect all year – Solar Arc MC square Mars and SA Mars square Uranus. It'll be a nervy, explosive, tinderbox phase. The Finland/NATO relationship will equally be on edge from the middle of next month with tr Uranus square the composite Mars repeating mid December to mid March 2024 – which may just be Russia upping the rhetoric or being provocative.
The Finland 6 December 1917 3pm Helsinki country chart has relatively similar planetary position to the Russia 8 November 1917 chart with both having Uranus at 20 degrees Aquarius. So both are in a status-quo-upsetting year. One by choice and one having tripped through bad judgement into a quagmire.
Late 2024 looks trapped and scary on the Finland chart with Solar Arc Mars opposition the Pluto but that could be for any number of reasons, including financial ones. This year is a hugely significant juncture for Finland with Pluto crossing its Midheaven, bringing an urge to take control of future direction. Pluto is also conjunct the Venus now exactly and on and off till late 2024 which will heighten emotional reactions considerably.
  The Finland/Russia 8 December 1991 relationship chart which showed up last year's alarm and concern with tr Pluto square the composite Mars Neptune, hints that 2024 may see diplomatic relations cooling further with a separating tr Saturn in hard aspect to the composite Sun, Venus and Pluto – as well as a turbulent tr Pluto conjunct the composite Uranus into 2025 as well. 
The signing took place at 2.46/7 pm in Brussels on 4 April, which puts a heavily aspected Mercury in Taurus on the Zero Taurus midheaven square Pluto – so very much a Pluto in Aquarius event. Mercury also sits on the midpoint of a Mars in Cancer trine Saturn which has military association. There is a Sun Jupiter in the international 9th. Saturn in the 7th – chilly relationships with those closest.
  There is also an exact 2nd house Virgo Moon opposition an 8th house Neptune both in close aspect to the Fixed star Alkaid in Ursa Major at the end of the tail of the great bear. Perhaps the disappointment on the Russian side though that is probably over hopeful.
  Edgy times for those living close to the bear's lair. Well it probably always has been but more so at the moment.