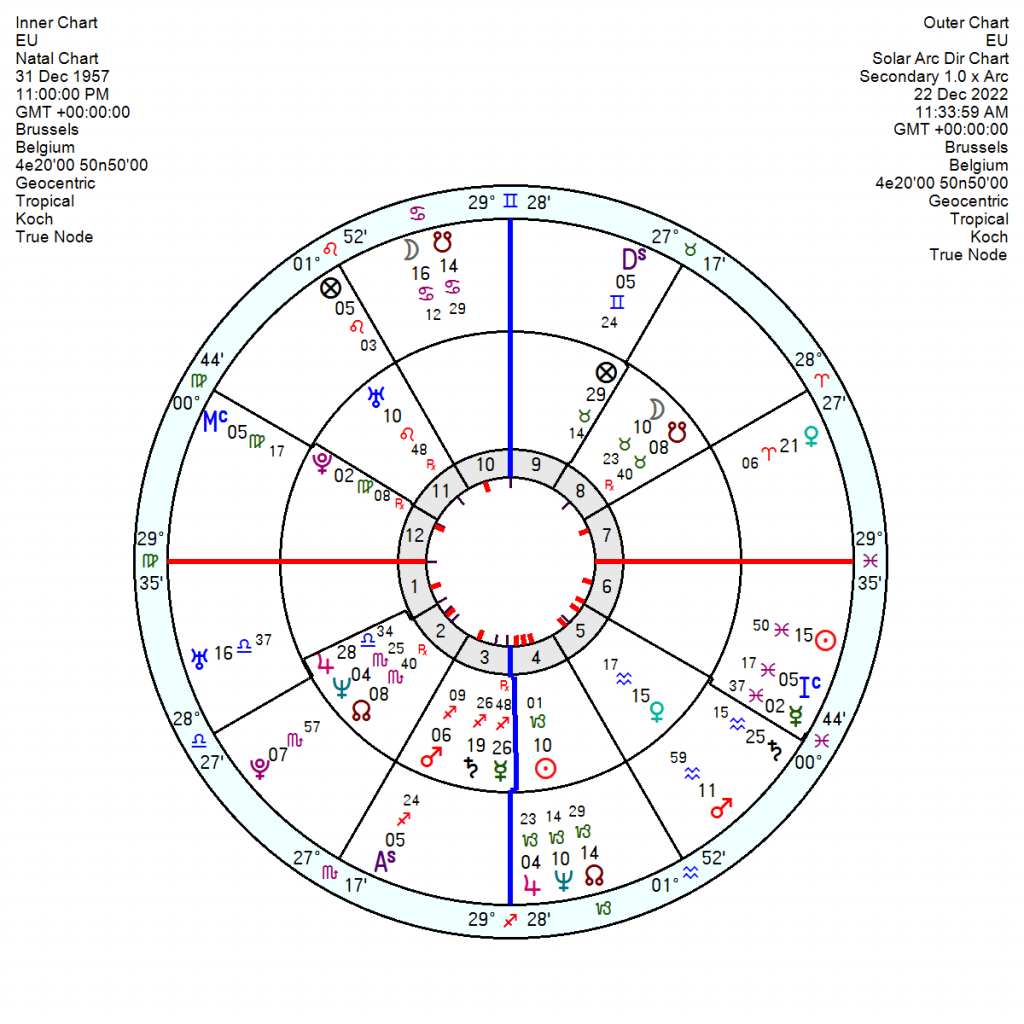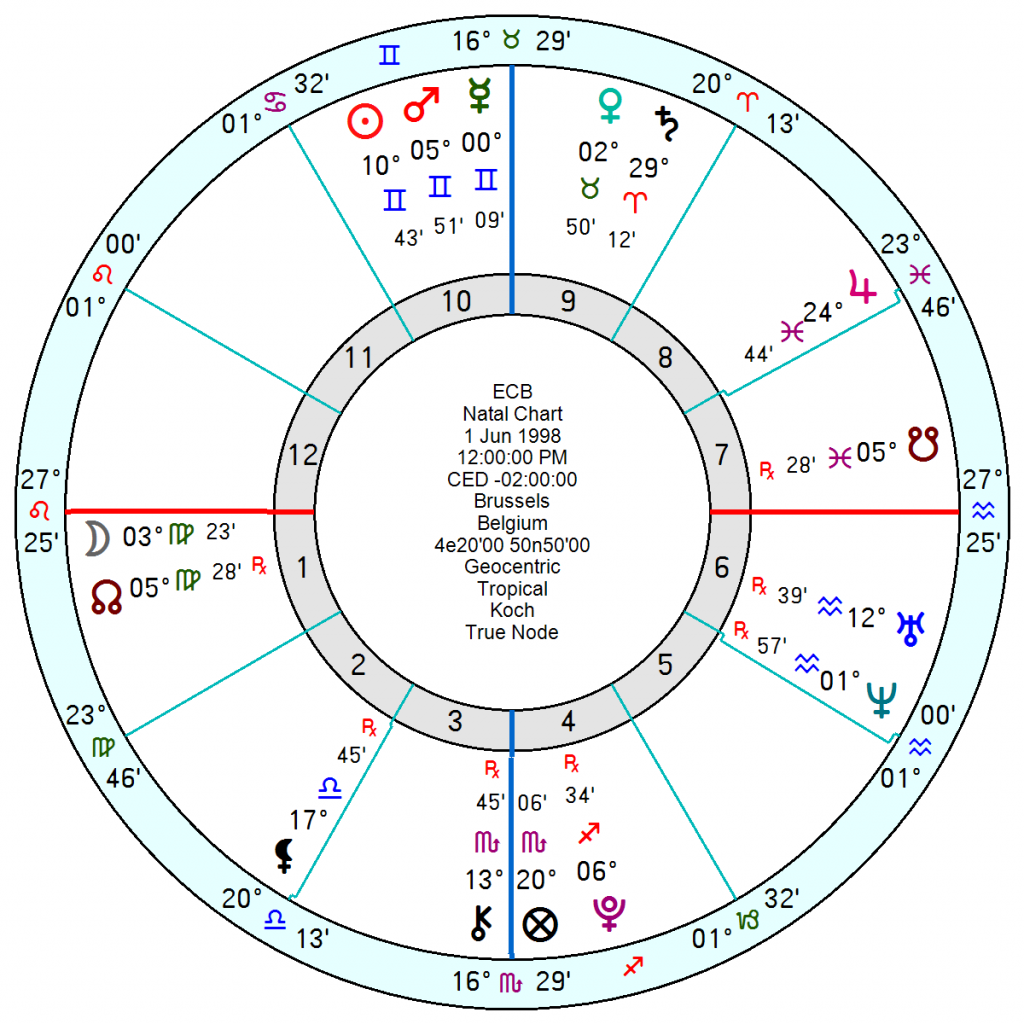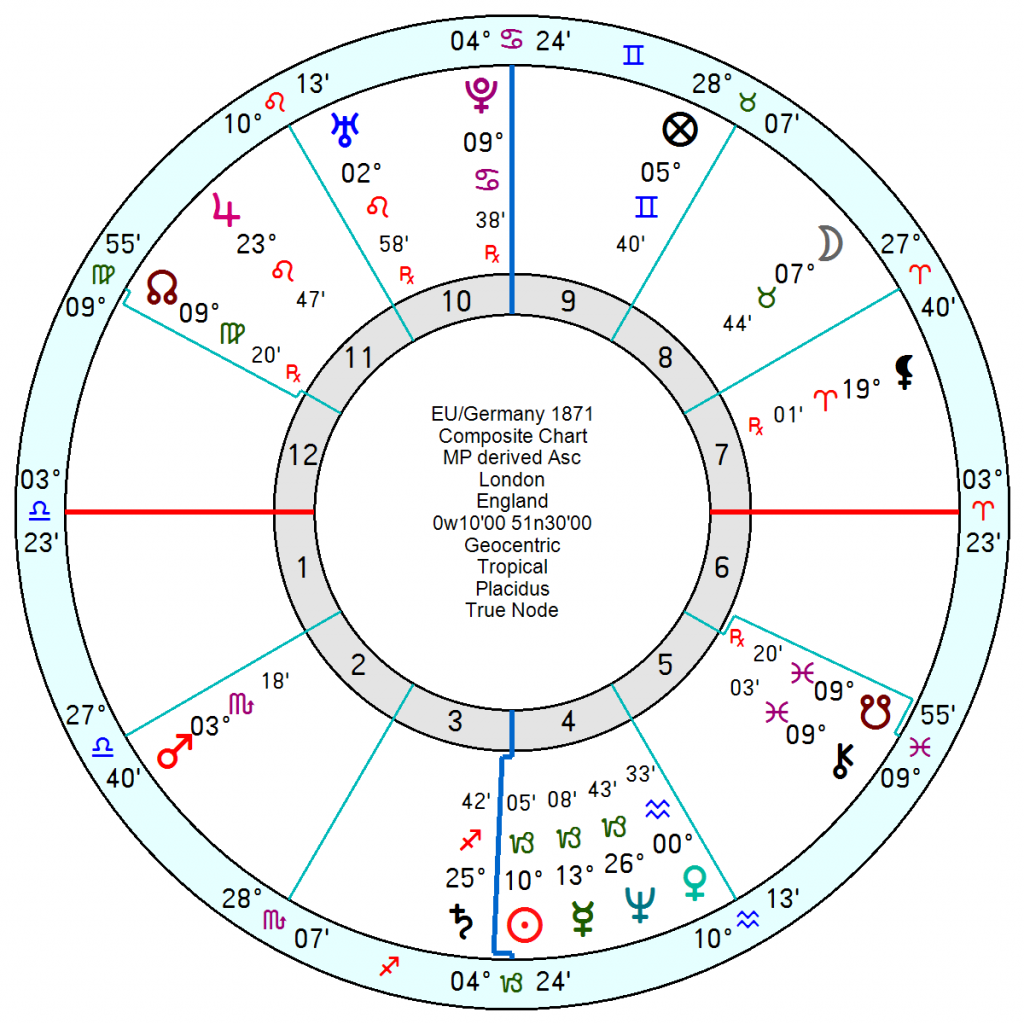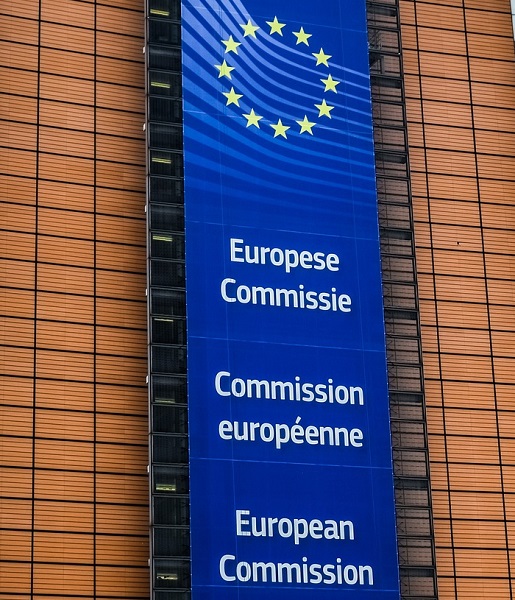 The economic doomsayers are murmuring warnings about the EU returning to quantitative tightening as German hawks regain control of policy. Financial arrangements will no longer be tilted in favour of southern Europe's high-debt states just as they are struggling to cover their energy bail-outs. A one-size-fits-all monetary policy could, as in 2008, significantly worsen the coming global recession/crunch as well as widen fracture lines within the EU.
The EU chart, 31 December 1957 11pm Brussels, has taken a fair battering since Uranus moved into Taurus and started in 2020 to shake up the 8th house EU Taurus Moon and 11th house Uranus. What may have been a saving grace is the EU's 2nd house Jupiter Neptune conjunction which produces luck initially but is guaranteed to trip up because of scandal or unrealistic optimism – or both. Tr Pluto will continue to square the Jupiter throughout 2023 which may stave off implosion though there will be tremors from tr Uranus square the speculative 5th house Venus now till early 2023.
When the real aggro or overwhelming panic kicks in will be 2024 as tr Pluto squares the Jupiter/Neptune midpoint and is conjunct the Neptune on the ECB 1 January 1999 chart.
During 2023 tr Saturn will oppose the EU 12th house Pluto which will put the blocks on behind-the-scenes dirty-dealings. And tr Saturn will also square the 3rd house Mars for neighbours/siblings at war with heated arguments.
In 2024 tr Neptune will square the EU Midheaven for an undermining and indecisive phase of dither and muddle with little propping up morale. Worse follows in 2025/26 as Solar Arc Pluto will oppose the financial Moon and square Uranus; with tr Pluto square the 2nd house Neptune – which could be terminal or lead to an almighty upheaval and forced change of financial direction.
Ursula von der Leyen, now deemed the world's most powerful woman, President of the European Commission, took up her role on 1 December 2019 so will be labouring under the Solar Arc Saturn closing the conjunction to Pluto to exact within four months, which is exceptionally heavy going. Tr Pluto will trine the Midheaven so she may retain a firm grip through 2023/24 but will experience a considerable shock as the Solar Arc Uranus opposes the Mars in early 2024.
The old Franco-German alliance has been creaking badly through 2022 and more so in 2023 with high frustration and impatience surfacing at several points and ructions from May onwards for the following two years.
The Germany/EU relationship chart which is tightly connected will be feeling the financial strain when tr Pluto moves into Aquarius from late March since it will conjunct the composite Venus; with depression and uncertainty running from March as well into early 2024. Open warfare (metaphorically speaking) is likely to break out in 2025 to 2025 with the composite Uranus, Mars, Moon Grand Cross being pounded.
France and the EU will also be at a fractious standoff from this spring, right through till 2025 when there is likely to be a significant reset in relations with a major upheaval. Italy ditto.
France in particular is heading into troubled times with tr Uranus upending its Uranus opposition Pluto and square Mars Midheaven from mid 2023 till 2025; with an undermining tr Neptune opposition the Virgo Sun in 2024.
  And Germany in a lesser way is coping with tr Uranus in a disruptive conjunction to the 8th house Pluto till this coming spring; and a trapped, frustrating tr Pluto trine Mars from late March 2023, on and off till late 2024; with the Bundesbank flashing red lights of alarm throughout 2023 to 2026.
All too exhausting to contemplate – most countries/entities appear to be following the same trajectory with a nadir around 2025/26.