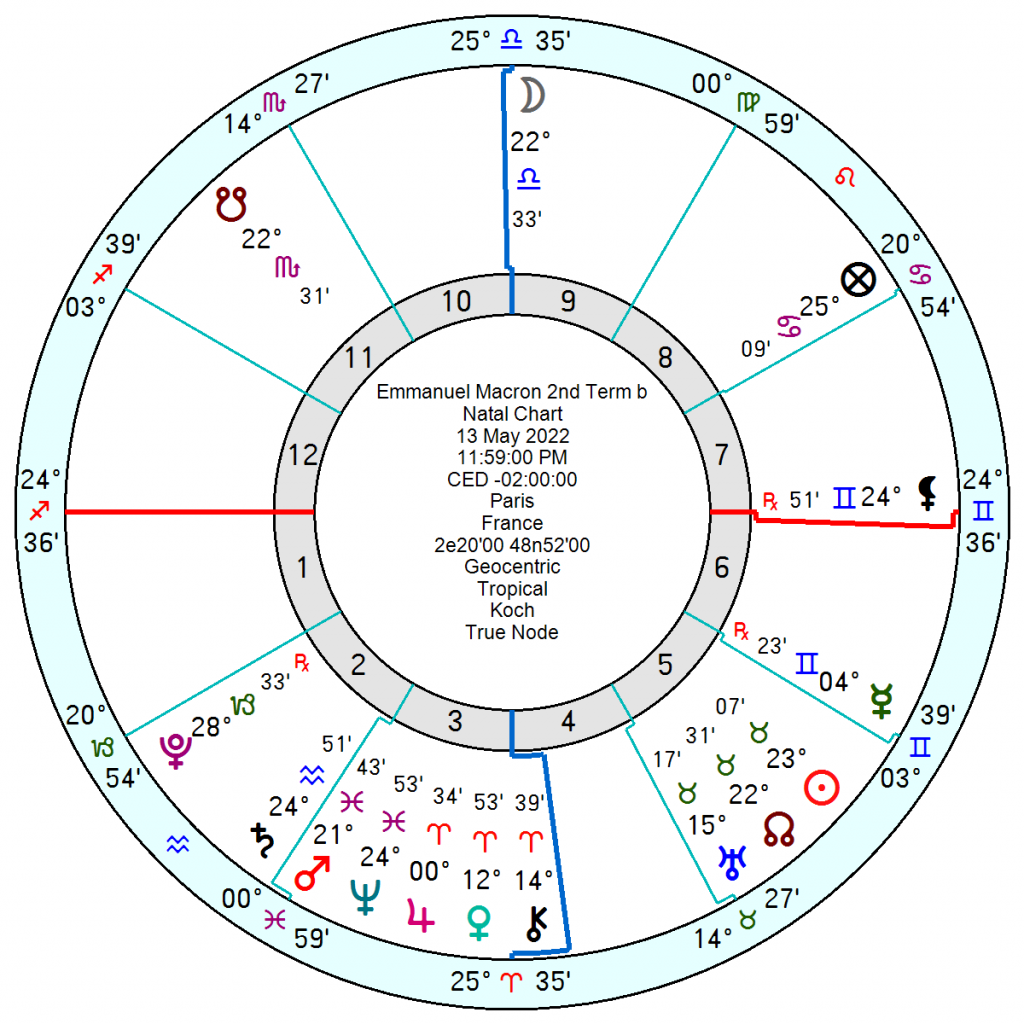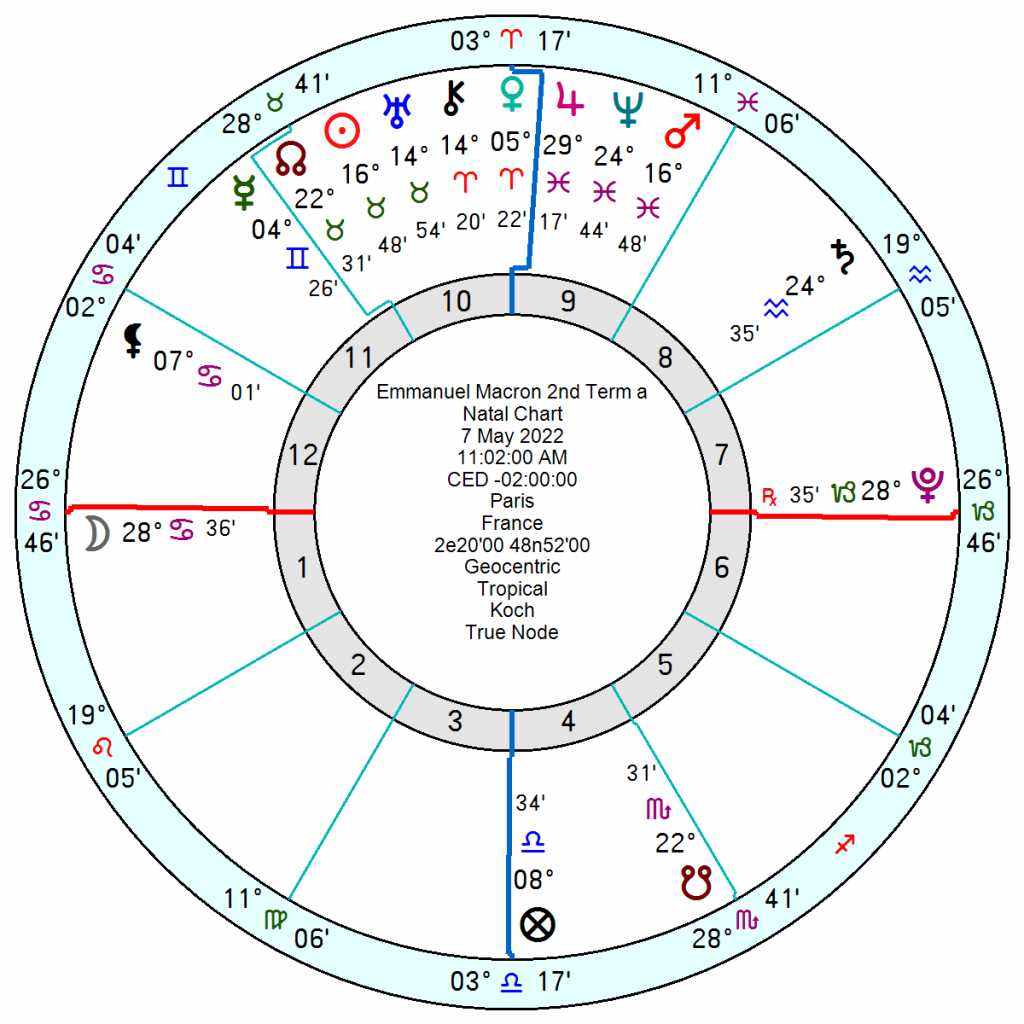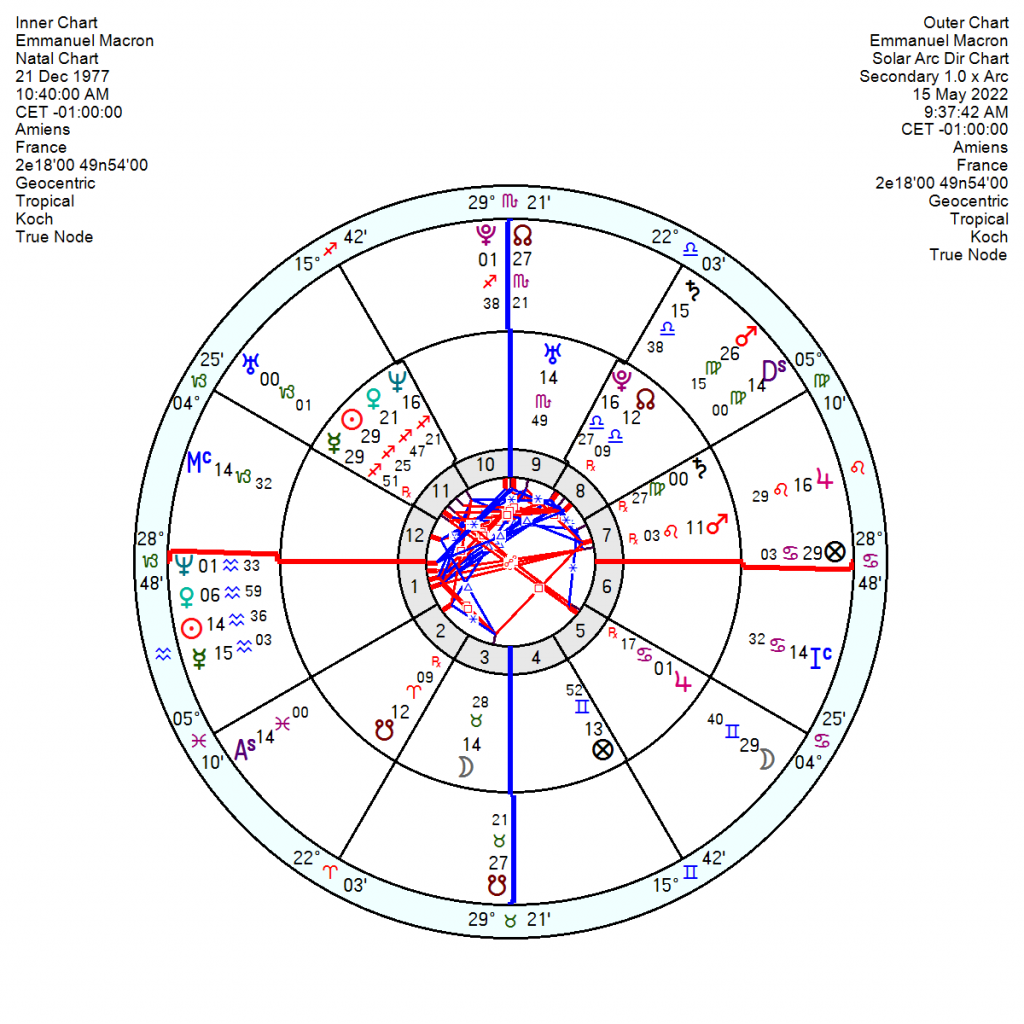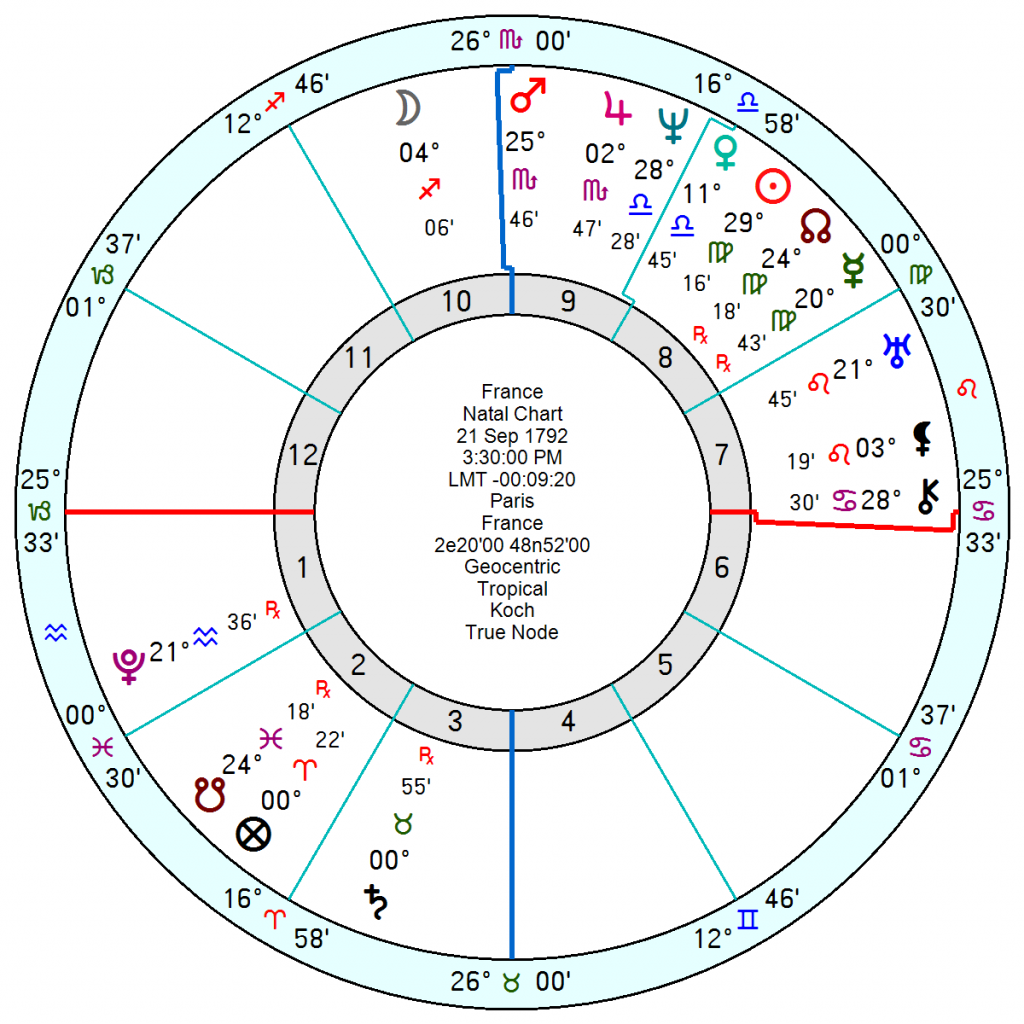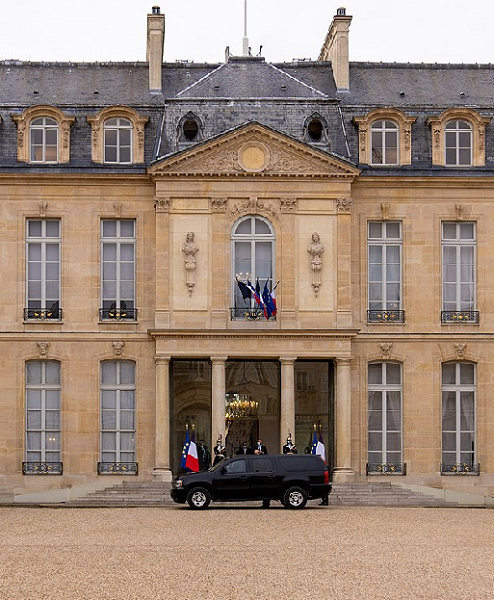 Emmanuel Macron officially embarks this weekend on his Second Presidency for what looks like a tempestuous term ending in tears and tribulations. France itself is undergoing a seismic shift and series of convulsions between 2022 and 2025 and his own chart indicates banana skins galore, misjudgments and ultimately failure.
  He had a low-key swearing in on 7 May 2022 (circa 11.02am) and the new government officially started at midnight at the end of the 13th. Both charts have unpredictable Sun Uranus conjunctions square a downbeat Saturn. Both hint at financial woes and the 13th May points to a grandstanding performance with pzazz, aimed at attracting publicity but not stable. 
  What is interesting about the 13th May chart is that it has a Moon on the focal point of a Yod as does his own birth chart – they suggest emotional disorganization, an overly defensive attitude and a tendency to react in a self-defeating way. It will be most noticeable in the effects of the Term chart with a singleton Libra Moon conjunct Midheaven inconjunct a flashy, showbiz Mars Neptune sextile a 5th house Taurus Sun. The 7th May swearing in also has a prominent Moon in moody Cancer on the Ascendant opposition Pluto – hinting at over reactions to criticism.
France is undergoing quite a roller coaster with its central Fixed T Square of rebellious Uranus opposition Pluto square Mars Midheaven in Scorpio catching this year the discouraging tr Saturn hard aspects and the tr Uranus hard aspects which will be even more unsettling from mid 2023 into 2025, with forced jolting changes. Tr Neptune is also heading to the undermining opposition to the France Virgo Sun by 2024/25
Macron's own chart has tr Saturn now moving below his Capricorn Ascendant for a less successful few years ahead; with tr Pluto conjunct his Ascendant in 2022/23 putting immense pressure on his reputation and image and giving him an urge to over-control. He has a run of tricky Solar Arcs – this year a jolting SArc Sun square Uranus and Moon; 2023 has a depressingly stuck Solar Arc Saturn conjunct his Pluto; and by 2024 tr Neptune is in a disappointing, indecisive square to his Sun Mercury; with a car-crash Solar Arc Mars square his Sun in 2025 along with a sharp change of direction tr Uranus opposition his Midheaven. He will have odd patches of sunshine on the way through but in general it won't be a fun time. Most of what happens won't be his doing but he won't handle it well.
His relationship chart with France is disruptive this year; edgy and upsetting in 2023/25 and beyond-aggravated by 2025.
His relationship with the UK, never good at the best of times, will take a sharp downward spiral from this year throughout his stint at the Elysee Palace.
Like the UK politicians, he is making the most of the Ukraine invasion to grab personal attention for himself, but from a different direction. He started by initiating peace-making initiatives with Putin and now appears to have gone overboard trying to placate the Russians, saying there'll be no EU membership for Ukraine for decades or NATO membership either. Neither of which are in his gift or helpful in the circumstances. His chart relocated to Moscow has Jupiter in the 4th making it a comfort zone for him. Sigh.