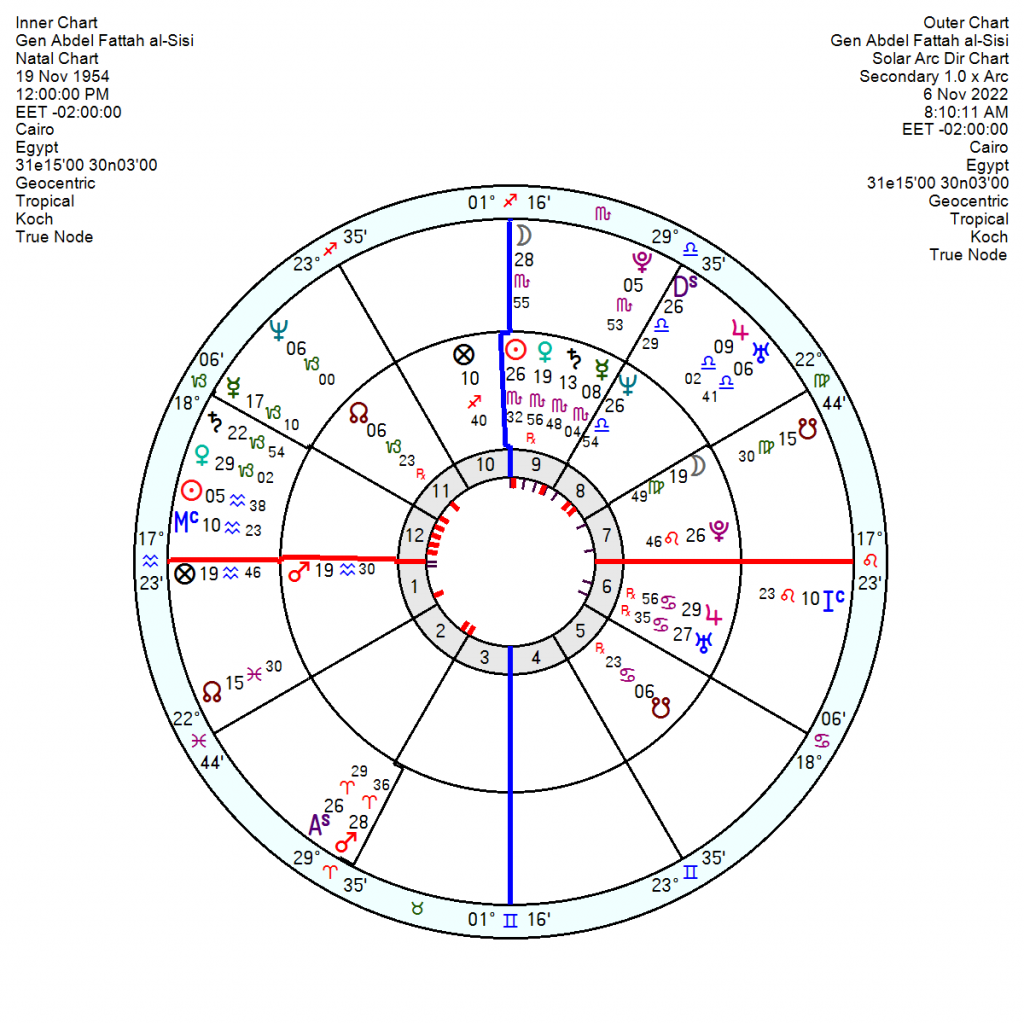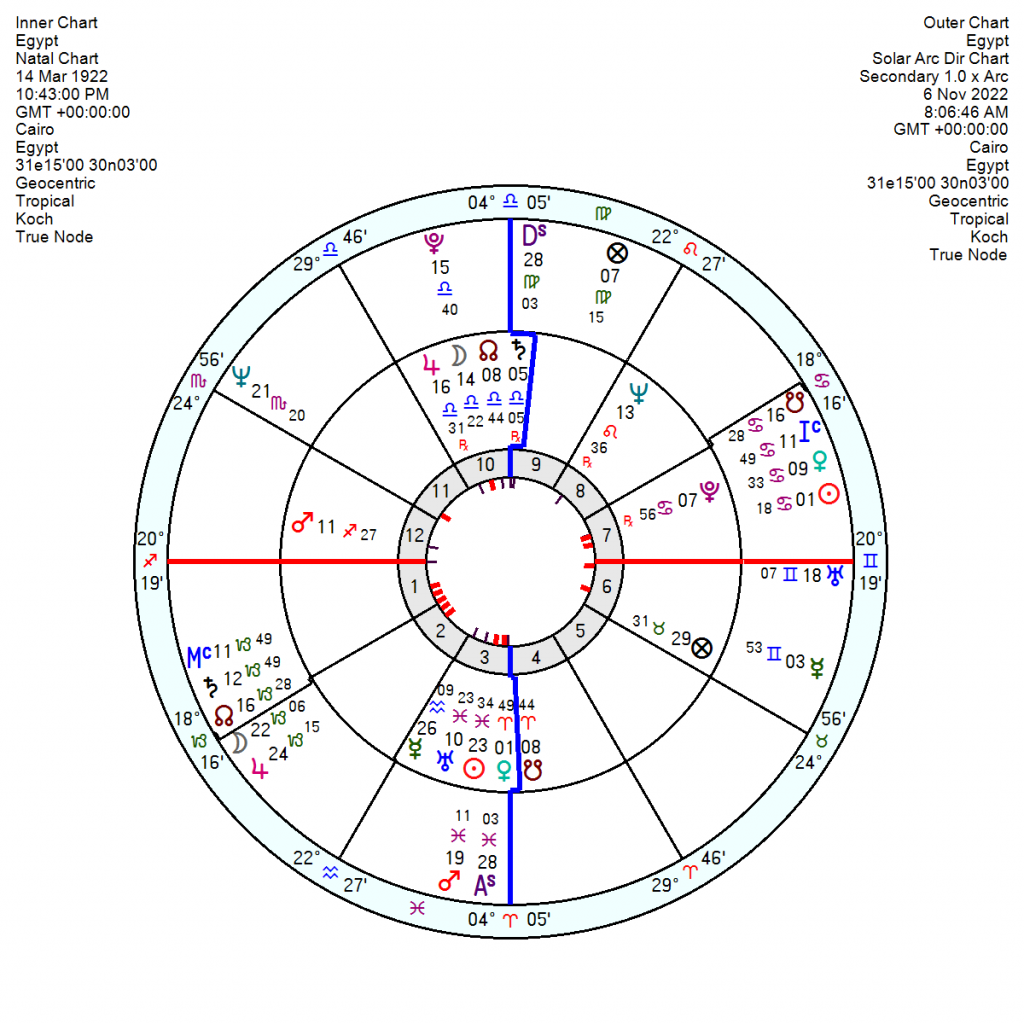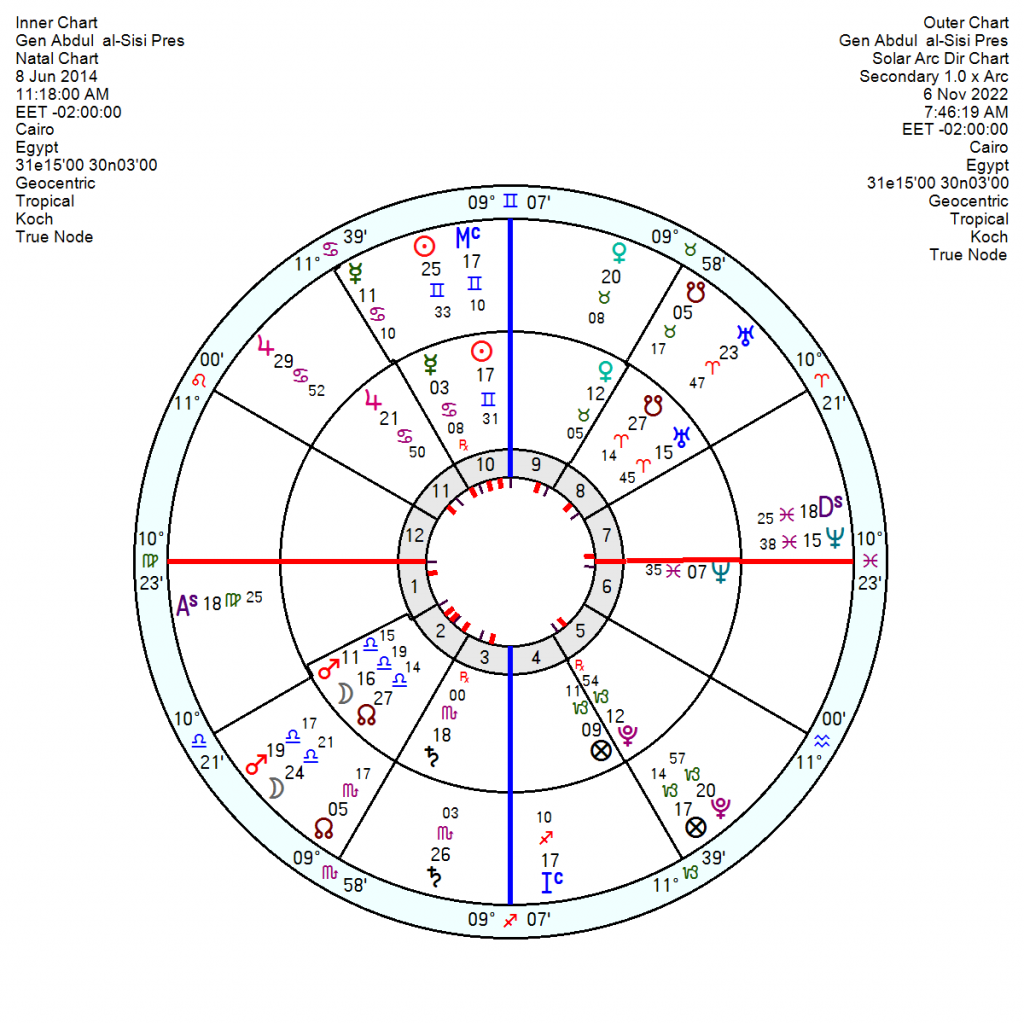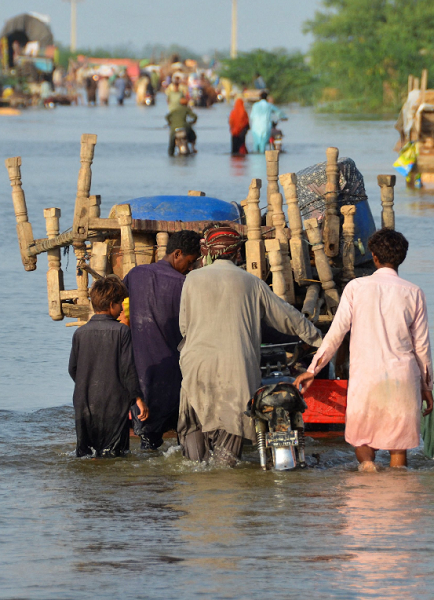 Greenwashing and sportswashing have their downside as Qatar has been learning recently. Egypt is now the target of unwanted publicity about its dire human rights record on the eve of the COP27 climate change conference. Thousands of political prisoners have been detained since Al-Sisi took over in a military coup in 2013 and although 800 have been released this year because of outside pressure that is a small number relative to the overall population of political prisoners and there is no indication of new arrests slowing down.
Despite his human rights record, Al-Sisi has enjoyed sound relations with western capitals who regard him as vital to regional stability.
 Abdel Al-Sisi, a Sun, Venus, Saturn (and Mercury) in Scorpio square Mars in Aquarius which is opposition Pluto  has a dominating and ruthless autocrat's chart. He has been rattled by the Eclipses this year though, with a fixed and extremely controlling temperament, change is not in his lexicon. However tr Saturn square tr Uranus is also hammering away  at his Mars, Venus, Pluto Sun over the next two years so even he will find it a challenge to hang onto the tiller through a stormy passage ahead.
Egypt, 14 March 1922 10.43pm Cairo, has tr Neptune undermining its Pisces Sun until early 2023 but then has a high-confidence Solar Arc Pluto conjunct its Jupiter exact in late 2023. This is echoed in both Al-Sisi's personal chart and his Presidency chart so a major push of one sort or another is to be expected. The combination of Pluto and Jupiter leads to a might-makes-right attitude and a sense that even wildly ambitious plans can succeed, so it can boomerang.
His birth chart, 19 November 1954, has tr Pluto square his Jupiter in 2023/24 and his Presidency chart 8 June 2014, has his Solar Arc Pluto opposition Jupiter exact in late 2023; followed in 2024 by Solar Arc Neptune square the Sun. Whatever forceful steps he takes are likely to end with him in quicksand.
  Astrology doesn't do climate predictions. But as an interesting thought: 'about a quarter of all greenhouse gas pollution produced by humans comes from the United States. More than 80 percent of planet-warming emissions comes from the world's 20 largest economies.' By contrast, Pakistan is the source of less than 0.4 percent of historic carbon pollution and after the blistering heat wave this summer — an event made 30 times more likely by climate change, according to scientists — there were dozens of deaths, huge crop losses and a massive flood from a melting glacier in Pakistan. The country suffered again after record rainfall during monsoon season caused catastrophic flooding. At least 1,700 people were killed and 2 million homes were demolished by the floodwaters. A scientific analysis of the disaster found the rainfall was made 50 to 75 percent more intense by human-caused climate change.
  There is pressure from the most affected countries for the climate polluters in the north to pay for damage. Which given the present economic and energy crunch is likely to lead to fractious and ultimately unwinnable arguments.