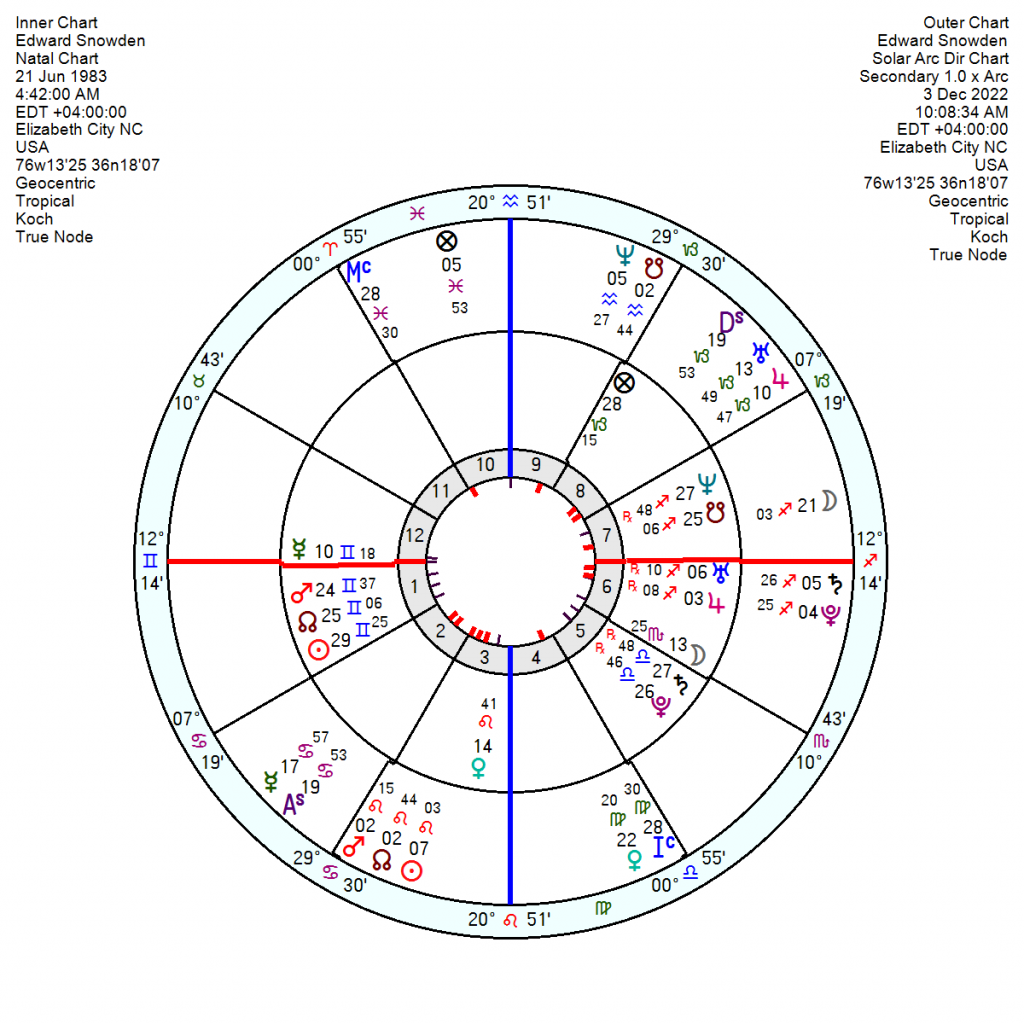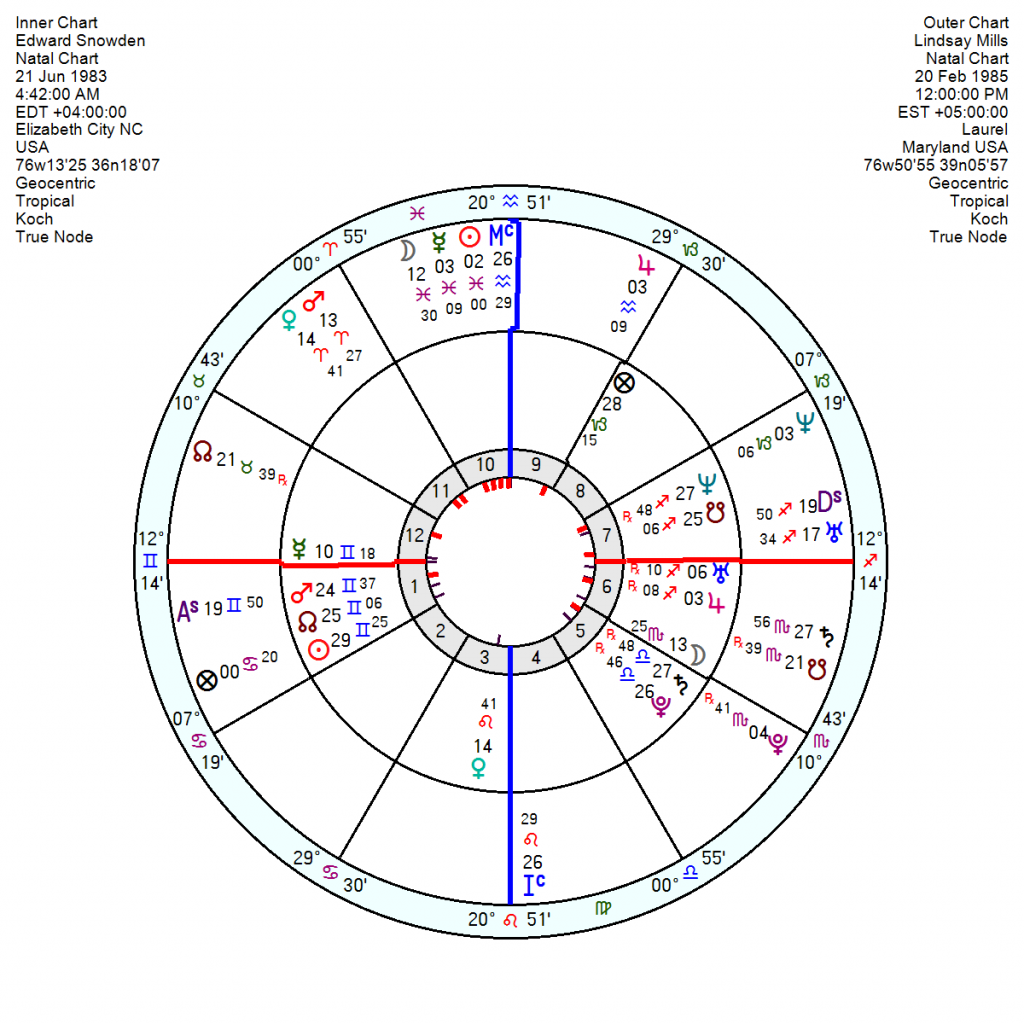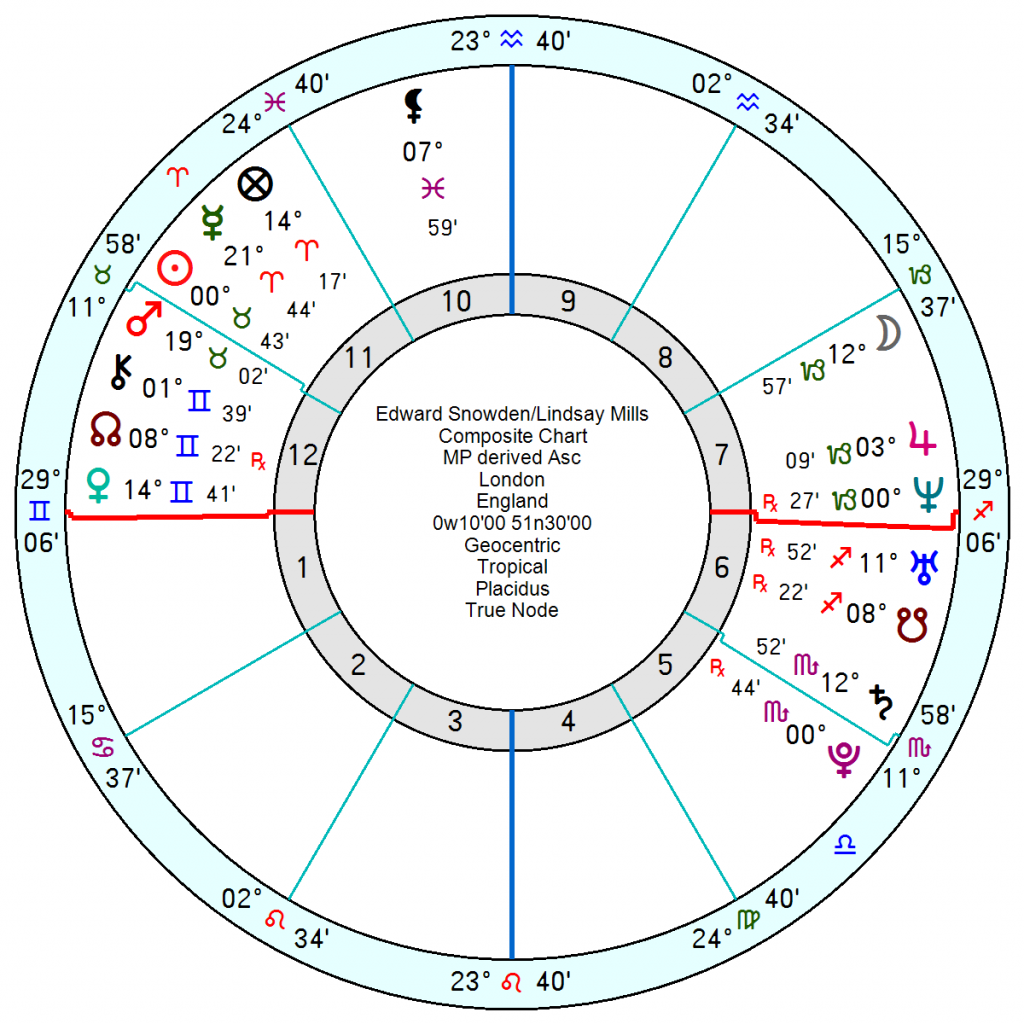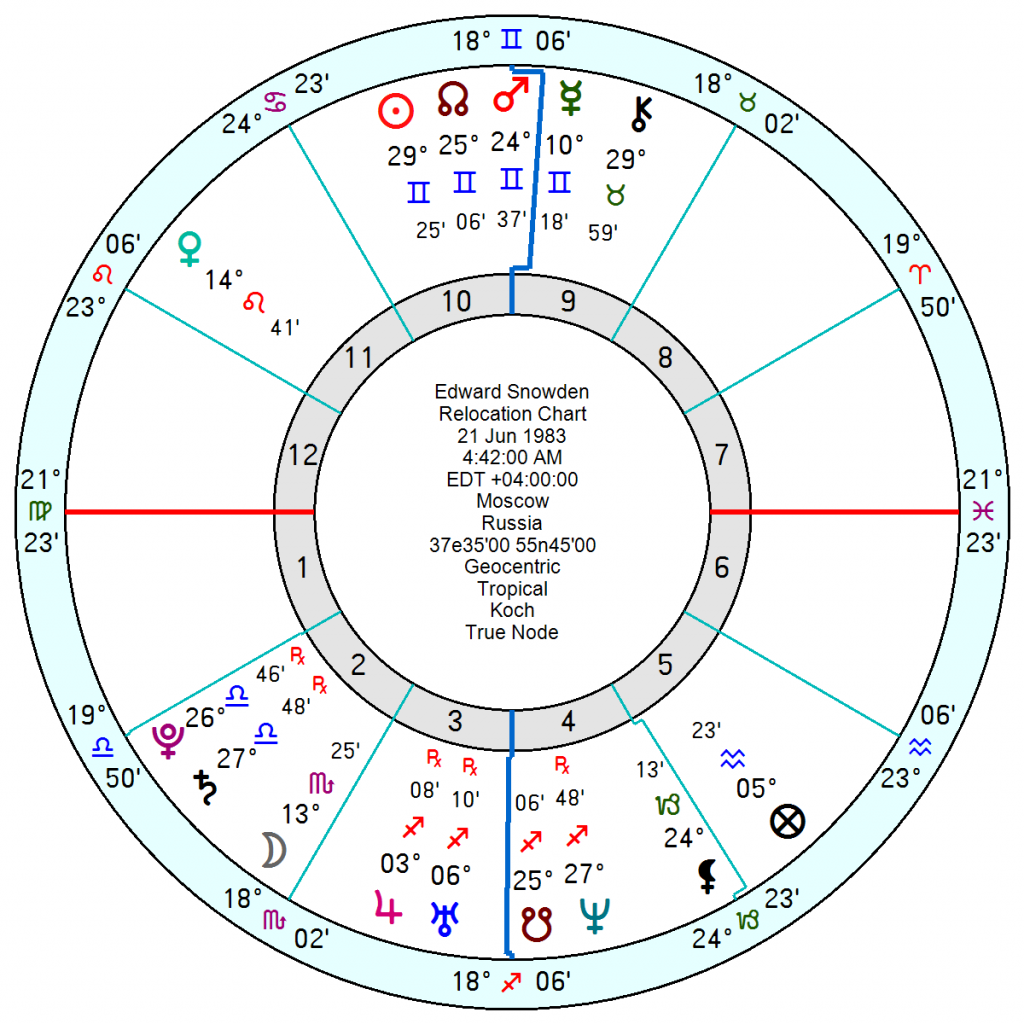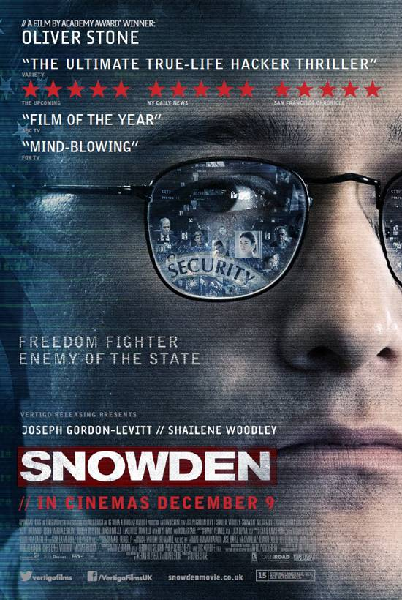 Edward Snowden, the former computer intelligence consultant who leaked classified NSA information in 2013 about their mass surveillance program and had his US passport revoked under the Espionage laws has become a Russian citizen. After the initial furore he fled to Hong Kong and then Russia. In 2020 a USA court ruled the program exposed by him was illegal and possibly unconstitutional. He has been called a traitor, a hero, a whistleblower, a dissident, a coward, and a patriot.
  He was joined in Russia by his girlfriend now wife, acrobat/dancer Lindsay Mills, with whom he has two children. He has a job at an unnamed Russian IT company.
Born 21 June 1983 4.42AM Elizabeth City, NC, he is an assertive Sun Mars in Gemini in an Air Grand Trine to an unyielding Saturn Pluto in Libra trine an Aquarius Midheaven, formed into a Kite by Sun Mars opposition Neptune. Very bright clearly but also beyond stubborn with a can-be-fanatical idealist's Air Grand Trine plus an unbudgeable Saturn Pluto.
He also has an adventurous, risk-taking Jupiter Uranus in Sagittarius opposition Mercury in Gemini. It's a Fire Air chart – so he'll tend to live in his head and be ungrounded. He can put his ideas into action but will have a tendency to stay high rather than anchor his feet to the ground – so can be unrealistic. He has no Earth signs and only one Water sign – a Scorpio Moon. A driven man but not one to consider practical consequences.
When he embarked on the actions which would upend his life in 2013 tr Neptune was in a head-in the-clouds, overly-optimistic square to his Jupiter Uranus with tr Uranus in a freedom-loving trine. Tr Saturn was also conjunct his Moon, separating him from his childhood family and home. More significantly tr Pluto was just into his 8th house for an extended decade of feeling trapped.
  Tr Pluto is about to move out of his 8th in 2023 which will lift certain restrictions. But he still has the weight of tr Pluto square his Saturn to slog him through a discouraging 2023 alongside a debilitating tr Neptune square his Mars followed by tr Neptune square his Sun in 2024/25.
  Whether the brave new world of Air and Fire emphasis from tr Pluto, Neptune and Uranus shifting signs over the next four years will affect his status is moot. Only by 2028 when tr Uranus crosses his Ascendant will he feel free of more restrictions.
  Relocating his chart to Moscow puts his Mars Sun in the 10th so it is a location that can further his ambitions. Though with Neptune in the 4th it will demand sacrifices on the home and family front.
 Lindsay, 20 February 1985, fills in for his emotional gaps with a Watery Pisces Sun, Mercury and Moon as well as Pluto and Saturn in Scorpio (not conjunct). Her passionately enthusiastic Venus Mars in Aries trine Uranus fits his fiery excitement-seeker side.
Their relationship chart has a possessive, life-changing composite Sun opposition Pluto which will be under strain over the next two years with tr Pluto in square. There's also an ever-optimistic Jupiter Neptune conjunct and Venus opposition Uranus which thrives either with freedom or an unconventional setting.
They haven't chosen an easy furrow to plough and the next few years look rocky.