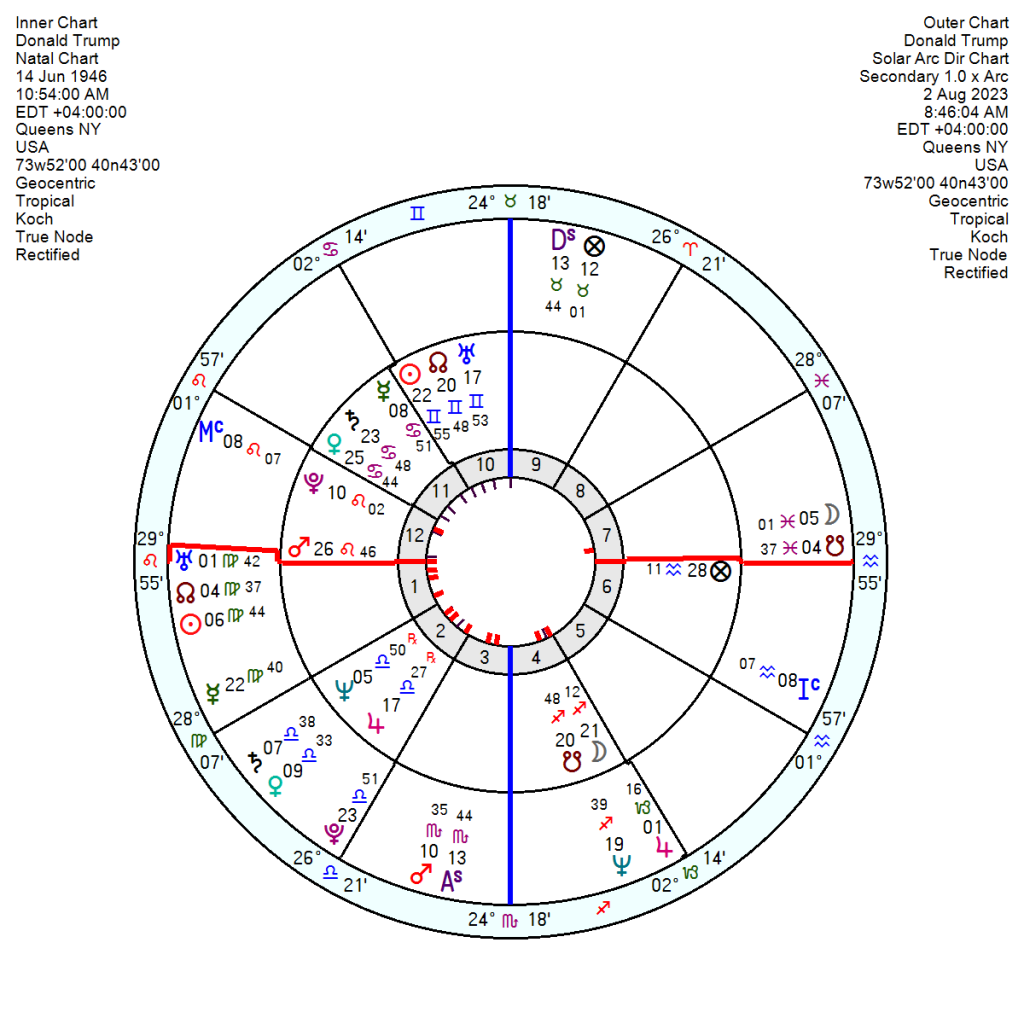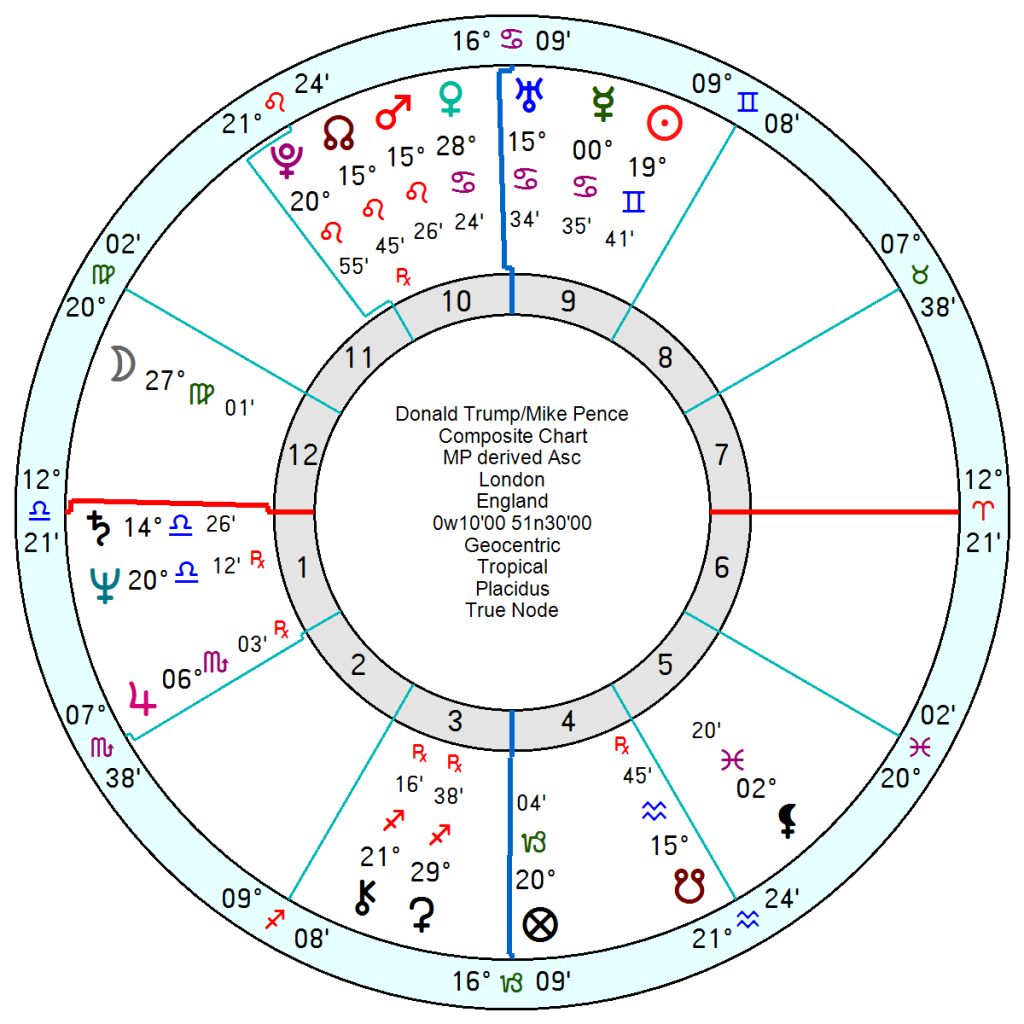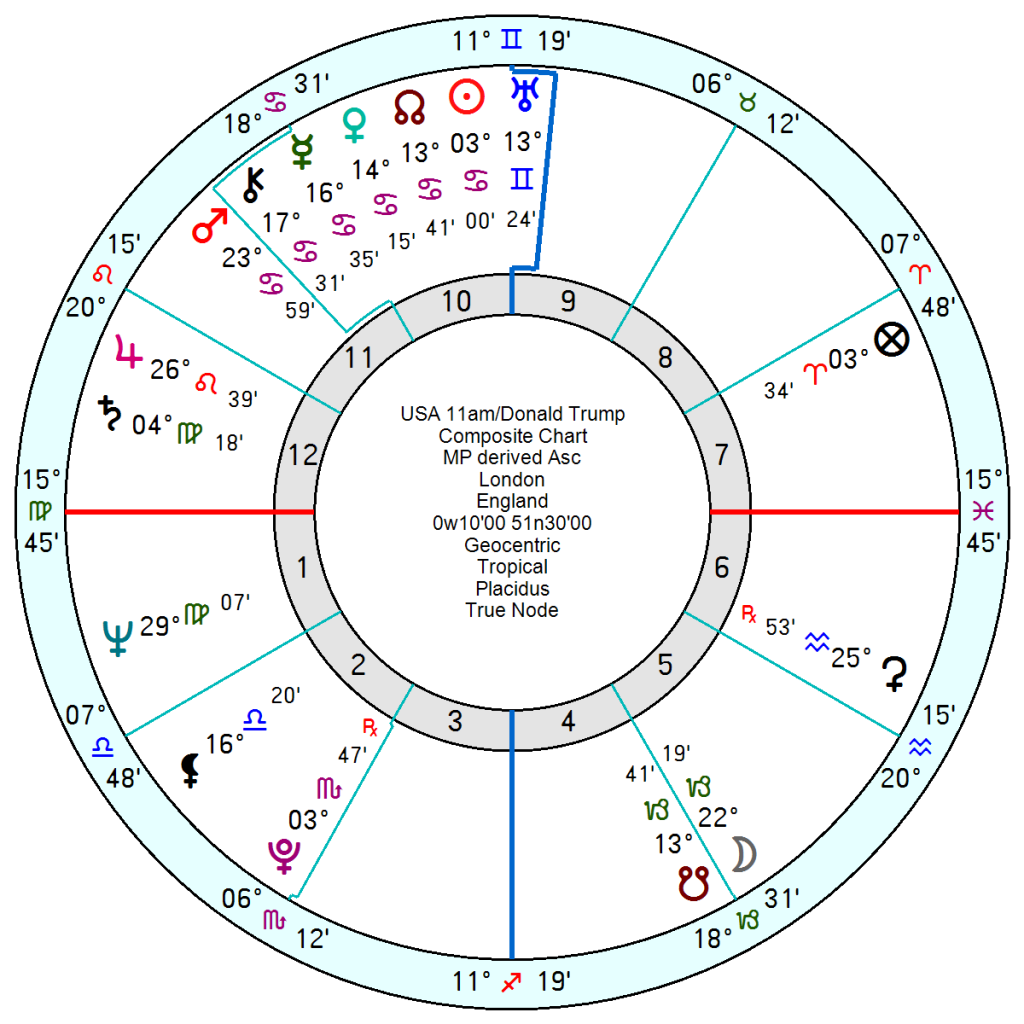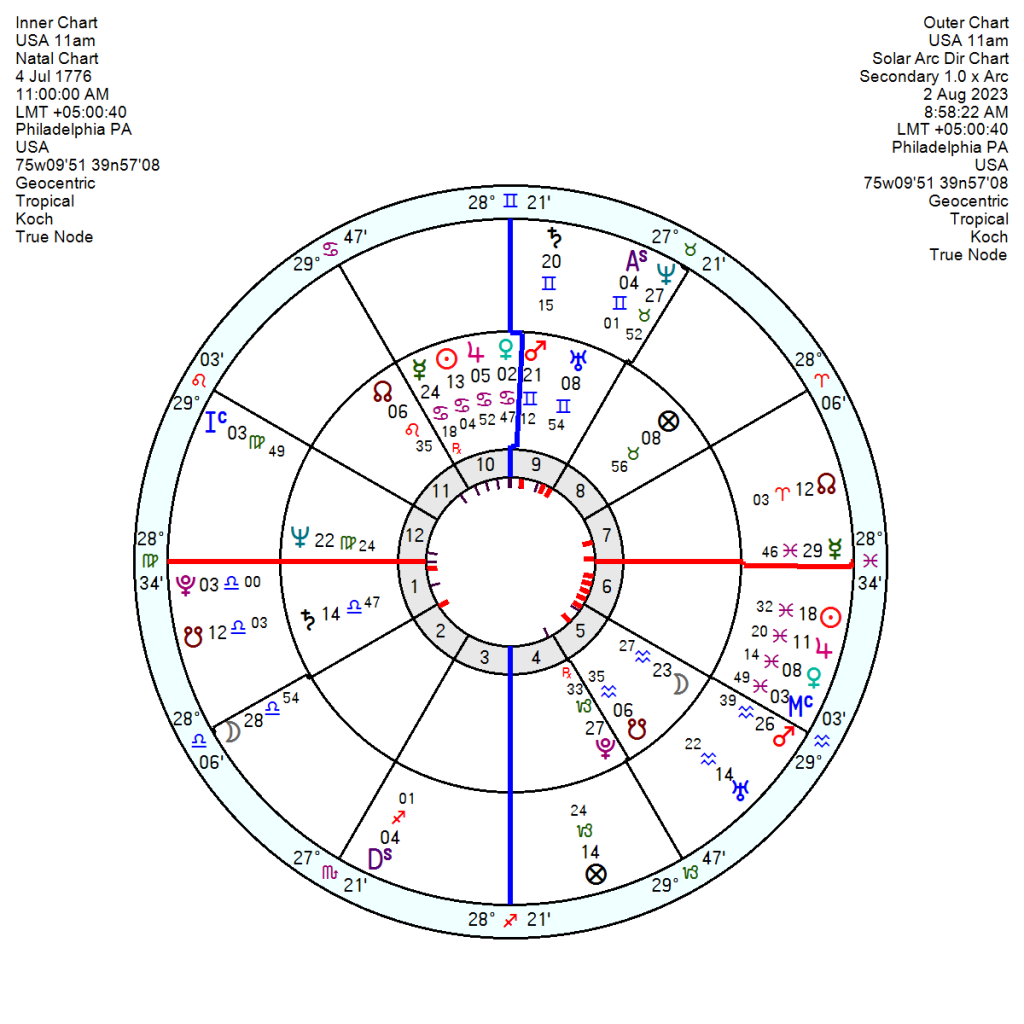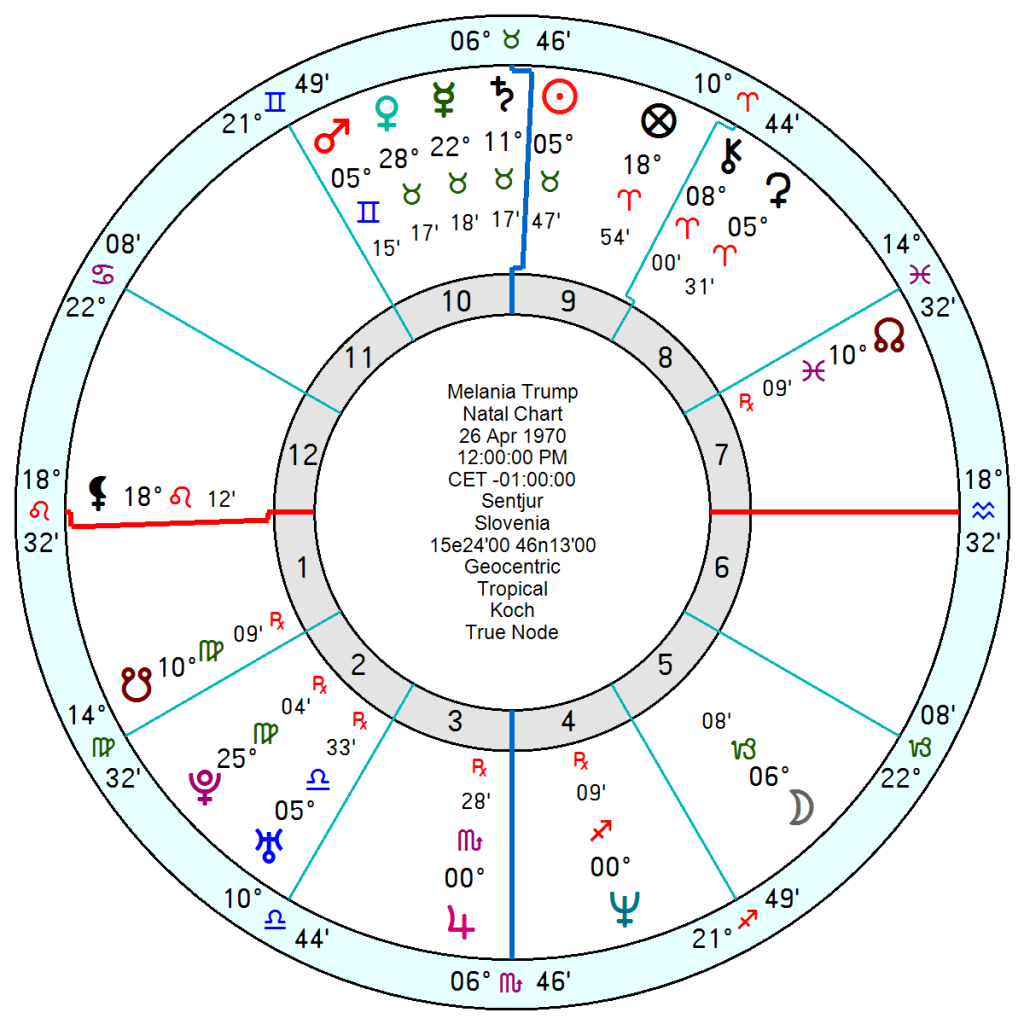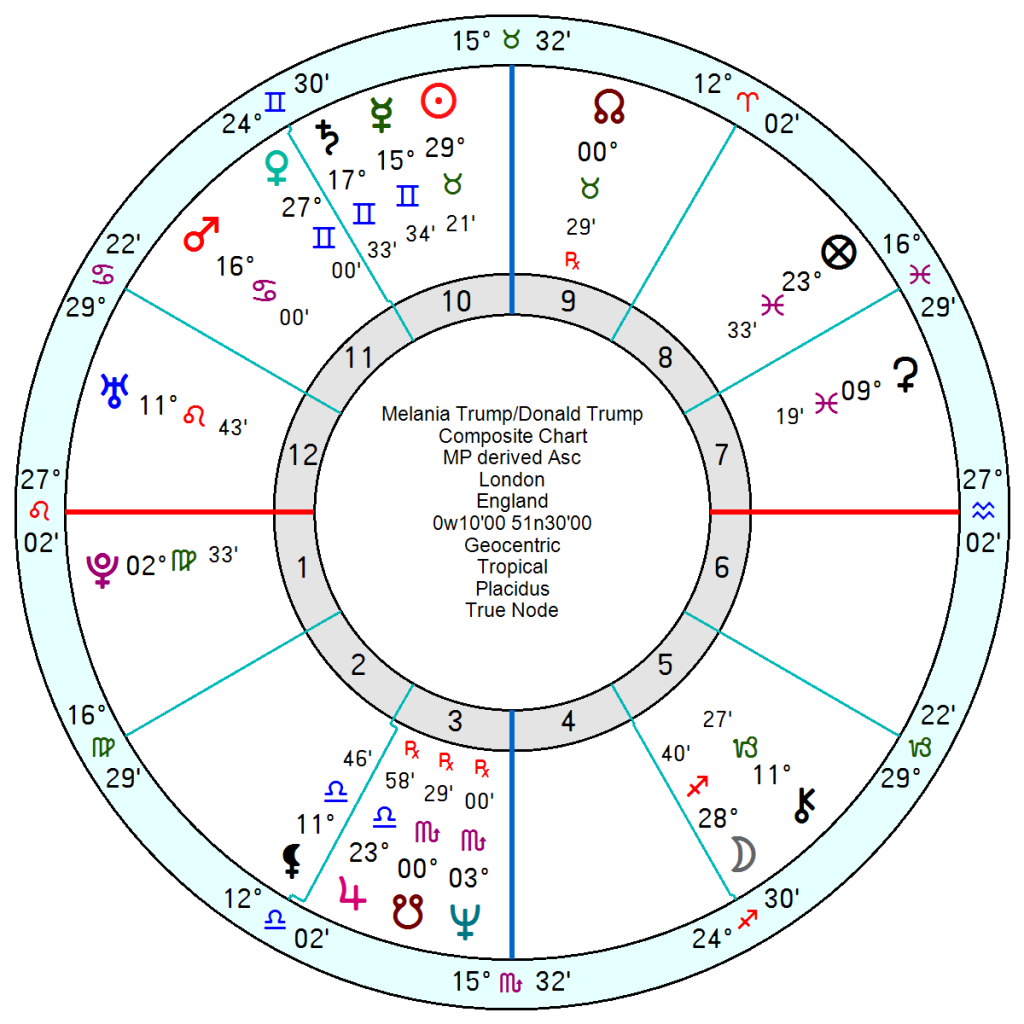 America's painfully slow attempts to hold Donald Trump responsible for his various transgressions is heading for a climax with his criminal indictment for attempting to overthrow the democratic result of the last election. No president has faced criminal charges before Trump. The closest parallel is Richard Nixon, who resigned rather than face impeachment and was pardoned by his successor Gerald Ford, who believed a presidential trial could rip America apart.
Key to the indictment are the notes which VP Mike Pence took when he told Trump he had no power to overturn election and was told "you're too honest."
Given that it also feels like the last final battle for the soul and integrity of the United States, it is fitting that the Judge Tanya Chutkan, 5 July 1962, has her Cancer Sun at the same degree as the USA and her North Node is in Leo also a match.
In November 2021, Chutkan forcefully rejected Trump's attempts to block the House select committee investigating January 6 from accessing more than 700 pages of records from his White House. She has previously said of Trump: "Presidents are not kings, and Plaintiff is not President." She has presided over dozens of criminal cases against alleged January 6 rioters and has repeatedly gone over what prosecutors have requested for prison sentences.
Her stalwart Mars in Taurus falls on Trump's Midheaven and her Uranus falls on his Ascendant conjunct his Mars – an explosive combination that has the capability of upending his image and career. Her forensic Saturn in Aquarius also blocks and opposes his 12th house Pluto so she'll be up to his tricks.
Their relationship chart is ploughing through heavy seas from late February 2024, through 2025 as well with tr Pluto square the composite Saturn; with a major upheaval from late May 2024 onwards; and 2025 looks mired in confusion.
Jack Smith, the special counsel, 5 June 1969, is no slouch either with a super confident Jupiter Pluto Uranus in Virgo which squares Trump's Gemini Sun, Uranus and North Node opposition Sagittarius Moon – a formidable collision. Their relationship chart also shows early 2024 as the starting point for a two year run of devastation and muddle as tr Pluto squares the composite Neptune; plus tr Saturn throwing a cold dose of reality onto the composite Venus, Saturn, Sun.
Mike Pence, 7 June 1959, who gritted his teeth throughout Trump's term to his shame, has finally cast off the shackles. Their relationship chart has a controlling Pluto, Mars, North Node conjunction on the focal point of a Sun trine Neptune Saturn – bullying, fearful, suspicious, distrustful – hardly a merry twosome. The central Pluto is being upended by tr Uranus in square from last month, repeating in mid November/early December and again March 2024.
Trump's legal woes are legion;
Mar-a-Lago classified docs trial date 20 May 2024.
Stormy Daniels hush money trial scheduled for 25 March 2024.
Georgia election meddling, charging decisions to be announced this summer.
Jean Carroll seeking damages of $10m for defamation, trial set for January 2024.
Before getting overly hopeful about all this being terminal to his career hopes, he does have (sigh, as per usual) undeserved good luck and confidence boosts running mid this November to early March from two Jupiter midpoints, alongside other less favourable influences.
On the downside his Solar Arc Mars squares his 12th house Pluto for another few months which is scary and trapped; his SA Pluto is also in a discouraging and blocked square to his Saturn this year; and will trigger his sensitivity to being unloved in 2024 as it squares his Saturn/Venus midpoint.
Tr Pluto will oppose his Saturn/Pluto midpoint for a monumental struggle from late February 2024 on and off into 2025. Late April to late May 2024 he looks aggravated, bad-tempered and inclined to let fly with tr Pluto opposition his Mercury/Mars midpoint.
If his birth time is accurate then tr Uranus conjunct his Midheaven from late May into June 2024 will send his career/life's direction off course in a surprising way. That repeats into 2025. Even more to the point tr Uranus will square his Mars early July to early August 2024 across the Republican Convention. Usually this explosive influence causes insecurity and a major ego-dent which often results in a reckless kickback to boost machismo. Although (urgh) he does have tr Jupiter moving across his Midheaven and 10th house from May 2024 for a year which is usually successful or at least high profile.
His Solar Returns (for what they are worth) suggest this June 2023 to June 2024 will haul in money, see him grandstanding and smoke-screening like mad. His SR June 2024 to 2025, is not too favourable with a hidden 12th house Sun, a directionless Neptune in the 10th and a regretful Saturn in the 9th house of legal affairs. Not a total disaster but not triumphant either. Never say never where Trump is concerned but it is certainly not the Jupiterian feste over the 2024 election which swept him to power in 2016.
Trump's continued popularity in the USA is (astrologically-speaking) connected to two major factors. One his Gemini Sun opposition Moon is conjunct the USA argumentative and divisive Mars and squares the USA Neptune – so he tunes into the 'glamour', publicity-crazed (and delusional) streak in the US psyche; and secondly his Venus Saturn in Cancer tie into the US's Mercury opposition Pluto which attracts fanatical, rabble-rousing, conspiracy-heavy opinionators.
His relationship chart with the USA is fairly chained together with a composite Sun trine Pluto, sextile Saturn. It is moving through a muddled, disappointing 2023/24. But the key moment may come early next July to early August across the Republican Convention. At that point tr Uranus square the composite Jupiter which usually brings relief from tension. But whether this means the country is freed from the prospect of another chaotic Trump term or great celebrations since he has overcome the machinations of the deep state (otherwise known as the Justice Department) is not clear.
My eye is drawn to the USA Mars which in mid 2024 has the Solar Arc Saturn conjunct the Mars, which does suggest a considerable setback – or disaster/accident. Whether that is tied into Trump or other international or legal complications is not clear.
One last thought about Trump's extraordinary ability to float above a sea of chaos and stratospheric pressure and I apologise if the analogy seems tasteless. But it reminds me of a comment I read years ago that those who survived the concentration camps best in WW11 were the mentally ill or schizophrenic, since their inner worlds were so jumbled and scary that the outside did not impinge to the same extent.
In Trump's case anyone else would have taken a heart attack by this time – and indeed tr Uranus square his Mars next July is often associated in the elderly with cardiac incidents. But he may manage to brush it off as incidental he has done his entire life.
  I worry for the USA – the state of the nation is not good.    
Add On: Melania has not been much seen of late though she sticks close to Trump's residencies and is reportedly supporting his 2024 run. Though given how underwhelmed she was by his last White House stint she may well be saying one thing, meaning another.
How much use her chart is in gauging his possible fortunes is tricky since she might well be relieved with an election no-show or loss. Or even freedom from the marital bonds. Their relationship chart does have an undermining tr Neptune square the composite Venus now but it is 2025 when it will move into times of turmoil with tr Uranus conjunct the composite Sun, tr Uranus square the Pluto and tr Pluto square the Neptune – and that is quite a pressured set of separating influences and possibly devastating circumstances.
Her own chart is rattled at the moment with tr Uranus conjunct her Mercury over this last set of charges; and into disaster-territory with tr Uranus square her Mars/Saturn midpoint from the middle of this month till mid September and on and off until March 2025, including across the Inauguration. Tr Pluto is also opposition her Mars/Pluto midpoint up to and through December 2024 which is scary, trapped and enraged.
  For most these would indicate a clear no-no to a win but her antipathy to a public presence could suggest the opposite – but whichever way it plays out she is certainly not a happy housewife over the next eighteen months and indeed beyond.