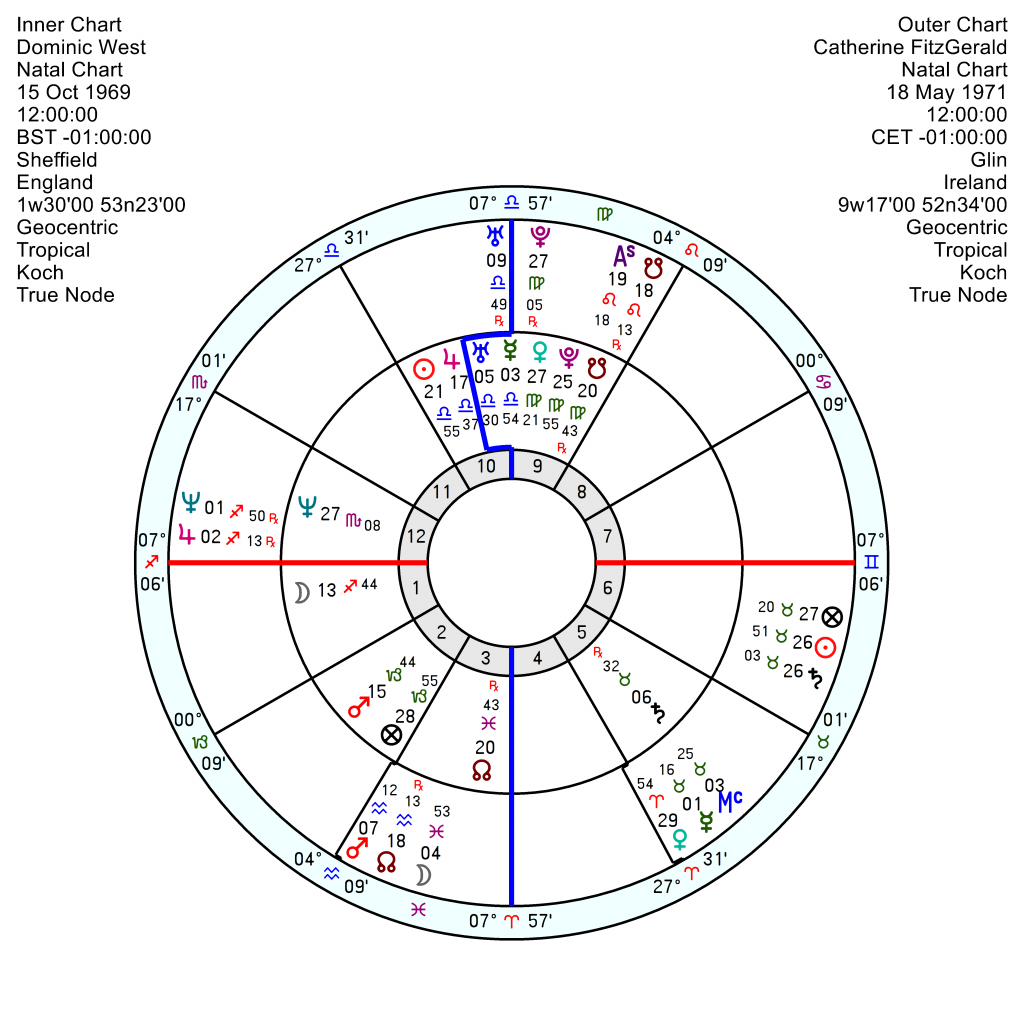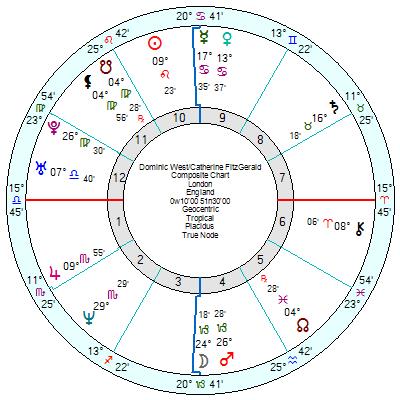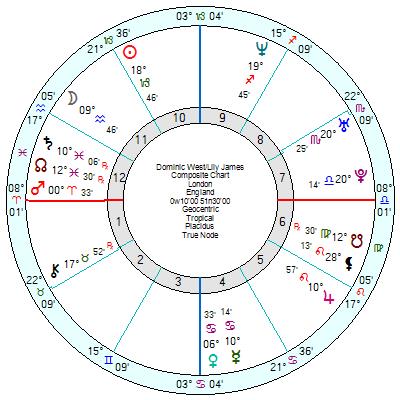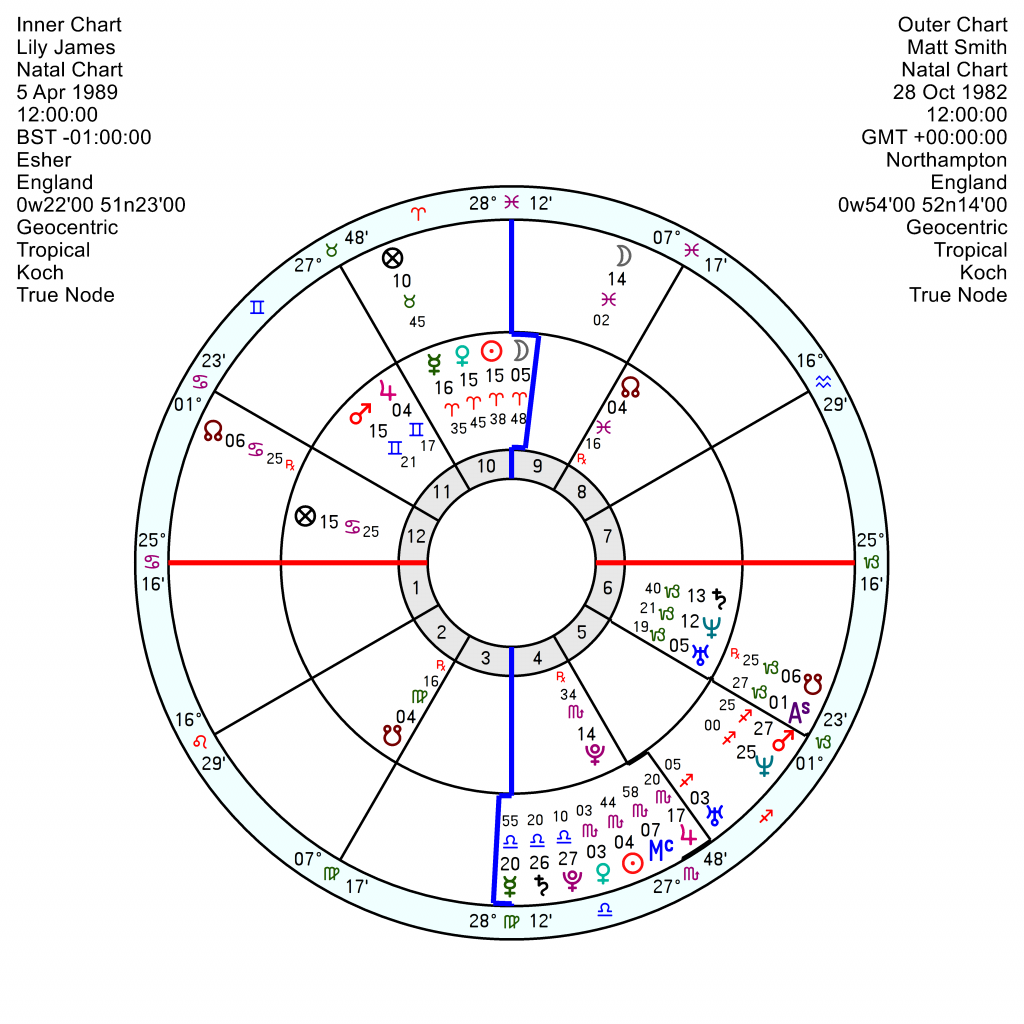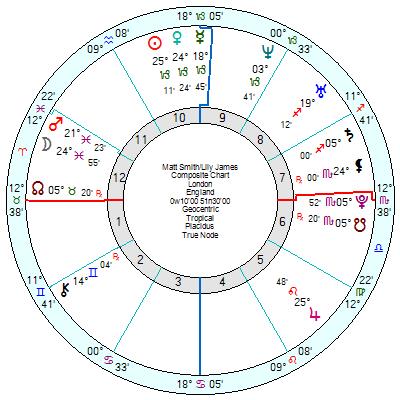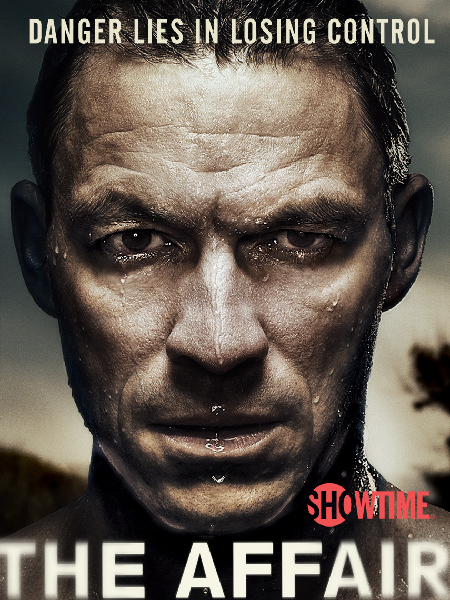 The Affair meets Downton Abbey in a bizarre luvvie-land headline-grabber with Dominic West canoodling more than openly with actress Lily James in Rome over the weekend. This resulted in friends saying his wife and mother of his four children, Catherine Fitzgerald, was devastated since she thought they were still happily together. Next photo-op is West plus a hesitant lady wife appearing together, with forced smiles and kisses to say their ten year marriage is strong.
West, 15 October 1969, is a laid back Sun Jupiter in Libra with a seductive, manipulative Venus Pluto in Virgo; a Sagittarius Moon; and a hard-edged Mars in Capricorn trine Saturn in Taurus.
  His wife Irish landscape gardener and aristocrat Catherine Fitzgerald, 18 May 1971, is an odd mix with him, being a stalwart and serious Sun Saturn in Taurus trine Pluto; with a Moon in Aquarius/Pisces. Her Sun Saturn opposes his elusive Neptune and her Venus in Aries/Taurus is conjunct his Saturn. Their relationship chart has an expansive and optimistic composite Sun square Jupiter; with Jupiter in a superficially affectionate trine to Venus; with Venus in a needs-space square to Uranus.
It's not exactly overflowing with affection and is moving through turbulent times with tr Uranus square the composite Sun and opposition the Jupiter through this year till spring 2021; and tr Saturn is conjunct the composite Mars and trine the Pluto later this month into early November, which will be downbeat and angry. Even worse from late February 2021 onwards there is a seriously aggravated tr Pluto conjunct the composite Mars (maybe Moon). Methinks it may not survive the pounding. Though Mars trine Pluto relationships do not split easily or without a great deal of rancour since one partner will always have exerted control and won't appreciate being forced to let go.
  In many ways he finds Lily James, 5 April 1989, easier for light hearted companionship since she is a Sun Venus in Aries which sits well with his Libra Sun and Jupiter. Though she's also of the triple conjunction of Saturn Neptune Uranus in Capricorn generation so will be unpredictable and chaotic, unlike his more sensible wife. Their relationship chart isn't too inspiring with only a flash of initial attraction from composite Mars square Venus; though there is a possessive composite Sun square Pluto which can exert a pull at the start.
  Lily James has just split from The Crown's Matt Smith, 28 October 1982, a Sun, Jupiter, Venus in Scorpio. Her relationship with Smith looks a good deal cosier than with West with an affectionate composite Sun Venus sextile Mars. But tr Saturn conjunct the composite Sun clearly did for that – but who knows? It has been on and off for the past five years. It could even flare up again. Musical chairs in celeb relationships move at dizzying speed.