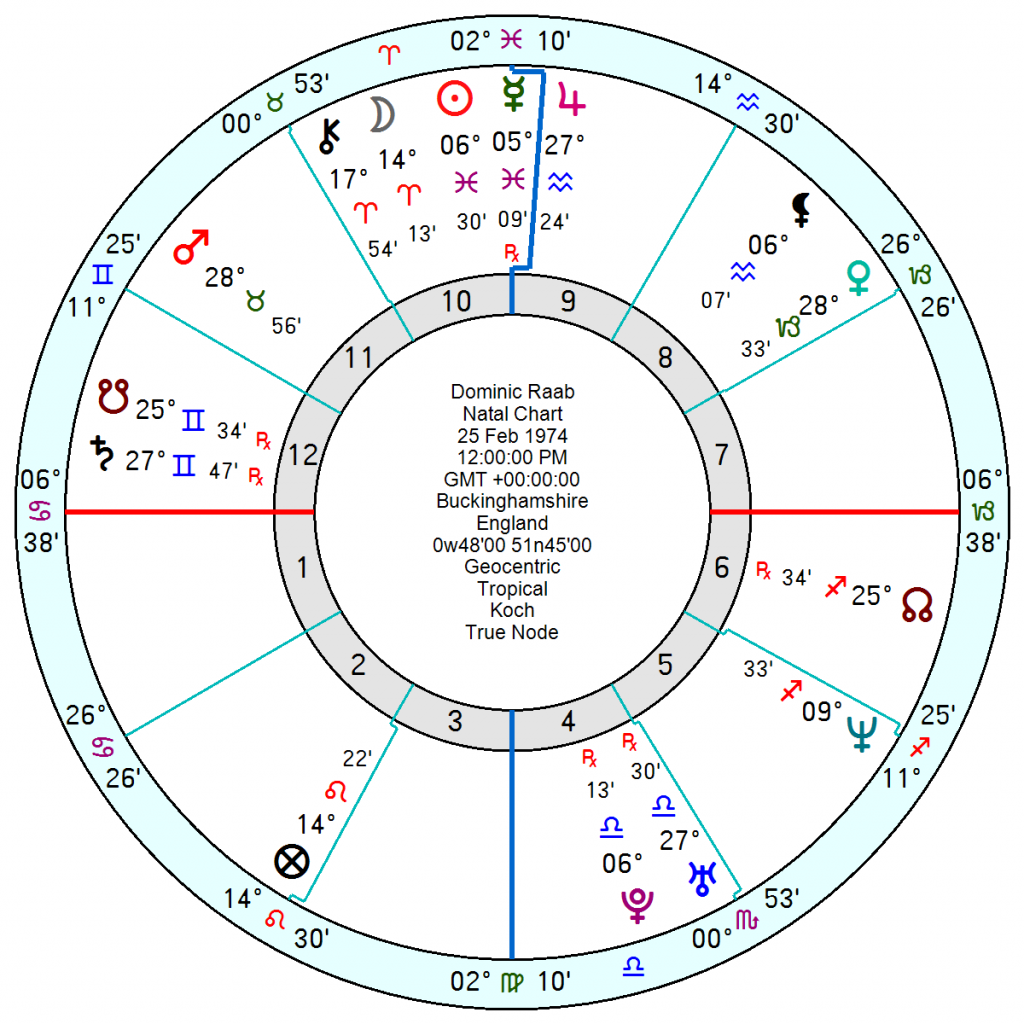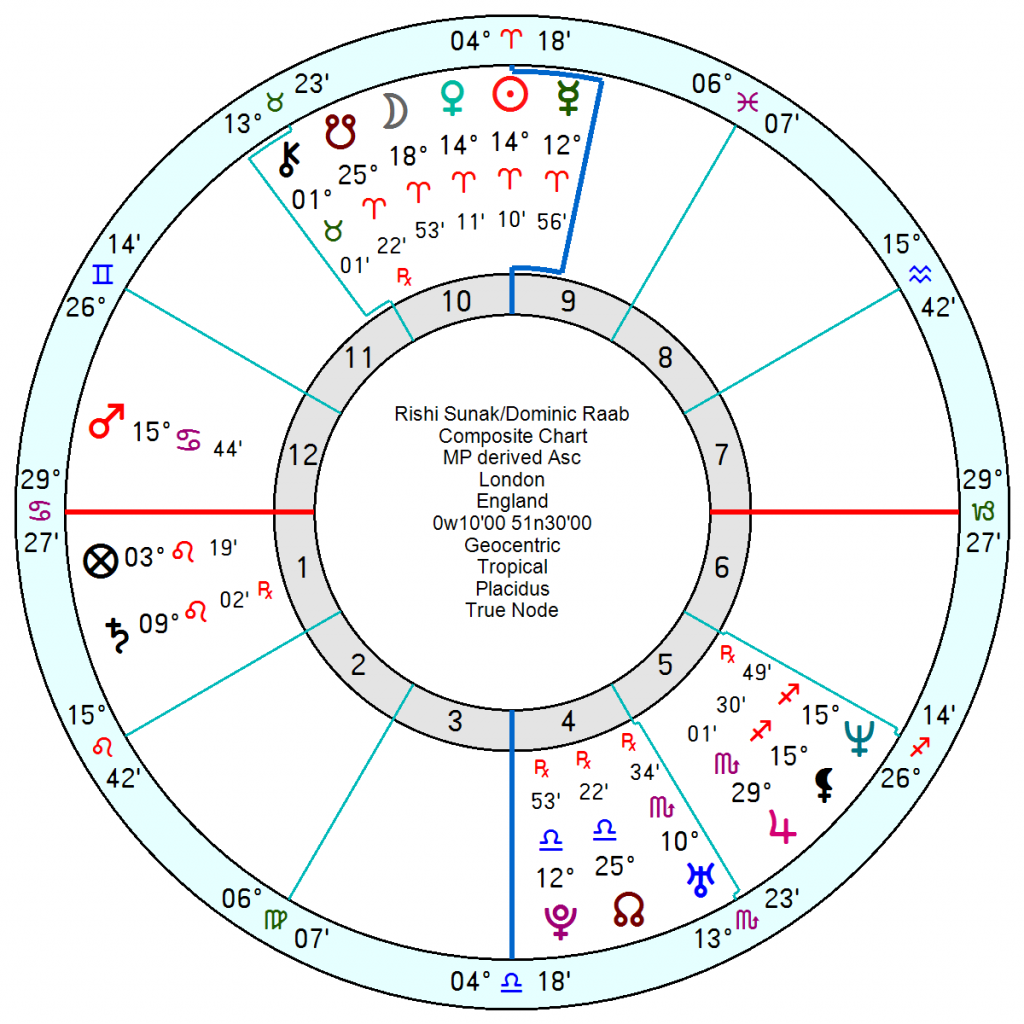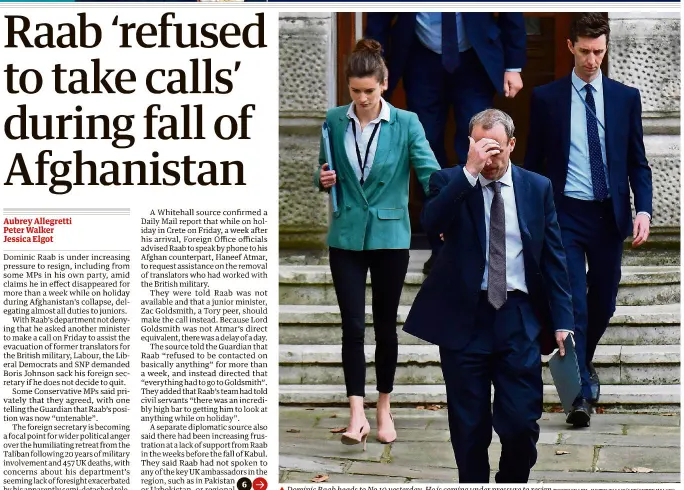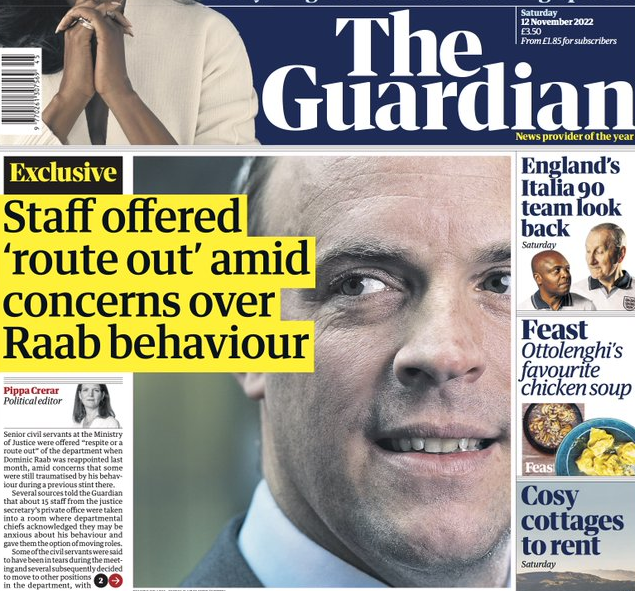 Not lauded for his negotiating skills in Brussels where he was nicknamed The Turnip when discussing terms for Exiting the EU, Dominic Rabb, now Justice Minister, has faced over the years concerns about the way he has treated officials in the departments he headed. All hotly denied and he is litigious.
But following on from Gavin Williamson's departure there is an upsurge of significant criticism of his behaviour. The Guardian says: "Many sources in the MoJ told The Guardian Raab created a "culture of fear" in the department. Sources maintain Raab was "demeaning rather than demanding", was "very rude and aggressive" and "wasn't just unprofessional, he was a bully".
Born 25 February 1974 he is a Sun Pisces inconjunct Pluto and square Neptune – the Sun Pluto will give him problems with wielding authority and a strong Pluto tends to go in for contempt. He also has a heavyweight Mars in Taurus in a volatile inconjunct to Uranus. With his Uranus in an emotionally cool, ideologically-dogmatic Air Grand Trine to Saturn in Gemini trine Jupiter. His Mars is also square Jupiter and trine Venus in Capricorn – with his Venus inconjunct Saturn. He will be full-on and uneasy within himself at the same time with so many quincunxes.
He was buoyed up by his Jupiter/North Node midpoint over his new appointment but that runs out in early December to be followed immediately by a job-loss Jupiter/Saturn and considerable disruption through most of December/January; setbacks in February and uncertainty after that.
His relationship chart with Rishi Sunak at the best of times is immensely strained with a composite Sun, Venus opposition Pluto square Mars and trine Neptune and trine Saturn. And is sagging badly at the moment, blowing up in December into January – which will give Sunak a problem since it calls his judgement seriously into question.
 In Oscar Wilde's sardonic phrase: 'To lose one may be regarded as a misfortune, to lose two looks like carelessness.'