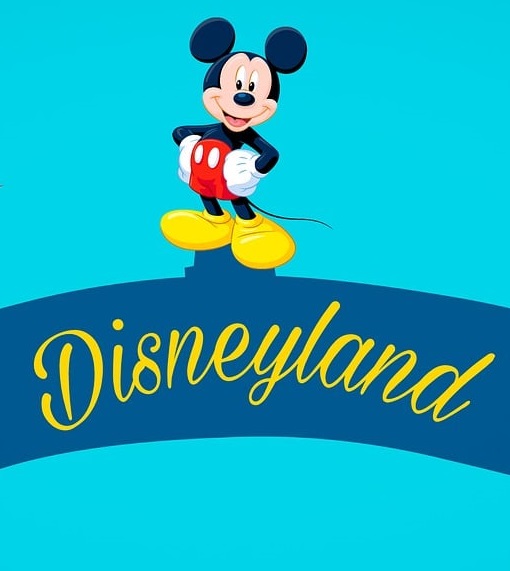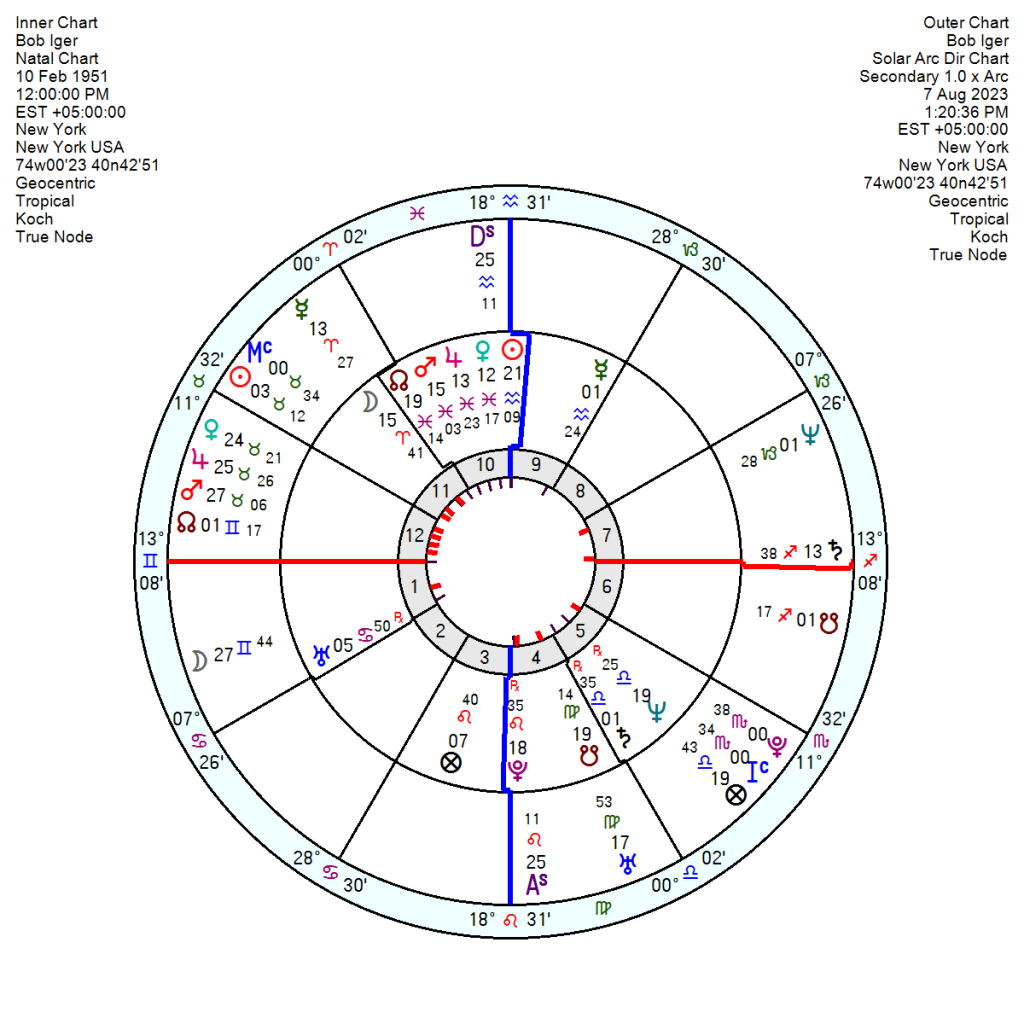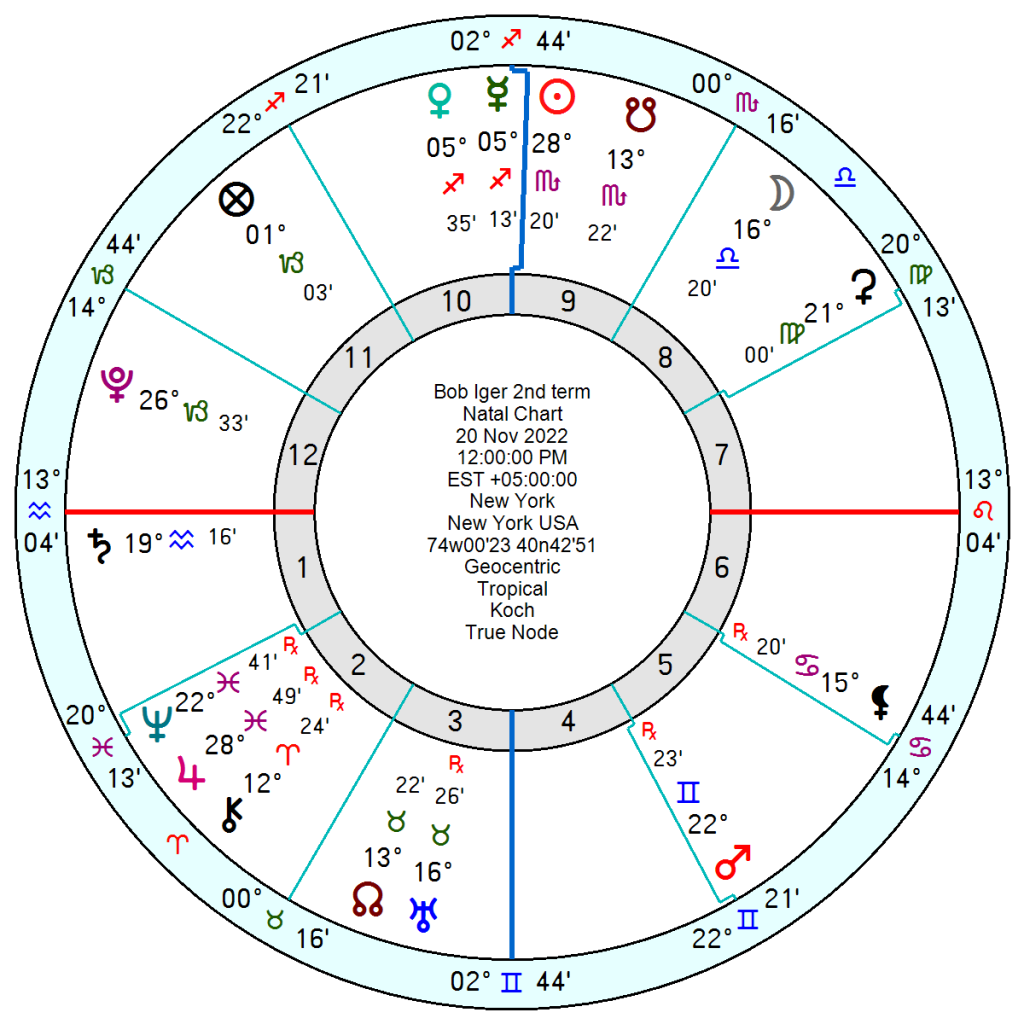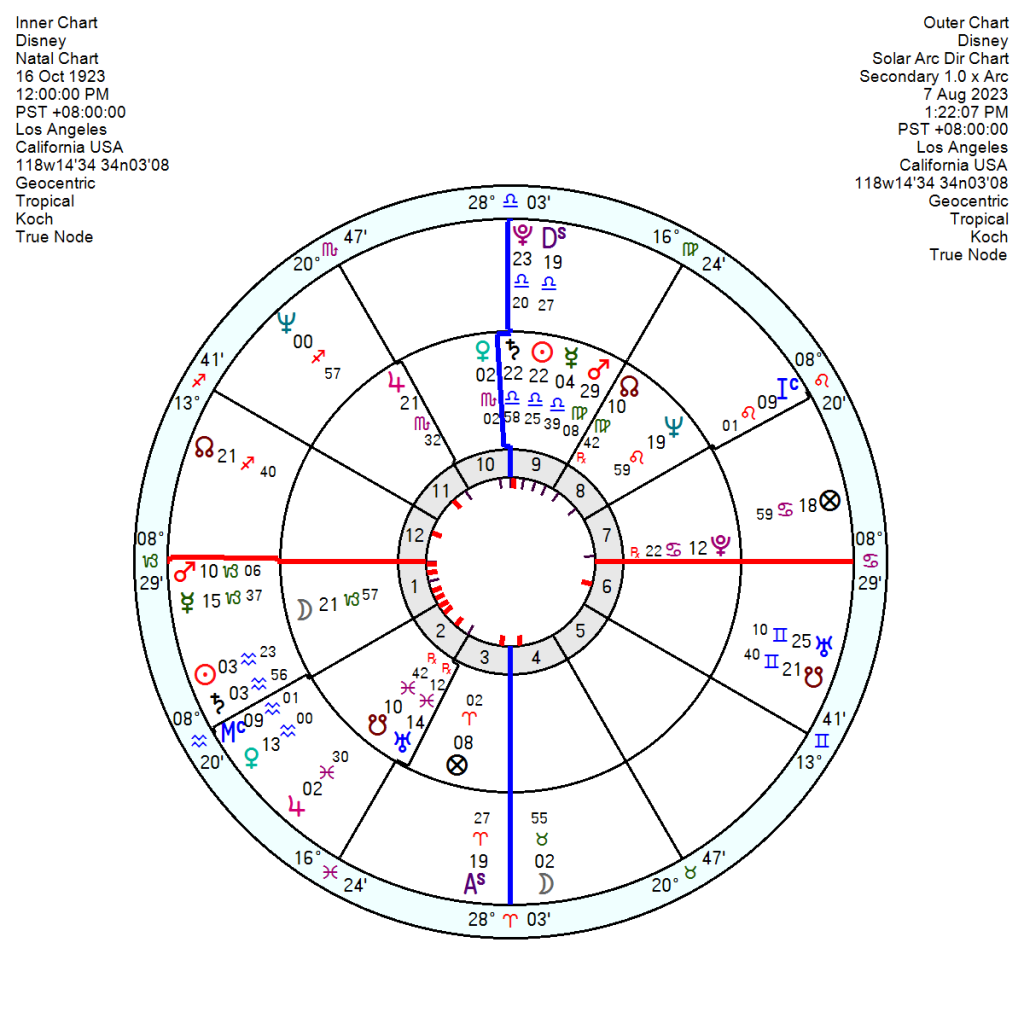 Mickey Mouseland is struggling to make headway with falling revenues from streaming TV and movies as well as Disneyland fun parks. Bog Iger, the go-getting boss who built up the empire on his first run as CEO buying in Pixar, Marvel, Lucasfilm and most of 21st Century Fox in 2019, then retired garlanded in success. Only to be hauled back in as Disney's star faded and promptly doubled his projected stay up to 2026. The Hollywood strike is not improving matters nor are aggressively high prices at the fun parks.
Iger, 10 February 1951 New York, has a turbo-charged chart with an Aquarius Sun opposition Pluto and trine Neptune giving him dizzying levels of ambition. His Neptune sextile Pluto are also on the legs of a Yod onto a high-vitality, super-enthusiastic Mars, North Node, Jupiter, Venus in Pisces – confidence, competitiveness, creativity aplenty all tied into the zeitgeist and public trends.
  But even his grit and magical luck may not be enough to pull a rabbit out of the hat. He has tr Uranus rattling up his Sun Pluto opposition this year and next. With 2024 seeing tr Saturn damp his enthusiasm as it is conjunct his focal point Mars, Jupiter, Venus, into 2025.  And tr Pluto will trine his Saturn and conjunct his Mercury for a tough slog and considerable strain in 2024/25.   
His Second Stint chart, 20 November 2022, is jangled and jolted this year, disappointed in 2024 and may be forced into a sharp change of direction or decision in 2025.
Disney, 16 October 1923, a Sun Saturn in Libra with a creative, money-making Water Grand Trine of Jupiter in Scorpio trine Uranus trine Pluto – will have some luck over coming months but is in for a panicky 2024 as failures loom large with tr Neptune opposition the Mars; and a dead-halt Solar Arc Mars opposition Pluto in 2025.
Bob Iger may wish he had stayed retired.