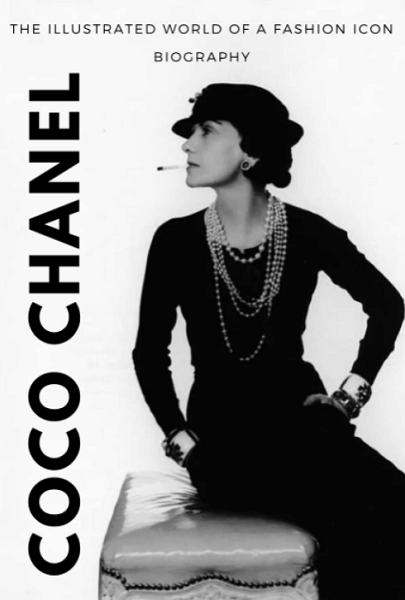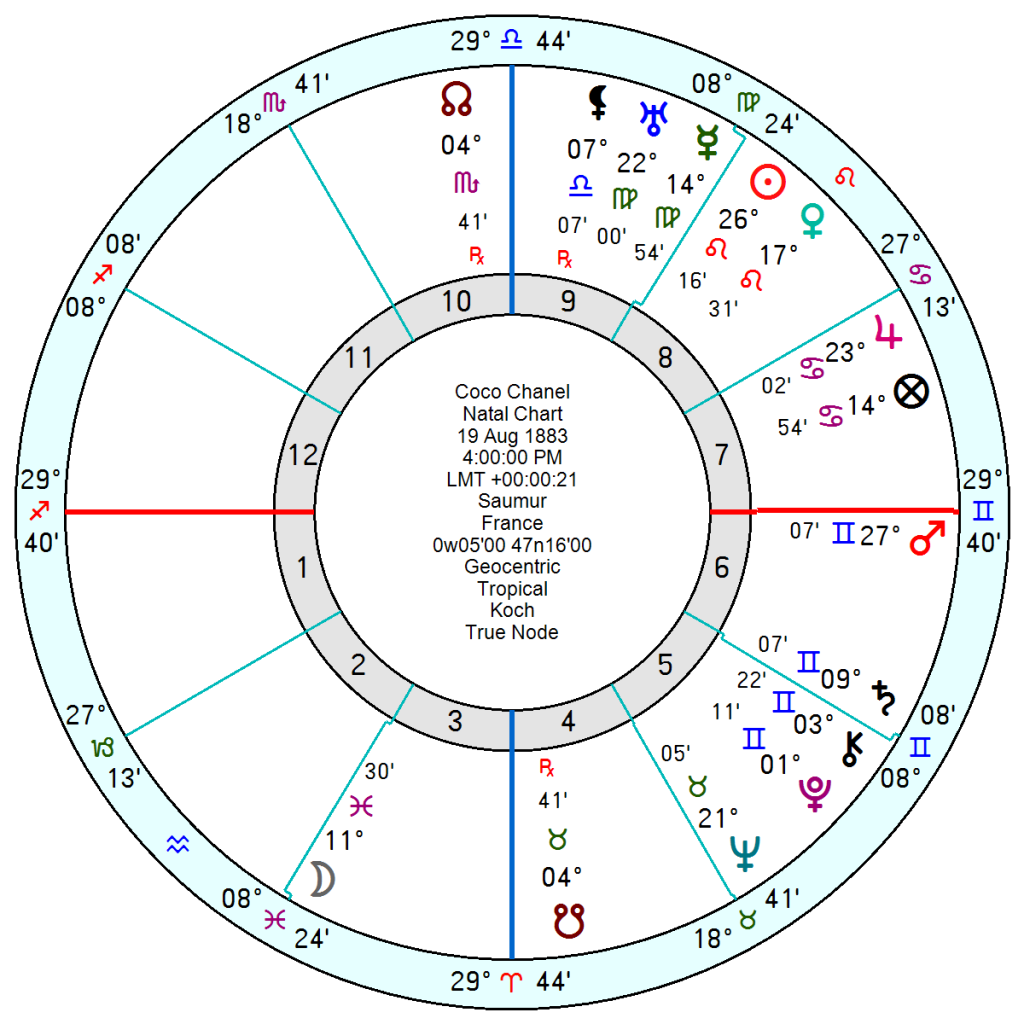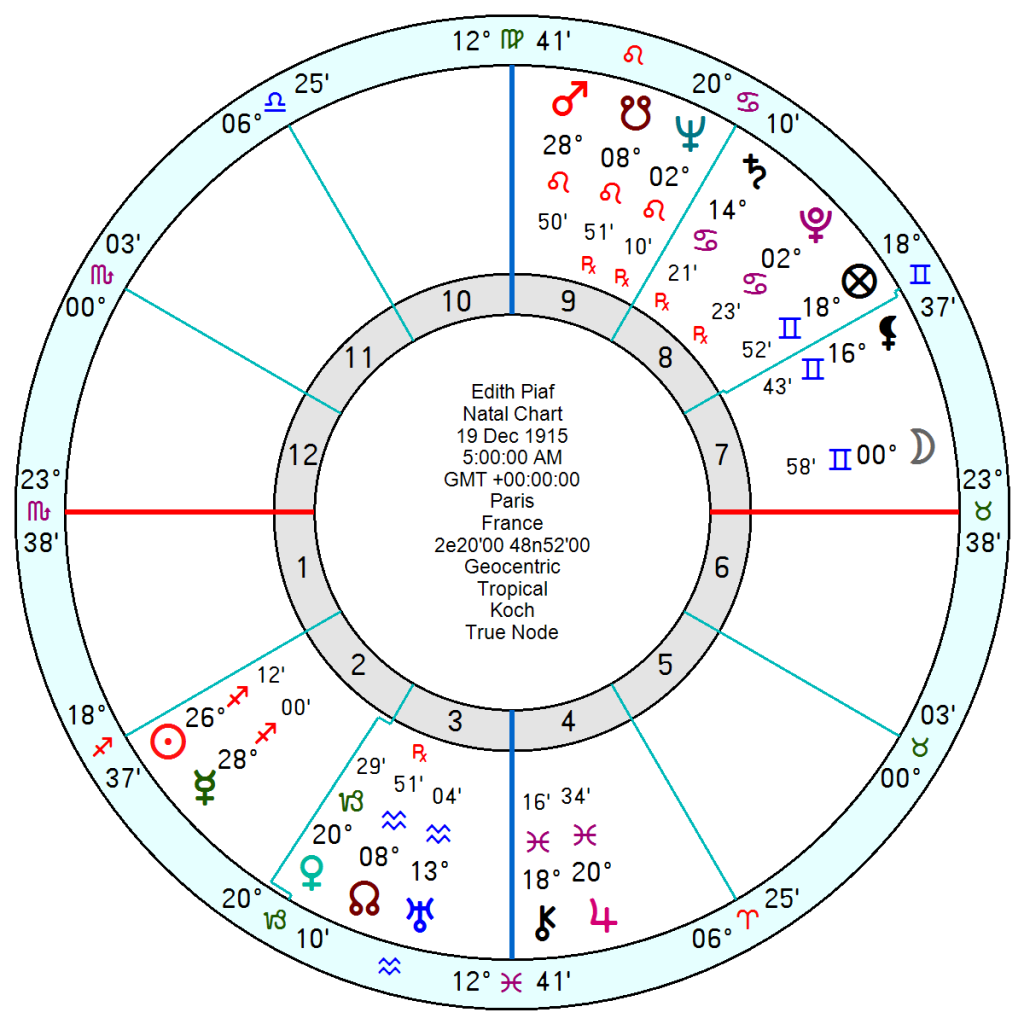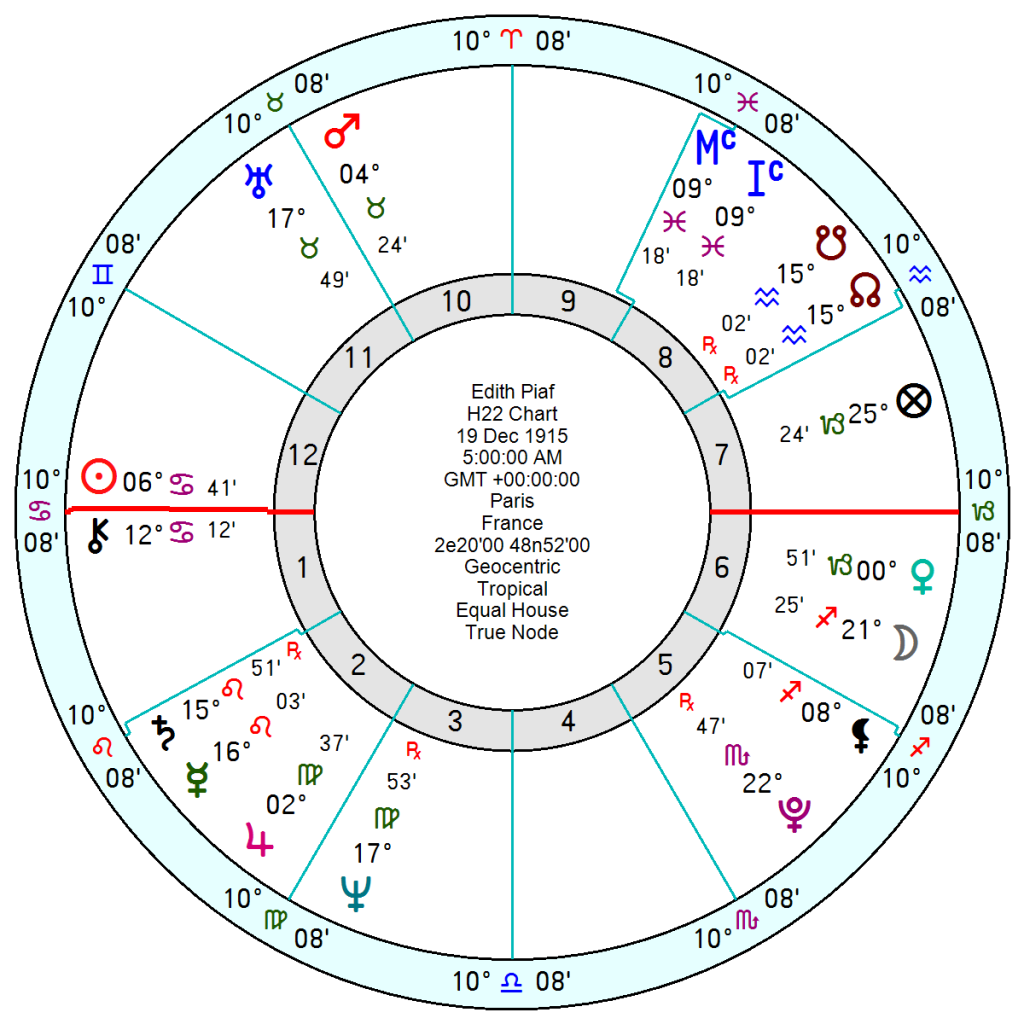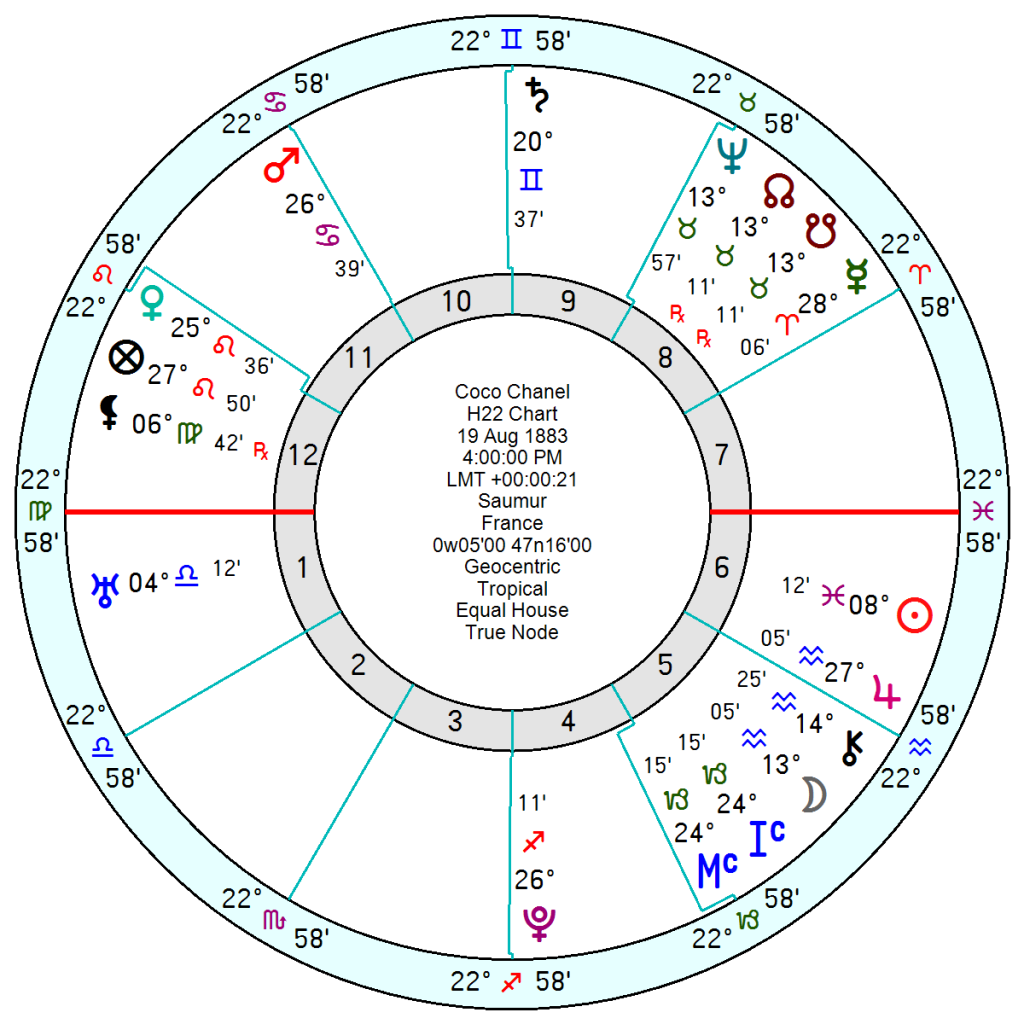 Coco Chanel who initiated a revolutionary shift in women's fashion away from the tyranny of the corset to become a leading light in couture, perfume and accessories had an extraordinary if not altogether edifying life. She rose from extreme poverty, slept with wealthy men who bankrolled her start in business, slid through the beds of British nobility which allowed her to duck out of accusations of spying for the Germans during World War 11 which earned her the protection of Churchill concerned she might expose the pro-nazi sympathies of Royals and others. She was according to French intelligence a 'vicious anti-semite' and a regular morphine user. Though there is some documentation suggesting she might have also worked with the French Resistance.
She was born 19 August 1883 4pm in Saumur in a poor house hospice with a laundrywoman mother and an itinerant street vendor father. Her mother died when she was 11 and she was sent to a convent orphanage where she learned to sew.
She had a secretive 8th house flamboyant Sun Venus in Leo square a creative 5th house Neptune and also square Pluto in the attention-demanding 5th. She had Mars in Gemini conjunct her Descendant so would attract fiery partners. She was the mistress of some of the most influential men of her time, including the Duke of Westminster, but never married.
Her sensitive, self-protective Pisces Moon opposed Mercury and squared a hard-working Saturn in her 6th house of work so she would be emotionally battened down. Her Sun/Moon midpoint was exactly conjunct her Chiron and close to both Pluto and Saturn – so a bleak relationship life despite the money and the luxury – or maybe one in which she was a habitual user of the men she attracted. Her Jupiter in the 7th nearing the cusp of her 8th would give her an ability to charm men of high standing and wealth.
Her Uranus trine Neptune like her two 5th house planets was creative, giving her 'eureka' moments of inspiration.
Her Scorpio North Node in the 10th would push her on to succeed and acquire possessions but they would not offer satisfaction unless she was able to let go what she had built up and move away from the past which would have been painful and clearly did not happen. She evidently became tyrannical and lonely towards the end of her life.
Her creative 5th harmonic, breakthrough 13H; leaving-a-legacy 17h and global-fame 22nd harmonic were all strong.
  All credit to her for having pulled herself up from unlikely beginnings but not, I fear, a pleasant woman.
Add ON: The other rags to riches French story was Edith Piaf, though she seemed a nicer sort. Like Chanel she had a strong get-it-together 5th harmonic and an even stronger global-superstar 22nd. Both harmonics with a strongly marked Venus.
 Coco Chanel's 5th and 22nd both had an afflicted Mars – the 5H tied into Saturn Neptune which is fairly perverse. In the 22nd a yod of Mars inconjunct Pluto sextile Jupiter – ruthlessly ambitious.