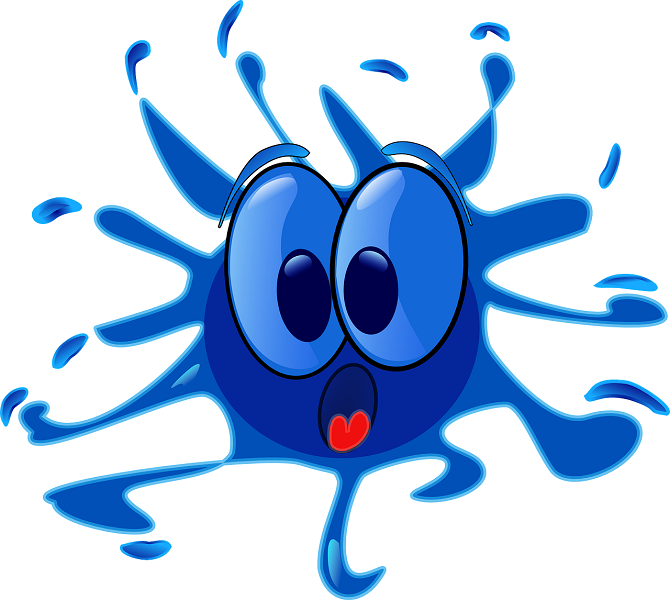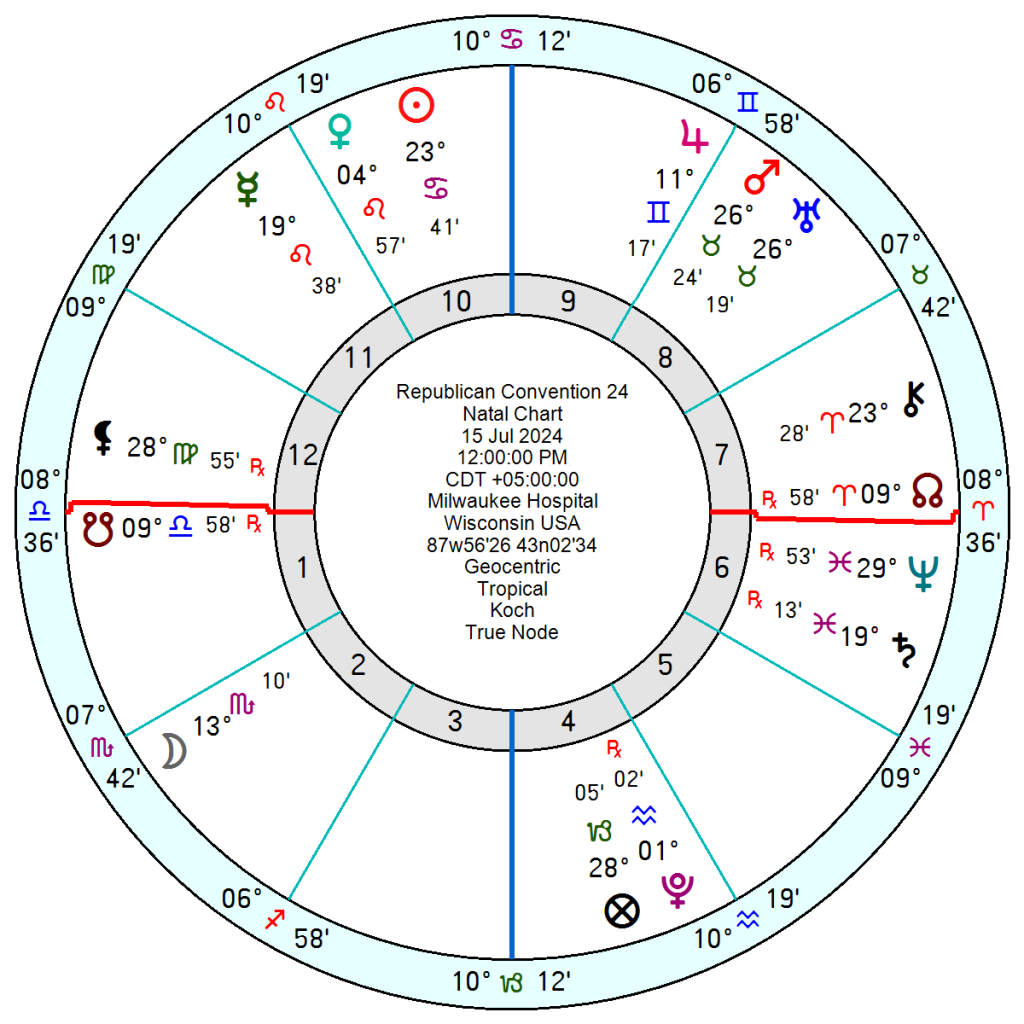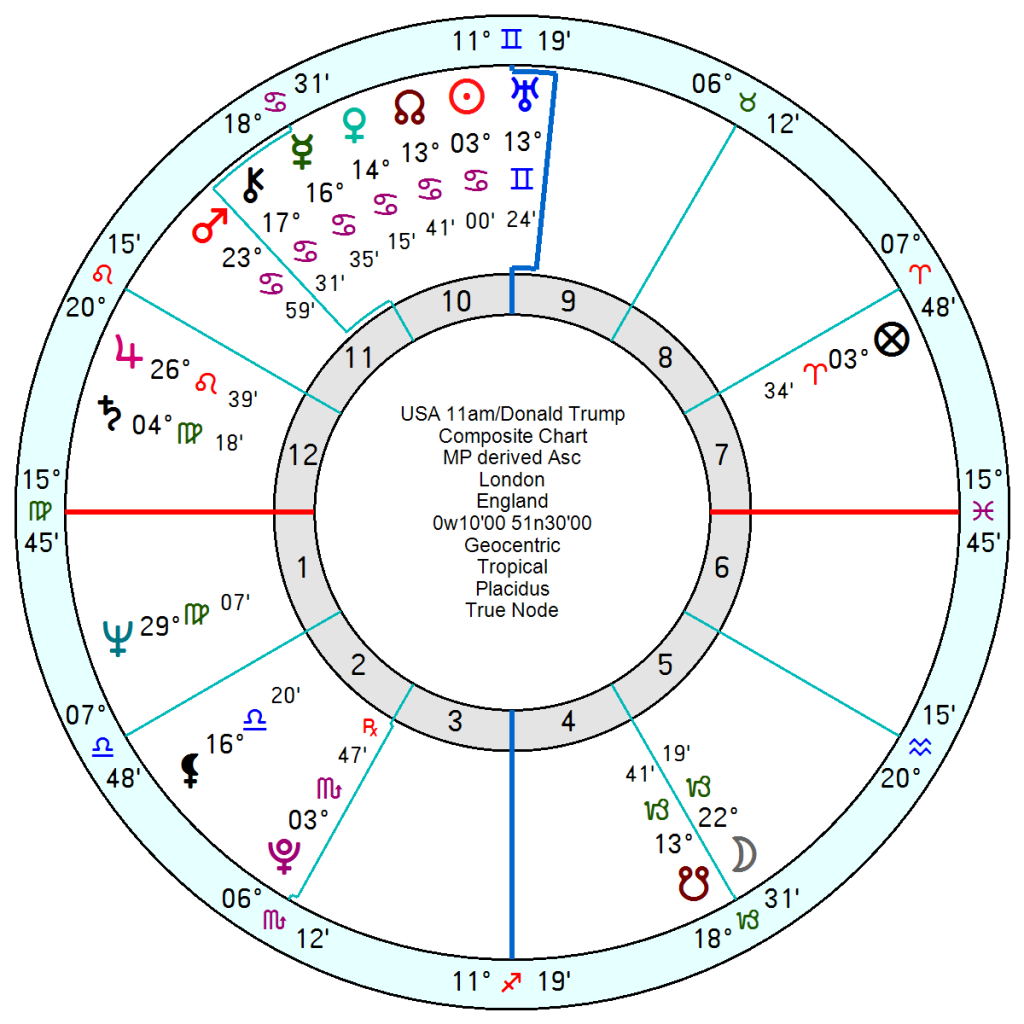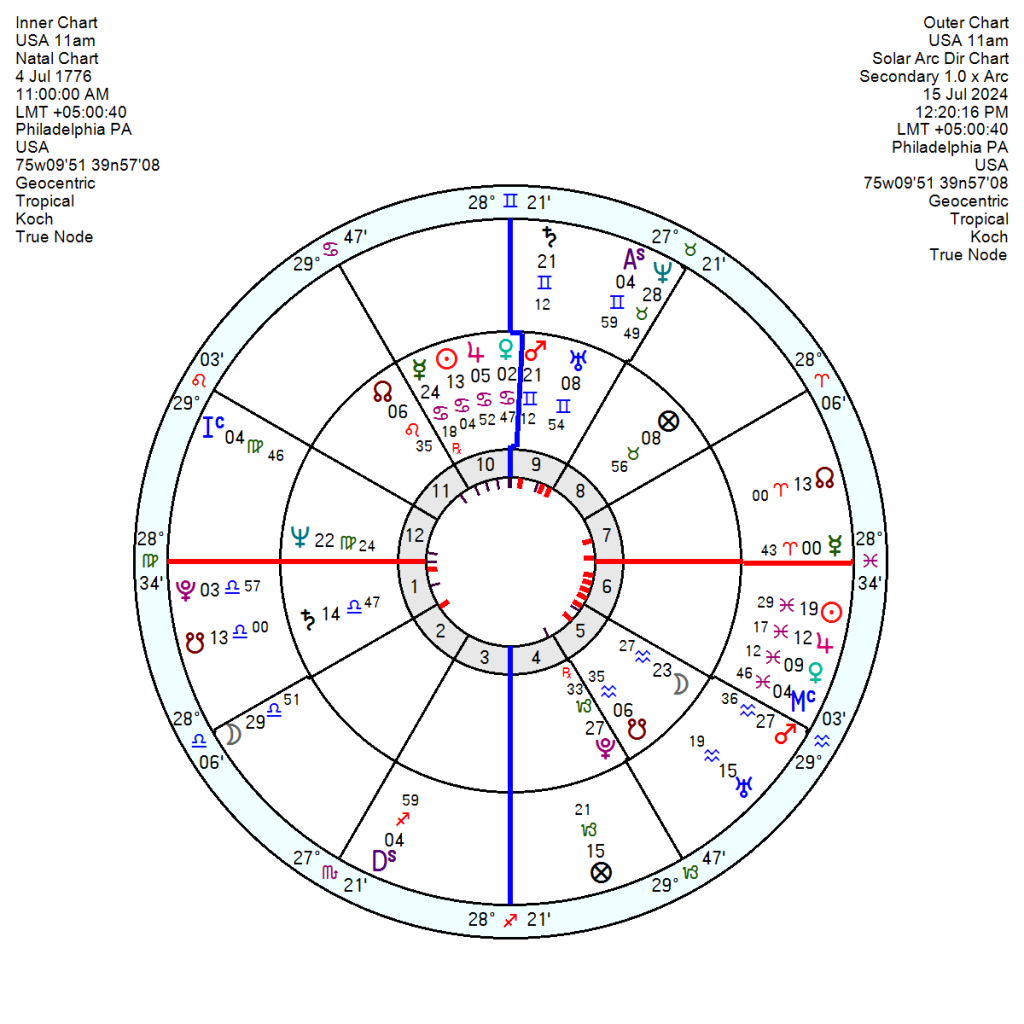 Will the unthinkable happen and Trump get re-elected? Not only are sensible Americans agitated at the prospect so are the reasonables of the rest of the world. Only the dictators elsewhere are adjusting their plans in the hope of a fellow-traveller back in the White House. Putin may drag out the Ukraine campaign for that reason.
This is not a detailed look at election fortunes since previous posts have covered Trump and Biden ad nauseam and will no doubt be reprised in future.
But there are two factors of Astro-note. One of which is the Republican Convention on 15 July 2024 which looks fraught in the extreme with a Sun trine Saturn Neptune in Pisces sextile an exact, explosive Mars Uranus conjunction in Taurus – edgy, uncertain with a clash of no-compromise attitudes. Trump also has tr Uranus exactly square his Mars in Leo then – which can be a shock to self-esteem and tends to provoke an extreme reaction. In some older types it can also be health related (heart) but he seems to be immune to the vagaries that affect normal people.
  Exactly then on the USA chart the Solar Arc Saturn is conjunct the Mars to within a minute of a degree which usually accompanies a setback of considerable proportions. The Solar Arc Saturn then moves on to square the USA Neptune for high-anxiety and uncertainty in 2025.
  Also exactly in July 2024 Trump's relationship chart with the USA has the composite Jupiter at 26 Leo which tr Uranus will be square – which is impossible to say which way it will go. Great relief that he is out of the running – or a lucky break for him.
I fear the dread will continue on right through 2024 until and unless the GOP regain their sanity. But that may not happen. Not fun for worried Americans and global onlookers, but the astrology will be worth watching.
William Hague in The Times yesterday;
"For British people, it is unthinkable that anyone indicted in relation to fraud, conspiracy, taking classified documents, paying hush money and attempting to overturn a legitimate election could ever be a serious candidate again. But to Americans — living in two separate worlds of their own newsfeeds, bitterly divided by race, wokeness, abortion and many other issues, using a system of primary elections in which name recognition is a huge advantage — it has become thinkable. Indeed, it is on the verge of becoming probable."