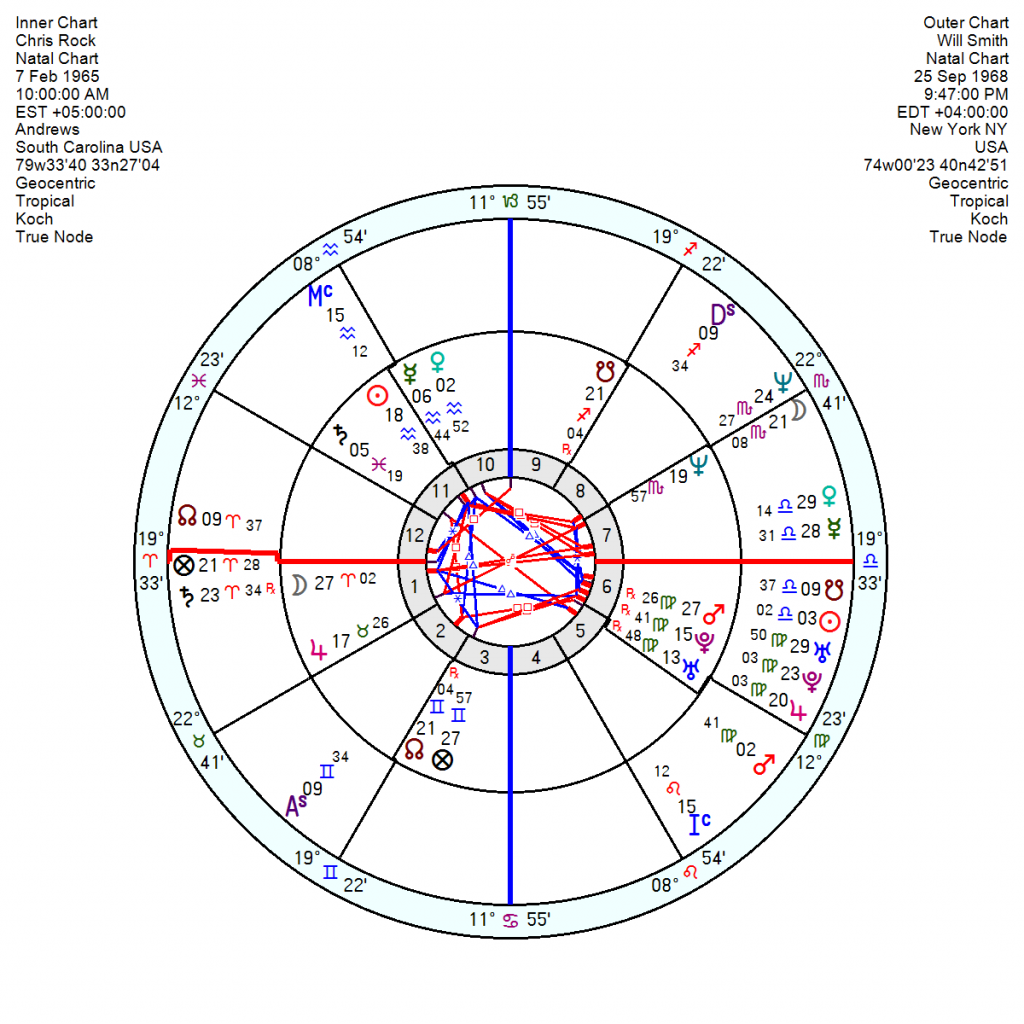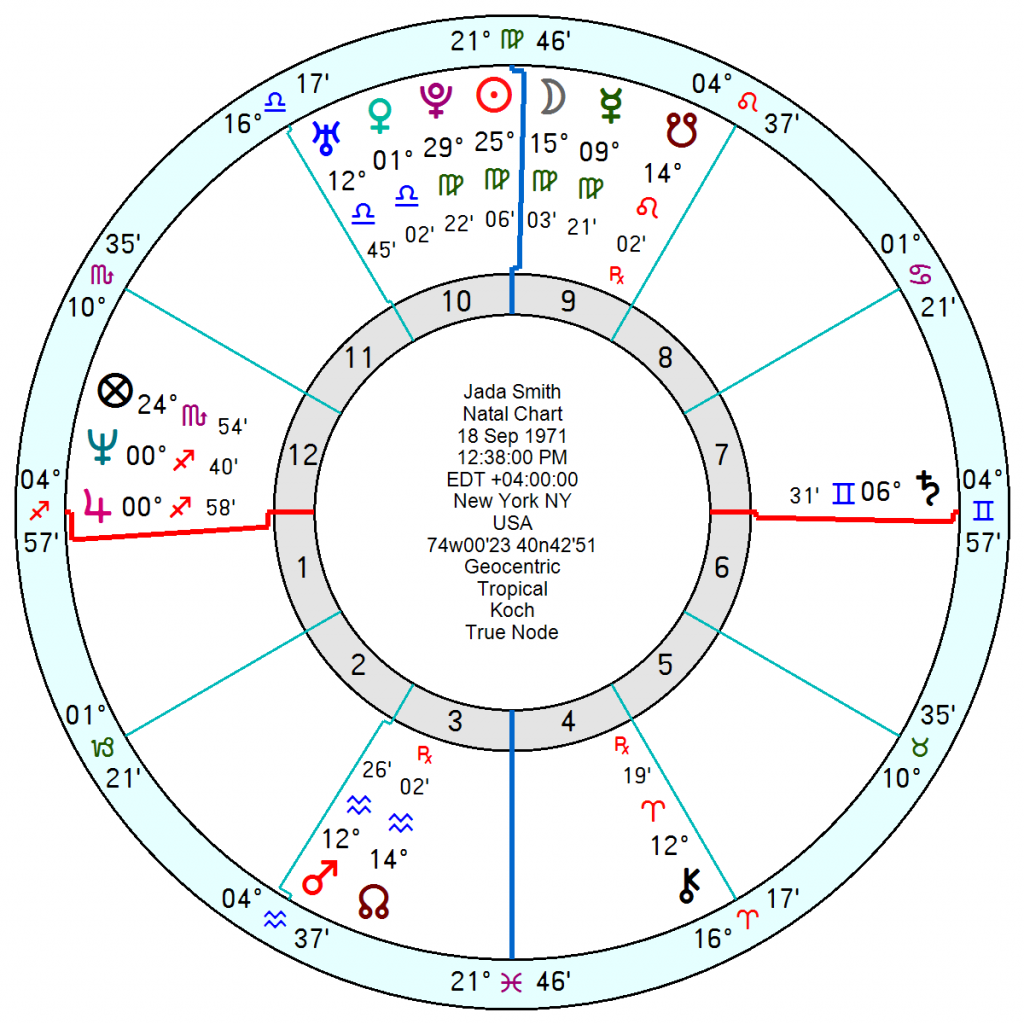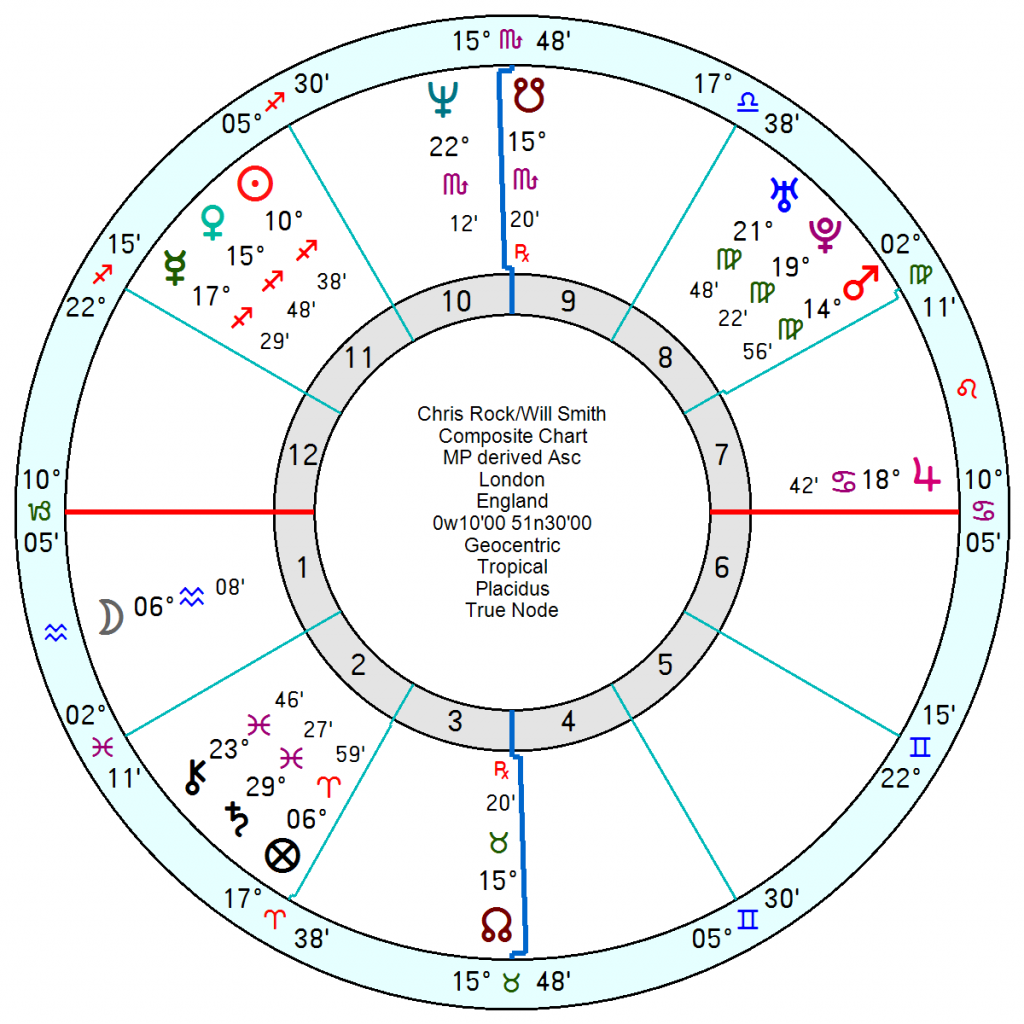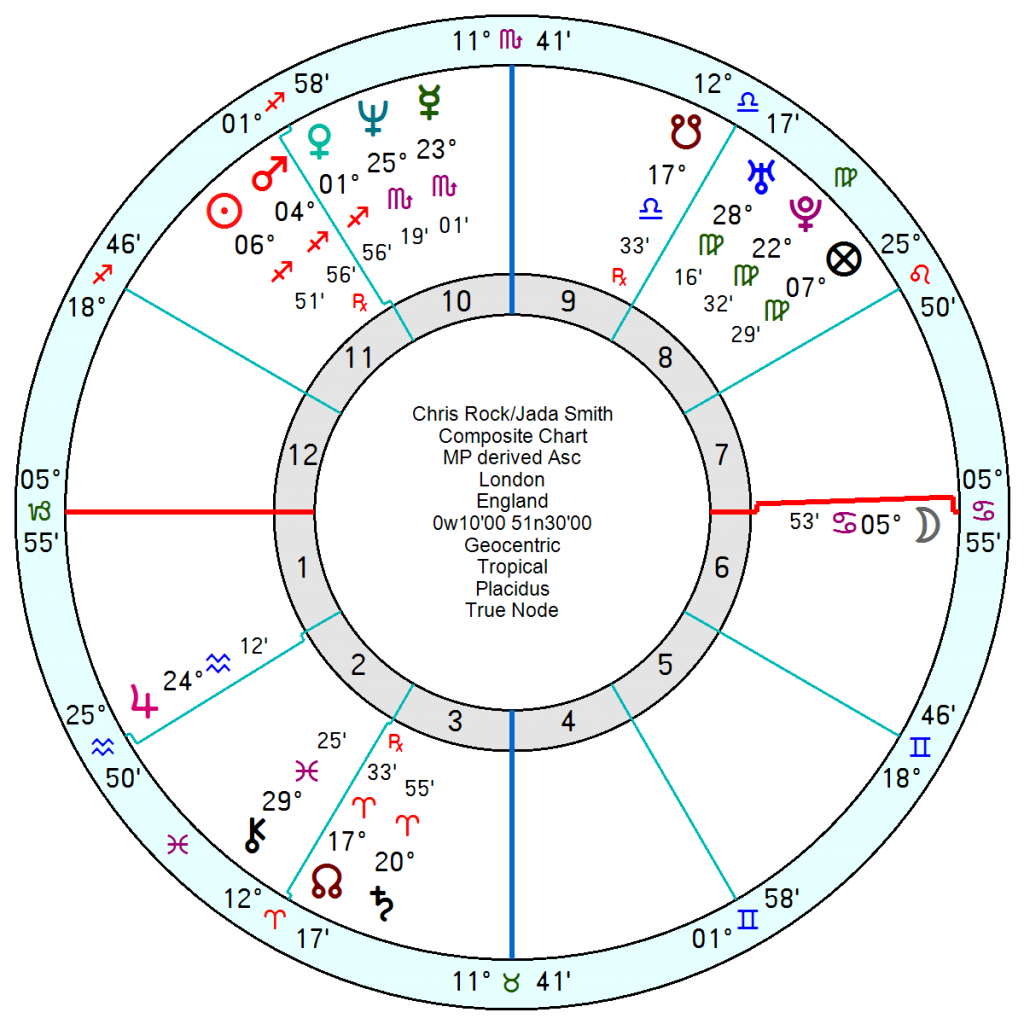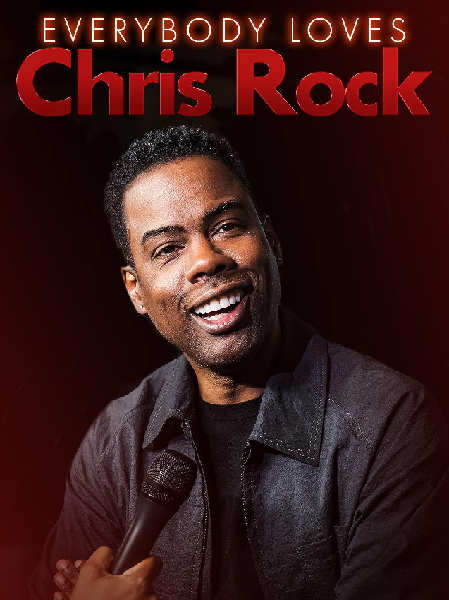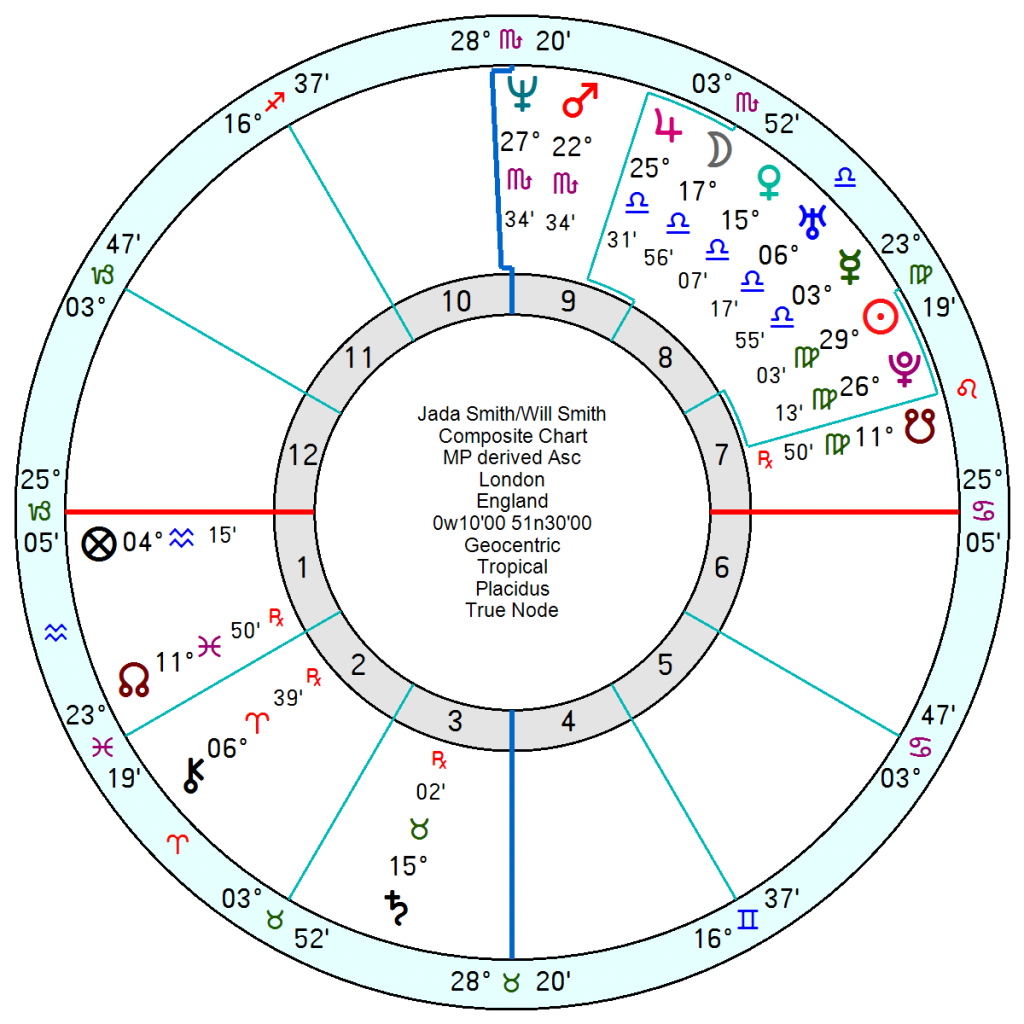 An unscripted joke in bad taste which earned a hard slap across the face rescued an inconsequential Academy Awards from oblivion. In the headlines for all the wrong reasons last night's Oscars has become a battle ground of argument between those who think Will Smith's defence of his wife was heroic and those who condemned him for over-reacting to host comedian Chris Rock's off-colour jibe.
Rock who appears to have form on disliking Jada Smith, joked about her hairless state (due to an auto-immune alpoecia). Smith then galloped to her defence before later collecting Best Actor for King Richard about Venus and Serena Williams' father.
Richard Madeley, a UK morning show presenter said in his long career that Rock was the most unpleasant celebrity he'd met. 'He was the most unpleasant, rude, aggressive, unlikeable human being I've ever interviewed on camera, without question.'
Rock, born 7 February 1965 10am Andrews, SC, has a confident, ego-centric Aquarius Sun on the point of a T Square to an ever-optimistic Jupiter opposition Neptune. He also has a powerful collection of Uranus, Pluto and Mars in Virgo trine Jupiter which will give him confidence but will be volatile.
His Aries Moon sits below his Ascendant and is unaspected except for a quincunx to Mars, and an out-of-sign square to Venus, which will make him scratchy in relationship to women. A sparsely aspected Moon can make for a sense of disconnection and immaturity. A not-well integrated Mercury can be hyperactive and one-track minded but again will lack a sense of real connection.
Where he and the Smiths clash is his Mars in Virgo which is conjunct Jada Smith's 10th house controlling and influential Sun Pluto in Virgo; and Will Smith's Uranus Pluto in Virgo.
Rock's relationship chart with Will Smith is an explosive cache waiting to ignite with a composite Mars, Pluto, Uranus in Virgo square Venus, Mercury, and Sun.
With Jada, there's a fated Yod of Pluto Uranus sextile Neptune Mercury inconjunct Saturn so there are obviously undertones of drawn-together-for-a-reason chemistry. Plus a competitive, argumentative composite Sun Mars conjunction.
All a typhoon in a teacup of no account.
And in an entertainment business that thrives and banks richly on violence, getting vaporous over a slap is a touch tiresome and sanctimonious. I doubt it will affect any of them too badly though they all have undermining Neptune transits in opposition to their Virgo stelliums in the next two/three years so there will be some slipping and sliding.
See:https://www.theguardian.com/media/commentisfree/2022/mar/29/will-smiths-oscars-slap-created-a-storm-of-increasingly-irrelevant-internet-hot-takes
Add ON: Will Smith and his wife Jada Pinkett Smith have been together since 1994 with two children and a recent tendency to overshare in public – often misleadingly about their open or otherwise marriage.
They live in a 27,000 square feet Malibu house that sits on 100 acres.
There are good connections between them with her Venus conjunct his Libra Sun and his Jupiter conjunct her Virgo Moon; as well as less helpful ones given that both have fairly turbulent temperaments from the Uranus Pluto of that period.
Their relationship chart is exceptionally close – not necessarily bound by affection – but by unconscious ties. The possessive composite Sun Pluto conjunction sits in the composite 8th house along with five other planets. Sun Pluto on its own makes for a transformational though not easy, bound-by-fate connection. The Venus Moon Jupiter conjunction will smooth round rough edges and give mutual support. Seven planets in the 8th will bind them together in ways they don't understand. The composite Mars Neptune is OK-ish for showbusiness and a publicity-attracting duo but it suggests an underlying ego clash with each rooting for their own and not their partner's success. And the Mars opposition Saturn hints at unfairness.
  It doesn't mean it will last till eternity though it survived a tempestuous patch from 2007 for a decade after. It will sag over the next couple of years.
Add On: Will Smith has resigned from the Academy of Motion Picture Arts and Sciences which runs the Oscars with copious apologies for his behaviour. Quite what that means isn't clear and the decision about whether or not to rescind his recent award for King William hasn't been made yet.
He has tr Saturn just across his Midheaven moving through his 10th for two years and his upper quadrant until 2030 which should be a time of consolidating his reputation. Though he is beset by Neptunian confusion as tr Pluto squares his Sun/Neptune midpoint util late 2023. And tr Neptune opposes his Pluto on one leg of his Yod, which can be disempowering this year into 2023.
I still think the whole thing has been seriously overblown with faux outrage from the Academy – I know they totted up the murders and corpses, running into hundreds, in Game of Thrones which won multiple BAFTAs and I'm sure the Oscars total over the years won't be miniscule either. The industry thrives on gun and fist violence – and the audiences lap it up otherwise it wouldn't be made.