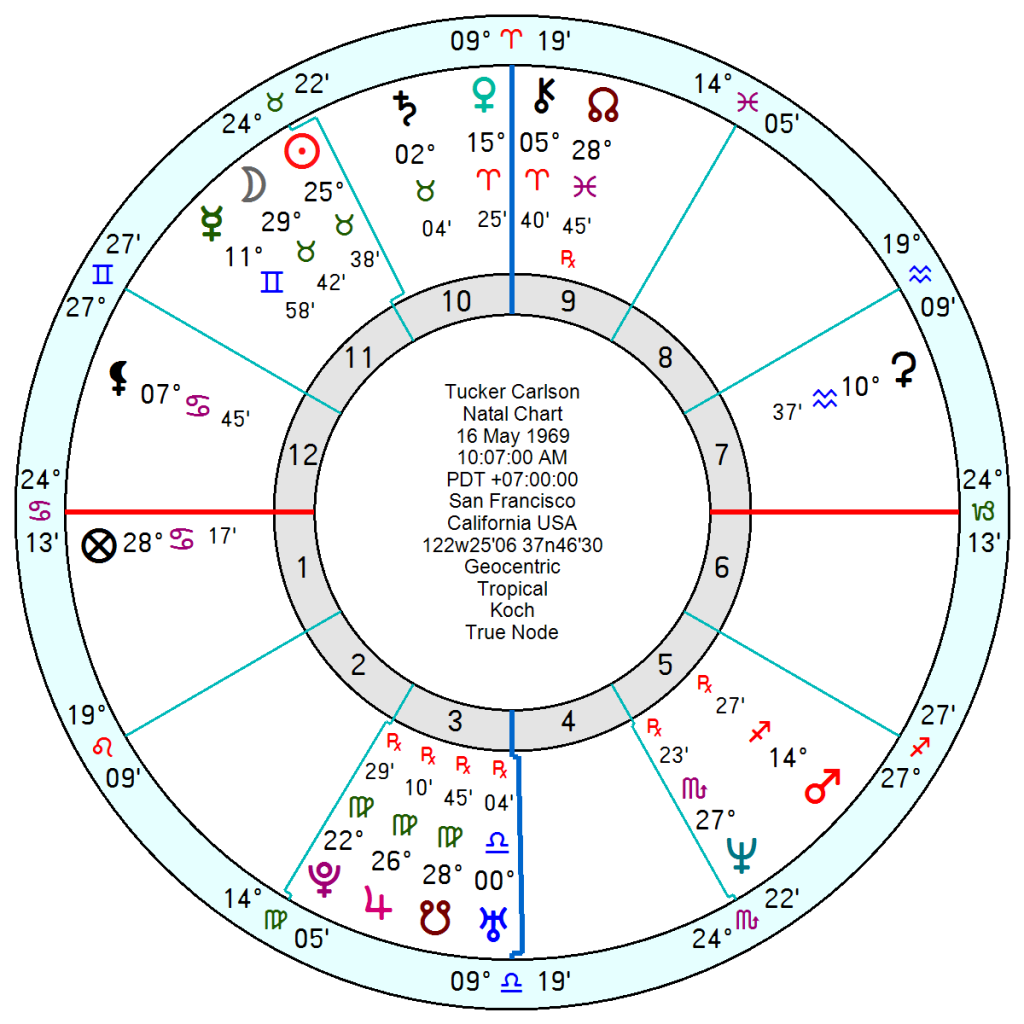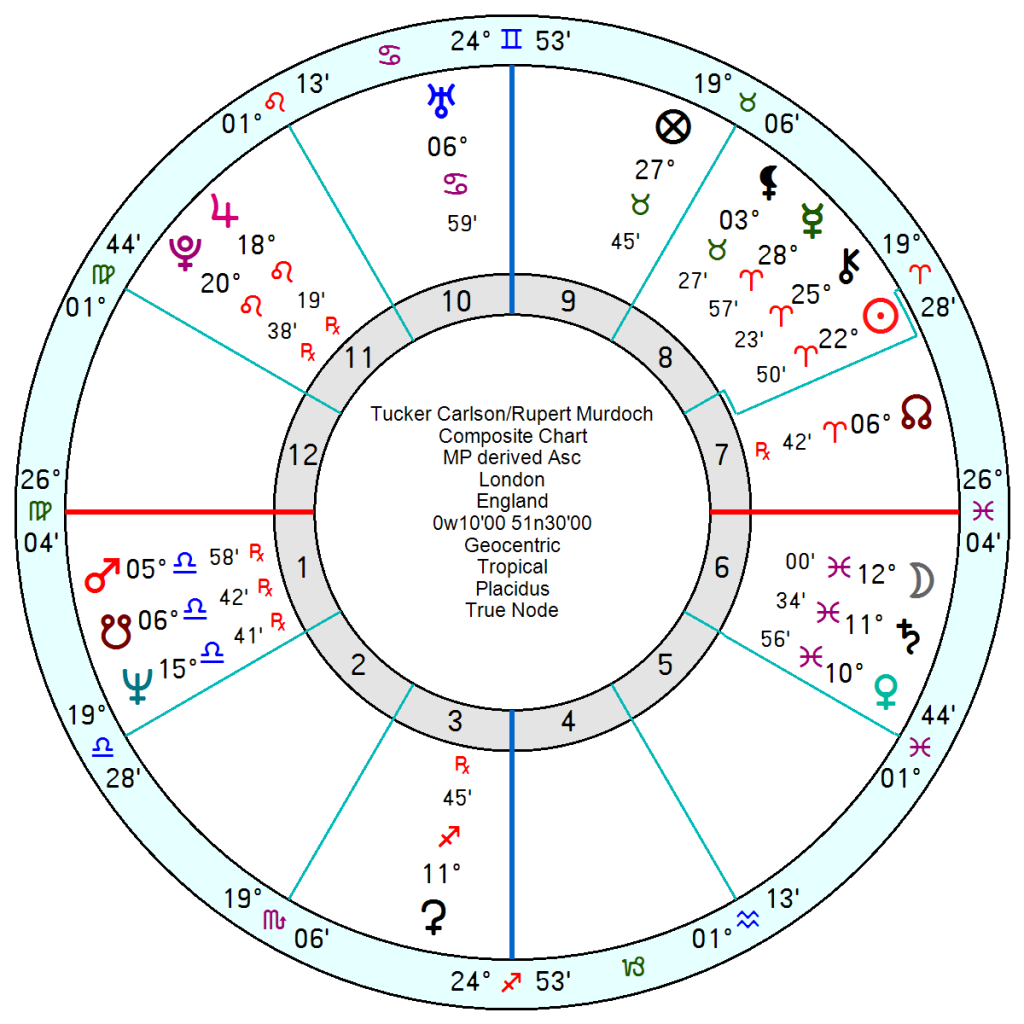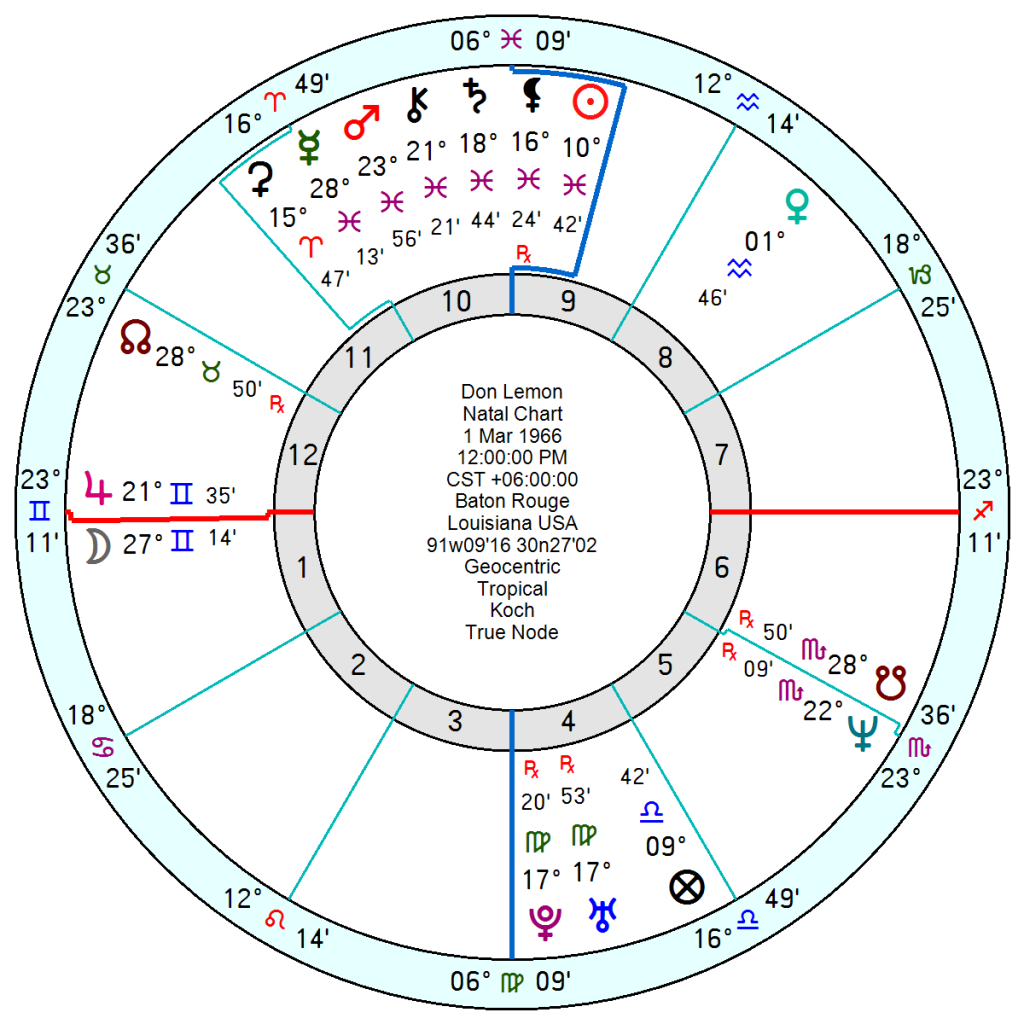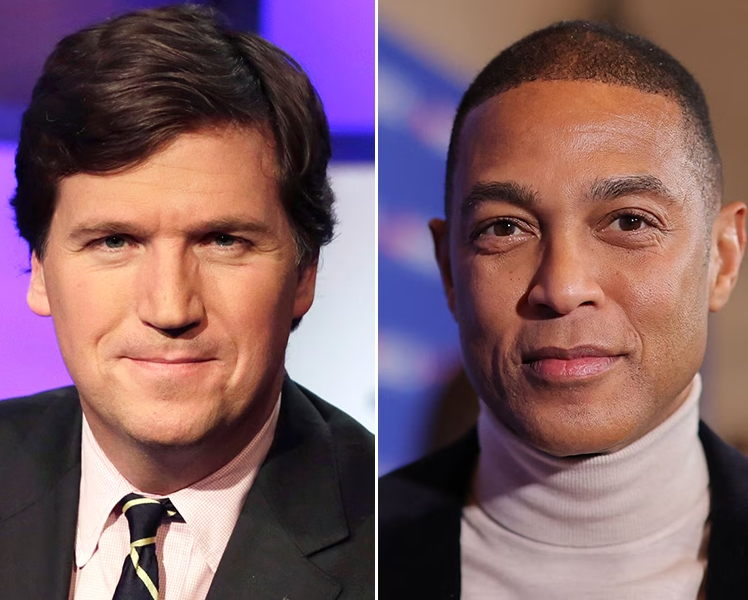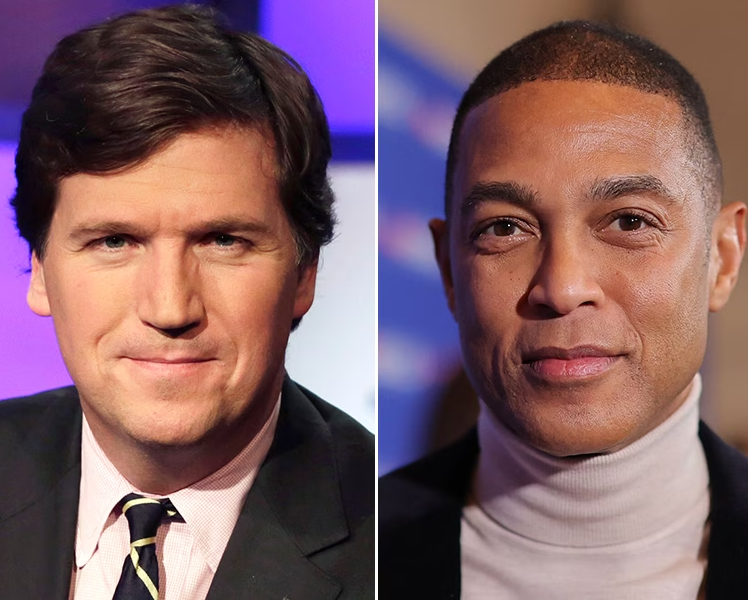 Fox's Tucker Carlson and CNN's Don Lemon were kings of respective television castles until summarily ejected for different reasons this week.
The abrupt dismissal of pro-Trumper Carlson, Murdoch's biggest star, stunned media and political circles, although his private messages unearthed by Dominion Voting Systems' defamation lawsuit including criticisms of Fox executives and anchors did suggest there would be fallout. Insiders painted a picture of him as a star whose ego had led him to believe he was untouchable.
"Anytime somebody starts acting like they're bigger than the platform, they go," said a former senior News Corp executive: "There's many things you can do in News Corp and Fox, but you can't make Rupert look bad."
Carlson, 16 May 1969 10.07 am San Francisco, CA, is a heavyweight New Moon in late Taurus opposition Neptune and trine a super-confident Pluto Jupiter South Node in Virgo. He also has an outspoken Mars in Sagittarius in his performing 5th in a ruthless square to Pluto.
His Jupiter Pluto would give him a sense of being above the rules and regulations that restrict ordinary mortals. Interestingly it recurs in his relationship chart with Rupert Murdoch with a composite Jupiter Pluto at 18/20 degrees Leo. That is classic power-couple aspect which can raise both to great success when they pull together as one. But inevitably the energy gets turned inward into the relationship itself and becomes divisive and there follows a oneupmanship struggle for the upper hand at which point it becomes bitterly hostile. Tr Uranus is elbowing that Jupiter Pluto exactly now and in coming weeks.
  Carlson's Solar Return over this period from May 2022 onwards has Pluto on the Midheaven which hints at a career blockage of considerable proportion along with reputational damage.  Plus Uranus on the 18 degree Ascendant for an abrupt change of image.
High flying presenters who are toppled rarely climb back to the same heights and he will have a disappointing and discouraging run ahead with tr Neptune opposition his Jupiter this year and tr Pluto square his 10th house Saturn in 2024/25. Though he does have Jupiter through his 10th this year till next spring and has Jupiter on his Solar Return Midheaven for this coming year – so he may grab onto a few breadcrumbs. A Russian station has suggested he should run for president.
Don Lemon, 1 March 1966 Baton Rouge, Louisiana, no birth time, was fired after 17 years with CNN for crass comments about Nikki Haley not being in her prime, with falling ratings for his show not helping his chances either.
He has a stellium in Pisces with Sun conjunct Saturn which in turn is conjunct Mars and Mercury opposition Pluto Uranus in Virgo square Jupiter (Moon) in Gemini – hard-edged, hard-working, unpredictable, chaotic and lucky with a strong Jupiter. His Mars Mercury in Pisces are in a showbizzy trine to Neptune and South Node in Scorpio. He'll be a whirlwind of a personality, short-fused and at times overly forceful.
Tr Saturn in Pisces aiming for his Second Saturn Return in 2024 won't do much to boost his confidence and luck in 2024/25 as it pours a bucket of cold reality over his central T square. But he'll bounce again come 2026/27.
All that strikes me as similar about the pair of them is late degree Taurus with Carlson's Sun being conjunct Algol as is Lemon's North Node.
Maybe just maybe with Carlson toppling there are faint signs of the ending of an unfortunate era of lies and misinformation. Though it'll take more than his exit to wipe the board clean.