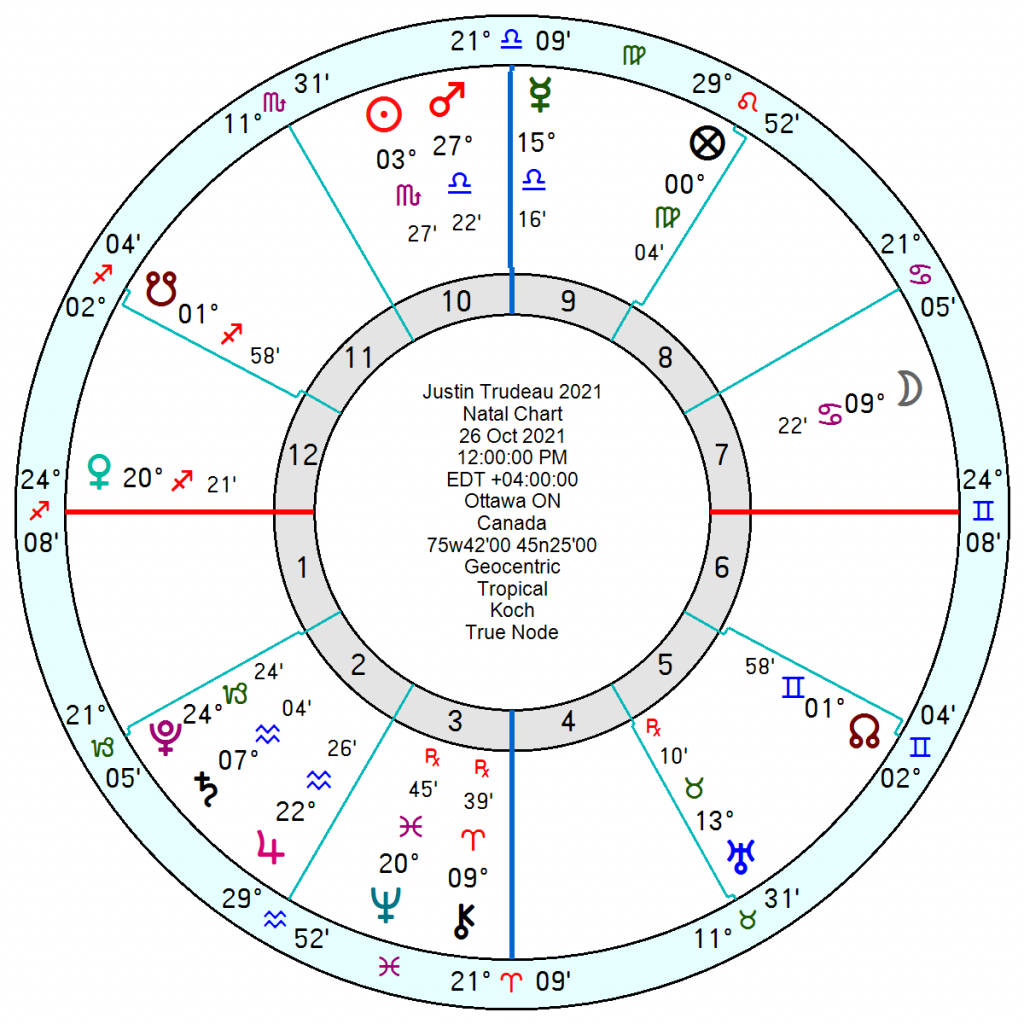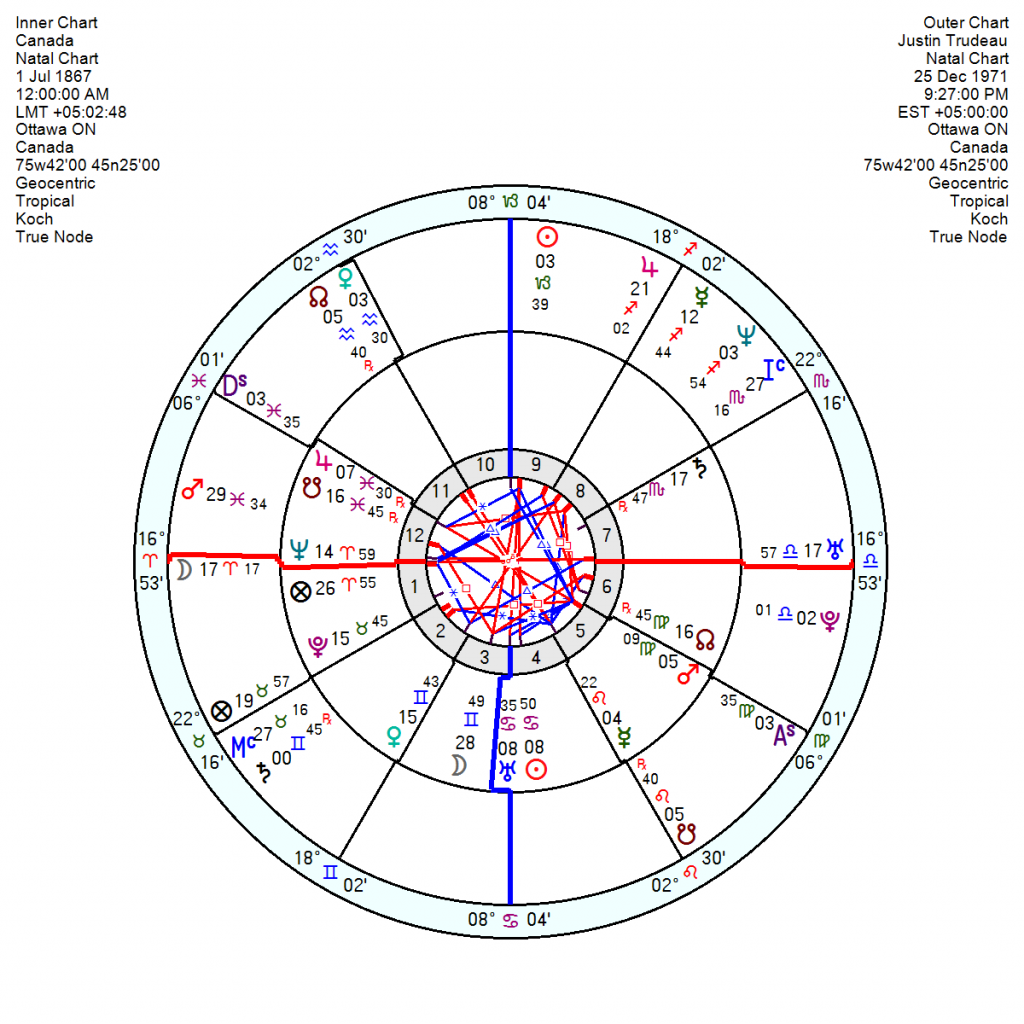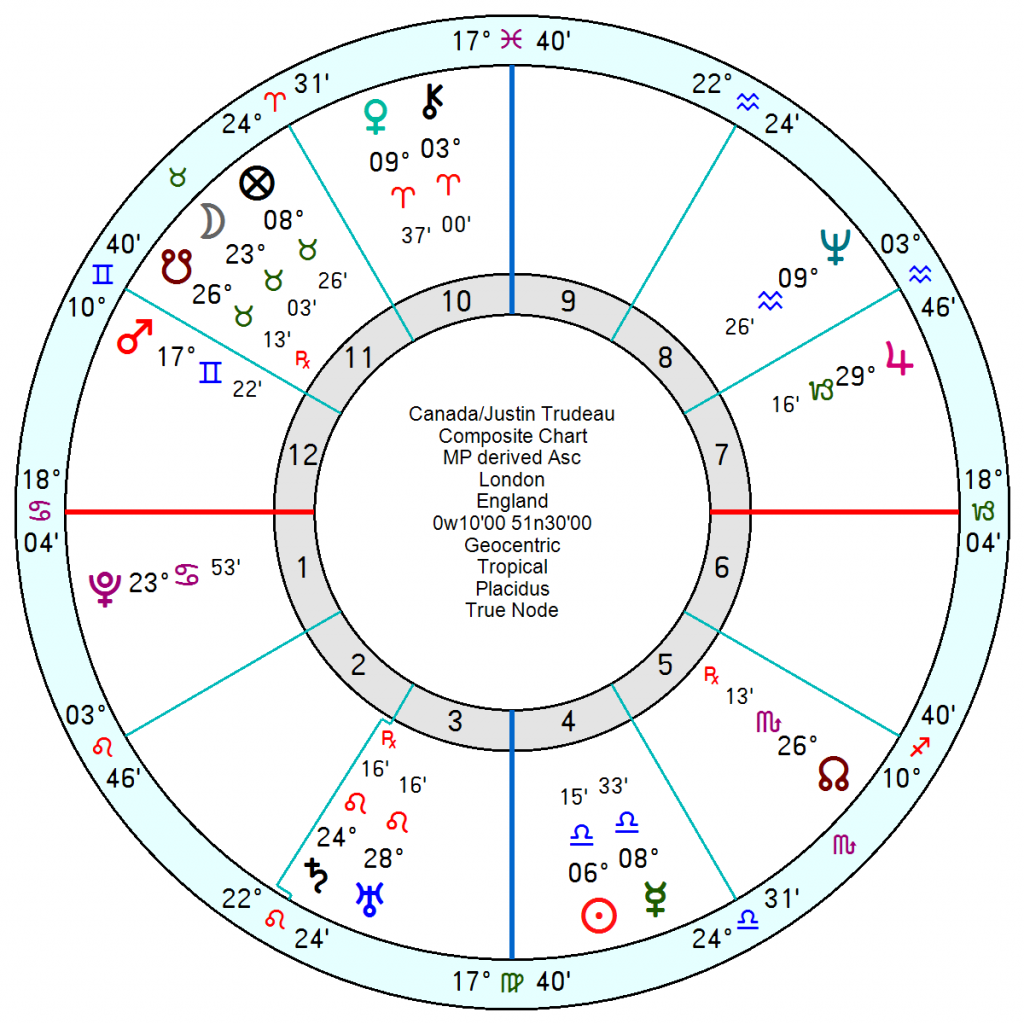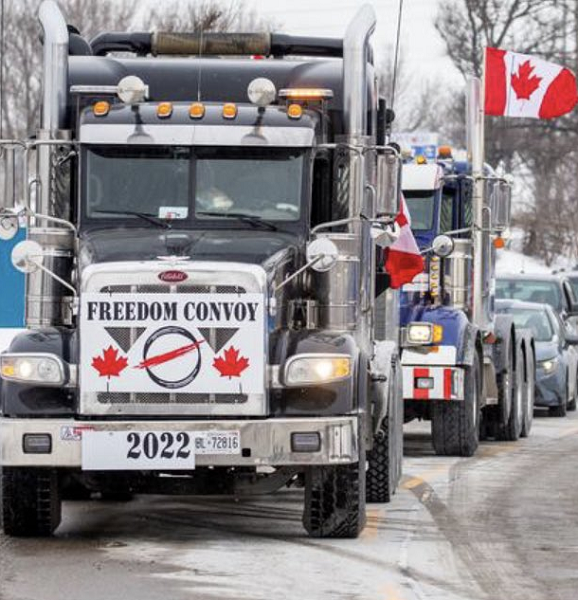 Despite a high vaccination rate in Canada – 90 percent – a "Freedom Convoy" of tens of thousands of truckers in a 45 mile line still disrupted Ottawa and sent Justin Trudeau fleeing for a safe haven. They were  demonstrating against Covid-19 vaccine mandates for cross-border truck drivers. Trudeau accused  conservative politicians of stoking fears that are exacerbating supply chain disruptions and fueling inflation.
   He described the truckers' views as anti-science, anti-government and anti-society. The Canadian Trucking Alliance, a major industry group, said the vast majority of the country's truck drivers are vaccinated and it "strongly disapproved" of the gathering in Ottawa. Trump has thrown his support behind the agitators as well as Joe Rogan, Donald Trump Jnr and Russell Brand.
Trudeau's new Term chart, 26 October 2021, always was going to move into considerable difficulties from this February onwards with tr Pluto square the Mars, giving rise to a trapped, enfuriated and risky mood and that runs on and off until late 2023. There will also be humps and bumps and tensions erupting through this April. It won't be a happy administration.
Canada is undergoing major changes – with considerable disruption – through this year into next with first tr Saturn square the Saturn opposition Pluto; and then from May onwards tr Uranus is conjunct the Pluto – and that will create an unsettled, at times rebellious mood until May 2023. It's not clear what form the changes will take though there will be an unpredictable financial phase from 2023 onwards and a revisioning of the long term outlook as well perhaps as changes to the legislature with tr Pluto moving into the Canadian 11th house for two decades from 2024 on.
Trudeau is a divisive figure with his Uranus falling on the Canada Descendant; but also an important one with his Moon in the Ascendant and his Sun close to the Canada Midheaven.
His relationship chart with Canada will move into more troubled times from mid 2023 onwards – so this may be his swansong as prime minister. But he won't disappear from the public arena. With a talented Grand Sextile in his chart; his Progressed Jupiter moving ever closer to his Capricorn Sun in coming years; and tr Saturn heading upwards in his chart for another nearly two decades he'll find himself a high profile niche somewhere.
See previous post December 30 2021