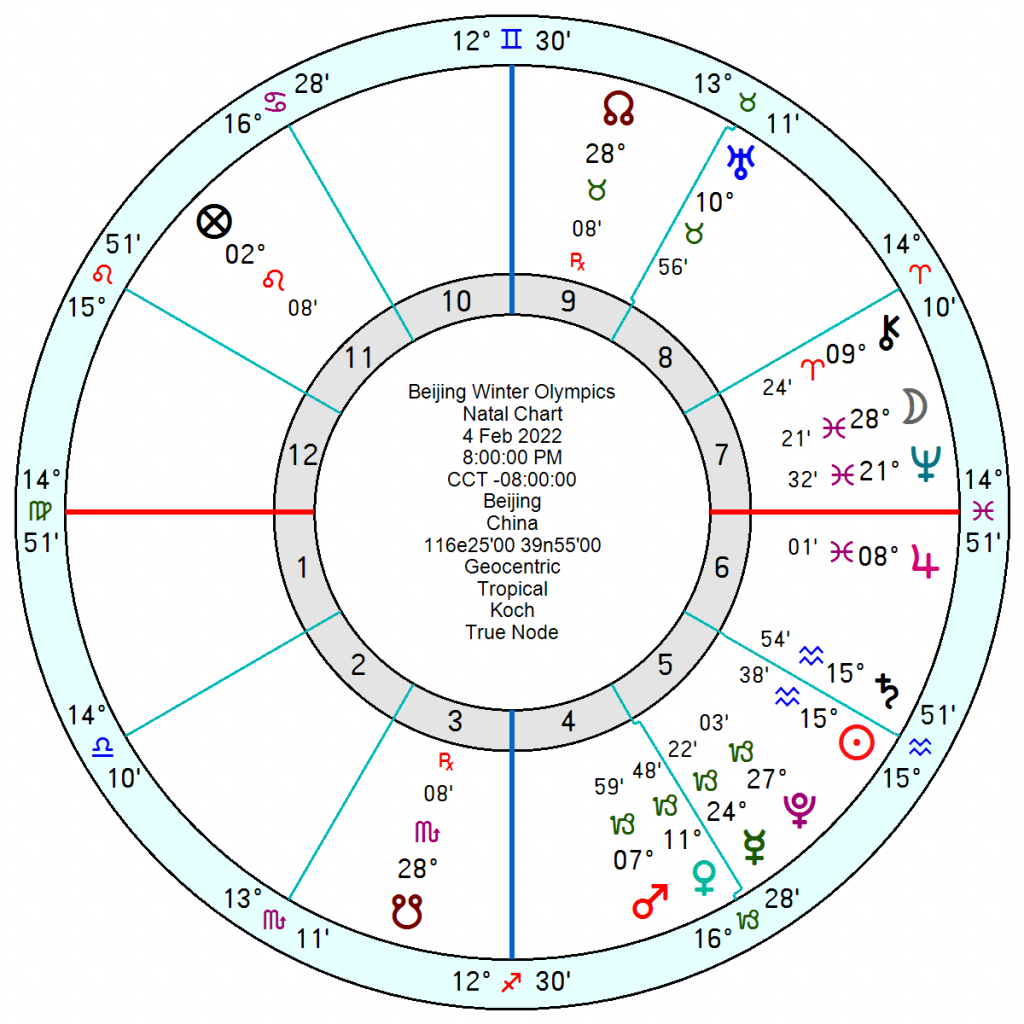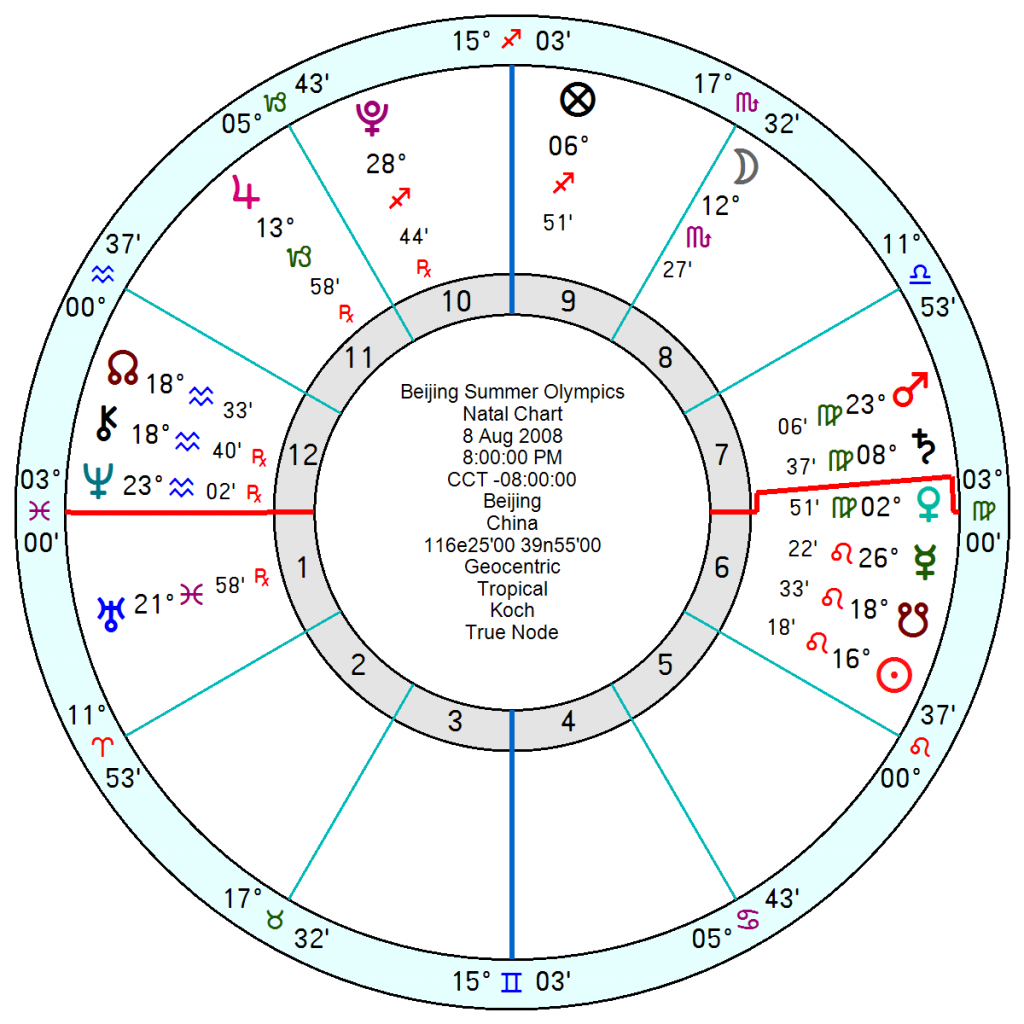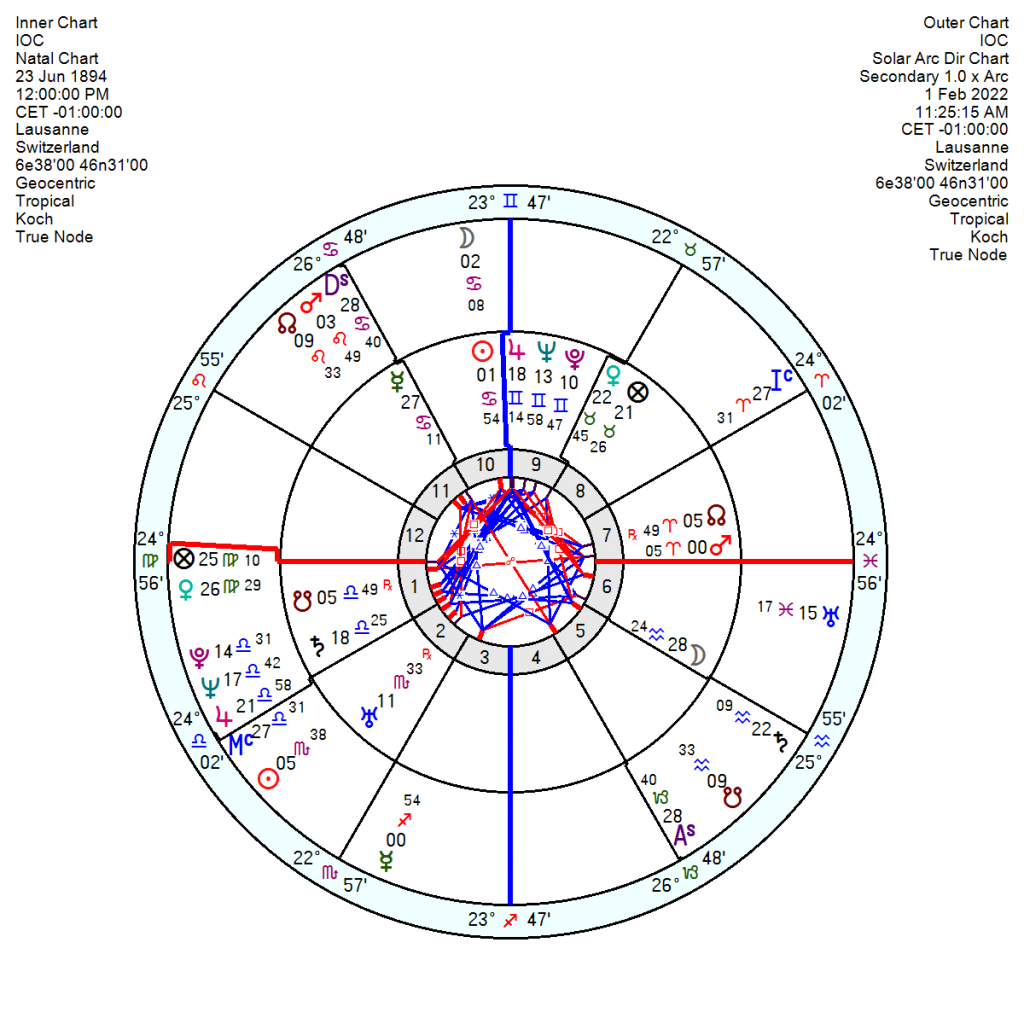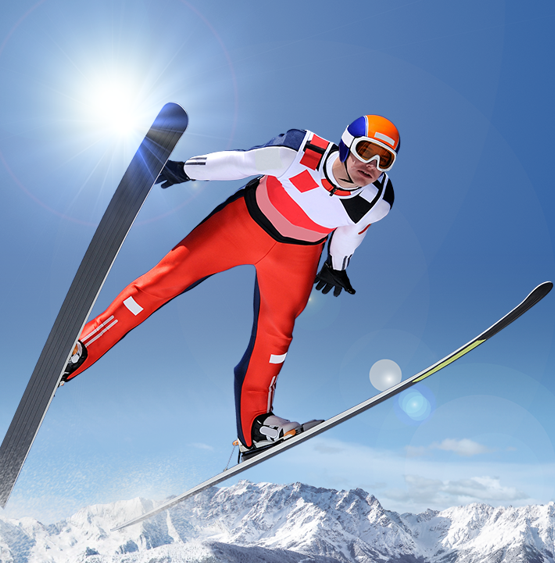 The 'genocide' Olympics as Beijing's winter feste was dubbed by Joe Biden is kicking off this Friday. There will be fewer governments represented, following a series of diplomatic boycotts because of alleged human rights abuses, especially towards the ethnic Uyhgur population in Xinjiang. But there has been no full boycotts of athletes. Because of covid it will be a televised event, with no tickets sold, seats only given to Communist Party members. Infection numbers are rising even within the covid-bubble. The International Olympic Committee (IOC), is as per usual, distancing sport from politics.
 The opening ceremony on February 4th at 8pm has a damp squib 7th house Moon Neptune, fittingly for a virus-ridden event; with a downbeat exact Sun Saturn in Aquarius. There is a showy, attention-demanding 5th house Pluto Mercury, perhaps a hint that Zhang Yimou, the renowned film maker's show for the opening will be a hit.  It will also get a degree of luck from Venus Mars trine Uranus sextile Jupiter.
 It is not as fraught a chart as for the 2008 Beijing Summer Olympics which had an explosive Mars opposition Uranus square Pluto. It followed a catastrophic earthquake in Sichuan in May that killed an estimated 70,000 people, which generated massive international sympathy for China, drowning out support for Tibetans.
The IOC, 23 June 1894, does look stressed through this event with tr Uranus opposition the natal Uranus; and bitter differences and arguments from tr Pluto opposition the Mercury. They were founded during the super-ambitious but scandal-prone Neptune Pluto conjunction with Jupiter added in, giving them an ability to turn a blind eye to unpleasant realities. Their Venus in Taurus is conjunct the destructive Fixed star Algol. Their moment of truth may be coming around 2025 when the tr Saturn Neptune in Aries conjunct their Mars and square their Sun.
The Guardian quotes Archbishop Desmond Tutu: "If you are neutral in situations of injustice, you have chosen the side of the oppressor." And added, "If an elephant has its foot on the tail of a mouse and you say that you are neutral, the mouse will not appreciate your neutrality."