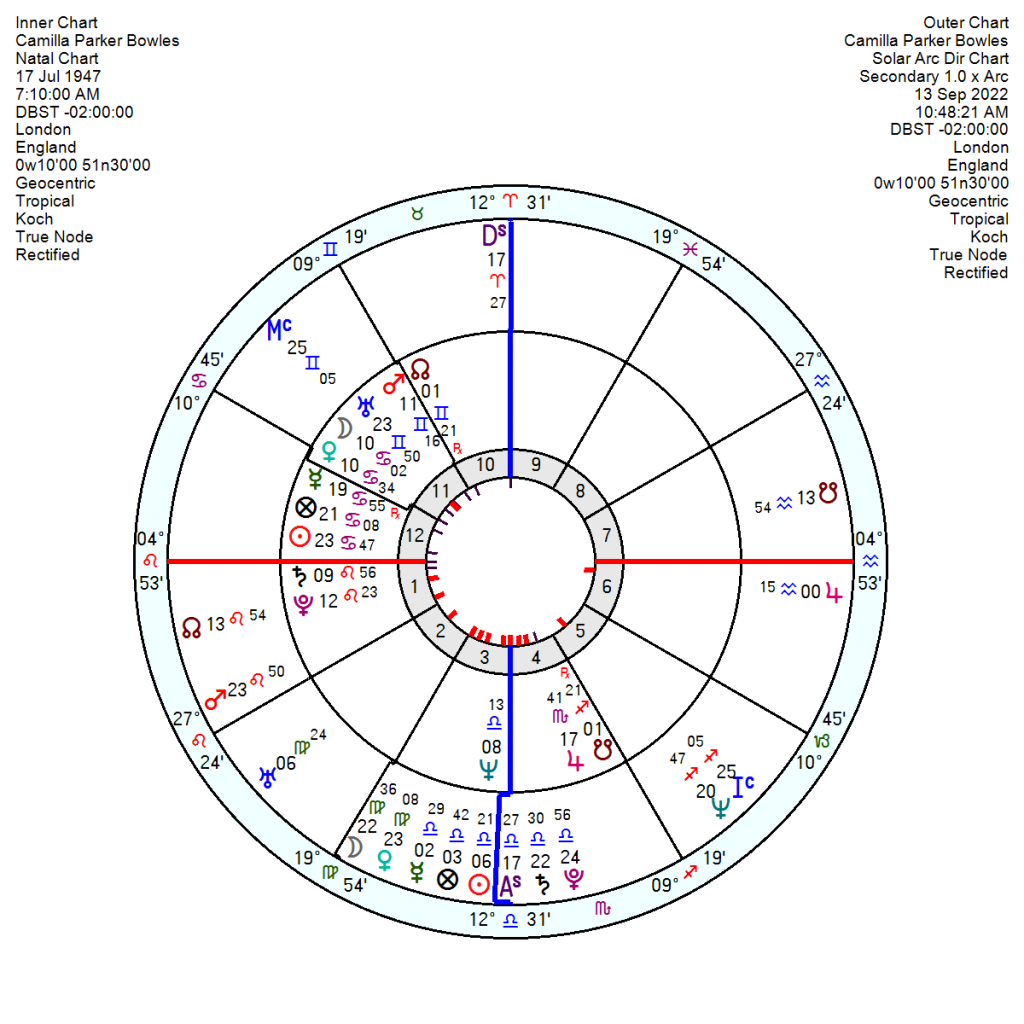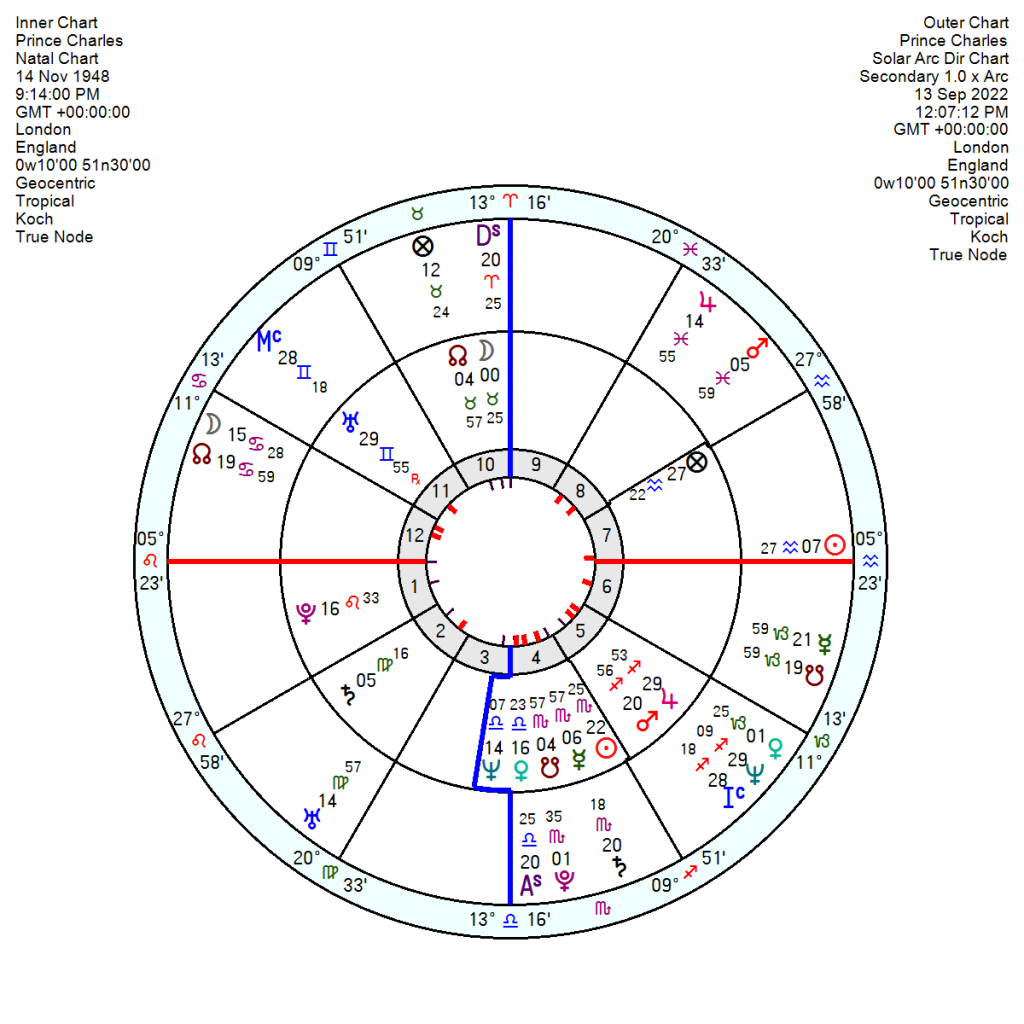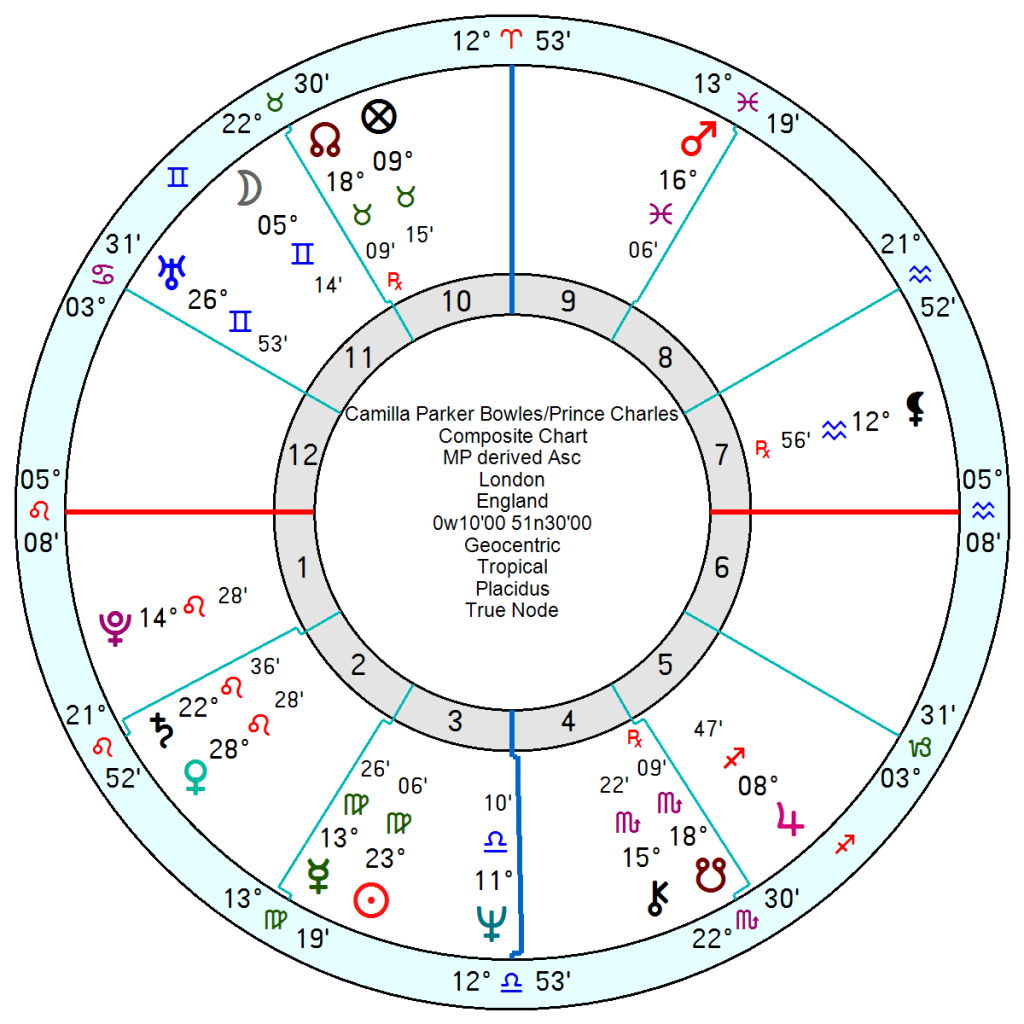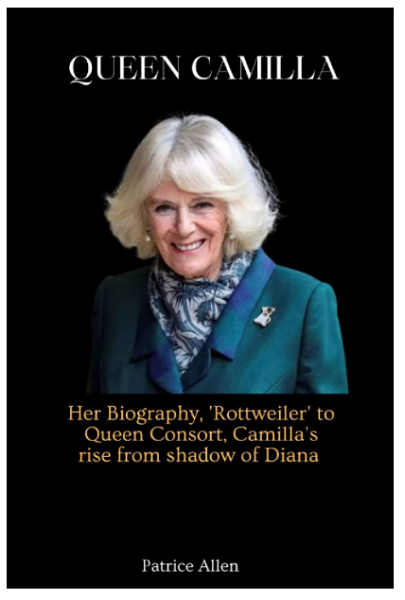 Camilla has stepped up stoically to the role of Queen Consort she never sought but Charles regarded as non-negotiable. In the years since their marriage she has calmed him down and been an indispensable and unflustered support as well as carving out a respected public role for herself.
 She was born 17 July 1947 7.10am (biography) in London into an upper class army/business family and grew up horse mad. She had a brief fling with Charles in the early 1970s but he wouldn't commit. She married Andrew Parker Bowles, an army officer who had professional connections to the Royal Family and romanced Princess Anne. He was an attractive womaniser, which eventually led to a fairly separated domestic life with Camilla. She took up with Charles again when his marriage to Diana flagged, following in the footsteps of her maternal great grandmother Alice Keppel who was King Edward V11's mistress for many years.
She has a 12th house Cancer Sun Mercury, Venus, Moon in Cancer also in the 12th with Saturn Pluto in Leo in her 1st so is essentially private – and adept at putting on impassive face. Her Sun is trine a 4th house Jupiter in Scorpio, a hint of her own happy childhood family; and she has Mars and Uranus in her friendly 11th house. If her birth time is accurate she is primarily an independent-minded individual, happy to be left to her own devices and a lover of solitary pleasures – reading, dog walking, gardening. After her marriage to Charles she found living at Highgrove suffocating and set up her own separate space at her previous family home where her children could visit.
What comes across from her chart is strength and maternal compassion. Her concern for domestic violence victims will come from her Cancer-heavy 12th house and her Mars sextile Saturn Pluto making her aware of the dark side of life.
The pressure is undoubtedly on as her Solar Arc Saturn Pluto are squaring her Sun, picking up last year and running on into early 2024 – as the full impact of her new role has landed on her. Her Solar Arc Midheaven is also conjunct her Uranus around now and her Solar Arc Venus Moon are also square her Uranus. So immense and sudden changes emotionally and in her direction in life. What will keep her buoyed up is tr Uranus opposition her Jupiter which comes back through this October for a few weeks and again in early 2023 which will bring relief from tension. And both tr Jupiter and her Progressed Moon will be crossing her Midheaven from next spring onwards – which might point to the coronation. With success and appreciation through the two years after that. Though her Solar Arc Sun conjunct her Neptune in 2024 will bring a few sagging moments.
Her Jupiter midpoints will keep her confidence and enthusiasm afloat in 2023/24/25 with new initiatives and lucky opportunities.
What helps cement her relationship with Charles is her Jupiter in Scorpio conjunct his Sun bringing him confidence and boosting his self-esteem from her own experience of a happy childhood which was comparatively normal in contrast to his.
It's not all perfect bliss by any manner of means and their relationship chart has a sparky, argumentative composite Sun opposition Mars square Uranus – so they need a set up where both operate independently and have elbow room. There's also a good deal of enthusiasm and positive feelings from a composite Moon opposition Jupiter square Mercury.
Her 12th house planets will make her good at taking a step backwards and not allowing her ego to get embroiled in arguments.
Their relationship is under confusing Neptunian hard aspects at the moment and through the next two years with tr Neptune opposition the composite Sun and square Uranus; with jolts and jangles from tr Uranus upending the Pluto across this New Year and squaring the Saturn Venus over the next two years as they make the difficult transition with changes of residence and roles and a heavy schedule ahead. Plus tr Saturn in 2023/2024 impacting on the composite Moon, Jupiter, Mars, Mercury etc.
[Mind you neither are exactly young and he, in particular, has embarked or been designated by his late mother to undertake a gruelling set of duties on her death – on parade in Balmoral, Edinburgh, giving speeches in London, off to Northern Ireland, at a time most people would take a week off work and collapse into a bottle of whisky. Just mind blowing watching the senior Royals putting themselves on parade.]
What might be a worry ahead is the ever truculent Harry, the bee in his bonnet about his mother needling him into more side swipes at Camilla. Hs relationship chart with her is explosive at the best of times; and will be undermined in 2023 and rattled in 2024. Mind you none of the other Royals look too pleased with him either. So the funeral truce may not hold.