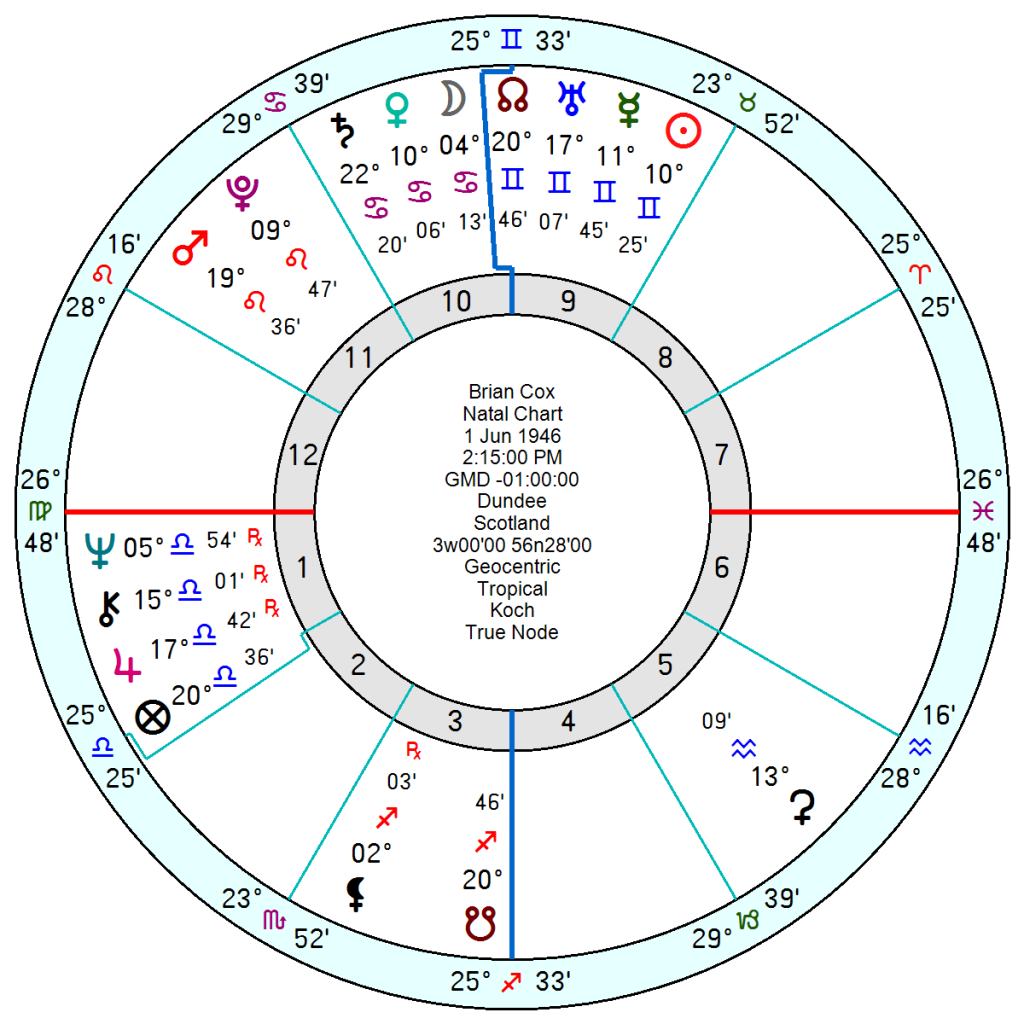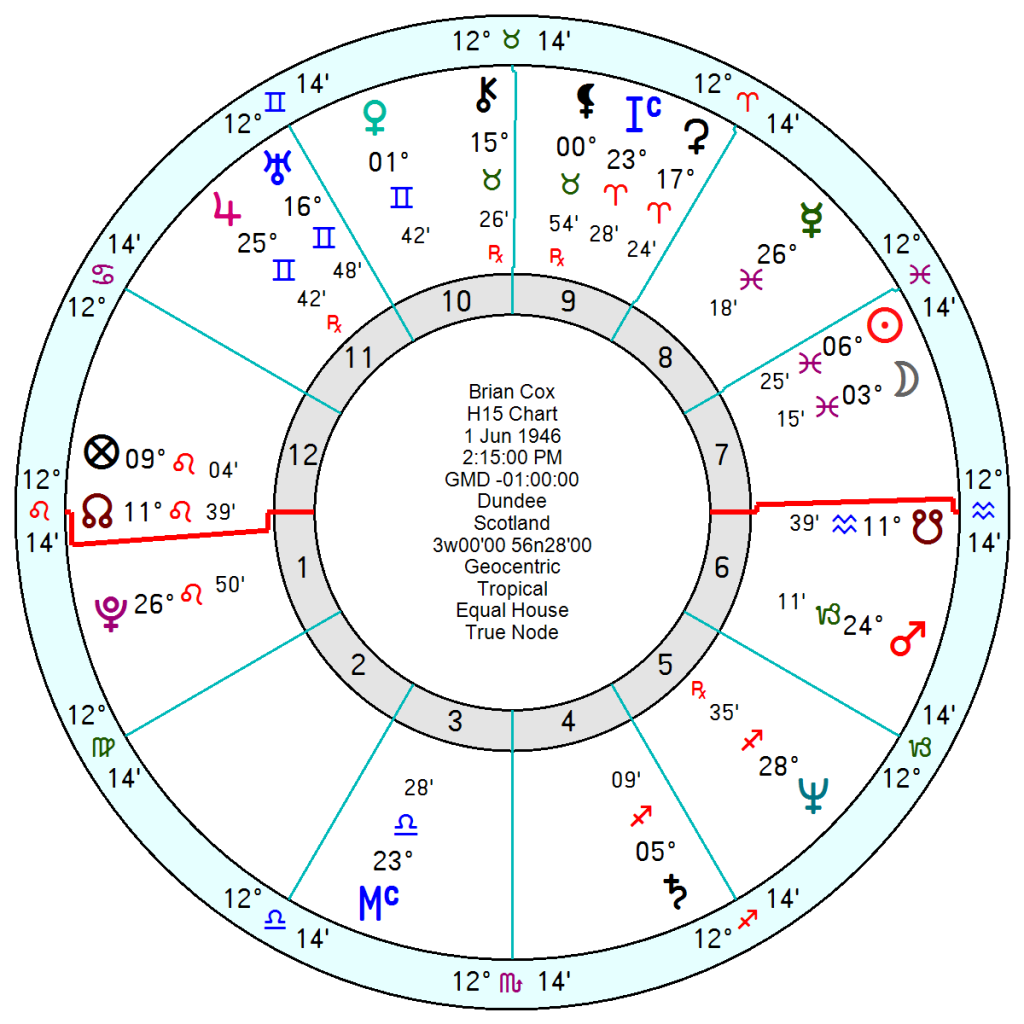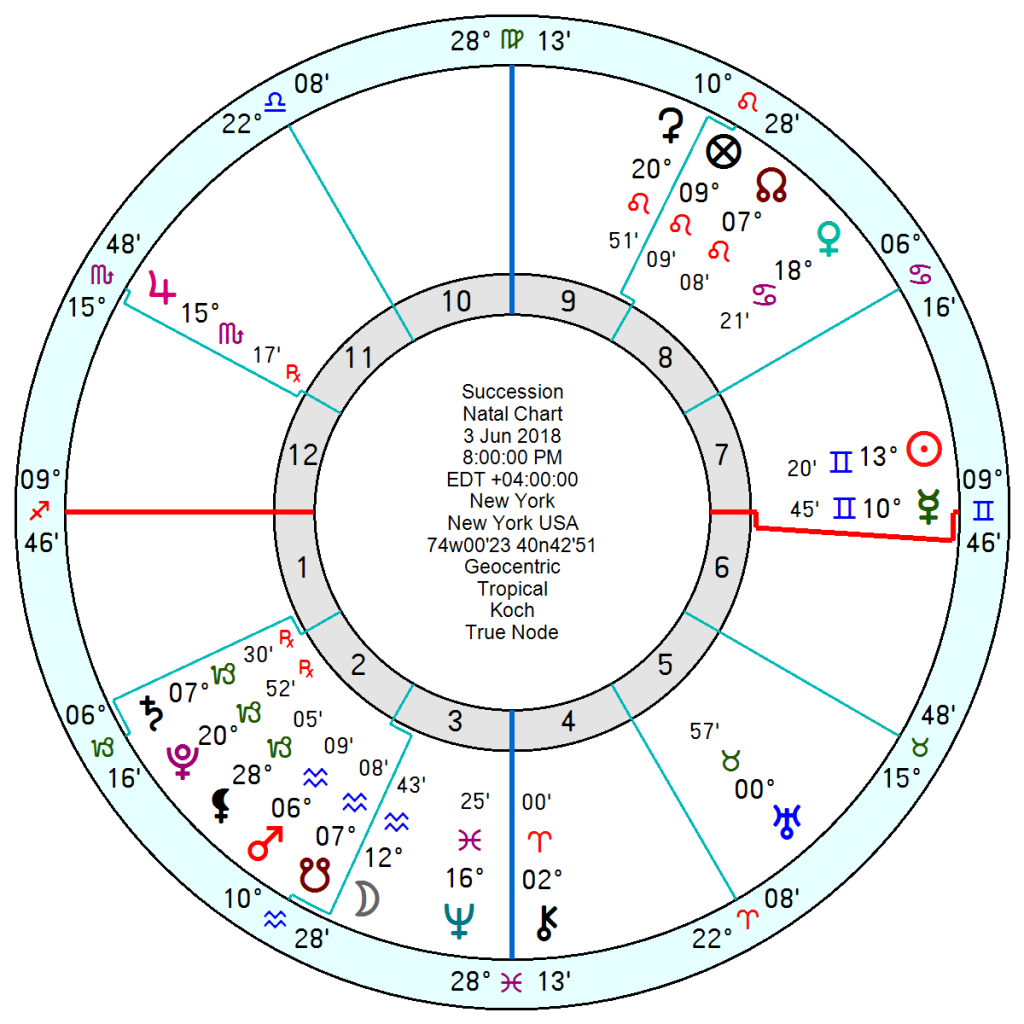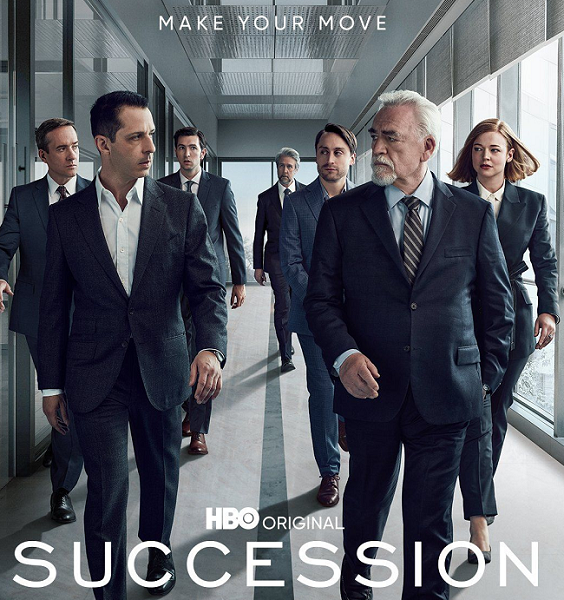 "Cantankerous. Opinionated. Big mouth" is the description actor Brain Cox, born a few days earlier than Donald Trump, applies to himself, though his politics do lean leftwards. He has had a late career resurgence as the Murdochian media patriarch in the dynastic family drama 'Succession' which starts its final season.
Cox was born 1 June 1946 2.15pm Dundee, Scotland, and brought up by his sisters after his father died when he was 8 and his mother was hospitalised several times with nervous breakdowns. He has had a long and notable career on stage in Shakespeare and in numerous successful movies.
Cox's Mercury is in Gemini close to outspoken Uranus in his communicative 9th and sextile his Pluto and widely Mars in flamboyant Leo which explains his tendency to go off like a sky rocket when prompted about his political views. He has a Cancer Moon conjunct Venus in his career 10th alongside a well-organised Saturn. His Jupiter Neptune in Libra in his 1st trine his Sun, Mercury and Uranus will bring luck to his creative and imaginative talents – with considerable heft since it sextiles onto Pluto and Mars.
  An interesting and talented man – his actor's 15th harmonic is super-strong with a T square of Venus, Saturn, Sun and Moon tied into Pluto; Pluto on the focal point of a Yod to Mercury and Mars; and another T square of Neptune Jupiter Mercury.  Born to act.
Succession launched 3 June 2018 and became an instant hit with critics though less so with audiences. It has been drenched in nominations and awards. The start chart has a creative Water Grand Trine of Jupiter in money-magnet Scorpio in a high-finance trine to Neptune trine Venus with Venus opposition Pluto in Capricorn, making influential, power-hungry Pluto the driving planet. So it had the celestial powers behind it.
  On a personal note – I found the first season dreary, dull clothes and colours and unlikeable characters across the board. I only kept watching since the critics raved about it and I assumed I had missed something. Have not seen it since.  It did get me pondering – Cillian Murphy in Peaky Blinders and Damien Lewis in Billions are playing hardly likeable characters and yet they engage the audience's interest and  sympathy. The Succession lot did not, apart from Cox to a degree. Not quite sure what the difference is.