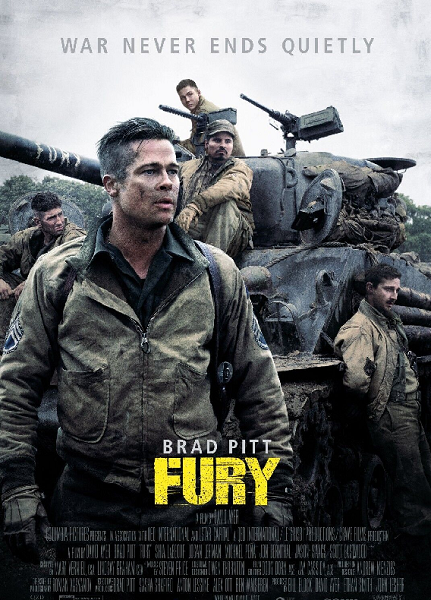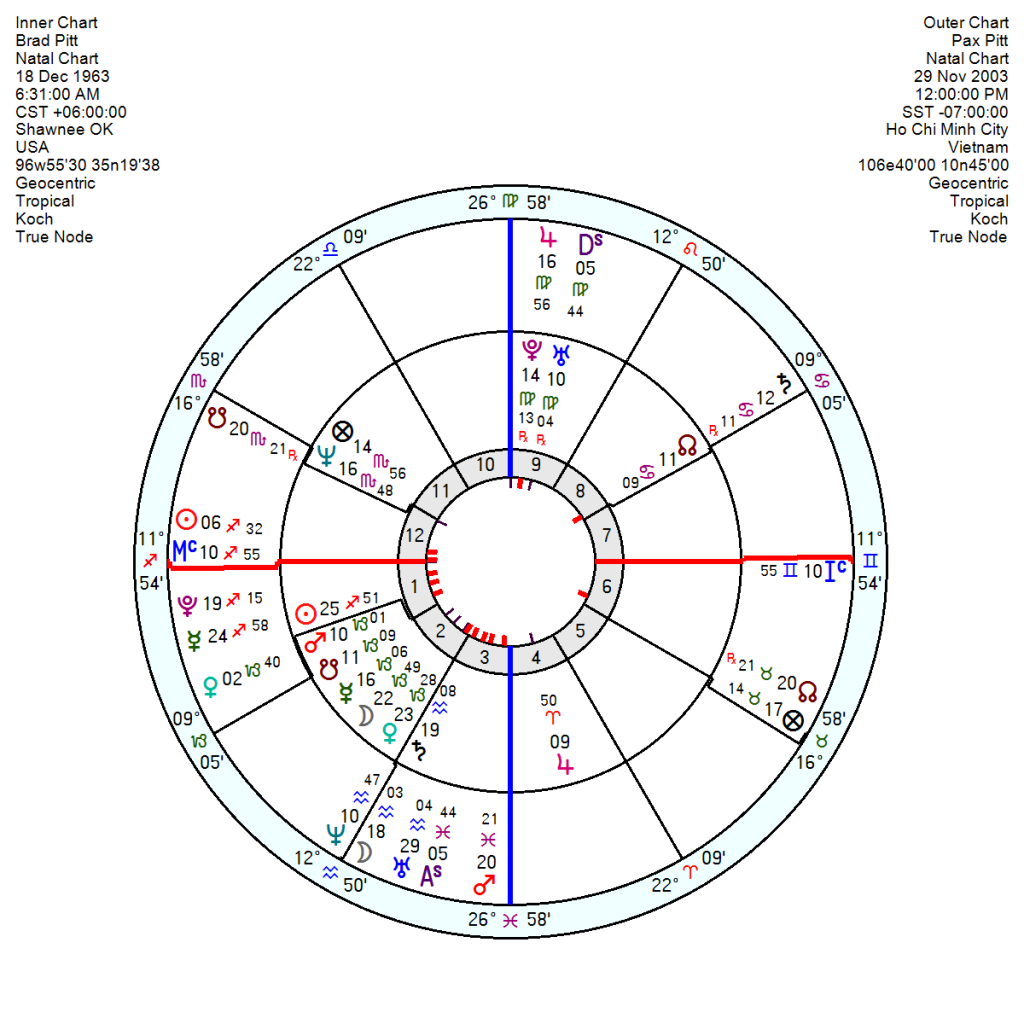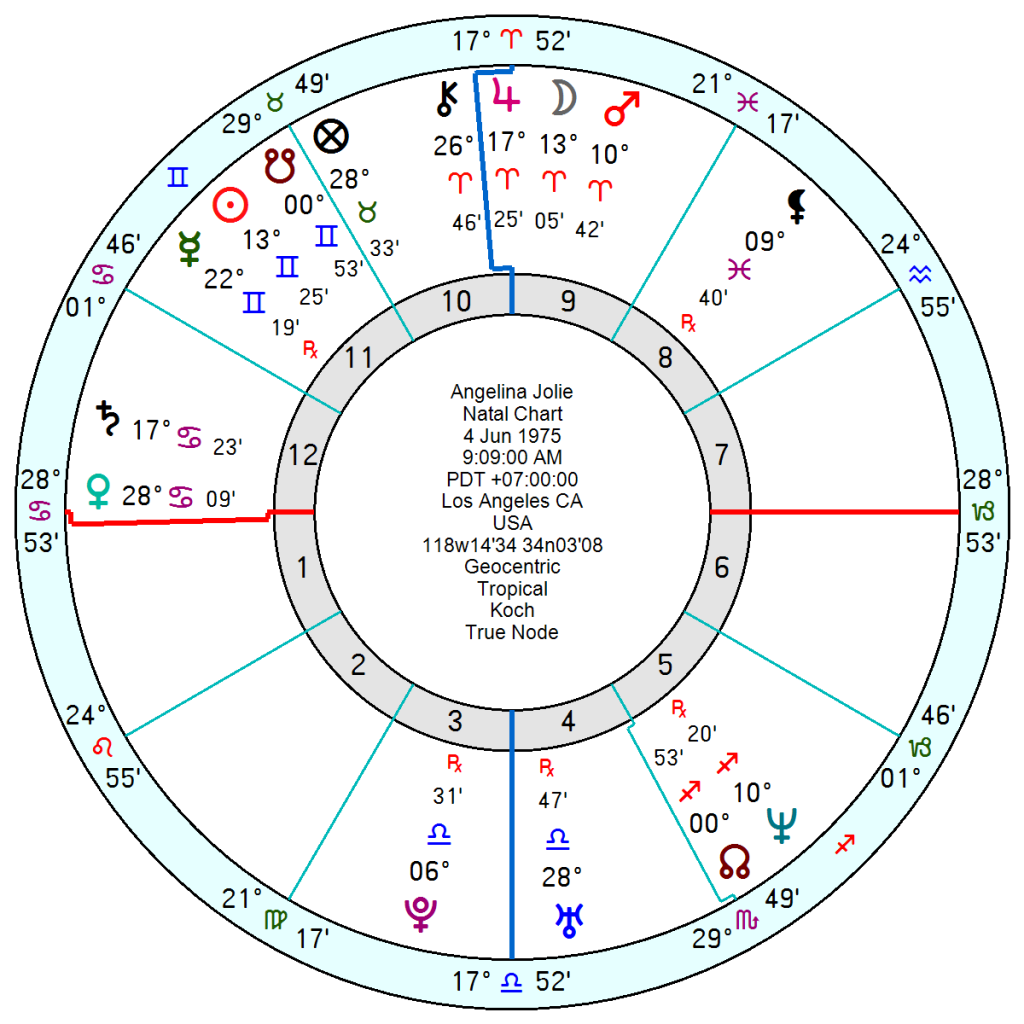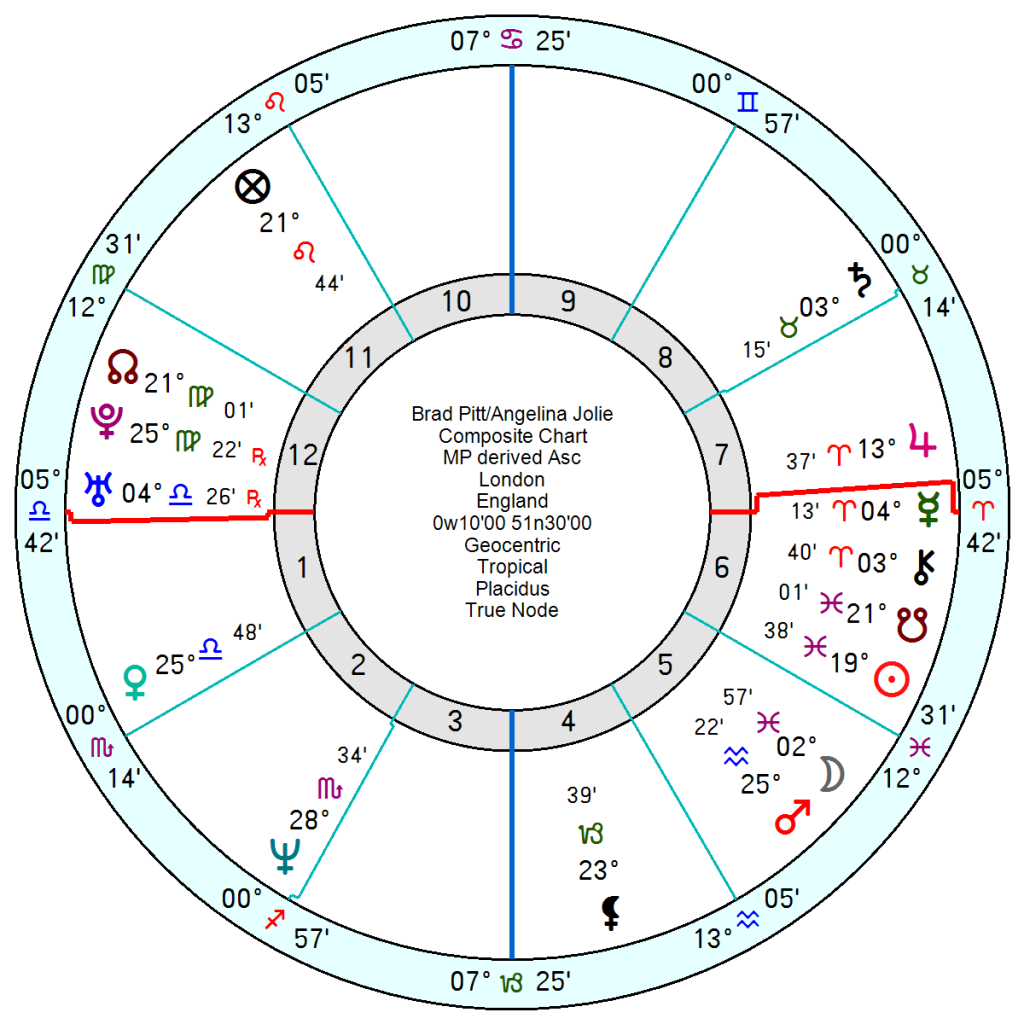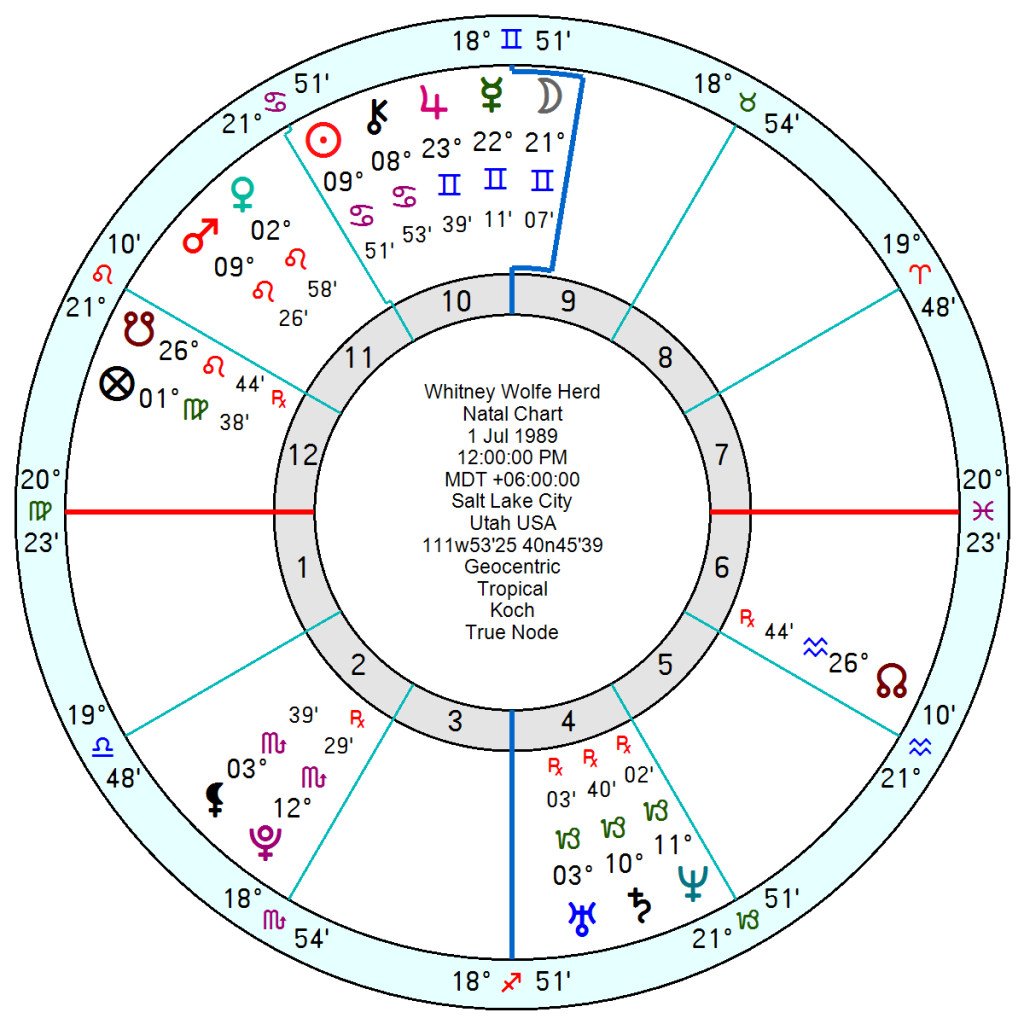 In the long drawn out hostilities following the Brad-Angelina doomed marriage, volcanic bubbles of lava surface from time to time stoked up by the media into headline events – either arguments over the Provence vineyard or as now an outburst from one of the adopted children. The price of fame in the celebrity bear pit.
The latest is a rage-filled vent against Brad by Pax Jolie Pitt, 29 November 2003, born to a heroin addict mother in Vietnam, who spent his first three years in an orphanage, before coming across to the Jolie blended tribe – three biological, three adopted children. He is a Sun Sagittarius with Mars in Pisces opposition Jupiter square Pluto Mercury in Sagittarius. A focal point Mutable Pluto is a malcontent with hair-trigger, deeply defensive responses with an inclination to tear apart and destroy what he feels stands in his way. It can lead to high levels of nervous stress though will ultimately be creative if handled with maturity.
His Pluto Mercury conjunct square Mars in particular will give rise to eruptions of intense anger. With his background it is hardly surprising, poor kid, and one wonders how much these ever-so-caring mothers know about the effects of early damage, attachment theory and all the rest. Love is not enough. Even trained professions who adopt children from this kind of background struggle to cope.
What strikes me from the astrology is that he along with the other children carry the Mars Pluto stamp which echoes both parents' charts even the ones with no biological connection.
Angelina has the most prominent version with an Aries Moon Mars opposition Pluto. Brad has Mars in Capricorn trine Pluto (Uranus) in Virgo. Their relationship chart has a composite Mars inconjunct Pluto.
Of the biological children Shiloh has a Mars inconjunct Pluto and the twins Mars Saturn trine Pluto. Maddox, adopted from early months in a Cambodia orphanage, has a Mars Pluto conjunction. Zahara also from an orphanage in Ethiopia has Mars and Pluto in Sagittarius, not conjunct.
Brad and Pax are a particularly tricky combination since Pax's Pluto Mercury are conjunct Brad's Sagittarius Sun so he will focus his highly-strung hostility onto him and Brad's cool Saturn in Aquarius may be conjunct Pax's Moon blocking warmth.
On the other hand Pax's connection with Angelina is highly Neptunian with each Sun tied into the others Neptune. What can happen in dysfunctional families is that children 'split' – one parent is seen as all bountiful and the other becomes the hated one. Sometimes that is merited but it is often easier than facing up to the unpalatable truth that both parents are flawed human beings.
Mars Pluto in essence is strong willed, competitive, keen to get the upper hand, forceful and manipulative, has an urge to control others (sometimes as a defensive measure) which can lead to power struggles. The plus side is super-determined which can bring results, an ability to cope well in crises; it engenders courage. The downside is a tendency to be attracted to or actively create crises and melodramas and/or be addicted to danger and risk. It is a high-octane energy which needs a constructive outlet otherwise a conflagrations follows.
The atmosphere in that family must have been a pressure cooker ready to blow at the slightest provocation. Add drink and drugs and it lit the touch paper.
Mars Pluto hates letting go so splits are always rancorous and long drawn out. Mars Pluto views allowing the other side to win as an abject, life-diminishing prospect. In the dominate-and-submit battle, giving in means the annihilation of identity which brings a shame more painful to experience than physical death.
  The Brad Angelina relationship chart has another three years at least of wrangle before transiting Neptune manages to undermine the controlling/possessive Pluto and Uranus elbows the composite Mars into agreement.  Poor kids.
Add On: Another Mars Pluto is Whitney Wolfe Herd, founder of Bumble, the dating app, the youngest self-made female billionaire in history. Her aim was to give women more autonomy in meeting men, as a first step towards a more egalitarian world. She grew up in Mormon-dominated Salt Lake City, Utah, where men called all the shots, was in an abusive relationship in her teens, co-founded the dating app Tinder, but left suing the company for "atrocious sexual harassment and sex discrimination". Three bills that Bumble pushed for have been passed, in Texas, California and Virginia, making the unsolicited sending of nude pictures a crime. It's lobbying for a similar bill in the UK.
Born 1 July 1989, she is a Sun and Chiron in Cancer opposition Neptune, Saturn Uranus in Capricorn with her Mars in Leo square Pluto. She was bullied and has turned her anger and frustration into a pro-active campaign to stop others being harassed.