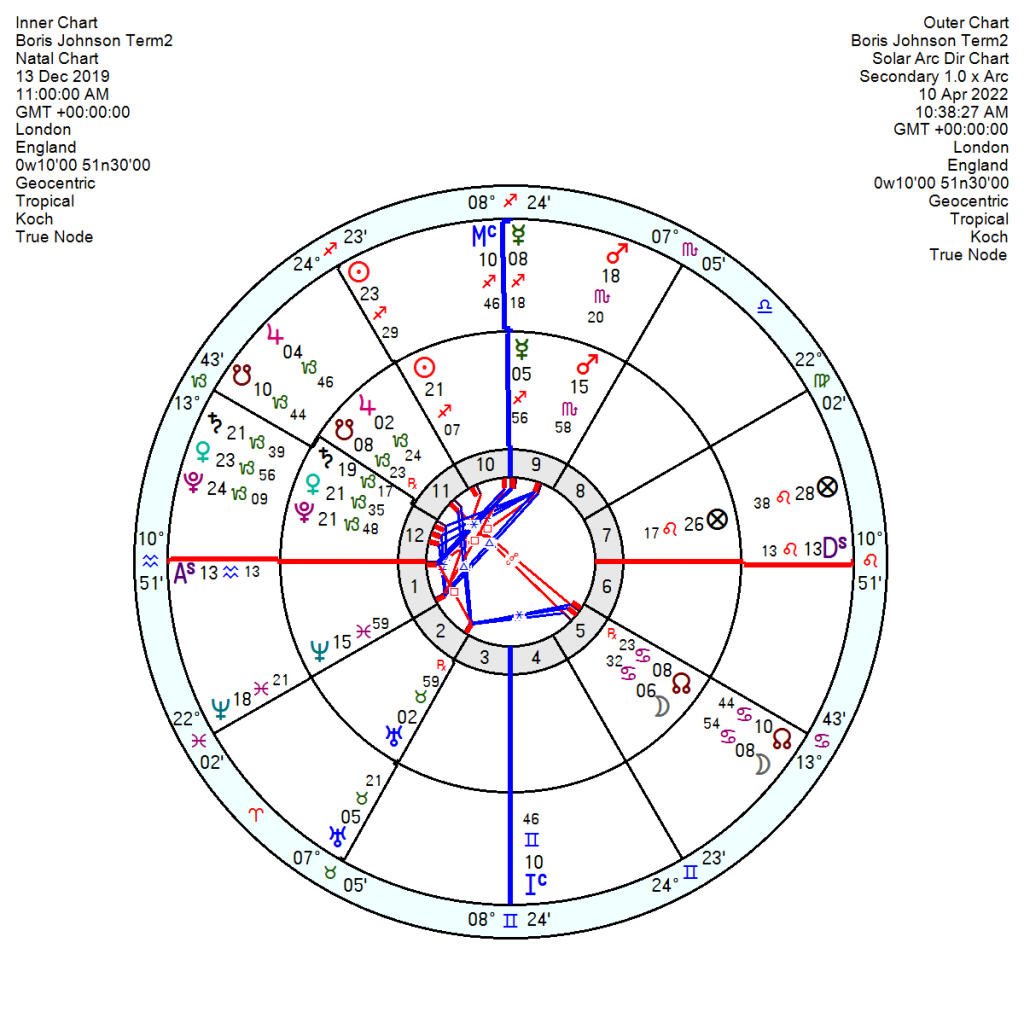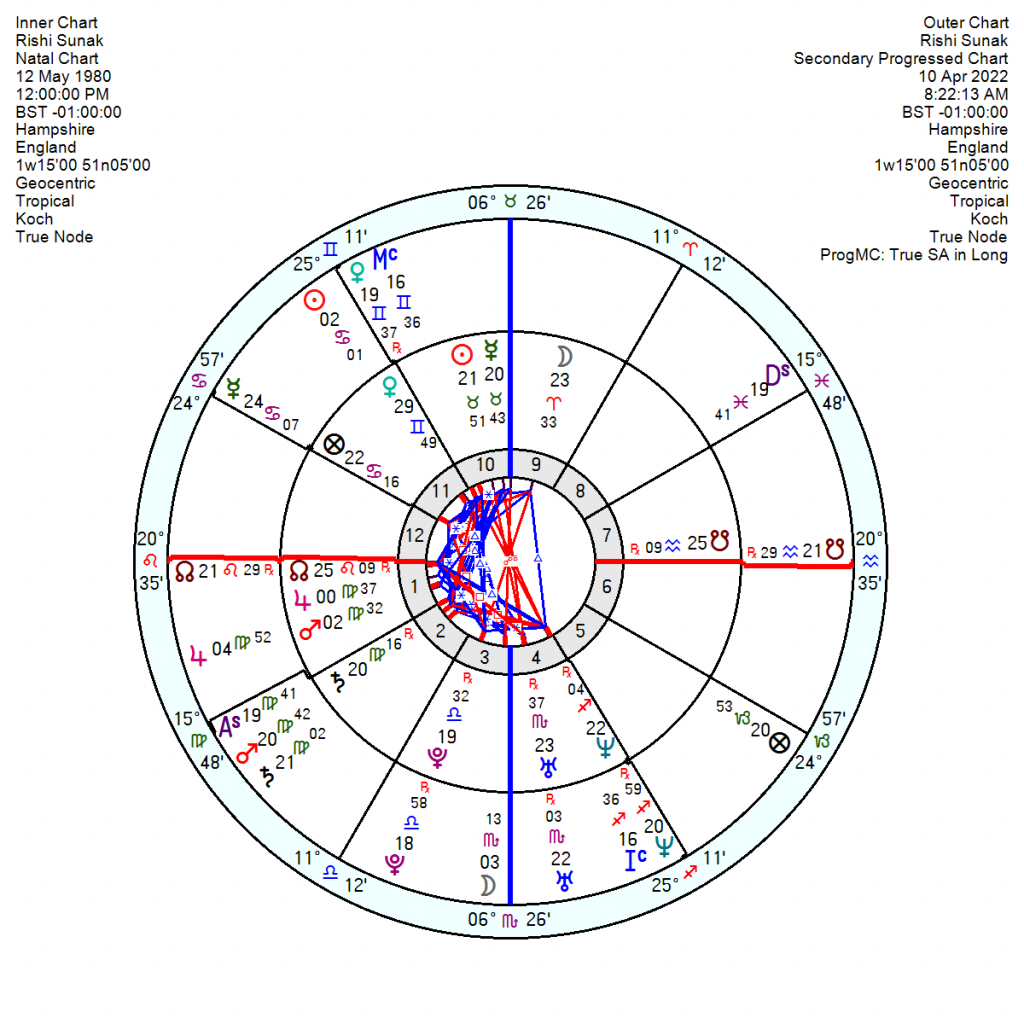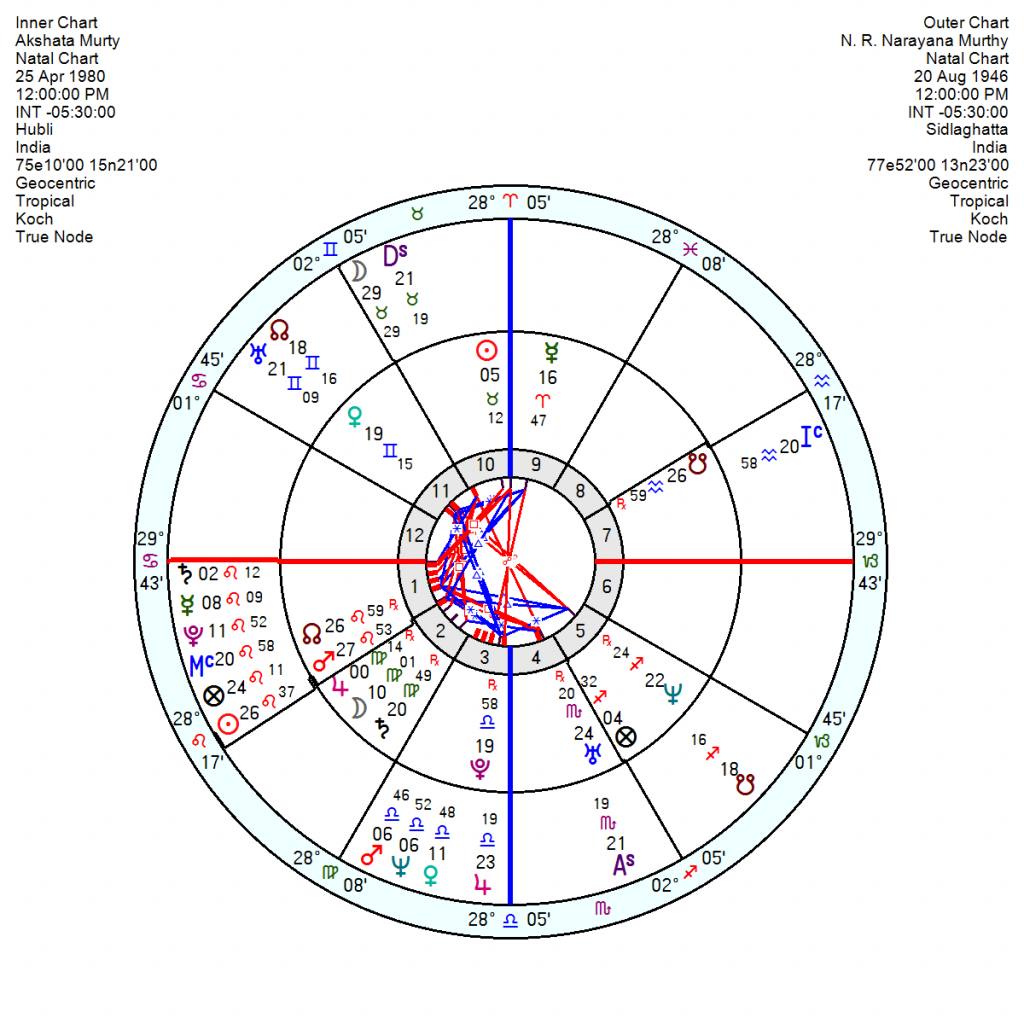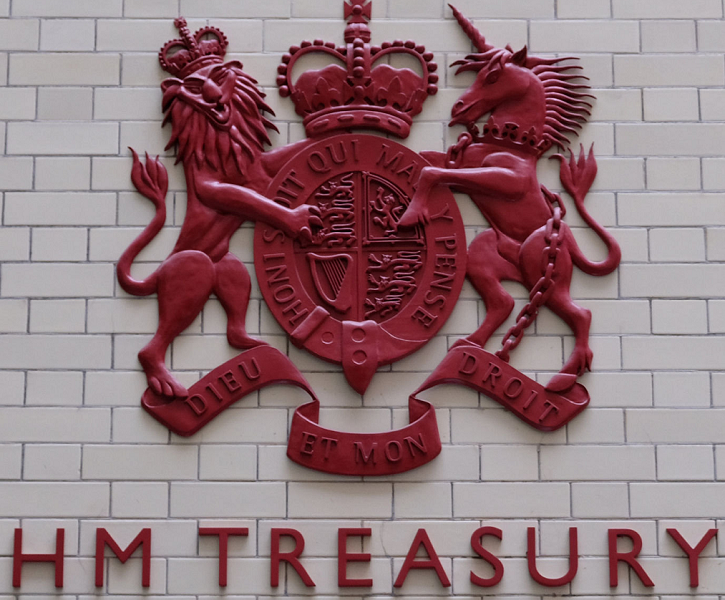 The Boris brigade lurch from one political sinkhole to the next. While Rishi Sunak, the Chancellor, may wail about No 10 leaks spreading entirely true but damaging tales of his wife's non-dom tax status, it reflects just as badly on the PM since the information had always been to hand. 'Don't fire him, fire the man who hired him.' Sunak's golden- boy aura has now been irrevocably smashed, not just for his budget decisions and tone-deaf public relations stunts, but for his obvious lack of political nous in not seeing how it would go down with the over-taxed electorate.
   Boris's Term chart, 13 December 2019, is heading into danger territory despite him ducking Partygate and grandstanding in Kiev. The Solar Arc Saturn is now conjunct the Venus and will be exactly conjunct the Pluto in a few weeks – though both in effect now, which looks like a logjam. Plus tr Uranus will oppose the Mars in Scorpio from May 9th onwards for a shock and self-esteem dent as the results from the 5th May Local elections come in. Tr Uranus will also rattle his Jupiter and Neptune at the same time which will bring him down to earth with a bump.
Rishi Sunak's chart, 12 May 1980, has never been too informative either about his prospects or relationship with Boris, apart from some droopy midpoint transits this year. He's a steady Sun Mercury in Taurus trine Saturn in Virgo and opposition Uranus. But on looking more closely (my bad) his Progressed Mars is conjunct his Saturn in Virgo now which is a slow-moving car crash covering several months of this year.
His Taurus Sun is on the focal point of a Yod to Pluto sextile Neptune, making him super-ambitious and tending to swing between low self-esteem and too much ego – he will be stubborn and overly defensive. His Aries Moon also probably opposes Pluto so he'll be more than usually tied into family/home/wife.
He looks disempowered from this mid May onwards with tr Neptune opposition his Jupiter/Pluto midpoint. 2023 was always going to be his year of significant disruption and upheaval with tr Uranus conjunct his Mercury Sun from June 2023 onwards – but he may well mooch off to the sidelines sooner than that.
His wife Akshata Murty, 25 April 1980, (Companies House), was born just two weeks before him and is also a Taurus with her Sun in a lucky trine to Jupiter in Virgo and Mars in flamboyant Leo. Her mega-rich father, N.R. Narayana Murty, co-founder of the information technology company Infosys, was born a day after Bill Clinton and has the same Leo Sun tied into a lucky Jupiter Uranus trine; with a determined Saturn, Mercury, Pluto in Leo sextile a glittery collection of Mars, Neptune, Venus in Libra.