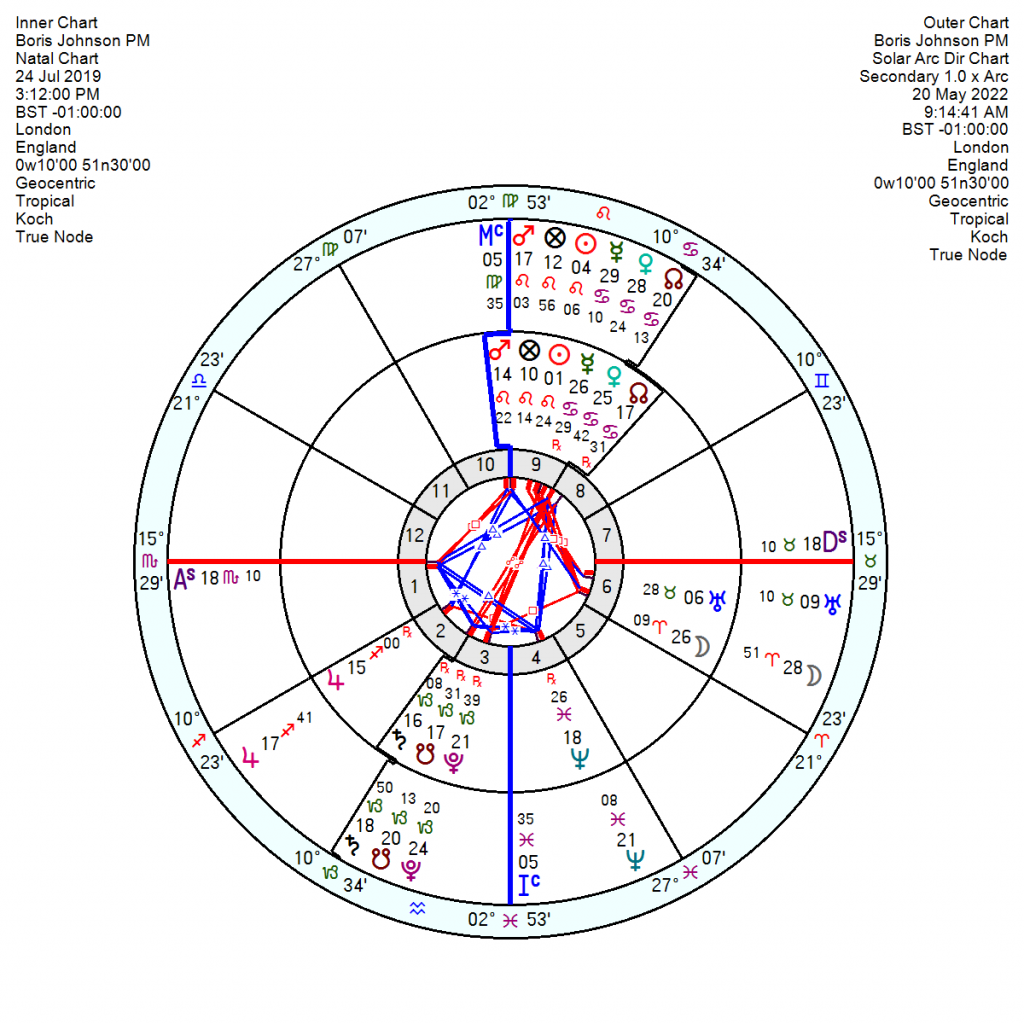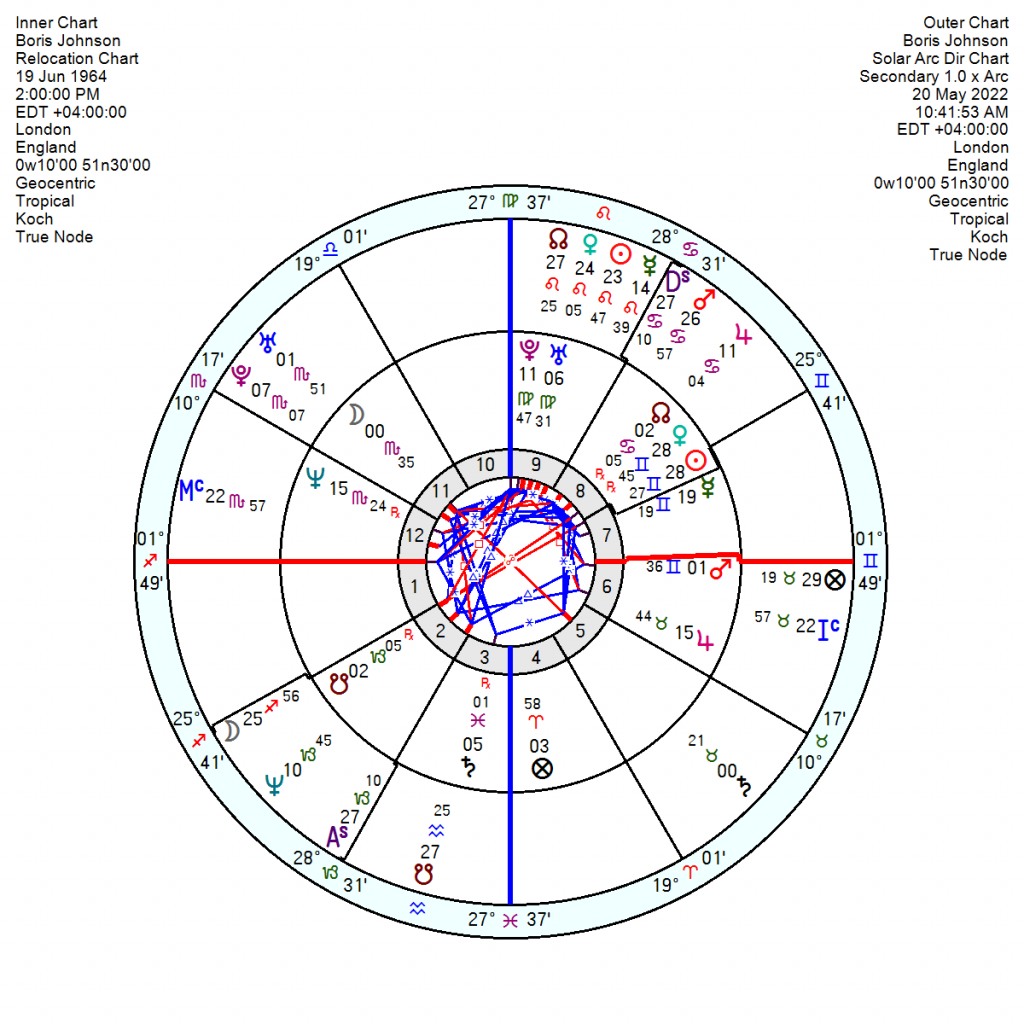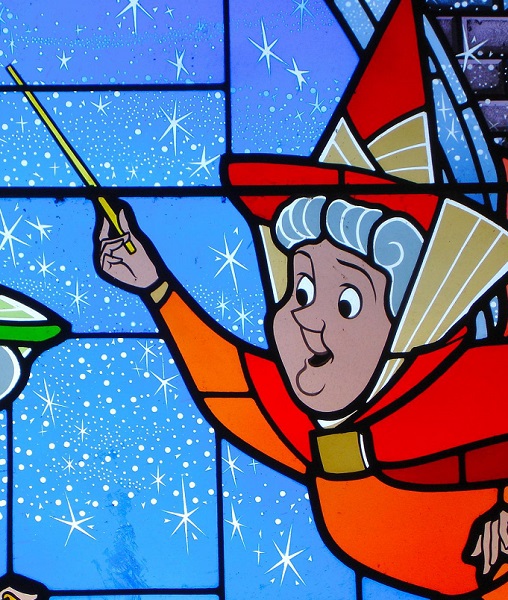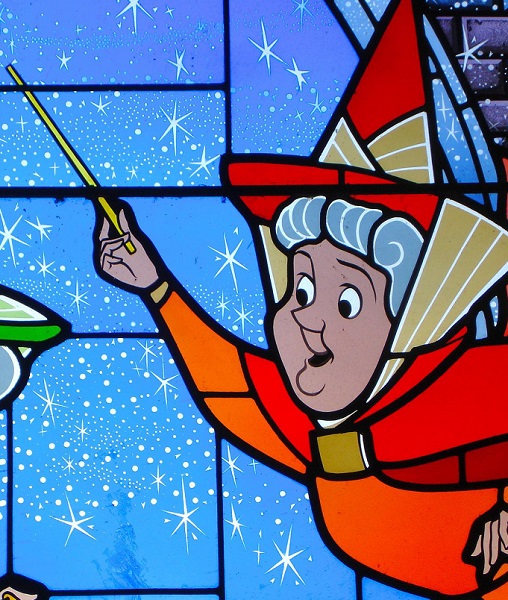 Whatever fairy godmother or wizardess stood over Boris Johnson's crib, she's had her work cut out through decades of disgraces, scandals, lies, indolence, irresponsibility, negligence, unprincipled and dishonourable behaviour. Teachers at school complained of his sense of entitlement in expecting results with no effort, which continued later through a car-crash journalistic career, rife with complaints from colleagues about his delinquent conduct and on in similar vein through his subsequent roller coaster political stint. (See wiki)
Despite all of which, with egregious missteps every inch of the way which would have sunk ordinary mortals, he has continued to rise and survive – and so it goes on.
This is grinding old axes astrologically speaking but since the local elections have clearly not put a stake through his premiership and Partygate looks to be going the way of his previous 10,000 misdeeds, it probably requires an update.
His relationship chart with the Conservative Party 1912 is on a steady downward slide from now (mid May), till early August, most likely as a result over the cavalier declaration about ditching the Northern Ireland Protocol – and that tr Neptune square the composite Mars returns in April 2023, as well as late in the year. 2023 will also see relations under a dark cloud with a 'separating' tr Saturn square the composite Venus and Sun.
His relationship chart with the UK is similarly into swampy territory this year with tr Neptune square the composite Jupiter and aggravated and disrupted through 2023/24.
If the past experience with Maggie Thatcher and Tony Blair holds good then the original PM chart is the one that holds clues about the exit.
Boris became prime minister on 24 July 2019 at 3.12pm and that chart while rattled and facing hostile criticism this year isn't terminally challenged until 2024 when tr Pluto starts to oppose the Sun and the Solar Arc Sun squares the Uranus.
His personal chart is not showing much on the midheaven or Solar Arc Midheaven which tells about career and life's direction. Though if his birth chart is relocated from New York to the UK it puts the Midheaven in line for an undermining tr Neptune opposition in 2023 and a tr Uranus square the Solar Arc Midheaven in 2023 as well.
In 2023 tr Saturn in Pisces will make a ratchety, bad tempered trip in hard aspect round his Mutable T Square – square his Mars in March and then conjunct his Saturn and opposition his Uranus. Saturn Returns are always heavy years.
And in his case his Scorpio Moon is also taking a pounding. It was keyed up when his mother died last year; and will be facing considerable pressure from Solar Arc Saturn opposition exact in three months but in effect now. For a politician the Moon represents not only women in his life but also the public and thus approval or popularity. Into 2023 from March onwards tr Pluto will square his Moon on and off till late 2024 which will be extremely challenging emotionally, domestically and even physically.
Like Blair he may drag on and on despite the country's exasperation.
See previous post January 13 2022 on Maggie Thatcher and Blair's exit from No 10.
Add On: May 27
Peter Hennessy, the political historian in the FT on Boris:
" British politics is reduced to the psychology of one man. For Johnson, the state is "an adventure playground". On any given issue, "the overwhelmingly important prism for him is: what does it do for me and my reputation?"
"Britain's political system depends on the acceptance that "good chaps of both sexes don't do certain things". "If the prime minister is the number one wrong 'un, you're in deep, deep trouble."
"Boris does it (lies), you get the impression in the bad weeks, almost daily." It has led to "a bonfire of the decencies".
"The one thing I'm sure is whoever replaces Boris, whatever the circs, he or she will make great play of being anybody but Boris in terms of due process and care and attention."
'It took Britain 12 years to get into Europe in 1973, it will take a similar time to get out. "The curse of Brexit will be with us for a long time."