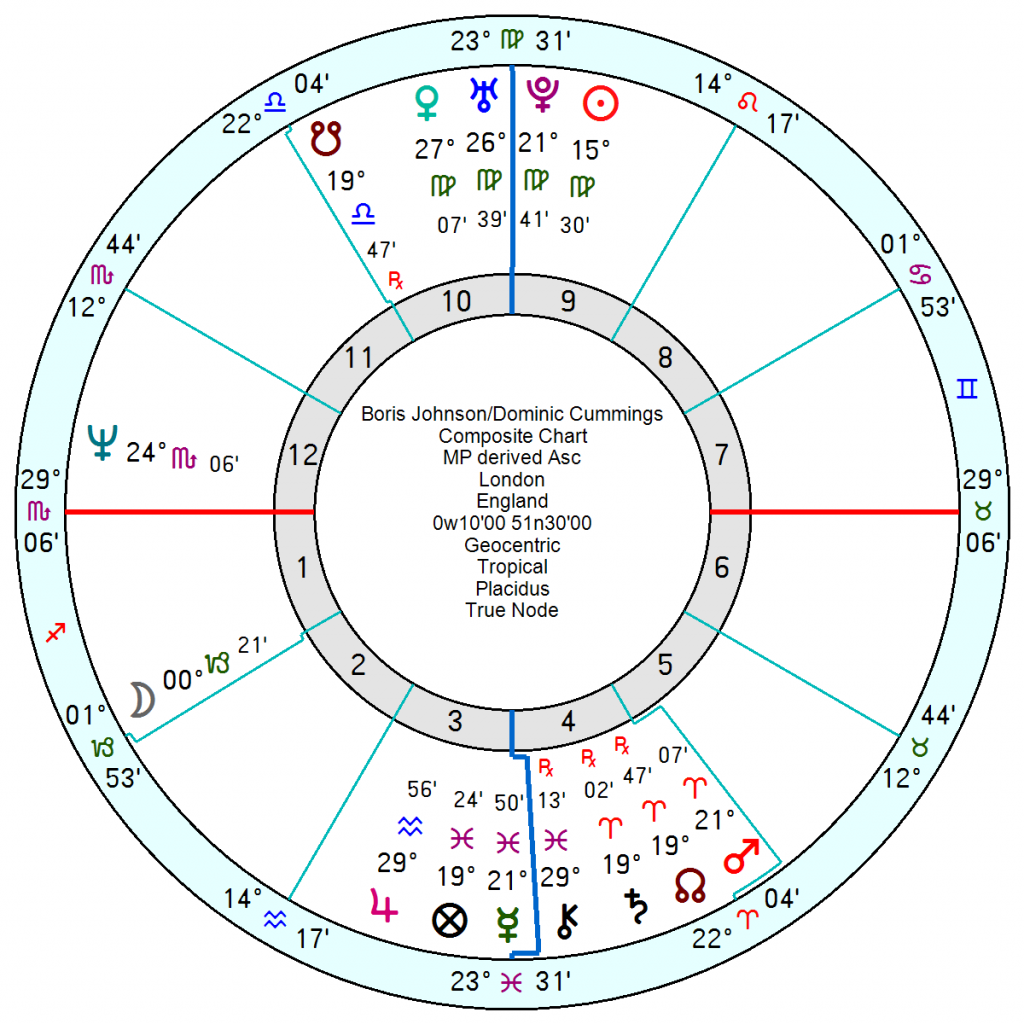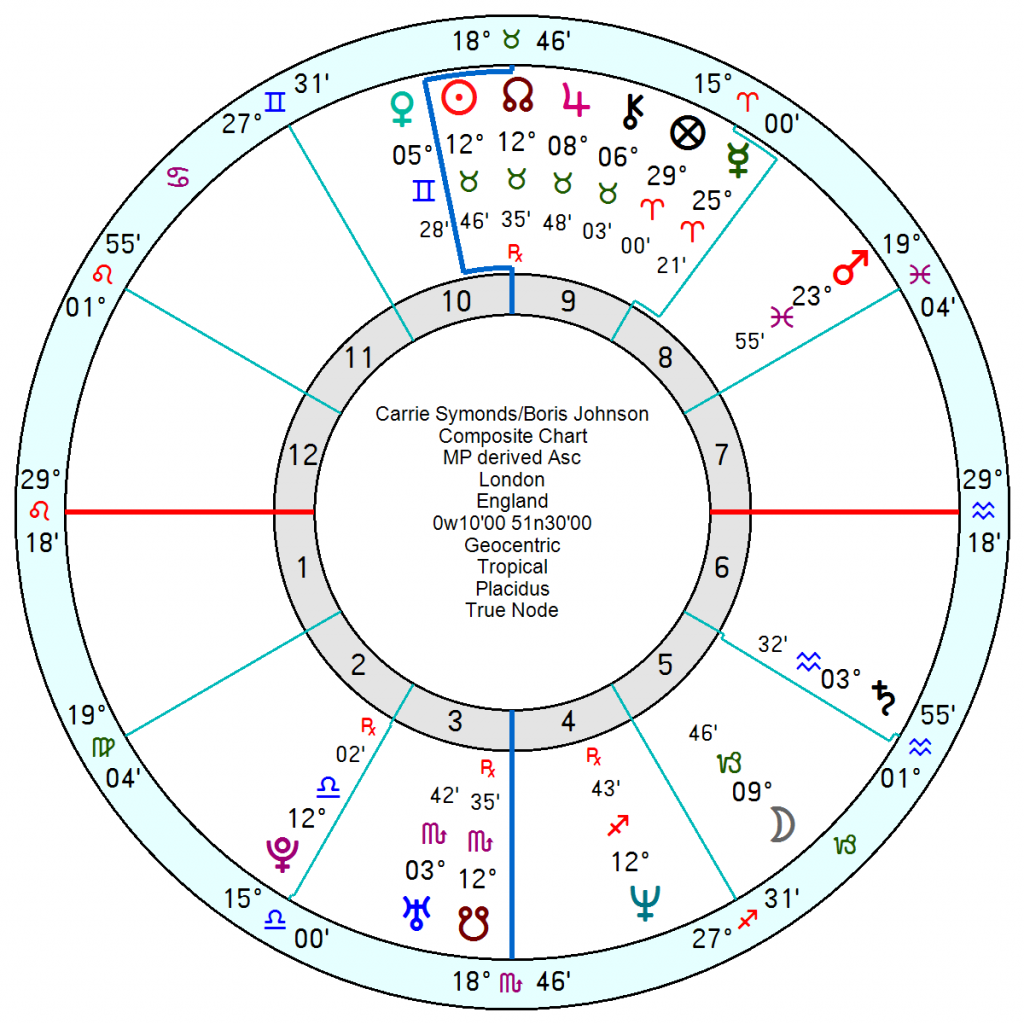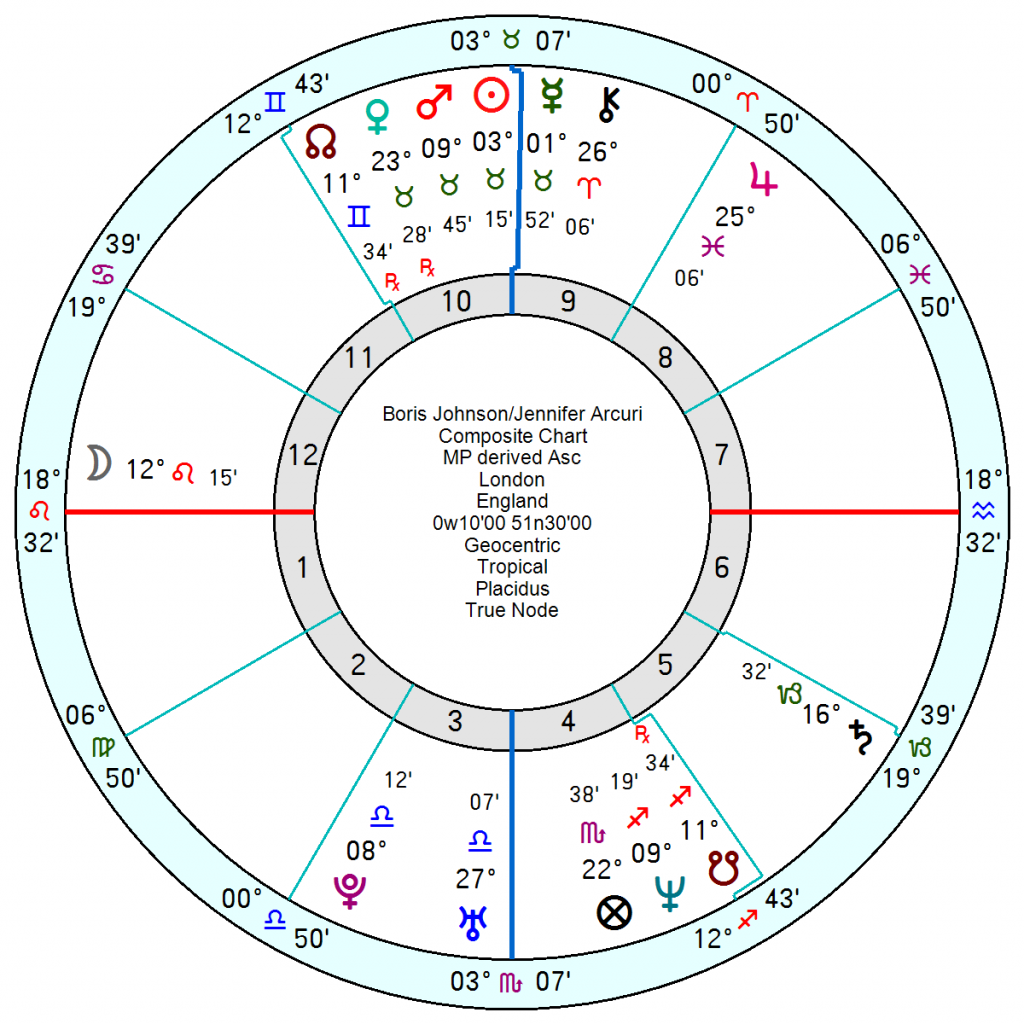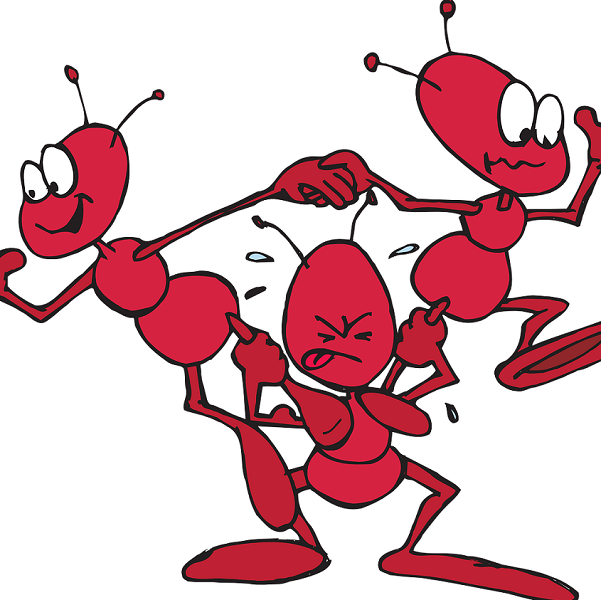 Boris Johnson's exit is set to be as grubby and shambolic as his appearance as he ignores gravity with Trump-like bravado. His mischievous mask is slipping and the underlying nastiness being exposed as he prepares to throw his aides on the bonfire to deflect blame. All of which has been said before and may well be said again before his fingernails are prised from the cliff edge.
  Now Sue Gray's Inquiry findings into the illegal lockdown-busting parties have been kicked into the long grass with the help of a police investigation which will no doubt drag on. And Lord Agnew, the anti-fraud minister's resignation over the government's 'egregious failures' to tackle issues with covid loans, costing the taxpayer many millions a month, is slipping below the radar.
The Boris Term chart, 13 December 2019, is on a swampy slide with tr Neptune square the Sun exactly this month into mid February; with shocks and insecurity picking up from May as tr Uranus opposes the Mars. What was always going to grind the cogs to a halt was the 12th house Solar Arc Saturn moving to conjunct the Venus (= unpopular) exact within two months though in effect now; and conjunct the Pluto in four months (dead-halt).
What intrigues me astrologically, since all of this is well-trodden ground, is the now-fractured relationship between Boris and Dominic Cummings, his erstwhile chief adviser, as the latter has been fingered lately as spilling the crucial beans leading to the present furore.
When he was appointed in 2019 Matthew Parris wrote presciently in the Times, 'Dominic Cummings is the sharp‑tongued recruit who could cut Boris Johnson down.'
'A free spirit who cares not a jot whom he offends or what people think of him. That he will fall out with his new master within months is almost certain. That, when he does, the world will know about it in coruscating language, equally so. In Mr Cummings, he has appointed his own literary executioner.'
The astonishment is Cummings was brought in at all since he's a Sun Neptune in Sagittarius opposition Saturn in Gemini square Mars in Pisces which clashes mightily with Boris's Mars, Saturn, Uranus Pluto T square. Both are volcanically angry, capable of spraying venom and/or rage in all directions.
Their relationship chart is a sight to behold. Not only is there a bad-tempered and ratchety composite Mars Saturn North Node conjunction, it is amplified ten fold by being on the focal point of a Yod to Pluto (Uranus) sextile Neptune – if ever there was a bomb waiting to be detonated this was it. As it was it lasted 17 months and could be the key to Boris's downfall.
Composite Yods – made up of two planets in sextile which pour their energy through skewed quincunxes to a focal point planet – bring about fated changes in one or both lives either by acting jointly to force a radical change of direction or because one triggers unforeseen events which lead to a extreme alteration of the other's life path. The result is not always negative and it depends on the planets involved.
The Duke of Windsor and Wallis Simpson are a classic example of a disruptive one with a wide-ish Yod of North Node sextile Uranus inconjunct Mars – and they exemplify a Yod in action. Bonnie and Clyde also had a composite Yod onto Mars; and child murderers Ian Brady and Myra Hindley also had a composite Yod onto Uranus from Moon sextile Sun. Two people drawn together with fateful consequences for both.
Arron Banks, co-founder of Leave (Brexit) and journalist Carole Cadwalladr, at present in court on a defamation suit over allegations he had Russian connections, have two composite Yods in their relationship chart, both involving the 'public interest' North Node. Angelina Jolie and Brad Pitt have a composite Yod of Moon sextile Saturn inconjunct Uranus – and that bonding certainly changed the trajectory of his life in a dramatic way. Donald Trump and son-in-law Jared Kushner, who rose to dizzy heights in charge of everything also have an exact Yod of Pluto sextile Mars inconjunct Mercury in their relationship chart.
Even Boris and Carrie have a Yod in their relationship chart of Pluto sextile Neptune inconjunct Sun, pointing to stratospheric joint ambition. It is being knocked sideways at the moment by tr Saturn square tr Uranus hitting the focal point Sun, now till early April this year.
Yods in any chart point to an unexpected fork in the road, which can be abrupt – and is fated in the sense of being an 'unrecognized necessity', or a couple on a mission. It will always be challenging in a relationship, with tension building up constantly and then releasing.
But it does raise the question of why Boris lands in such fated relationships? Even his liaison when London Mayor with American business woman Jennifer Arcuri, in which he displayed his usual 'greasy piglet' ability to escape ignominy, has an eye-curling composite Yod of Neptune sextile Pluto inconjunct Mars. With his dysfunctional upbringing it is hardly surprising he opts for melodramatic relationships so maybe that isn't the question. What is it about his chart that marks him out as a puppet of the fates?
His relationship chart with the UK does have a weak-ish Yod of Jupiter sextile South Node – and it is probable we might not have ended up with Brexit without Boris. That isn't an argument for staying, merely that it was his opportunistic intervention which sent the UK down an unexpected path with life and history changing consequences. And surprise, surprise Arron Banks also has a composite Yod with the UK.
Not sure this is more than just an astrological curio but worth pondering.
After all these meanderings, what is worth hanging on to is the astrology of Boris/Cummings maladjusted interface. It may well be the key to what comes next.
Add On: This is a mix of psycho-babble and astrology and a bit of a stretch but bear with me.
Boris has a delusional sense of invulnerability – he can transgress rules that others have to live by and doesn't suffer their humiliation/ruin. His school teacher wrote on his report: 'I think he honestly believes that it is churlish of us not to regard him as an exception, one who should be free of the network of obligation that binds everyone else.' And he was 'affronted when criticised for what amounts to a gross failure of responsibility'.
Delusions of grandeur can occur in personality and bi-polar disorders and includes a belief of being infallible or invulnerable, more intelligent than others, thinking that common rules don't apply to you, acting selfishly, treating others with disdain or contempt, not caring if you hurt someone with your actions, being quick to anger if you are challenged, being unable to see how your behavior affects others.
In his case I suspect there is something additional going on – it's almost as if he has to deliberately tempt fate time and time again to prove how blessed by the gods he really is. Freud's repetition compulsion points to an unconscious need to reenact early traumas in the attempt to overcome or master them. Boris clearly had a muddled childhood but my eye is always drawn to his 8th house Mars which is massively afflicted being on the point of a scattergun Mutable T Square to Saturn opposition Uranus Pluto. That points to a driving demon that lies further back in the family line.
The 8th house indicates a direct link to a grandparental or even earlier experience. Studies in intergenerational trauma describe similar psychological coping mechanisms being handed down the family line, whether directly through behaviour or in some unidentified way through genes.
For example three generations of 15 Ukrainian families were studied whose forbears had lived through the 1932 Great Starvation. The coping mechanisms that the direct survivors had developed during the genocide were retained in the family system and passed down to their children and grandchildren. Similar effects have been seen in the descendants, second and third generation, of Holocaust victims.
I have seen clients struggling to disentangle extraordinary difficulties in seemingly ordinary present lives, who had forbears who lived through traumatic experiences. It wouldn't be something you'd normally expect but there is a definite pattern of lived experience that, consciously or unconsciously, comes down the family line. So this generation is having to cope as if they had lived through the same traumas but often don't have any conscious knowledge of them, which adds to the stress and confusion.
Boris's paternal grandfather fled Turkey because his great-grandfather, Ali Kemal, 7 September 1869, was charged with treason. On the way to prison in 1922 he was murdered, hanged from a tree and stoned to death. And isn't that just a Mars Pluto Uranus Saturn event.
Certain children in a family for reasons unknown are more open to the family legacy stretching back generations and it may well be that Ali Kemal's grisly fate has something to do with young Boris's desperate attempt to live as if he was not bound to a mortal fate – and has managed it pretty well so far, maybe thanks to his Jupiter (= undeserved luck). Ali Kemal had Jupiter Pluto in Taurus so would resonate with Boris, though his luck clearly ran out in the bloodiest way imaginable – if data is accurate when transiting Neptune in Leo was undermining his Jupiter Pluto.
Just a thought to throw into the pot.