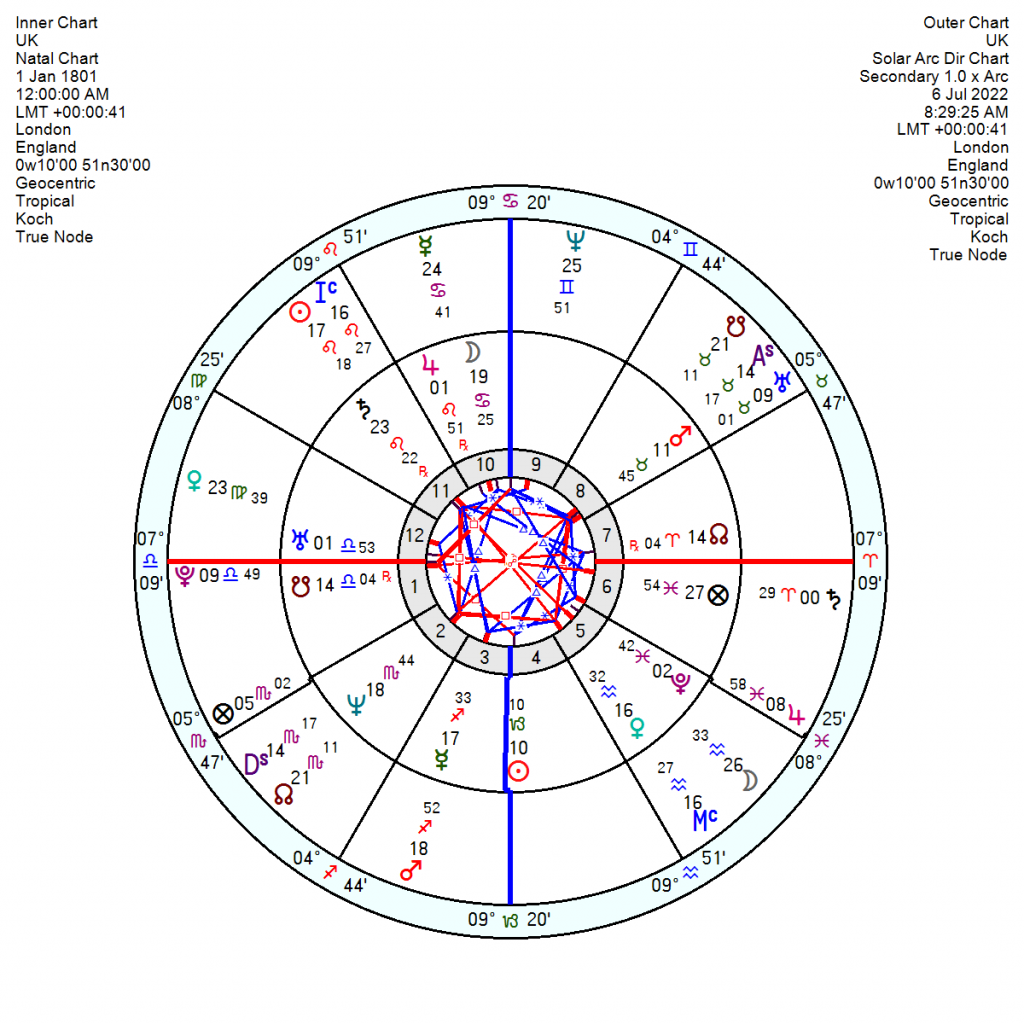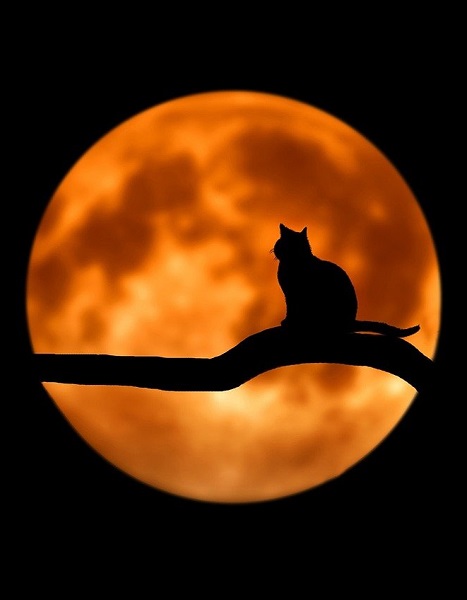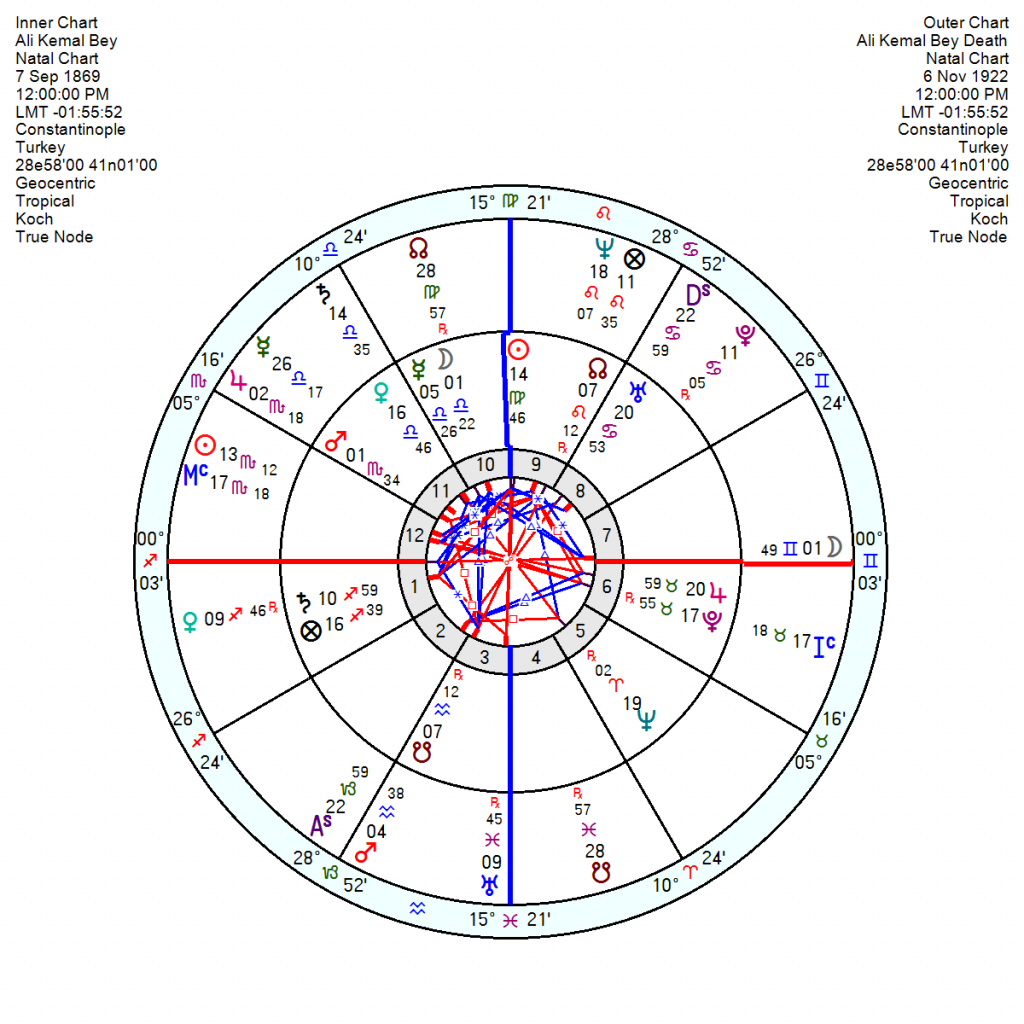 The runaway train that is Boris Johnson's premiership may or may not run out of rail with the resignation of his Chancellor and Health Secretary. Past experience of his track record through the decades of lies, irresponsibility, negligence, unprincipled and dishonourable behaviour, all blithely swept aside as trifles, suggests he may try to brass-neck it out for a while yet.
His timeline has been chewed over endlessly astro-wise, see previous posts dates noted below.
But what caught my eye recently was his Scorpio Moon at zero degrees Scorpio which does seem to play an unusually significant role in his life. His chaotic, do-or-die determined Mutable T Square of Pluto Uranus opposition Saturn square Mars has moved by Solar Arc in recent years to trigger his Moon – starting with the Brexit campaign in 2025/16 when his Solar Arc Pluto was conjunct his Moon. Now his Solar Arc Saturn is within weeks of the exact opposition to his Moon as his government threatens to collapse around his ears.
By next March tr Pluto starts a two year square to his Moon which may well have the final say on his crazed career. Last time tr Pluto was in hard aspect to his Moon was in 1983/84 when in Scorpio conjunct his Moon – and he entered the hallowed halls of Oxford University to join political thrusters like David Cameron, Michael Gove, William Hague and Jeremy Hunt. It would be fitting if his Moon which propelled him upwards also signalled the final chapter for his overwheening ambition.
Why his Moon particularly raised interest was in relation to Lord Brownlow, the entrepreneur, financier, Tory Party donor and life peer who was the source of the financing for the No 10 redecorating scandal which raised eyebrows. Brownlow, 16 September 1963, a Sun, Venus in Virgo with Uranus Pluto Moon also in Virgo – and more notably has his Mars in intensely-driven Scorpio conjunct BJ's Moon.
Brownlow's Mars is also opposition Prince Charles' Taurus Moon on whom he has similarly bestowed bountiful largesse in vast sums of money for the Royal eco-village and gained a peerage and other honours as a result. [This is a tangential ramble – but it would have to be said that Prince Charles is looking less and less competent when it comes to filling the Queen's shoes. Woefully bad judgement.]
  Brownlow's North Node in Cancer is incidentally conjunct the UK's 10th house Cancer Moon, symbol of the ruling classes.
ADD ON: BJ's Turkish great-grandfather, Ali Kemal Bey, a journalist/politician who was murdered (hanged and stoned) during the war of independence in 1922, 7 September 1869, was a Sun Virgo (conjunct BJ's Pluto) with his Mars in Scorpio conjunct BJ's Moon (like Brownlow). Kemal also had a super-confident Jupiter Pluto in Taurus.
 His son, Osman Wilfred Johnson ( BJ's paternal grandfather), who became a naturalised Brit, 4 September 1909, also had his Virgo Sun conjunct BJ's Pluto and a hyper-active Cardinal Grand Square. BJ's father Stanley, 18 August 1940, is a beyond-stubborn Sun Mars in Leo square Uranus in Taurus with Mercury Pluto in Leo and Jupiter Saturn in Taurus. Utterly immoveable. Whereas his mother Charlotte, the painter, 29 May 1942 had her Sun and four other planets in Gemini and Neptune in Virgo – incredibly mutable, changeable.
BJ's antecedents on his father's side also trace back through Bavarian aristocracy to a illegitimate child of the 18th Century Prince Paul of Prince Paul of Württemberg, of whom his stepmother wrote: He has done nothing but offend his father with the improprieties of his conduct." He had multiple mistresses and several other bastard offspring.
Maybe that's where BJ gets his sense of divine right. A previous mistress Petronella Wyatt said of him: "he thinks he has a God-given right to rule forever'.
Back to BJ's government. Rishi Sunak may have been too wealthy personally but he felt like a steady hand on the economic tiller. Given the dire state of the global economy added to the UK's post-Brexit Boris-shambles damage, there is understandable alarm about how many will cope with inflation/soaring energy and food costs. The August 1st Uranus North Node Mars conjunction will oppose the UK's 2nd house Neptune in Scorpio exactly. The effect is likely to mark a turning point and not just for a week or month or so but a financial fallout of considerable proportions.
The UK chart is looking alarmingly unsettled and stuck, even more so than most other countries over the next three years. Exact in four months there is a blocked, Solar Arc Pluto square the Sun which will bring a slow-down to a halt as well as denting the UK's image. In 18 months from now there are also two Solar Arcs – Sun square Neptune and Saturn opposition Uranus – for losses, disappointment and tensions erupting. With the economically explosive Solar Arc Uranus conjunct the 8th house Mars by late 2024/25 – the sick man of Europe may be back.
Nadhim Zawahi, 2 June 1967, in as Chancellor, is another Gemini jitterbug with Uranus Pluto in Virgo. His relationship with BJ is sagging badly through the next two years; and his public popularity will not stand up to the pressure.
Steve Barclay in as Health Secretary, 3 May 1972, a Taurus trine Jupiter in Capricorn, is having a confidence meltdown this year and on till 2025 with tr Neptune square his Mars Venus and opposition his Pluto; and his relationship with BJ will be high-anxiety and disappointing.
The odious and oleaginous Jacob Rees Mogg, 24 May 1969, a Sun, Mercury in Gemini with a super-successful (hedge-funder) Pluto, Jupiter, Uranus in Virgo, is facing mixed fortunes ahead with dashed-hopes as well as bullish confidence. Though his private fortune will no doubt keep him happy even if he trips into a few political sink holes. His popular reputation, such as it is, will take a hit over the next three years.
"Do not swear by the moon, for she changes constantly." William Shakespeare
"Runaway train never going back
Wrong way on a one way track
Seems like I should be getting somewhere
Somehow I'm neither here nor there
Bought a ticket for a runaway train
Like a madman laughin' at the rain
A little out of touch, little insane
It's just easier than dealing with the pain." (Song)
Previous Posts:
Boris timeline: May 20 2022, 17 June 2022 and 24 June 2022.
Uranus North Node – 17 June 2022.
Maggie Thatcher/T Blair exits: January 13 2022.