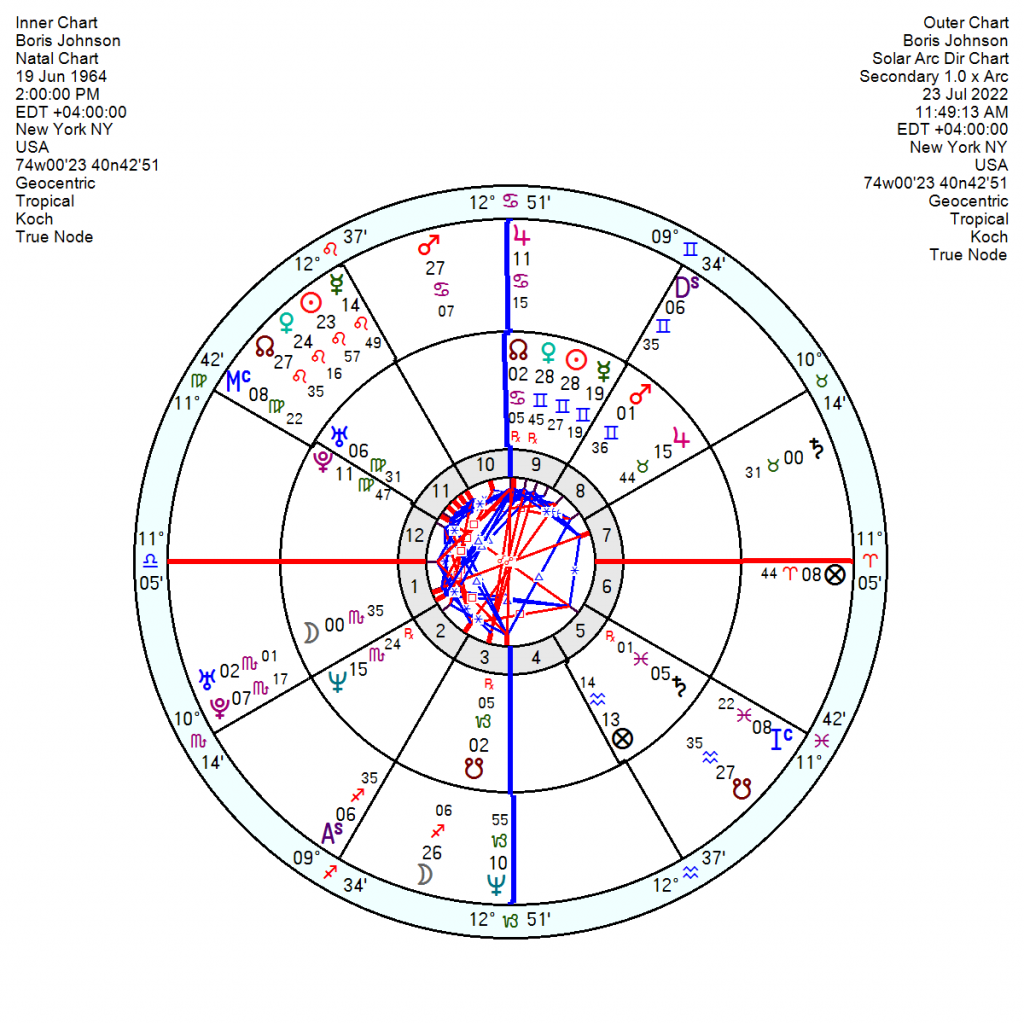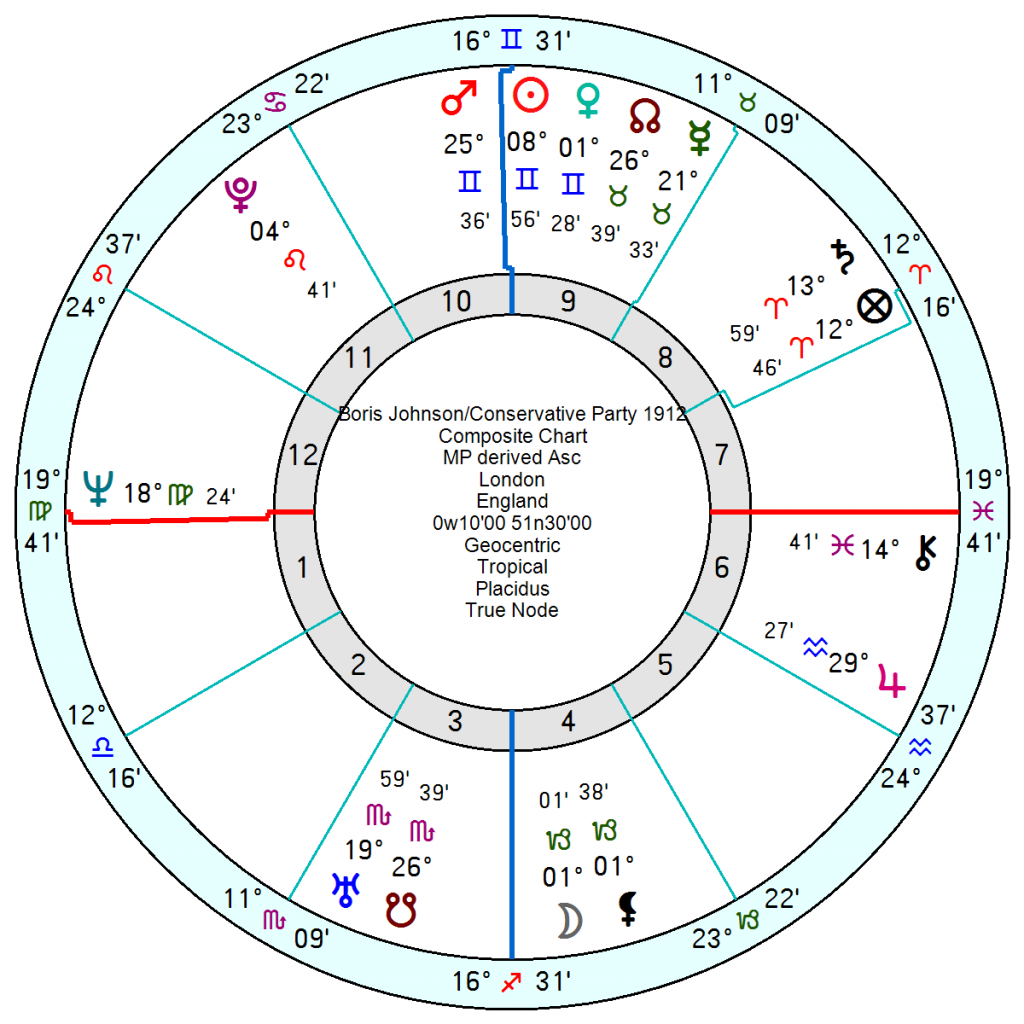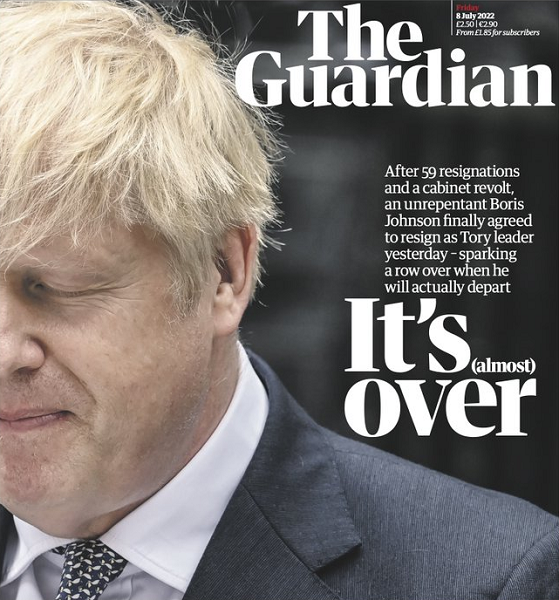 Boris Johnson having been demoted from big dog to tiny dog is huffing and puffing hints he may be back, the rumour mill being further stoked by the prime pot-stirrer Dominic Cummings. How likely is it? Contrary to the prevailing BJ fanclub yowls that it was a disloyal backstab that brought him down, in reality Westminster (and most of the country) could not cope with his lies and lack of integrity any longer.
There might be two worries ahead for those keen to see even a smidgeon of decency and competence return to No 10. If his birthtime at 2pm is accurate then his Solar Arc Jupiter and his Progressed Mars are both poised to cross his midheaven in the next two years, which suggest a confident and successful career surge.
However what might also be a pointer is tr Jupiter moving through his financial 8th house from July 2023 for a year which will bring money rolling through. His stint at No 10 curtailed his income severely and with multiple children and a new wife and two new minis he was finding the going less lucrative than his previous overpaid journalistic career.
Theresa May has earned more than £2 million since leaving Downing Street and I might hazard a guess that once his ego recovers from the shock of being ousted after such a short stint, he'll be eyeing more profitable prospects further afield from speaking engagements, journalism and book contracts.
He's downbeat at the moment till early August and again through December; with coming-down-to-earth-with-a-bump Uranus aspects returning to his Neptune and Jupiter this December effectively through till mid March.
Into 2023 tr Saturn will oppose his Sun/Moon midpoint in early March bringing a sense of separation briefly in his marriage; but it also for a politician brings lowered popularity. Then tr Saturn in Pisces will tip cold water over his chaotic Mutable T Square starting with a square to his Mars in mid March and moving onto his Second Solar Return from late April running to January 2024. That is usually a heavy time of facing up to reality and being forced to make considered decisions for the next third of life.
Tr Pluto square his Moon from late March, on and off till late 2024 will be the interesting one to watch since his Moon is highly sensitive to events.
He does pick up a lucky break, good-for-new-projects tr Uranus conjunct his Mars/Jupiter midpoint from May 2023 on and off for a year which may see gainful offers coming his way.
Tr Neptune will square his Sun and Venus May 2024 on and off for a year to undermine his confidence/prospects which may or may not be connected to tr Uranus square his Sun/Moon midpoint, disrupting his marriage in 2025.
His relationship chart with the Tory Party 1912 chart continue to be on a downhill slide till February 2024 with tr Neptune square the composite Mars, with other downwards blips before then. His relations with UK Inc will be high-tension, very unsettled and not improving right through till 2026.
Carrie is not having a great 2023 with tr Neptune conjunct her Pisces Sun into 2024; and their relationship, sagging at the moment, will rock n' roll through an exceptionally bumpy patch in 2025/26.
Nothing is set in stone but a return looks less than likely.