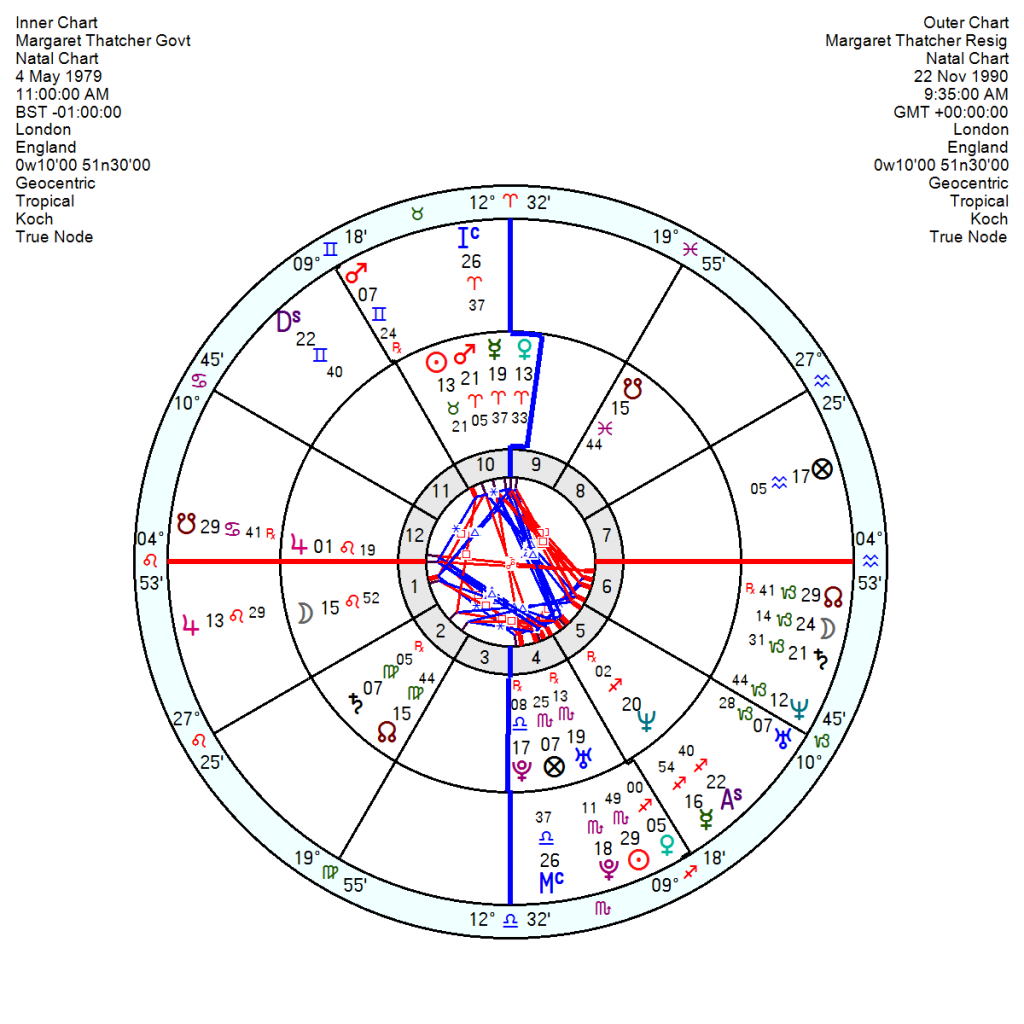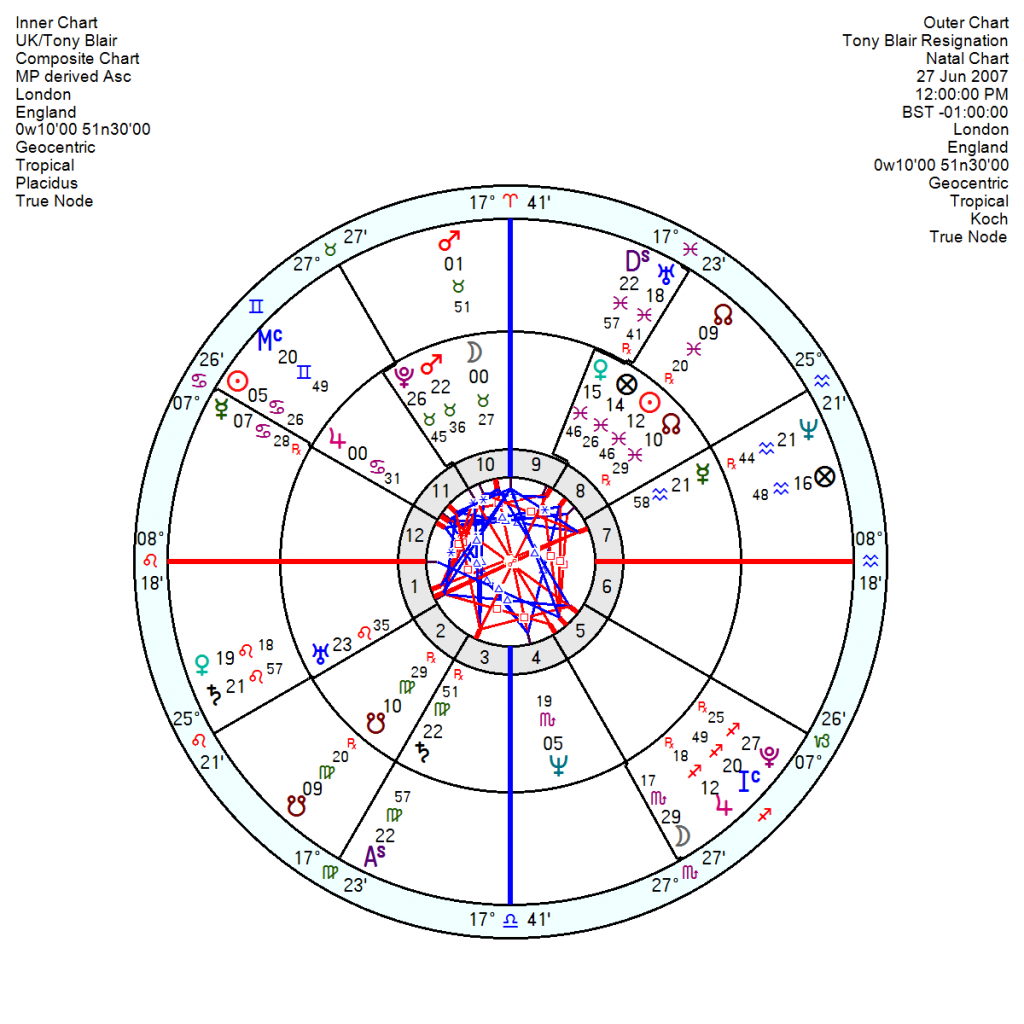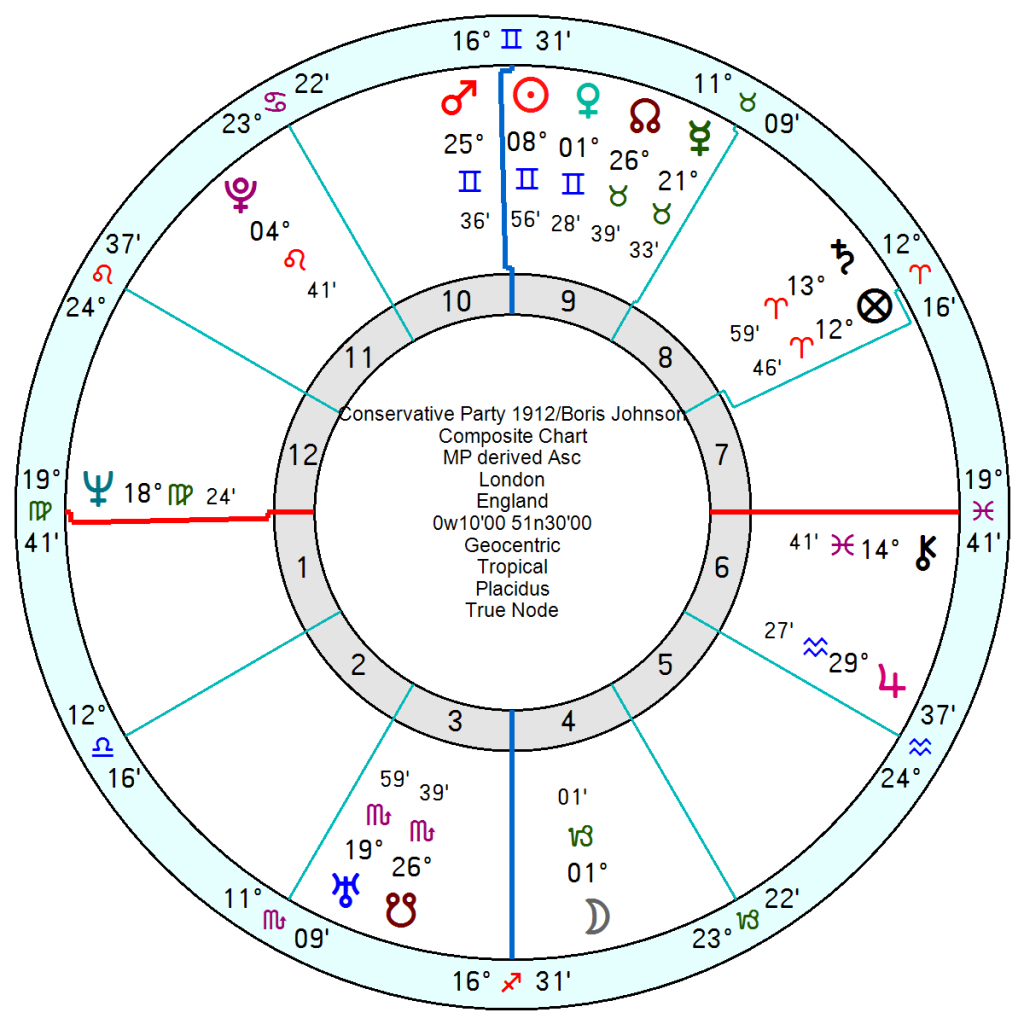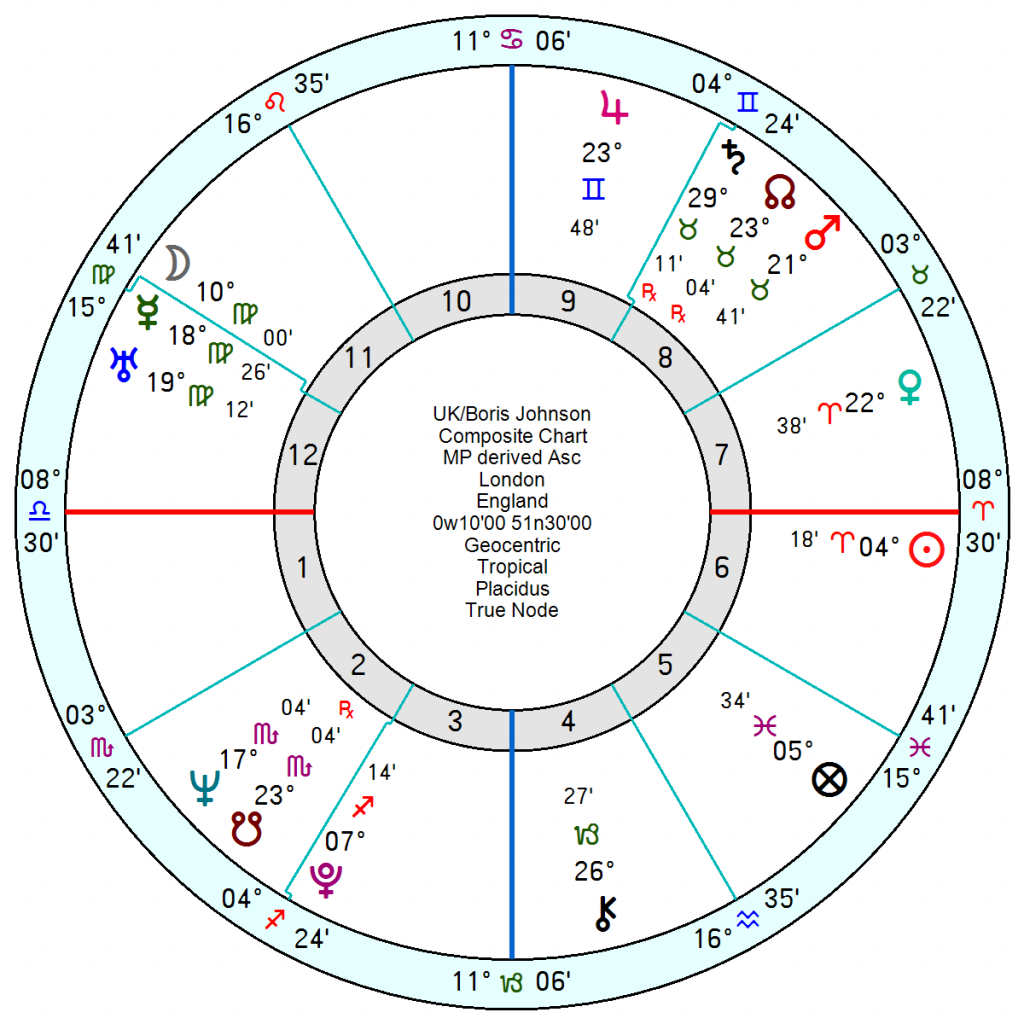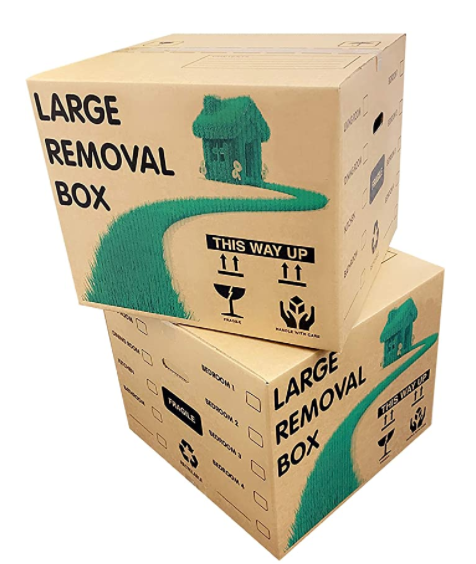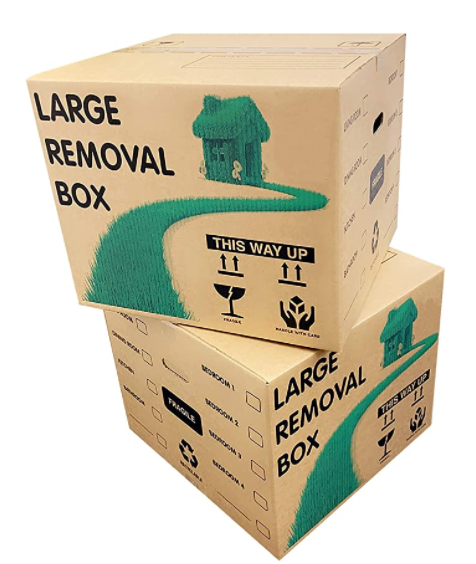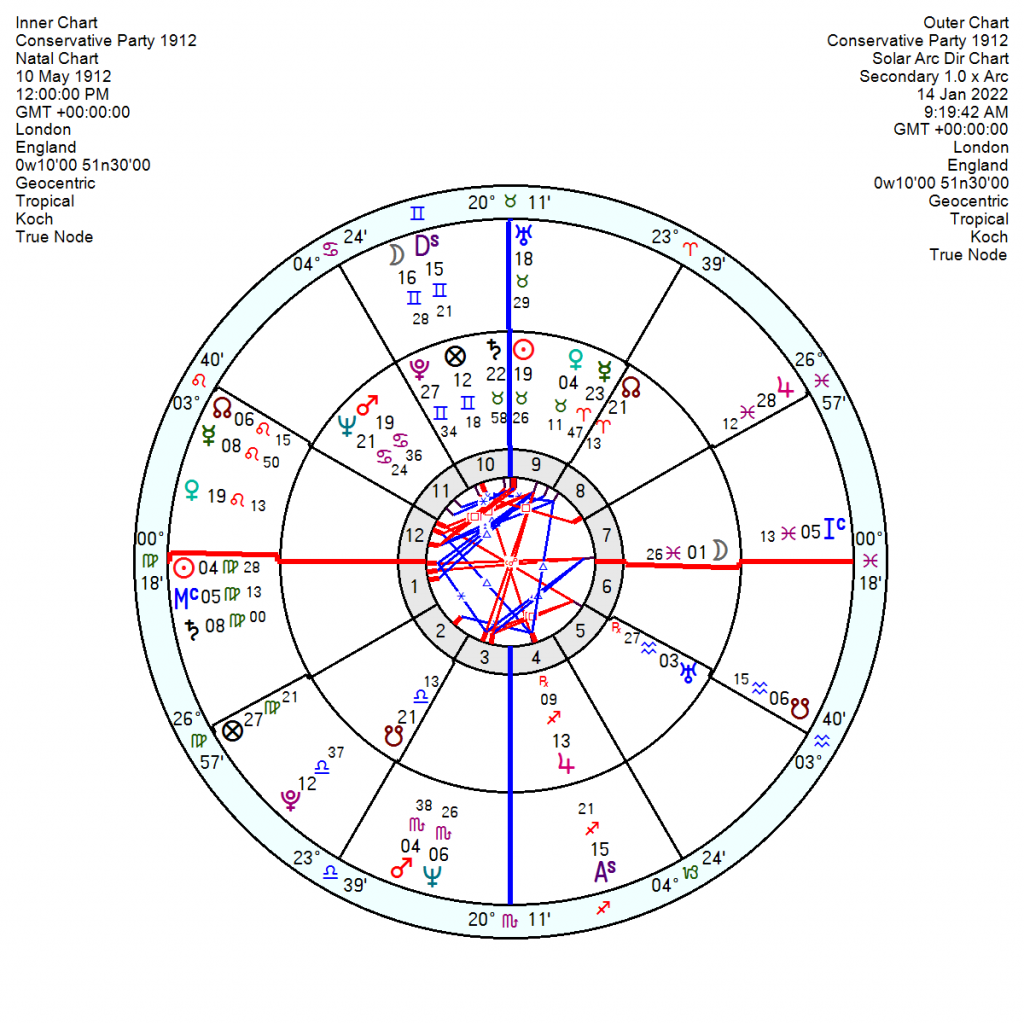 The waiting begins – unfit to lead, dead man walking, the party is over – as Boris finally appears to have crossed the line of no return. The penny may not have dropped with him but the general feeling is that even he cannot survive the cumulative damage of the mountain of bad behaviour that has emerged. Though like Tony Blair or indeed Margaret Thatcher he's unlikely to go easy. In the run up to the Blair exit, astrologers were angst-ing over astro-straws in the wind for months trying to predict a final date.
In hindsight Margaret Thatcher's final curtain and forced exit was easier to predict. By the time of her resignation on 22 November 1990 the chart for her entry into No 10, 4 May 1979, had a car-crash setback tr Saturn square the Mars and tr Pluto conjunct the Uranus which is a classic topple-off-perch indicator in Administration charts.
Her relationship chart with the Conservative Party 1912 chart had tr Uranus in an applecart-upsetting opposition to the composite Pluto; and a blocked tr Pluto square the Saturn. And tr Jupiter square the Sun as her over-confidence prevented her seeing the writing on the wall. Her relationship chart with the UK had tr Uranus trine the Pluto – so the tumultuous, revolutionary Uranus Pluto were all over her departure.
Tony Blair was heartily disliked in the UK for a good while before he handed the keys over to Gordon Brown and went off in search of ill-gotten gains elsewhere. When he finally let go on 27 June 2007, tr Neptune in Aquarius exactly opposition tr Saturn in Leo were exactly square the Solar Arc Sun of his First Government chart; tr Pluto was in a dead-halt square to the Govt Solar Arc Mars; and tr Uranus was hovering around the opposition to the Govt Mars.
His relationship chart with the UK, which was hostile and divisive had the tr Neptune opposition tr Saturn hitting on the aggravated composite T square of Mercury opposition Uranus square Mars Pluto. Different energies at play but still clear signs of considerable unrest.
Boris on his personal chart has his Progressed Moon plotting a fairly accurate course through recent calamities as it first opposed his Mars last August through the Afghanistan retreat disaster and he erupted in fury at Rishi Sunak over an alleged disloyal leak. In September his Progressed Moon squared his Saturn as his mother died (with his Solar Arc Saturn opposition his Scorpio Moon at the same time). Now his Progressed Moon is exactly square his Uranus for more fire and brimstone overflowing – and it won't clear his overly-volatile T Square until it squares his Pluto this coming June.
Tr Saturn will also deflate his eternally, unrealistically optimistic and unstable Jupiter opposition Neptune in the final days of this month into early February. With tr Uranus upending it through May and again December and early 2023.
His First Government chart, 24 July 2019, does have the tr Saturn square tr Uranus hammering on the Mars in Leo with setbacks this month; and again from mid April throughout the year. Plus a good deal of stress and raised emotions from March onwards.
His relationship chart with the Conservative Party 1912, is sagging badly from late May onwards, into 2023 with tr Neptune square the composite Mars. His relationship chart with the UK is also on a slide of disappointment, which started last June, when his polls started to dip, and will peak again from mid March onwards into 2023 with tr Neptune square the Jupiter. This February and March will give rise to much electorate grumbling and discontent with the composite Neptune opposition Mars catching the tr Saturn squares. But the first sign of a real upheaval comes from mid June onwards with tr Uranus opposition the composite Neptune and tugging on the Mars in opposition into 2023. The Eclipses are also triggering that composite Mars North Node opposition Neptune this year – that aspect in a relationship chart indicates the each partner puts their own personal glory above the other's success.
There is nothing quite as definitive with Johnson as there was with Thatcher and Blair and it is easy enough to become cynical about the greased piglet's ability to slide out of tight corners. He's had a lifetime's experience of feeling no shame.
The Tories may wait till the May local elections to see which way the wind is blowing before dumping him.
Wait and see.
Add On: Much as I distrust political party charts the Conservative Party 10 May 1912 one does appear to work reasonably well.
  The Tories moment of truth will arrive in 2023 but even before then from 18 January (this month) to 15th February they'll be tripping through a minefield of catastrophes from tr Neptune square the Mars/Saturn midpoint – at the same time as tr Pluto this month squares the Mars/Uranus midpoint (= struggle for survival, test of nerves) and next month tr Pluto squares Uranus/Neptune midpoint (= pessimism, losses) and those repeat from late June to mid January 2023. Plus a sobering tr Saturn square the Taurus Sun this March, repeating on and off till November this year.
But the triple whammy plus extras of 2023 is what may really upset their applecart. The Solar Arc Uranus will conjunct the Sun and tr Uranus will also conjunct the Sun and then Saturn from May 2023 into the summer and beyond; with power and influence fading away from tr Neptune square the Pluto.
  Boris may well be fulfilling a Trumpian function as a catalyst (wrecking ball) at the end of an era forcing significant changes to come – in time.