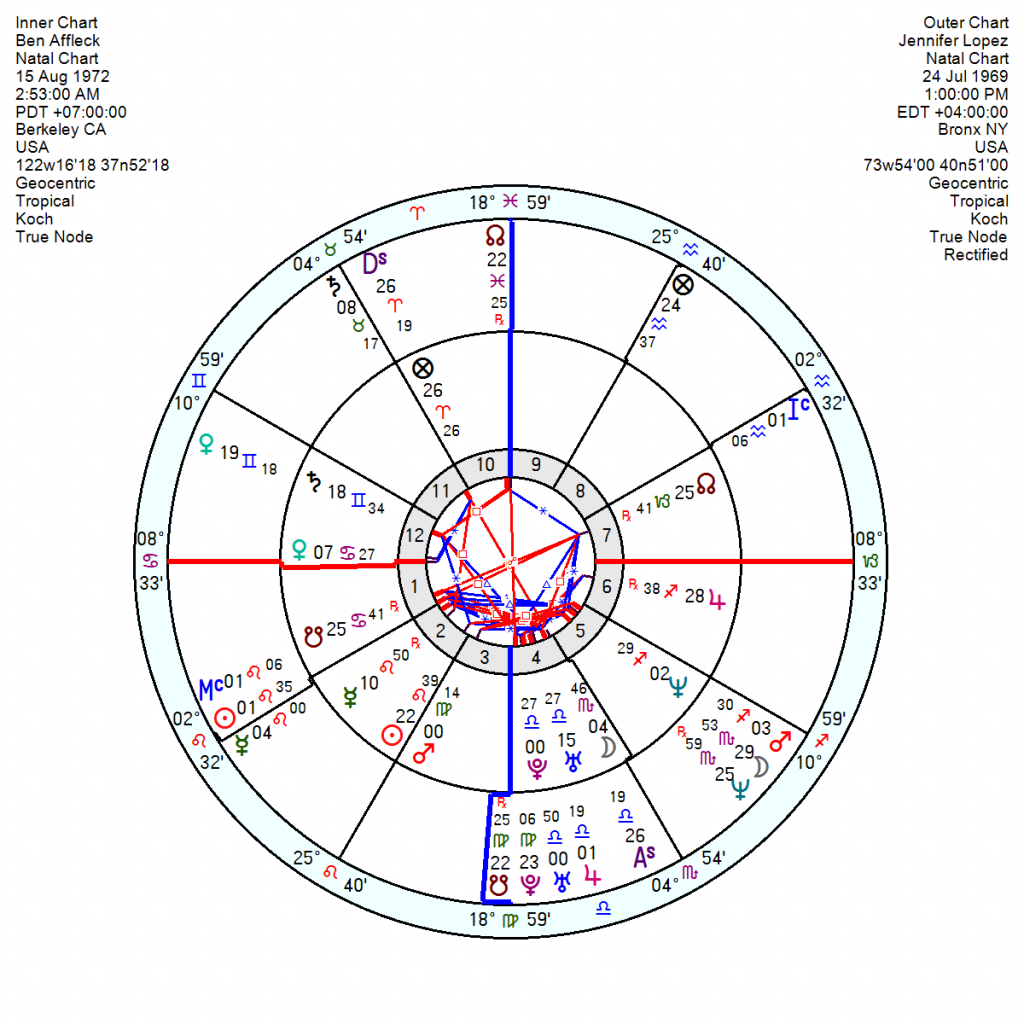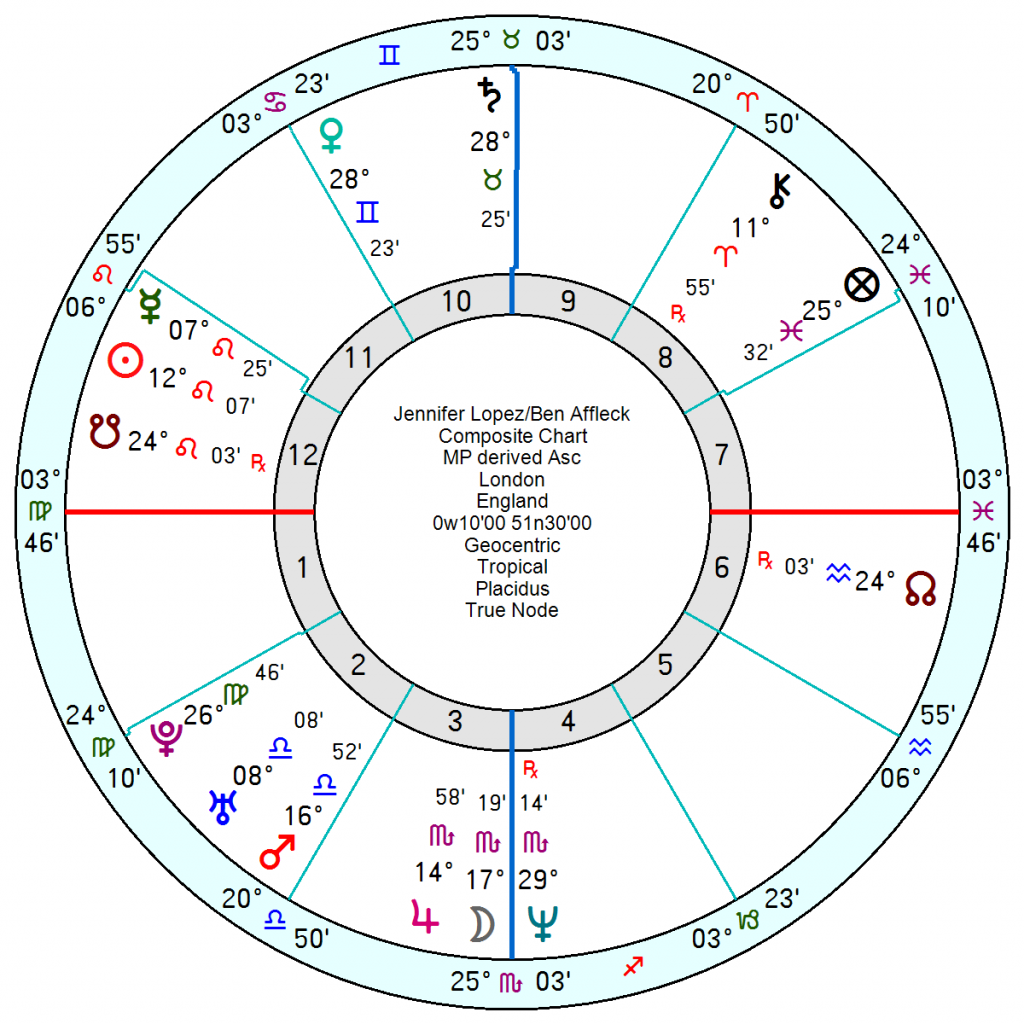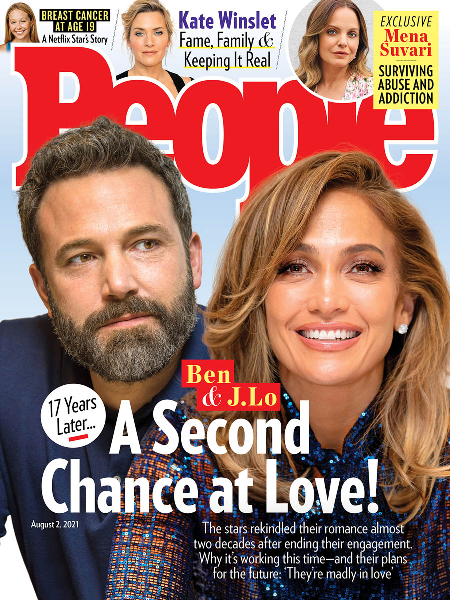 The hook-up between Jennifer Lopez and Ben Affleck cemented with an emerald sparkler has caused great excitement in the celeb-fan world. They nearly made it to the altar 19 years ago but abruptly parted company after he decided too much media attention was ruining his life. At the time she said " It felt like my heart had been torn out of my chest," despite which she started dating a singer three days later, whom she later married (briefly) – one of the carousel of men who have flitted through her life, some she married others not.  
She had in recent times been dating New York Yankees baseball player Alex Rodriguez but split from him and within days was back with Affleck. Not a lady who wastes time – or headlines.
Affleck who has a history of addictions and depression was previously married to the actor Jennifer Garner for 13 years until 2018 with three children.
Lopez was born 24 July 1969 in New York with no verified time. But around a midday time she would have her Sun/Moon midpoint, the marriage indicator, conjunct her Uranus Jupiter which would make sense of her constantly changing partners. She is a Sun Leo in a high-octane trine to Mars in Sagittarius, sextile her lucky Jupiter Uranus. Her Venus in social butterfly Gemini is in a passionate square to Pluto. Her Moon may be Scorpio or Sagittarius.
Ben Affleck, 15 August 1972 2.53am Berkeley, California, is also a Leo trine a confident, lucky Jupiter in Sagittarius. He does have an unsettled Pluto Uranus in his 4th house of roots and childhood which fits a family background of addictions and mental health problems. His Venus in Cancer is in a passionate square to his Pluto and his Moon is in Scorpio.
Two Leos aren't ideal since they'll fight for the spotlight and her Mars is conjunct his Neptune which is another indicator of an ego-clash.
The relationship chart does have a strong Jupiter square the composite Sun and maybe conjunct the composite Moon. Jupiter in a relationship brings enthusiasm, optimism and usually is mutually supportive, ironing out wrinkles and problems. There's also a passionate and possessive Venus square Pluto. Plus a doubting composite Saturn opposition Neptune, which latter tends to bring anxieties and worries of a nebulous but undermining variety.
  When they split before in 2004 tr Neptune was opposition the Sun which isn't a problem in the near future; but tr Uranus was just over the composite Saturn opposition Neptune in 2004. That latter repeats in 2025; and before then tr Neptune is undermining the Pluto and Venus in 2023/24. So not all rosy ahead.
He looks fairly upbeat in 2023/2024 with one of his Jupiter midpoints being boosted. Whereas she looks completely stuck in approximately six months with her Solar Arc Sun conjunct her Pluto; and under immense pressure with tr Pluto opposing her Sun in 2024/25 so they may be out of step with each other through this time as their careers diverge.