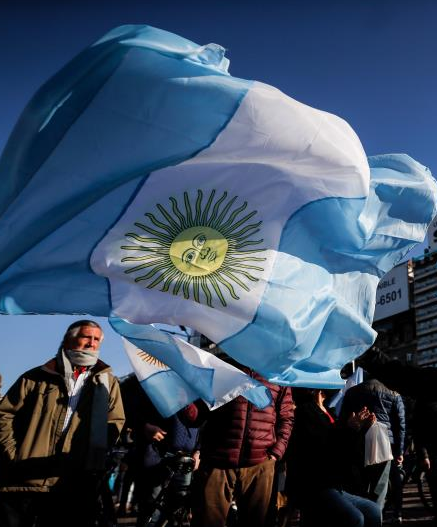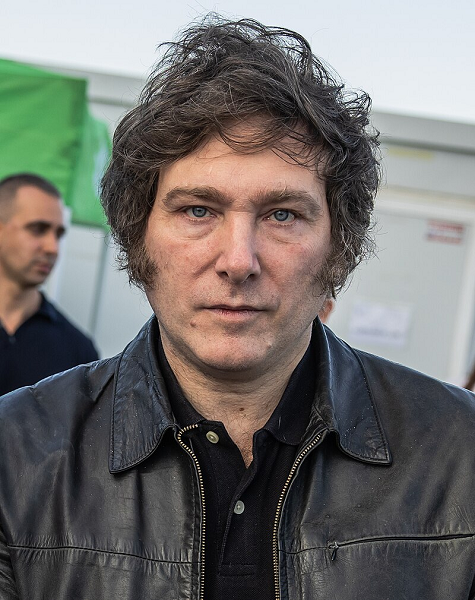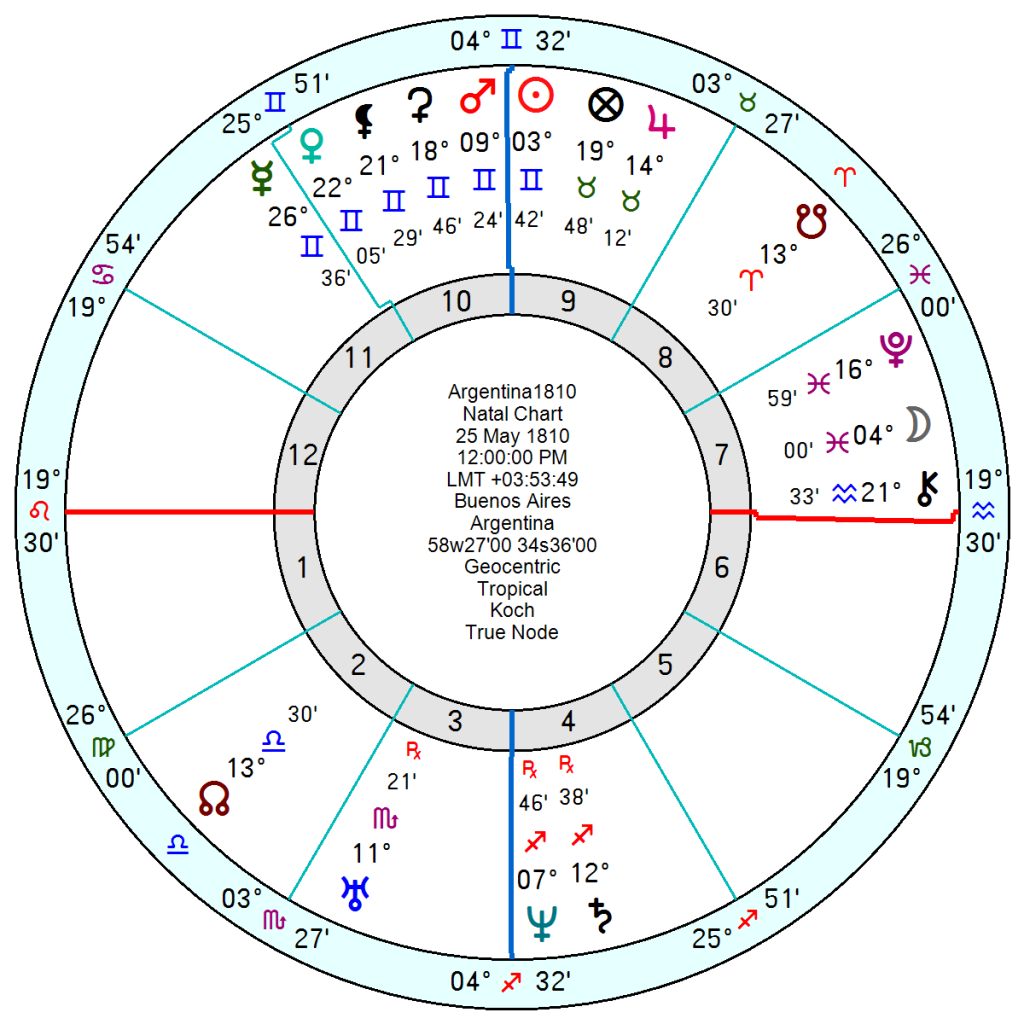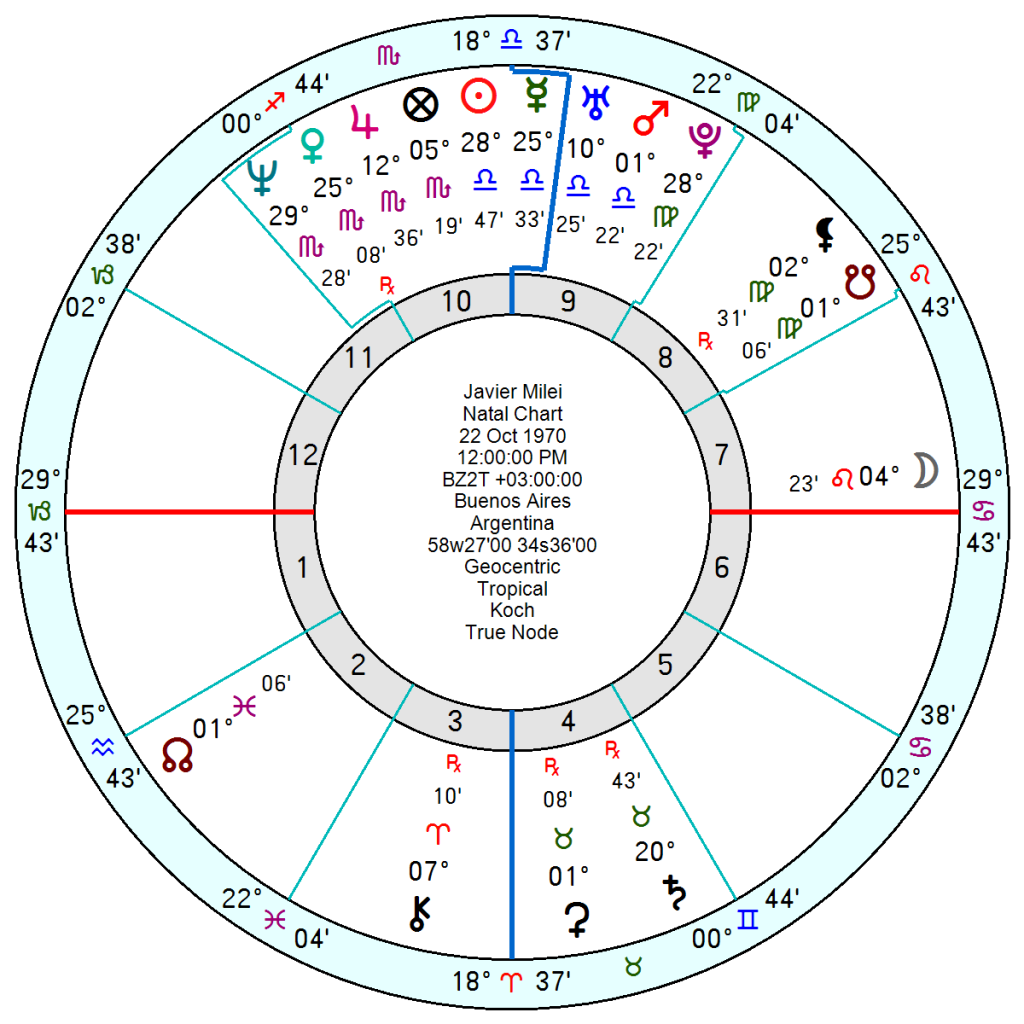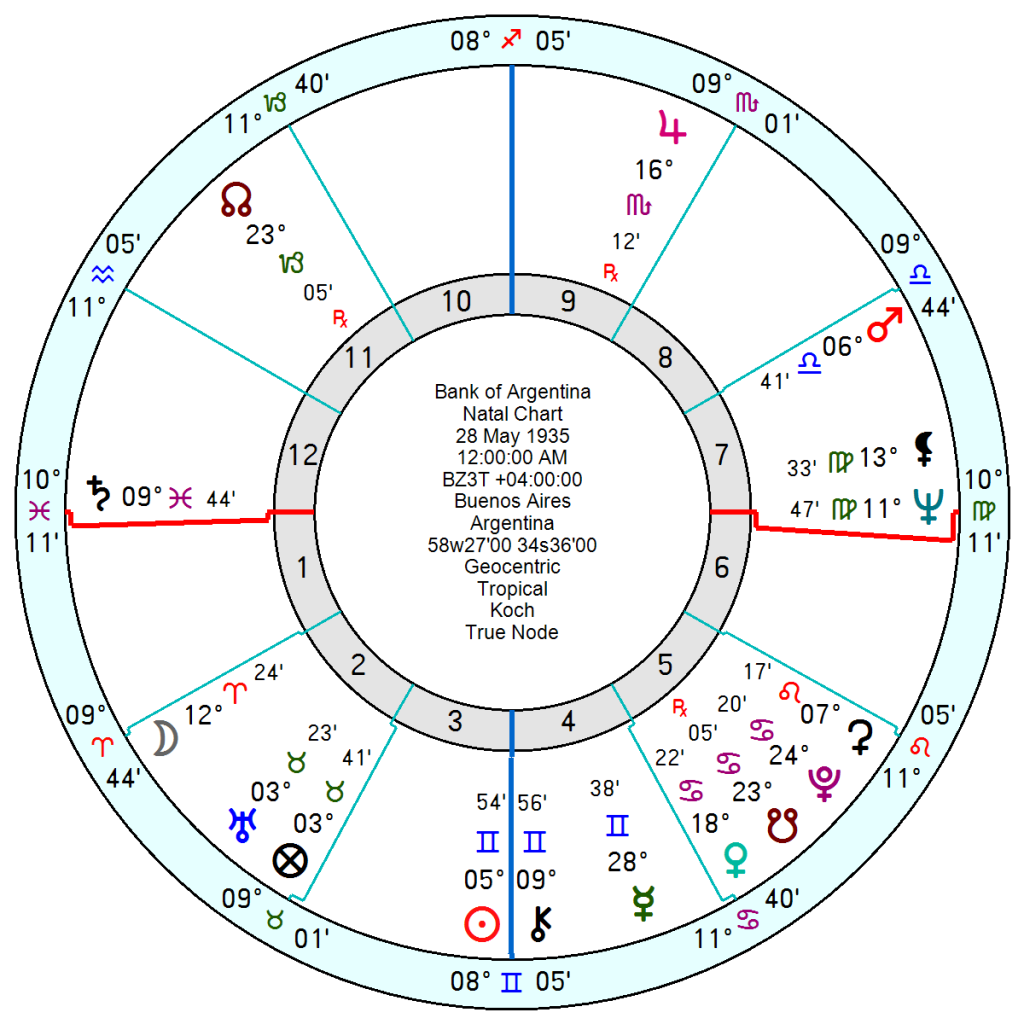 In desperate financial straits – again – Argentina threw up an ultra-conservative oddball in the dress rehearsal for the late October general election. Javier Milei, who won over 30 per cent of the vote, is 'a rightwing libertarian who campaigns like a rock star, lives alone with five mastiffs named after famous liberal economists and claims not to have brushed his hair since he was 13 (he is 52).'
  Whoever wins they will inherit a catastrophic economic situation with the central bank almost out of reserves and heavy restrictions on foreign exchange. Inflation is running at around 115% and nearly 40 per cent of the population live below the poverty line. A severe drought has exacerbated problems, which the government has used as an excuse for missing all of IMF's targets for its lifeline programme. Another default looms.
Milei, born 22 October 1970 in Buenos Aires, has a late Libra Sun with a ferociously determined Pluto conjunct Mars; and a head-in-the-clouds, moody, insecure and ambivalent Venus Neptune in Scorpio opposition Saturn in Taurus. His Sun sits on his Neptune/Pluto midpoint which is associated with the supernatural or fantastical beliefs.
His Jupiter in Scorpio caught the recent Lunar Eclipse which would give him a lift. The general election falls on his birthday with tr Jupiter opposition his Jupiter. A win is not inevitable and he looks to be in a degree of turmoil immediately following and in 2024 – though that would be true even if he did win.
The Argentina 25 May 1810 country chart with its Gemini Sun Mars opposition Neptune Saturn in Sagittarius square Pisces Moon Pluto – will be dragged down to earth by tr Saturn in Pisces through 2023/24. The recent Lunar Eclipse rattled the Uranus in Scorpio hinting that a change of course was badly needed.
It is not quite as dire as the 2001 default which happened on the Saturn in Sagittarius opposition Pluto square Mars; and the Solar Arc Pluto squaring the financial Venus in the run up. But it will require considerable sacrifices.
  The Bank of Argentina, 28 May 1935, another Gemini Sun square Saturn opposition Neptune, will face a surfeit of Saturn reality checks as well in 2023/24; and a pressured Solar Arc Pluto square the financial Venus. Again not quite as catastrophic as the 2001 default  when the Solar Arc Mars squared Neptune and rattled up the T Square with Sun and Saturn; and the tr Saturn opposition tr Pluto added its layer of woe and hardship.