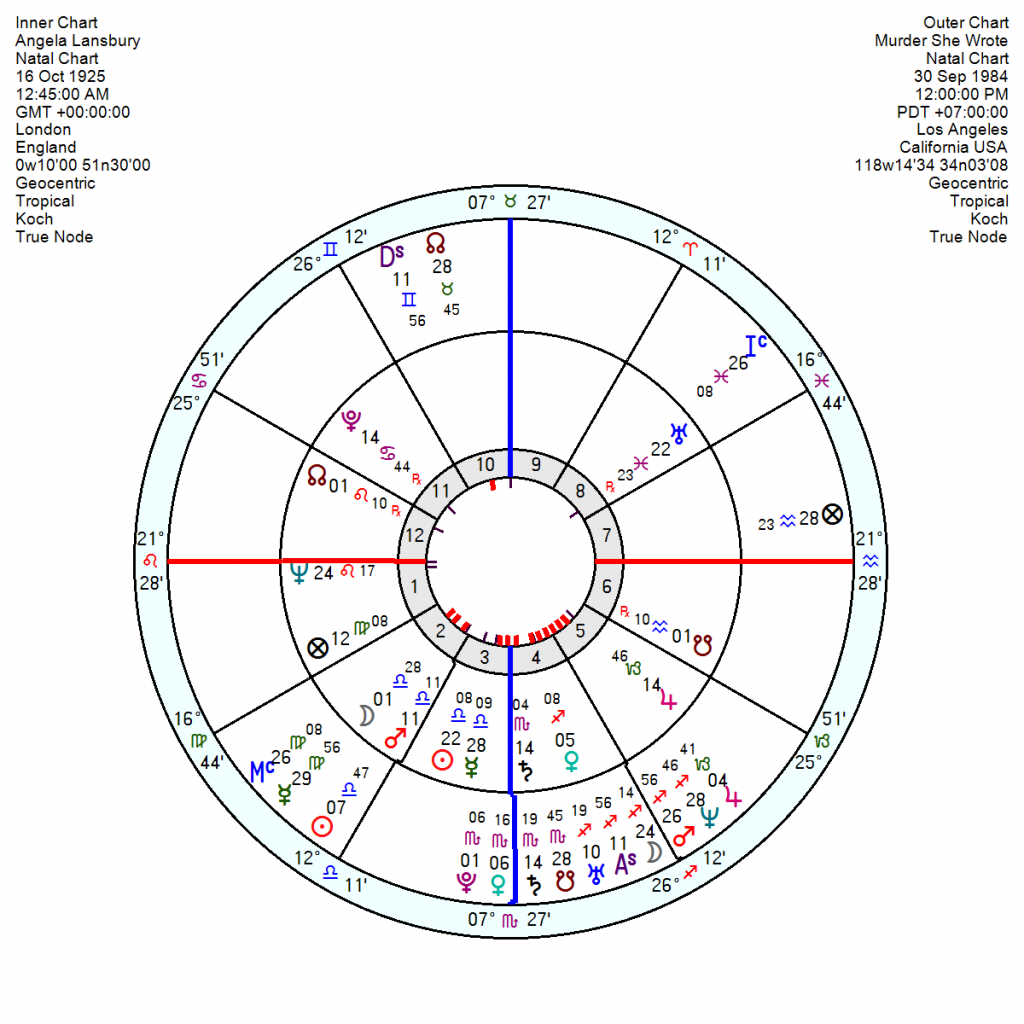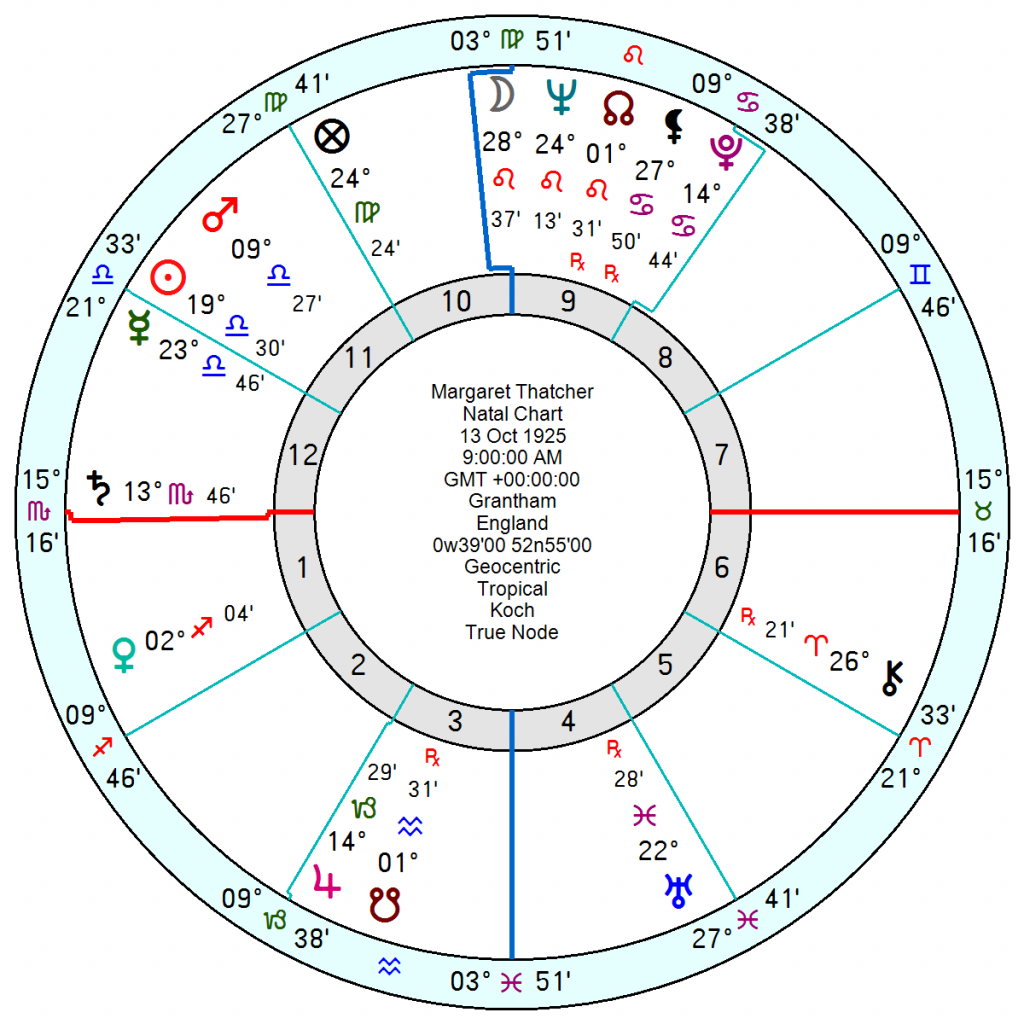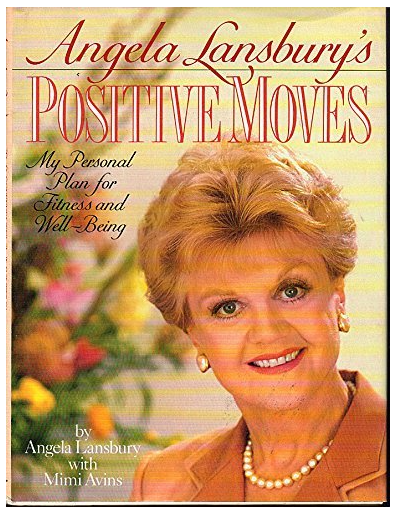 Angela Lansbury, one of the last golden oldies, has died aged 96. She played alongside the legendary stars of the 1940s – Ingrid Bergman, Katharine Hepburn, Judy Garland, Elizabeth Taylor, Frank Sinatra, Paul Newman, Orson Welles, Elvis Presley, Bette Davis and Maggie Smith in classics like Gaslight, National Velvet, Dorian Gray and The Manchurian Candidate. Despite rave reviews and supporting actress nominations she never made it to a lead role and switched to Broadway.
  Finally aged 59 on her Second Saturn Return she landed Murder She Wrote for TV. Her role as Jessica Fletcher ran for 264 episodes over 12 years, with an audience of 28 million a week, making her the richest woman on TV at one point earning $200k per episode.
She fostered a wholesome image in the kindly TV detective figure though early directors saw a darker side – she was offered Nurse Ratched in the Cuckoo's Nest and did excel in Gaslight and The Manchurian Candidate.
She was born 16 October 1925 at 12.45am London with her father dying young and her mother relocating her in her teens to the US during World War 11. Her sister who had married Peter Ustinov stayed behind. Angela married twice, the first time briefly to another actor, who was thought to be gay and then to another actor/producer for a long marriage that produced two children. Her daughter became entangled with Charles Manson and her son was also on drugs so she moved them to Ireland to clean up.
Two things are fascinating. One is she was born three days after Margaret Thatcher so had the same super-confident and highly resourceful Jupiter in Capricorn opposition Pluto square Mars in Libra; as well as Maggie's conscientious, perfectionist Saturn in Scorpio and a Libra Sun to match.
House positions are different, of course. Angela's rigid Saturn fell in her 4th house, perhaps an indication of family problems in childhood and beyond. Neptune in entertaining Leo was on her Ascendant for an appealing filmic image; with enthusiastic and money-magnet Jupiter in Capricorn in her performing 5th house.
Maggie Thatcher in contrast had Saturn on her Ascendant for a determined and formidable persona with her Jupiter opposition Pluto falling across the 3/9th house for confidence in communicating her dogmatic opinions.
Both of them shared a Yod of Neptune sextile Sun inconjunct Uranus. Such a Uranus can be erratic, contrary and rebellious, independent-spirited and a catalyst for change – can be divisive, disruptive and intolerant. It's not clear where it showed up in Angela's life but it was 8th house so it may have been the wild side of her nature that her Saturn in Scorpio kept firmly battened down.
The other point of Astro-note is when she landed the Murder She Wrote role, which made her fortune and cemented her fame, launched 30 September 1984, when she was 59 years old. She was on her Second Saturn Return and on a Jupiter Return and the Sun was in Libra. Her Solar Arc Midheaven was within orb of the opposition to her Uranus – her birth time is from memory so that aspect could have been exact. That would be typical of a fated turn of events which puts the individual onto a track that is meant and works.