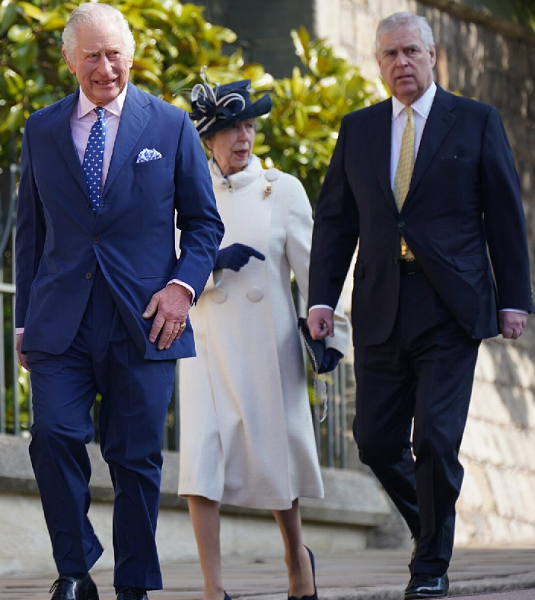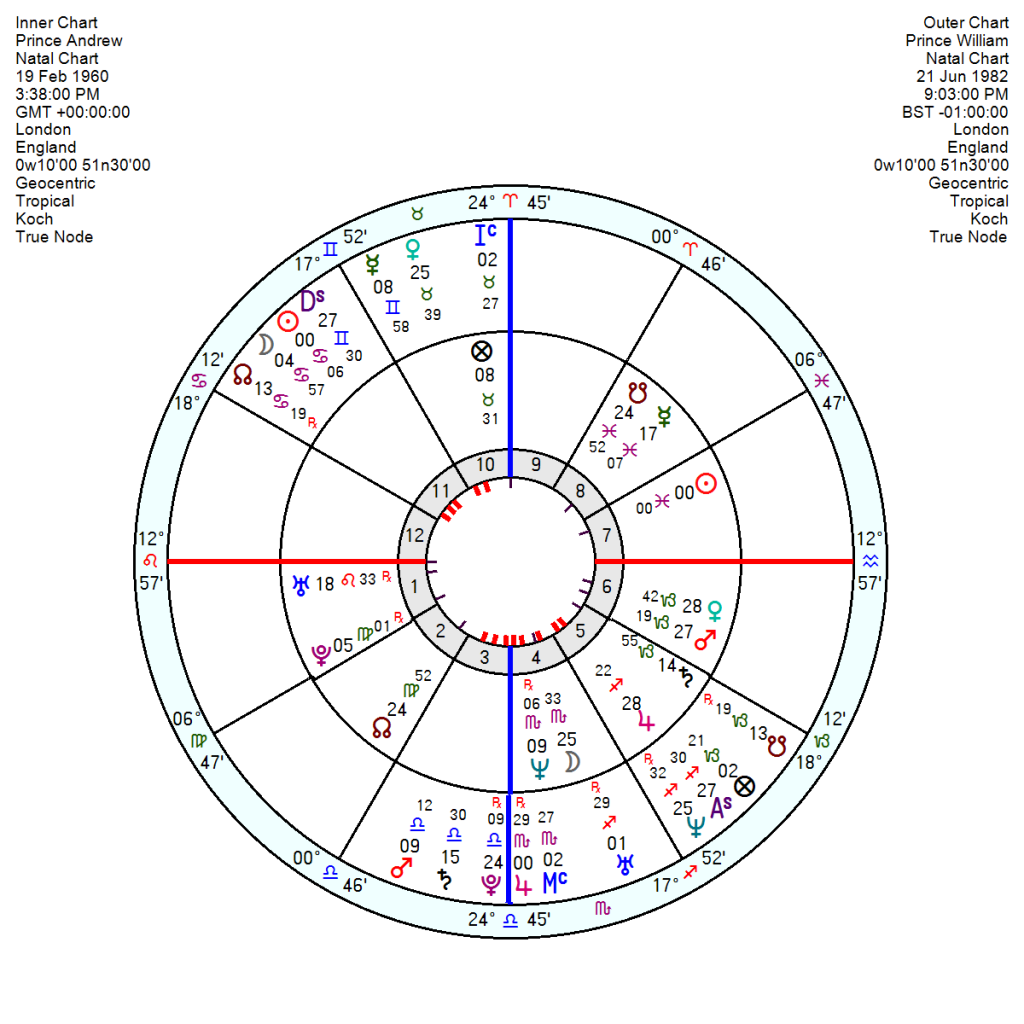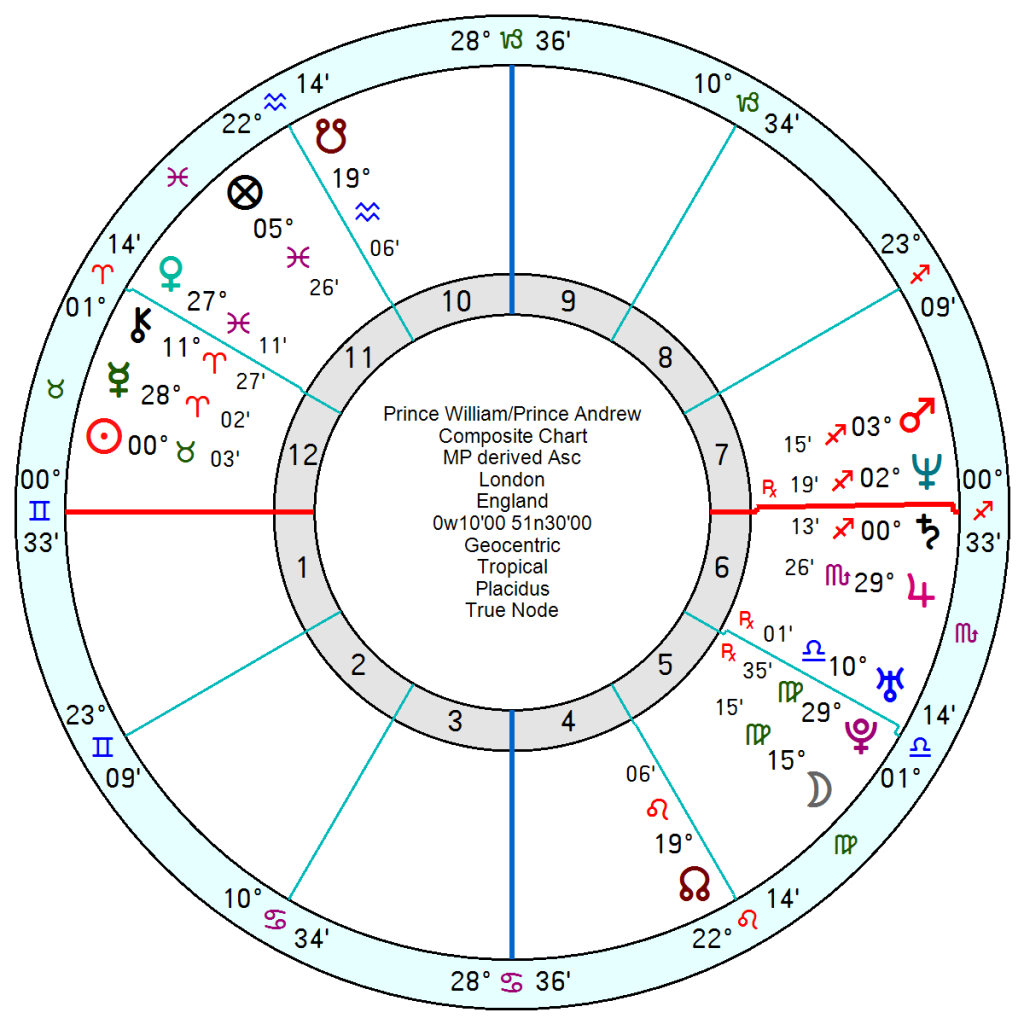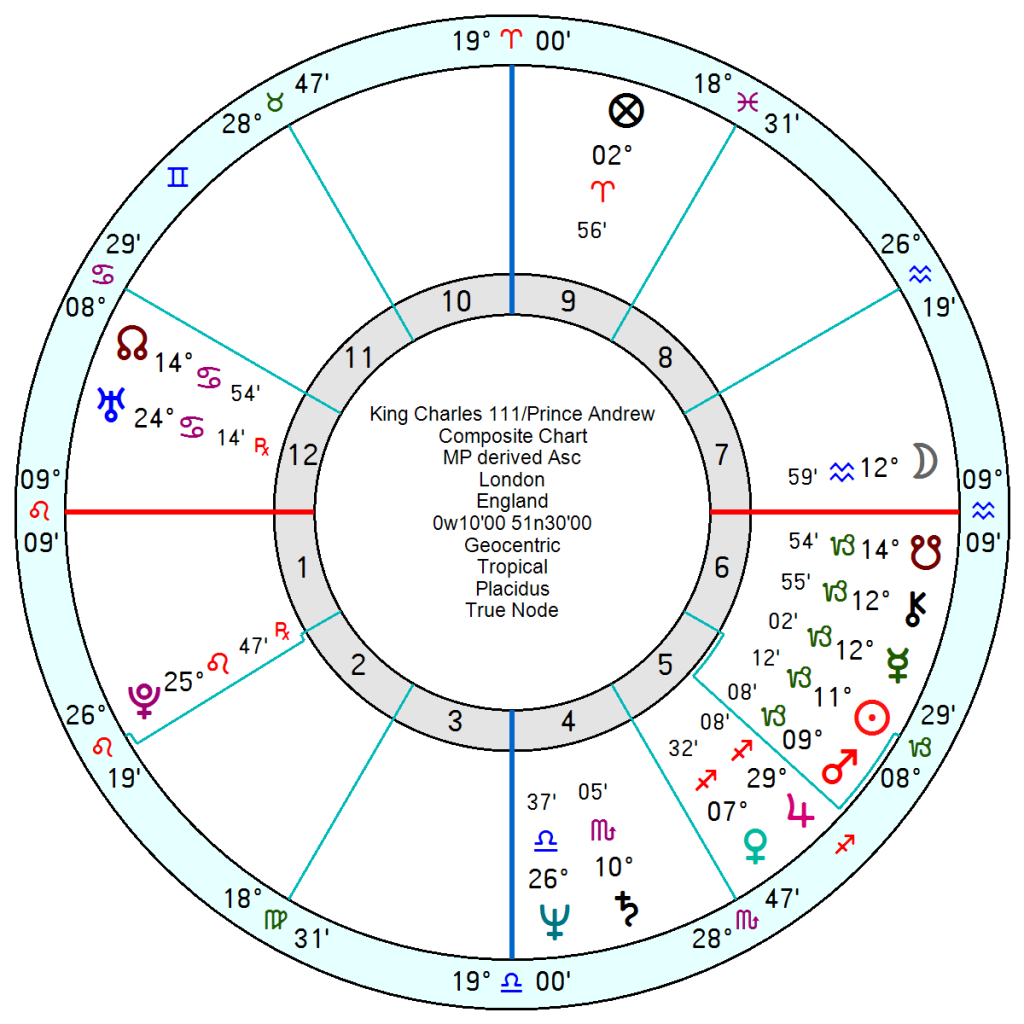 Royal watchers are perplexed by Prince Andrew's rehabilitation into the family as he attended a church service along with the Royal tribe. It is odd for two reasons – one it misjudges public antipathy which is implacably opposed to his resurfacing and therefore risks damaging the monarchy and Charles' popularity. The other is that William dislikes his uncle as does Kate and it must have taken a hard word to persuade him to do his duty as chauffeur.
Marina Hyde, as usual, has it nailed. "Sticking a disgraced dimwit in the front seat of your car is not just some random thing that happens of a Sunday morning. This is a planned and choreographed moment, with William as the designated driver."
William's determined 9th house Pluto opposes Andrew's Aries Midheaven exactly and squares Andrew's Venus Mars in Capricorn so he won't be backward about stating his vehement objections to his uncle's decisions and inclinations. Their relationship chart has a toxic composite Mars, Neptune, Saturn, Jupiter conjunction – suspicious, distrustful, aggravated, all of which is quincunx the composite Sun. Stressed and strained to a remarkable degree – and it is being pummelled by tr Saturn square Mars, Neptune, Saturn from late this August through till January 2024. As well as tr Pluto square the composite Sun at zero Taurus in 2023/24.
William's relationship with his father is also under pressure from mid this September with tr Saturn dampening enthusiasm as it squares the composite Moon opposition Jupiter; with uncertainty, anxiety and distrust from October through till March 2024. They have not always been on the best of terms until William stepped up to the mark to take on the mantle of duty. But Charles's 4th house Neptune in Libra which may cloud his judgement on family matters and make him an easy mark for pressure from the unrepentant Andrew. His Neptune clashes with William's steely Saturn in Libra.
  Prince Andrew, 19 February 1960 3.38 pm London, has dollops of undeserved Jupiter this year and next (like Trump, sigh) which will keep him pushing ahead with bullish confidence. However those sit side by side with a whole plethora of complications and difficulties. Tr Saturn is hitting his Pisces Sun opposition Pluto throughout this year, noticeably across this autumn and into early 2024, which will be discouraging. Tr Pluto is also in a trapped, frustrating conjunction to his Mars, Venus in Capricorn until late December this year. Tr Neptune is in an undermining square to his Solar Arc Midheaven this year and next as it is made clear he will not resume Royal duties.
2024 looks disappointing and self-esteem-denting with tr Neptune square his 5th house ebullient Jupiter with tr Saturn following along behind in 2025. Plus a devastating Solar Arc Pluto conjunct his Neptune, exact in mid 2024, which is when tr Uranus starts to oppose his Moon in June, hinting at a house move and relocation and maybe family upheaval – running into 2025. Plus a volcanically irritated and shocking Progressed Mars conjunct his 8th house Mercury in late 2024. With his Mercury being on one leg of his yod sextile Saturn inconjunct Uranus that will have a powerful effect. And may drag more dirt out into the open from the 8th.
Not plain sailing ahead for him despite his bluff and bluster.
King Charles' relationship with Andrew, which has always been competitive with a composite Sun Mars Mercury in their relationship chart, is moving into a disappointing and bumpy phase from next May 2024 with tr Neptune square the composite Jupiter and tr Uranus square the composite Pluto, running into 2025. Whatever is going on at present with the playing-nice scenario, family togetherness is unlikely to hold from this autumn onwards.
See previous posts: 2 March and 22 January 2023.