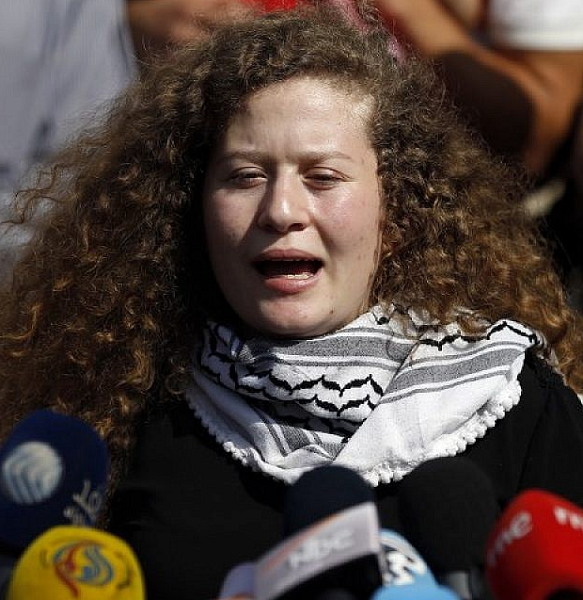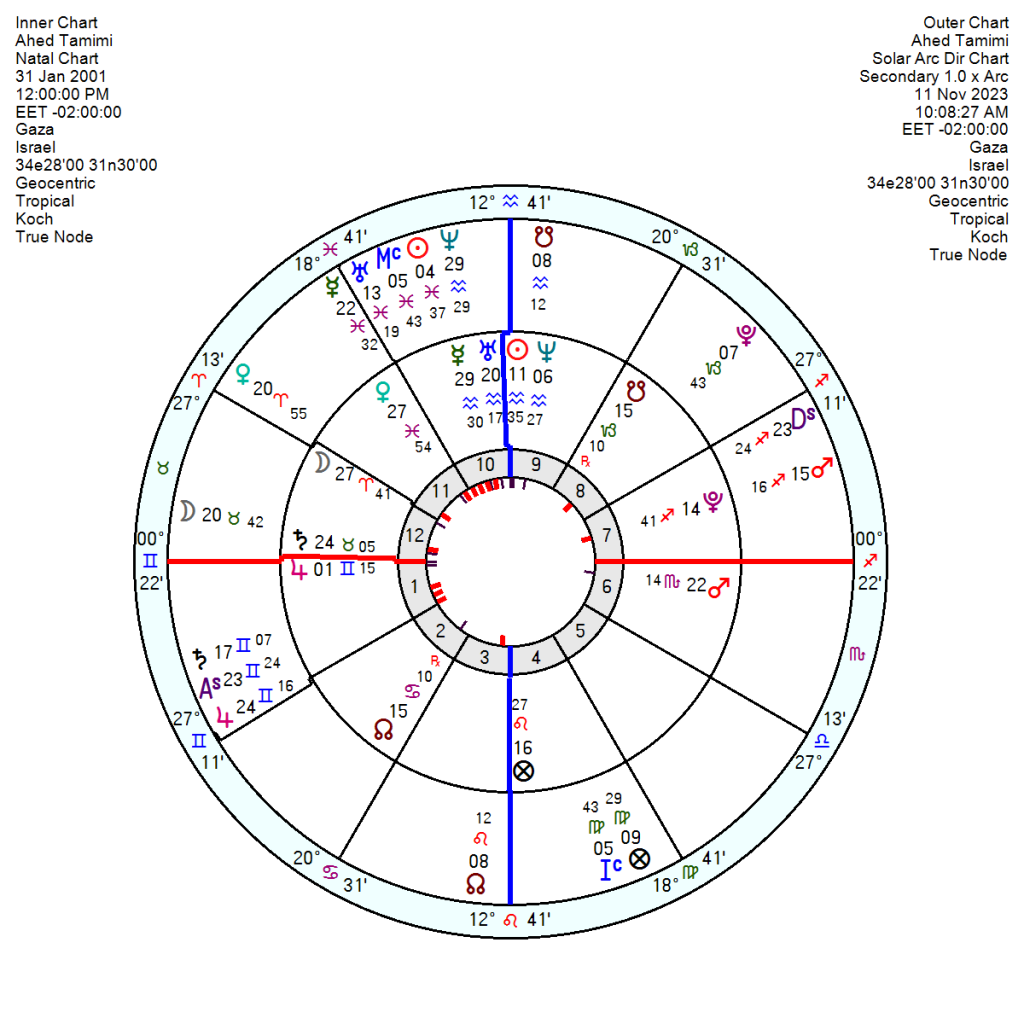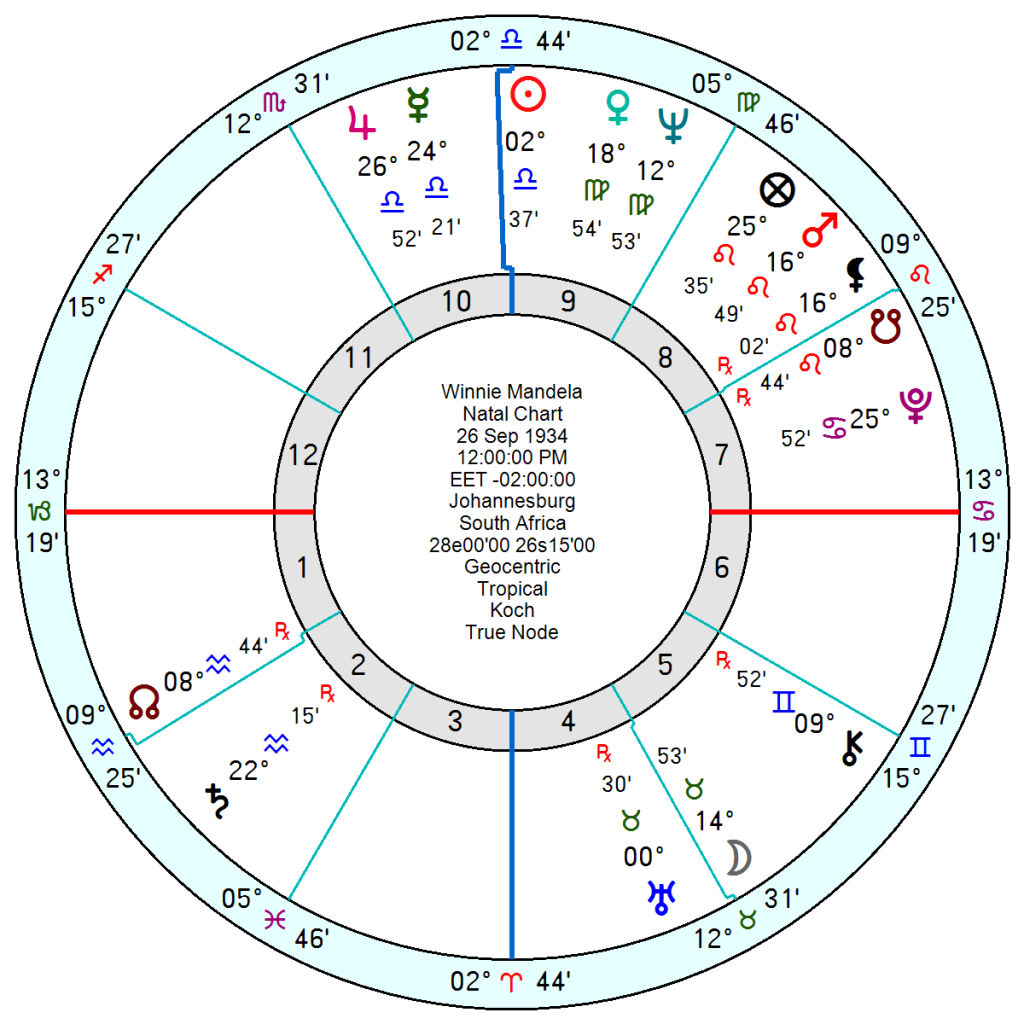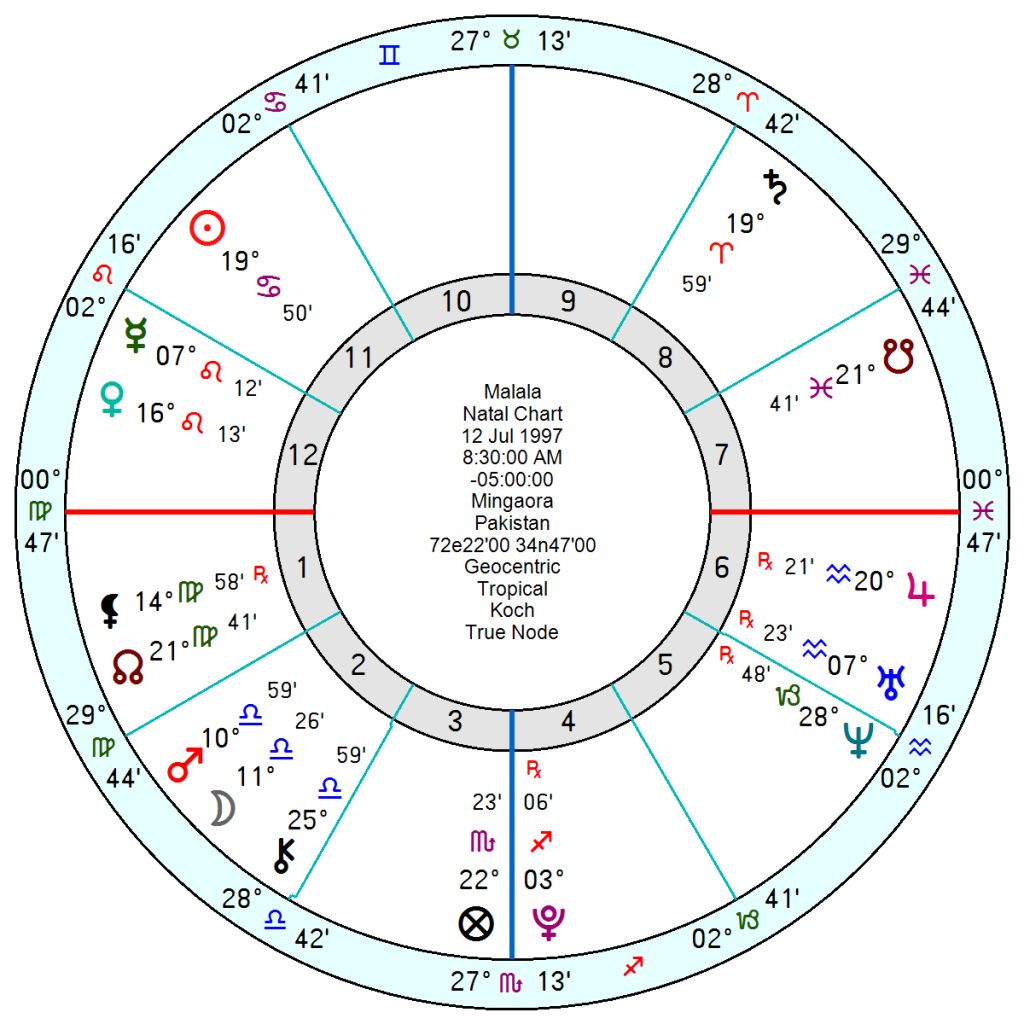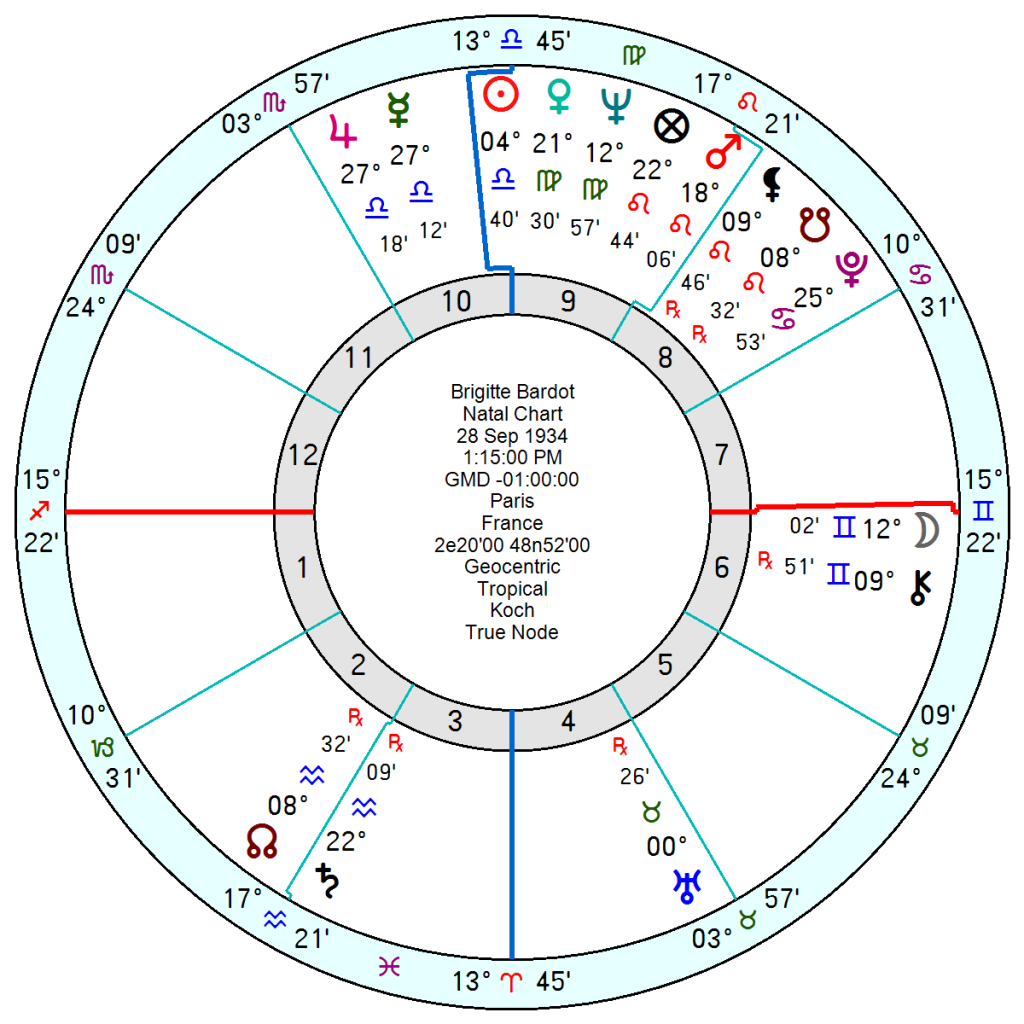 Ahed Tamimi, the young Palestinian activist has been arrested accused of inciting violence and terrorist activities because of a post on Instagram which her parents say was hacked.  She gained worldwide fame in 2017 after a video of her slapping an Israeli soldier went viral on social media. She later said the soldiers had shot her cousin in the head just before the video was taken. After being released from prison, she wrote a book and crisscrossed Europe and the Middle East, campaigning against Israeli occupation. See previous post January 3 2018 below.
Born 31 January 2001 in the West Bank, she has Uranus in Aquarius on the focal point of a Fixed T Square to Mars in ultra-determined Scorpio opposition Saturn in Taurus. Custom built as a trailblazer for change, though also a law unto herself, she was born on Gaza's Uranus Return. She also has her idealistic Aquarius Sun conjunct Neptune. Tr Uranus opposed her Mars as this present violence erupted in early October and will square her Uranus through into December and repeating next spring. It'll be a stormy passage.
What intrigued me astrologically speaking is her Mars opposition Saturn. Queen Rania (post 7th November below), also a Palestinian, has her Mars in Leo square Saturn opposition Neptune. Winnie Mandela, who fought valiantly through her husband's years in prison against oppression and apartheid, also has Mars in Leo opposition Saturn. She was ultimately corrupted by the brutal treatment she received from the South African authorities.
Hard Mars Saturn aspects tend to go along with a life filled with acute frustrations and setbacks, often cruel treatment in childhood, and in some individuals can result in a resentful temperament, prone to outbursts of aggression. Unfairness is a key trigger.
Mars, almost as much as the Sun, is the planet bolstering a strong sense of identity. "I want, I do, I am." Where Mars is blocked either by harsh parenting or cruel circumstances there is an underlying sense of never being able to assert personal needs leading to a loss of personal autonomy.
Mars Saturn has connections to the military since in a rigid command structure, personal needs have to be supressed to obey the orders of others. In traditional astrology Mars Saturn was the signature for assassinations and it does have a destructive side, not the least of which is a tendency for broken bones.
It has its uses since it can induce grit, self-discipline and the ability and courage to keep trucking through challenging and even risky experiences.
Malala Yousafzai, the Pakistani activist for girls' education who was shot by the Taliban, 12 July 1997, is another with a Saturn opposition Mars in Libra square her Sun.
  Not all Mars Saturn types end up crusading against tyrannical rulers though they often go along with domestic dictators. Brigitte Bardot, 28 September 1934 1.15 pm Paris, has a Mars in Leo opposition Saturn in Aquarius, doubly emphasised since her Saturn is the focal point of a yod. Her childhood was prosperous; though she recalled feeling resentful in her early years. Her father demanded that she follow strict behavioural standards and she had few childhood friends. On one occasion when she and her sister accidentally broke a vase,  her father whipped the sisters 20 times and afterwards treated them like "strangers".  The incident led to Bardot decisively resenting her parents and to her future rebellious lifestyle.
Robert Downey Jnr, 4 April 1965 1.10pm New York, was introduced to drugs as a six year old by his addict father. He has Saturn opposition Mars (Uranus Pluto) which is a formidably difficult mix. What the boy wanted was a childhood, what he got was a drug habit as the only way to connect to his father. What he wanted never came into the mix. It took him nearly forty years to get clean.
Anyone with hard Mars Saturn aspects in their chart or those close do pitch in with thoughts if you feel able.
Post January 3 2018: 17 year old Palestinian Ahed Tamimi's trial in Israel will be held in closed court against the objections of her attorney. She is charged with 12 offences over multiple confrontations with soldiers spanning back to April 2016 – incitement to violence, aggravated assault, threatening a soldier, incitement on Facebook and throwing objects at people and property. After an initial hearing the proceedings will start in March.
On this most recent occasion she was arrested for slapping an Israeli soldier (in full protective battle kit) after he and his colleagues had parked on her family's land, fired a rubber bullet into her 14 year old cousin's face and fired tear gas into their house. She is described as 'a risk' to Israel, was been held in isolation and denied access to her parents during interrogations.
She comes from a family who have been engaged in active resistance to Israel's occupation. From 2013 onwards, they have staged regular demonstrations against the military and the nearby settlers who have taken over their lands and water spring. The protests are met with tear gas, rubber bullets, skunk water and live ammunition. In 2012, Ahed's father was declared a prisoner of conscience by Amnesty International. In 2013, her uncle was killed by a tear gas canister shot to the head. In 2014, her mother was almost permanently disabled when she was shot in the leg. In 2015, a video of Ahed preventing her younger brother from being arrested went viral. Her cousins and her older brother have spent time in Israeli prisons.
Born 31 January 2001 she's a Sun Neptune in Aquarius; with an astonishingly formidable and aggrieved Saturn in Taurus opposition Mars in Scorpio square Uranus. She won't budge easily. Her Fixed Saturn, Mars, Uranus collide with Israel's equally Fixed Taurus Sun square Mars in Leo. So it's an inflammatory and unyielding relationship on both sides. The relationship chart has a bitterly hostile and struggle-to-the-death composite Mars Pluto opposition Sun square Saturn and they don't get bleaker or more aggravated than that. Chained-together by circumstances and resenting it.