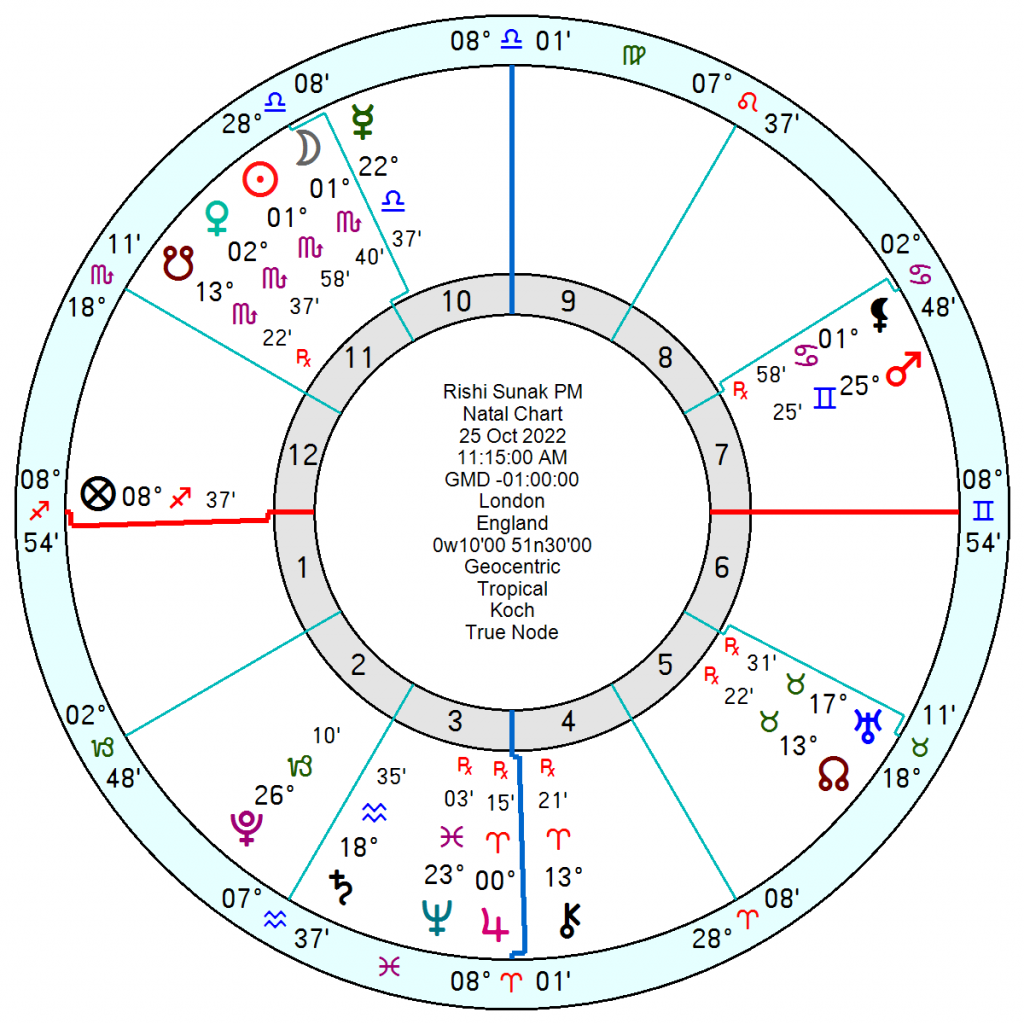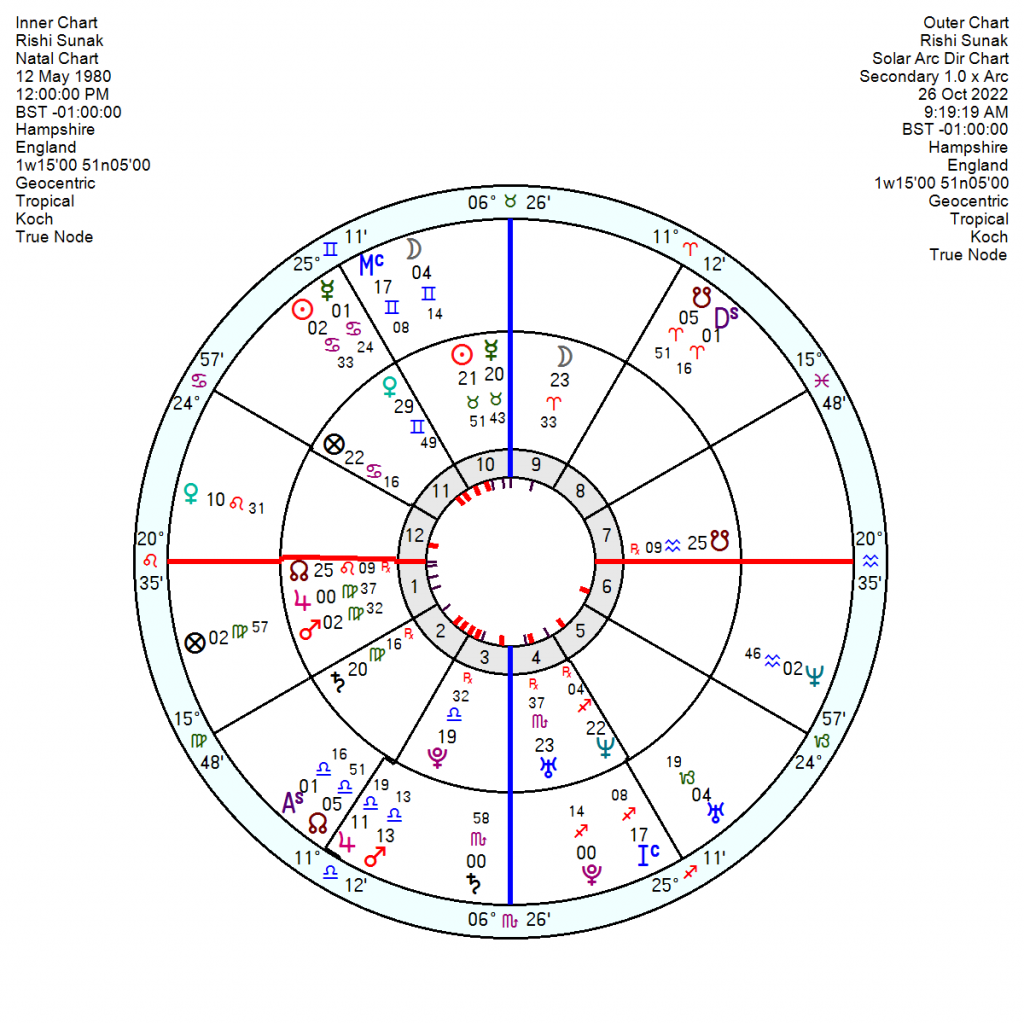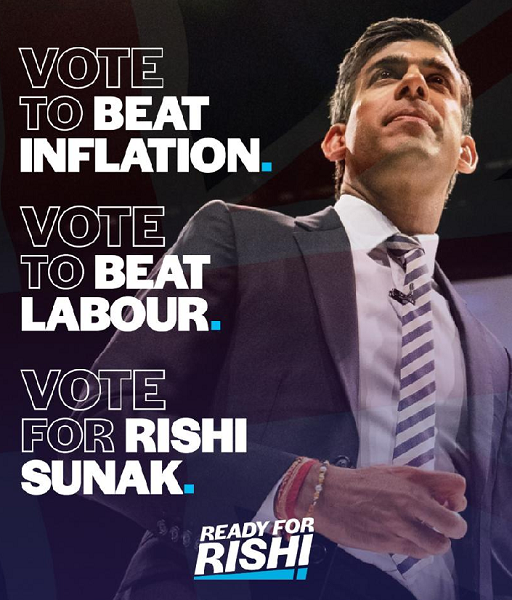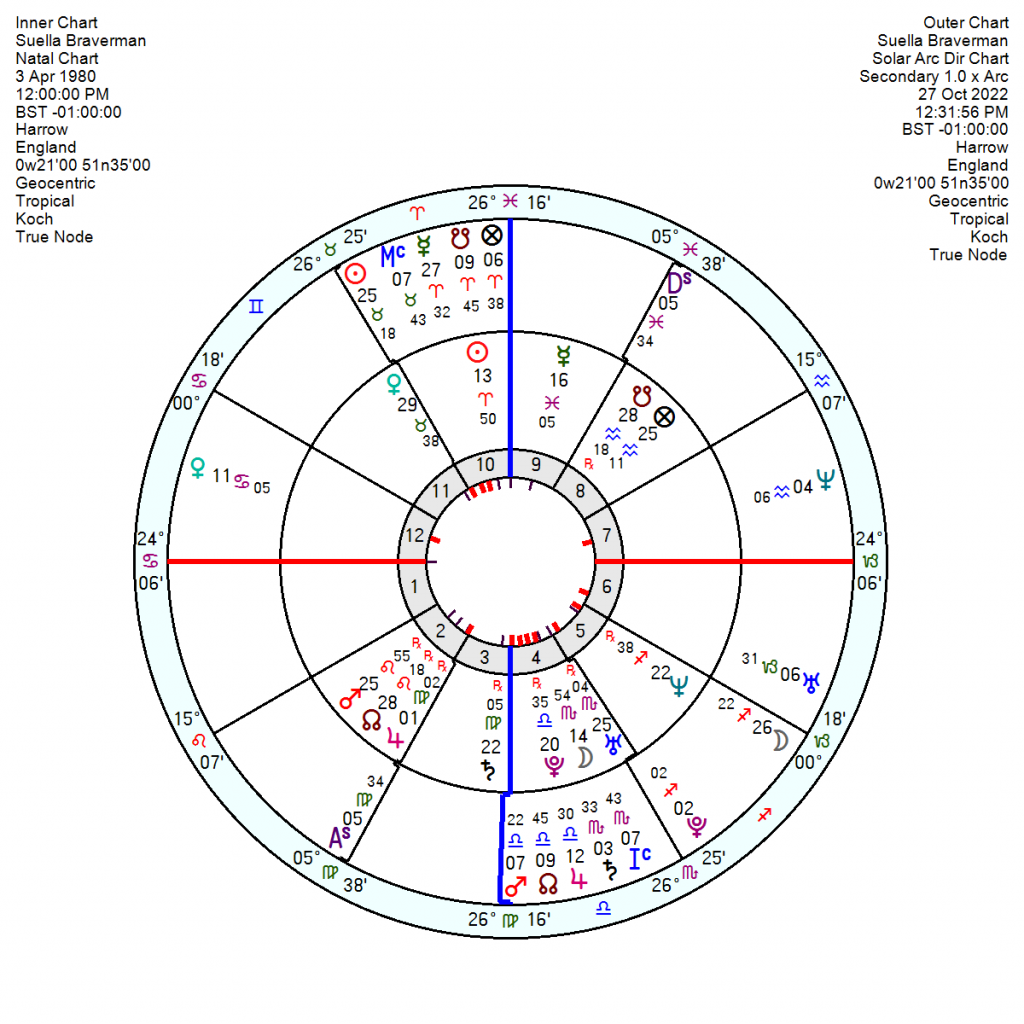 Rishi Sunak proclaimed integrity and unity as the only way forward after being sworn in by King Charles at around 11.15 am on the 25th. He took office less than an hour before the Solar Eclipse so it was a day of fevered anticipation and might be expected to be a singular term ahead.
RS's Term has a charming and friendly New Moon conjunct Venus in the 11th though with an assertive, argumentative, ideologically-rigid and chilly Air Grand Trine of Mars in the 7th trine Mercury trine Saturn in Aquarius; with a dogmatic, hostile-debate Mercury square a financial 2nd house Pluto. What helps marginally is Mars having moved out of the financial 8th as it was for the Truss Term as she tanked the economy. His PM chart is less weighed down by dirty-dealings-behind the-scenes as it was for BJ's 2nd Term which had Saturn Pluto Venus in the 12th.
The Saturn square Uranus guarantees a bumpy ride and a constant tug of war between opposing political views. Panic about failed policies will set in around mid March into April 2023, again from the autumn right through till February 2024 as the Mars is undermined by tr Neptune in square.
Although in contrast to BJ he seems sane and sensible there are questionmarks about his past judgement. A true believer in Brexit he failed to anticipate the costs and overrated the ease of making up the shortfall elsewhere. Covid fraud also occurred under his remit.
He is also stepping into a mare's nest of a mess and restoring economic stability, constitutional rectitude and national morale at a time of global austerity will take the shine off trouncing his peers for a win.
On his personal chart, this December will rack up his woes with tr Saturn back to square his Mercury, Sun and then Uranus through till mid January. Plus a panicked, failed-plans tr Pluto square his Mars/Neptune midpoint from early in December until mid January, followed by another similar through till mid February, both of which repeat from August 2023 to the New Year. Tr Uranus picks up the high-tension, sudden jolts conjunction to his Sun Mercury from June 2023 on and off till early 2025 – so it'll be a stormy ride.
He does have an enthusiastic, go-getting Jupiter Mars conjunction in early Virgo. His Solar Arc Pluto square the Jupiter now gave him a surge of luck to propel him into No 10, and his enthusiastic drive will see him through Solar Arc Pluto square his Mars/Jupiter midpoint in 2023. But what might be his undoing will be the Solar Arc Pluto square his Mars in 2024 which can bring progress to a halt.
His Cabinet choices have pulled together left and right, friend and foe which makes a change from Truss and BJ's fans-only selection. There are fewer Mutable scattergun types than before. Hunt is a Scorpio; Rabb (Deputy PM) is a Pisces; Braverman (Home Secretary) an Aries; Cleverly (Foreign Secy) a Virgo; Wallace (Defence) a Taurus; Zahawi Gemini; Dowden Leo; Barclay (Health) a Taurus, Badenoch a Capricorn, Jenrick (Immigration) a Capricorn, Victoria Prentis (Attorney General) an Aries.
Braverman is a mistake, having recently blotted her copybook over a personal email issue and only hauled in because of her right-wing ERG ties. Robert Jenrick is also deeply questionable because of past planning scandals. Though now that I look both have immigration on their plate so RS may hope to land the blame on them for failed attempts to crack the impossible problem ahead.
   One theory is he put together a 'broad church' to calm early dissension and may well reshuffle down the road.  
Add On: Understandably Suella Braverman's appointment has caused ructions, taking the edge of Sunak's proclamations about rectitude. She's a Sun Aries opposition Pluto which is not quite as bad as Priti Patel's Aries Sun opposition Pluto square Jupiter but heading that way. Her Solar Arc Sun is square her Mars, possibly still to come within months which can signal a considerable setback; and she is into a run of uncertain, panicky Neptune transits undermining her Saturn, then Mars/Pluto midpoint, then Pluto/Node and Jupiter/Pluto throughout 2023 into 2024 – all of which will dent her confidence and standing. Her relationship chart with Sunak shows up similar disappointments and losses from this coming January onwards.