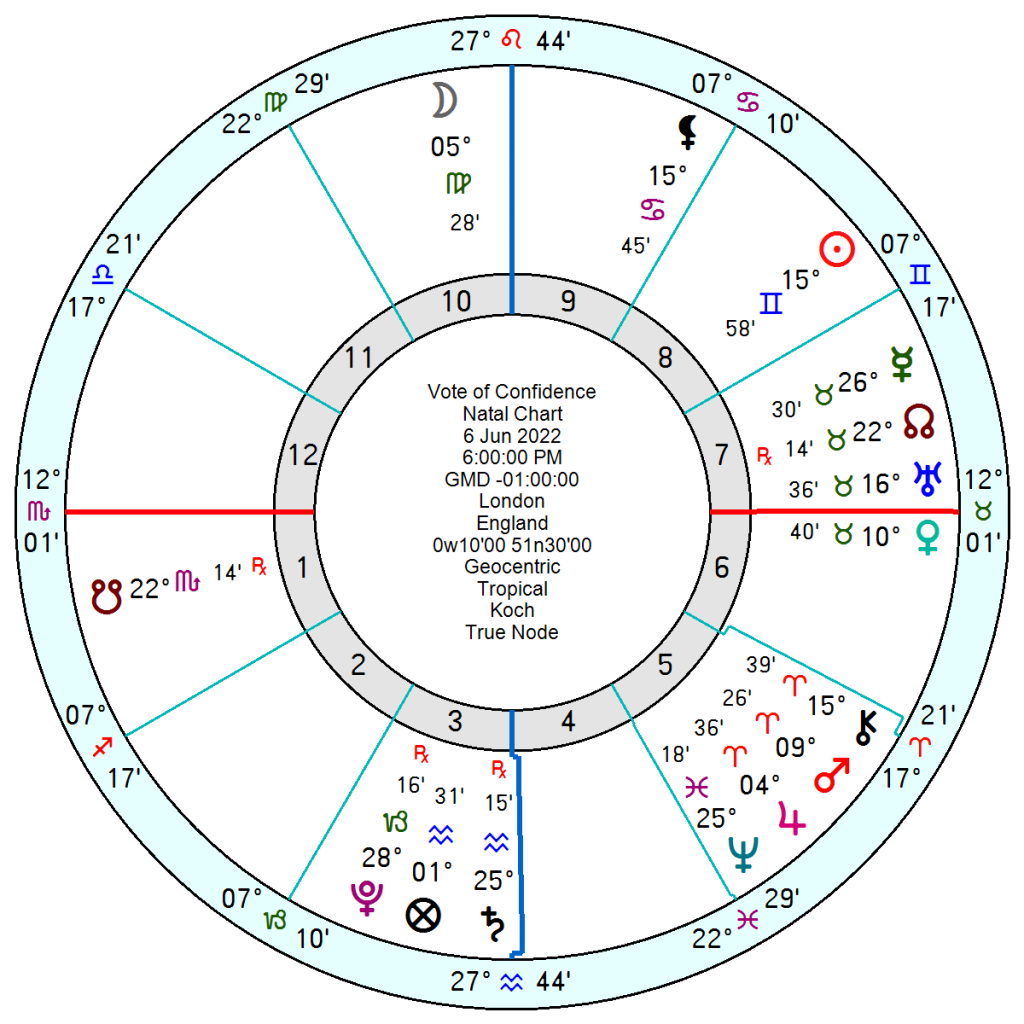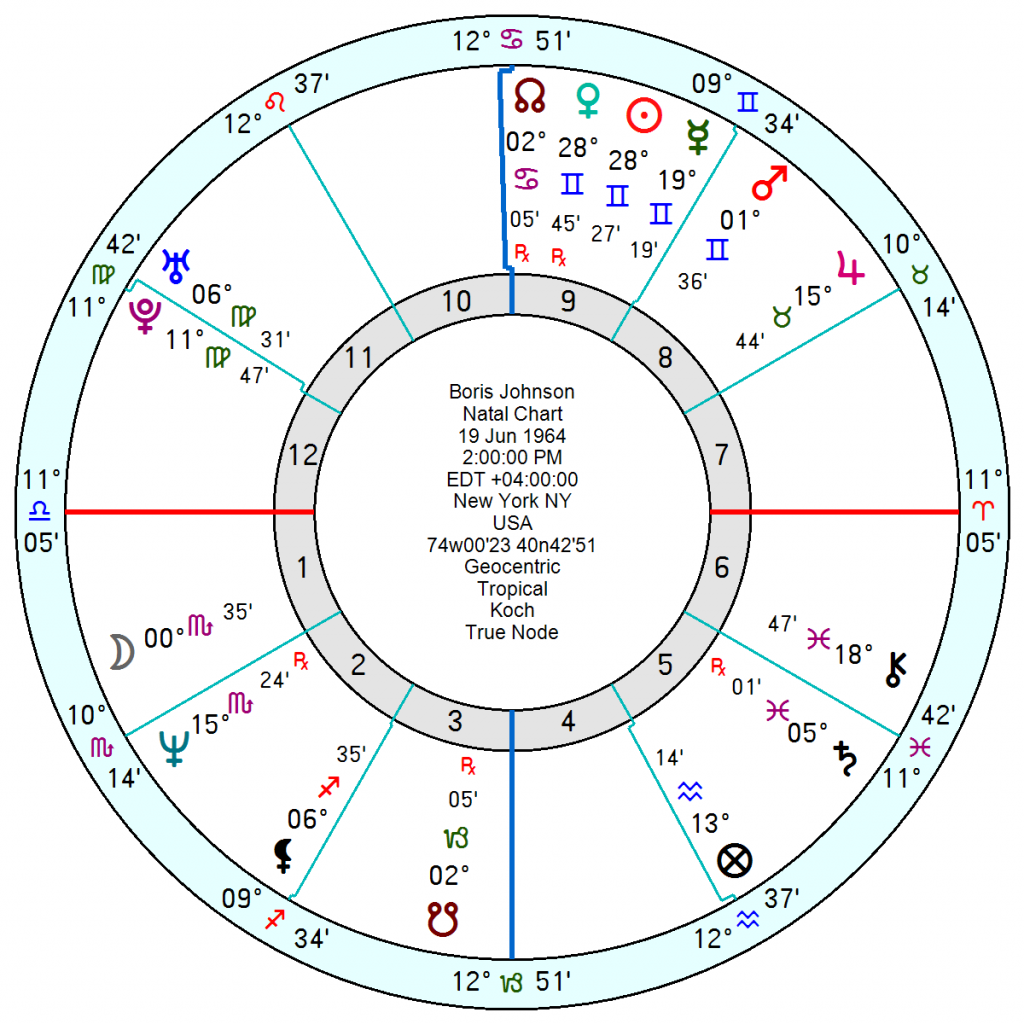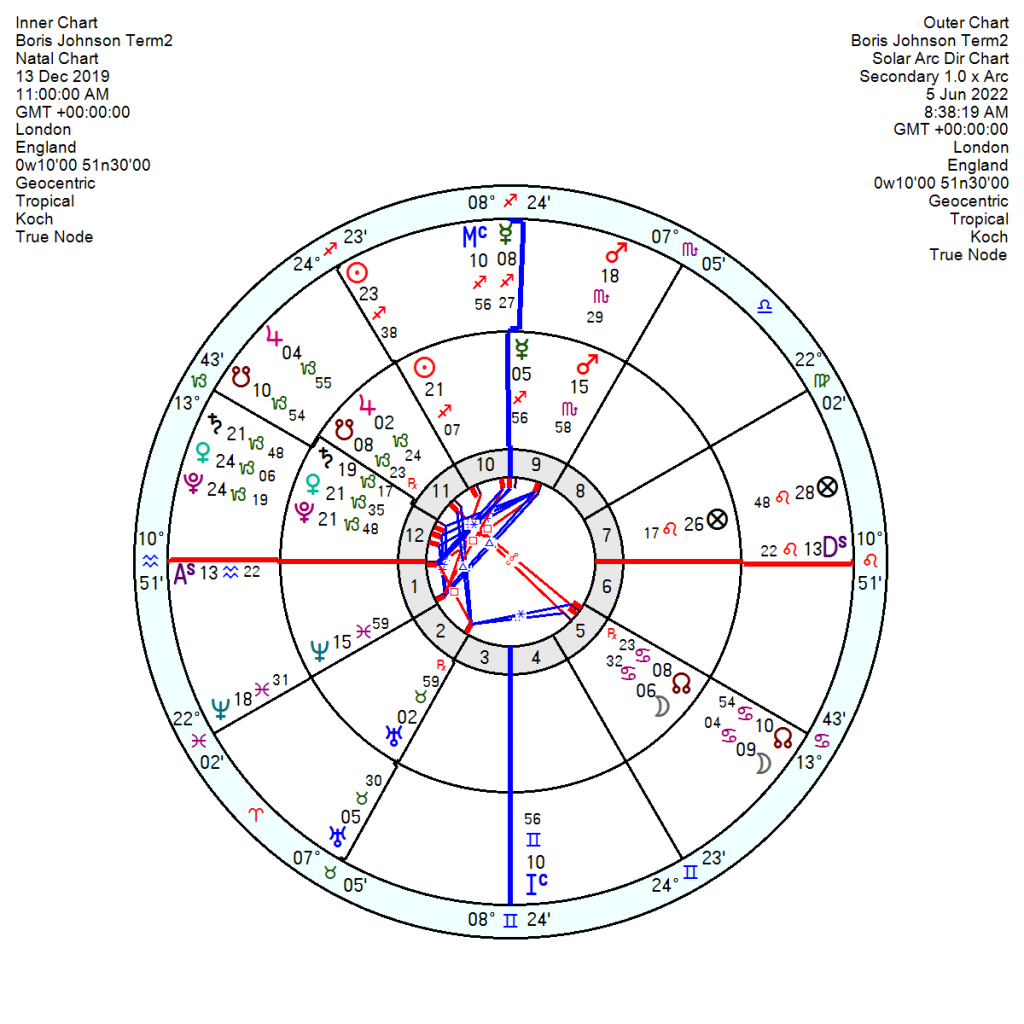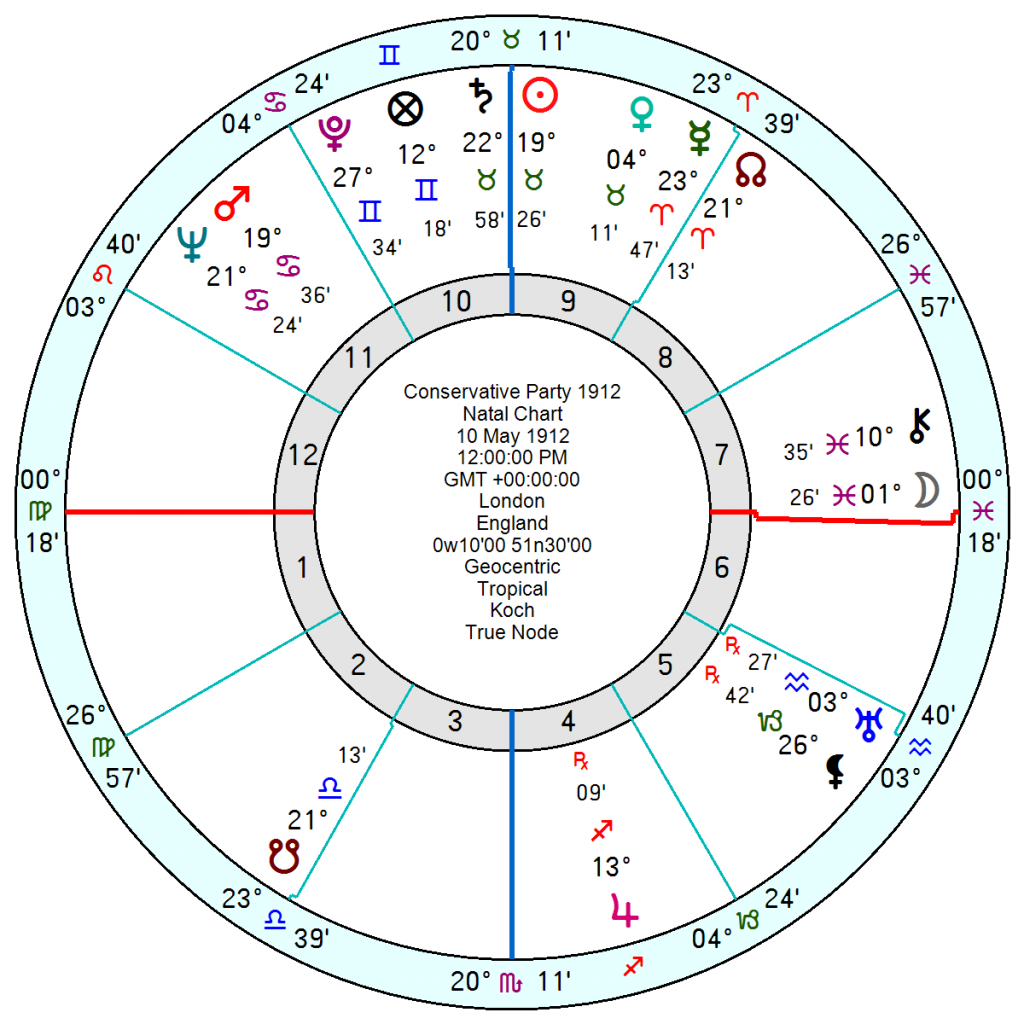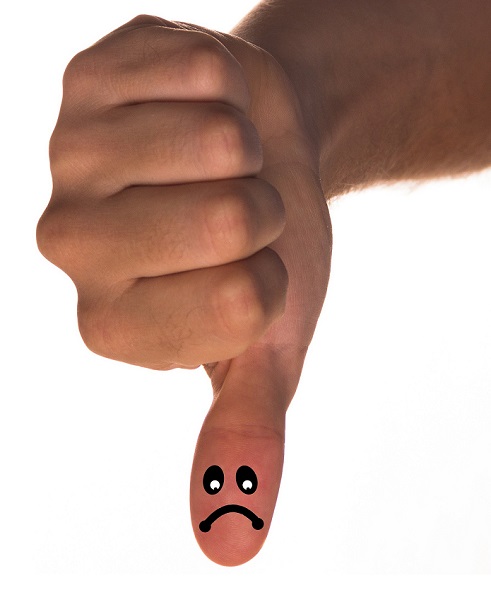 The No Confidence vote against Boris Johnson will be held at 6pm tonight, over fifty Tory MPs having stuck their oar in with enough-already letters – the requisite 15%. Mercury is exactly conjunct the destructive Fixed star Algol trine Pluto and square Saturn so the mood will be heavy. The Virgo Moon was exactly square Boris's Mars when it was announced; will be opposition his Saturn exactly as it kicks off and conjunct his Uranus and Pluto in the hours thereafter. So impacting all of his overly excitable Mutable T Square. There's also a separating Uranus in the 7th over the start of the vote.
If he loses on a simple majority it goes to a leadership election. If he wins, he is theoretically safe from another such challenge for a year. Though Theresa May resigned within months of the no-confidence vote she survived. Delaying the vote until after the June 23 bye-elections which are expected to be punishing for the Tories would have made a difference.
  There's nothing much to add to previous postings where signs are unclear about a fast exit. There are solid indications of his increasing unpopularity from Solar Arc Saturn opposition his Moon in full force now and for the next two months or more; plus tr Saturn square his Solar Arc Venus and Sun. But nothing that screams 'fired' instantly.
His 2nd Term chart, 13 December 2019 11 am, will be braced for the June 23rd bye-elections with the unholy collection of a 12th house Saturn, Venus, Pluto in Capricorn having moved to close the Saturn Pluto conjunction to absolutely exact at the moment. This was always when the s*** was going to hit the fan with underlying dirty dealings making an impact. What is worse is that tr Mars in Aries will be exactly square the Term Venus Pluto and Solar Arc Saturn on the day itself as it moves towards the trapped, destructive Mars square Pluto by July 2nd – so the mood will be aggravated and worsening in the aftermath.
Given that those around the PM may be better weather-vanes – David Canzini, a right-wing Lynton Crosby strategist, was brought in this February to reset the Johnson operation and clean up the mess. He is focused on winning the next election. Though tr Neptune conjunct his Sun/Mars midpoint this year and conjunct his Pisces Sun in 2023 doesn't suggest he's on a triumphant streak. He looks edgy in the extreme from mid this month onwards with tr Uranus opposition his Neptune as well.
Steve Barclay, Boris's chief of staff, looks in every bit as bad shape with tr Neptune squaring his Mars Venus in Gemini throughout this year and his Taurus Sun catching the Eclipses.
Guto Harri, Communications chief, 8 July 1965, is facing a run of catastrophes exactly now and throughout this year. He's on better form through 2023 but that may be because he's jumped ship and set up stall elsewhere.
The Conservative Party chart, 10 May 1912, is facing a point in destiny exactly now with the tr North Node conjunct its Saturn but all indications are that it is 2023 which will see the significant challenge for change perhaps brought about by outside pressure.
See previous post: May 28 2022 below.