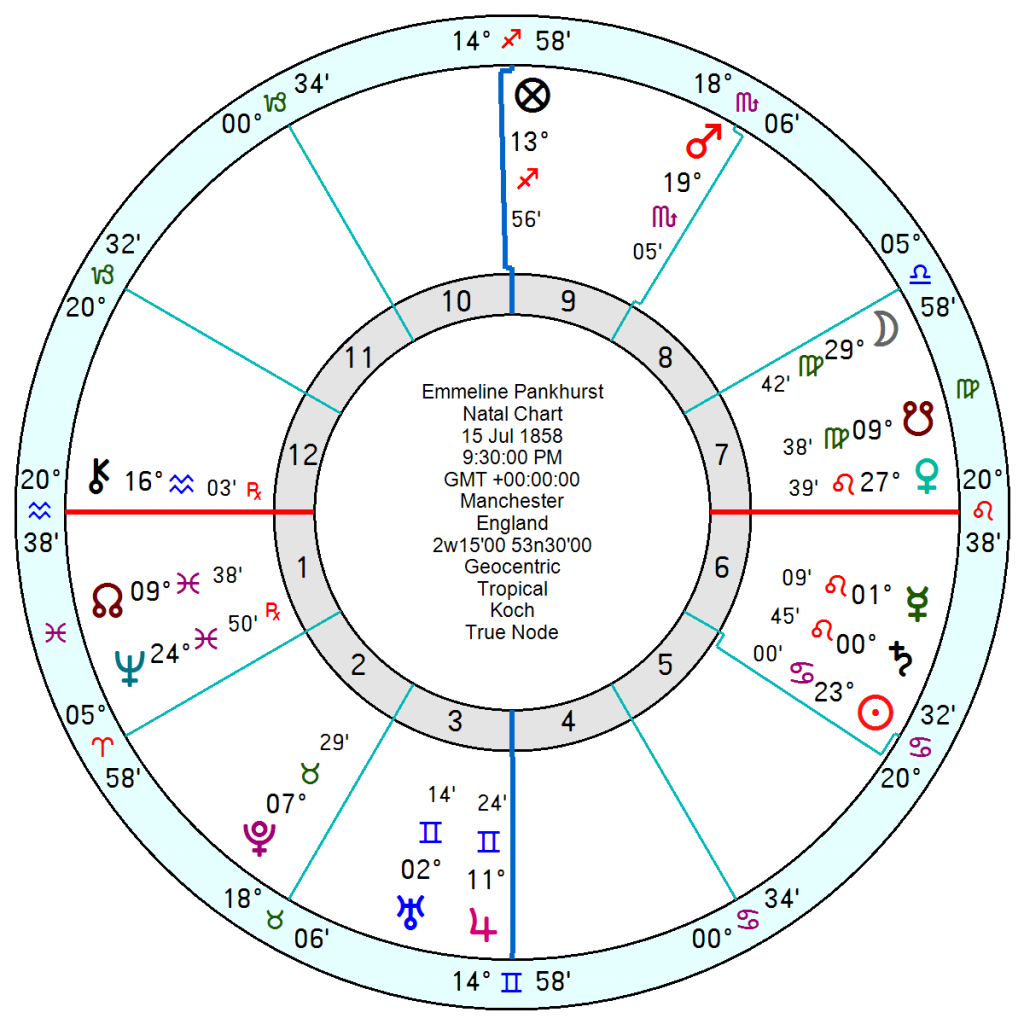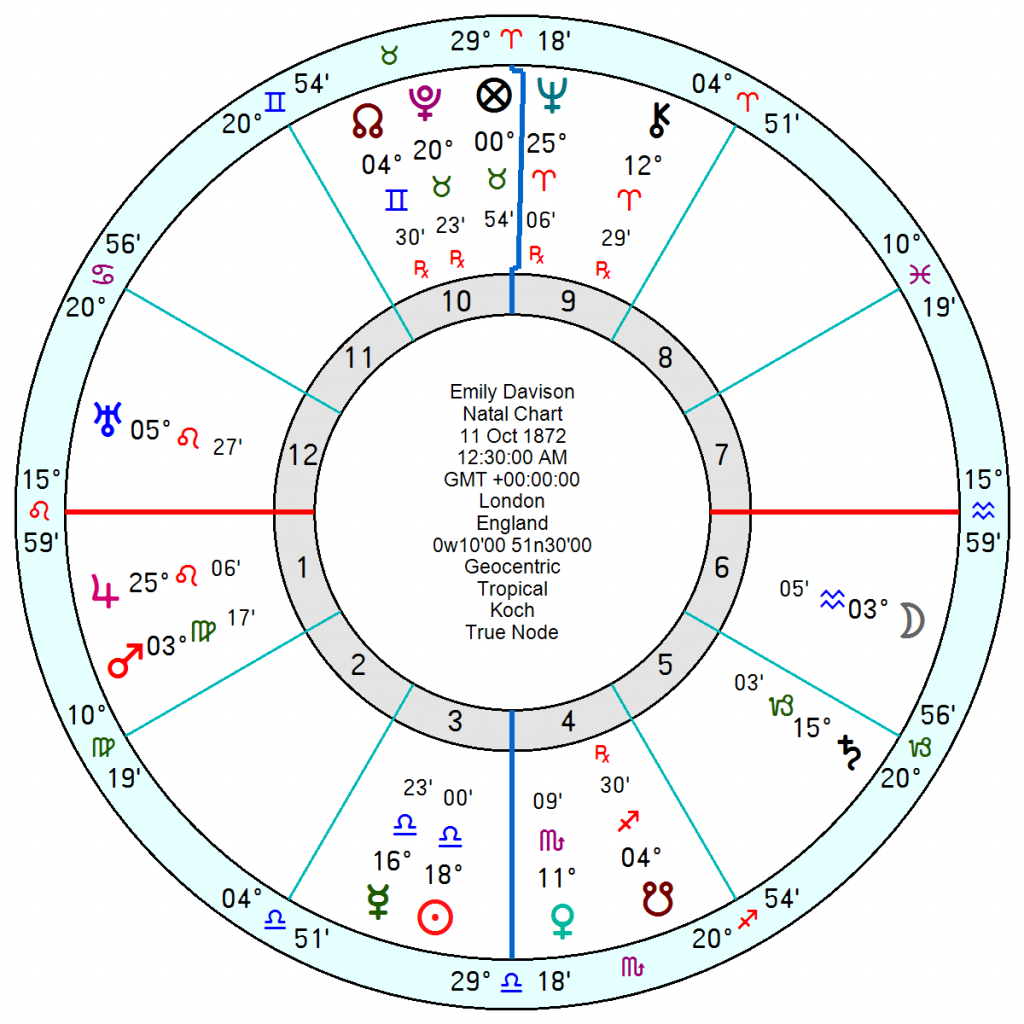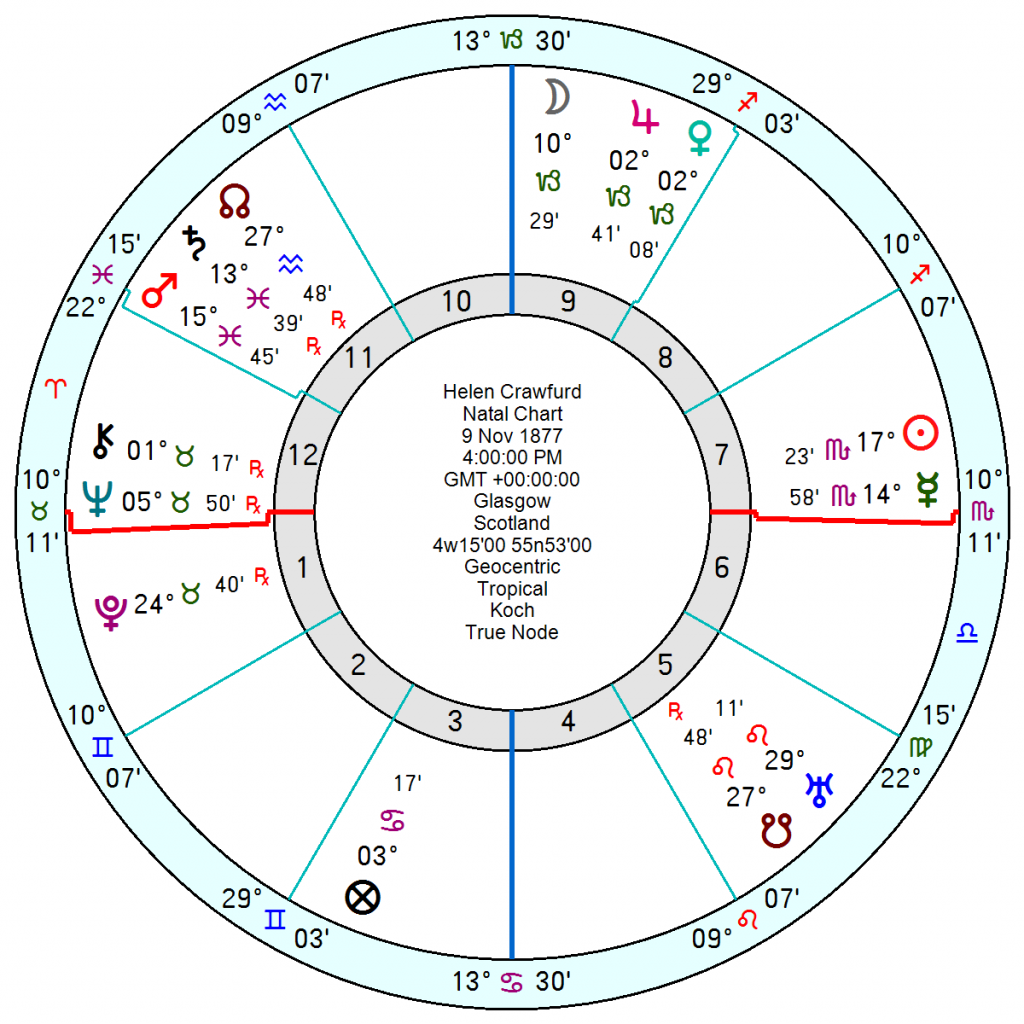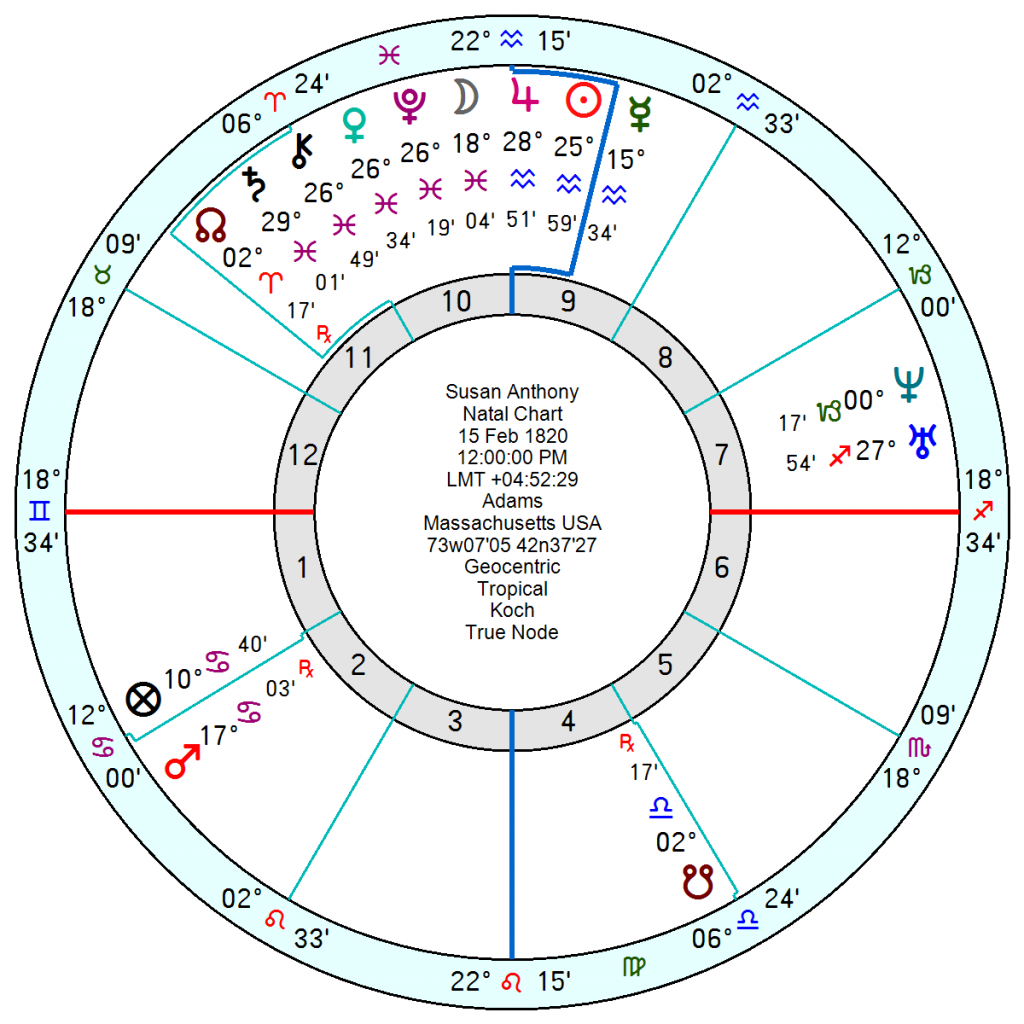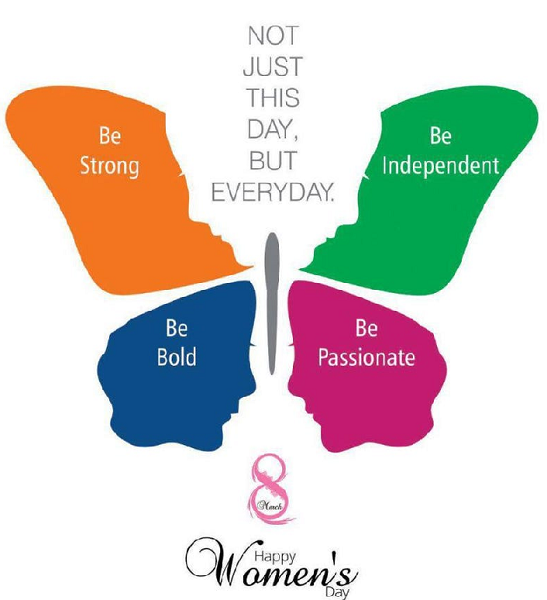 International Women's Day this year was marked by the bombing of a maternity hospital in Ukraine, which hardly bears thinking about. The goddess Hera, protector of pregnant women and childbirth, usually associated with the lunar sign Cancer, must be ready to throw down thunderbolts.
Looking back to warrior women of the past who fought to give women more power and freedom in the suffragette and early feminist movements, they come in all shapes and sizes.
Emmeline Pankhurst, 15 July 1856 9.30pm Manchester, England, was a militant activist leading the charge to get women the vote. She was a Sun Cancer in a talented and healing Water Grand Trine to Mars in ultra-determined Scorpio trine Neptune, formed into a wide Kite by Neptune opposition a Virgo Moon – making the Virgo Moon her leading planet. She also had an unyielding Pluto square Saturn.
Emily Davison, 11 October 1872 12.30am London, another militant activist, was arrested on nine occasions, went on hunger strike seven times and was force-fed. Her tactics included breaking windows, throwing stones, setting fire to postboxes, planting bombs. She died after being hit by King George V's horse Anmer at the 1913 Derby when she walked onto the track during the race. She was a Sun Libra opposition an idealistic Neptune; with her Pluto in a rules-don't-apply, super-confident square to Jupiter and a wide opposition to Venus in Scorpio; and a rebellious Moon in Aquarius opposition Uranus. Not always sensible but she made her mark.
Another Sun Libra opposition Neptune was Edith Rigby, 18 October 1872 5.30am, an arsonist, much imprisoned as she fought for her suffragette beliefs, a Rudolph Steiner advocate as well. She also had a passionate Venus in Scorpio opposition Pluto Moon in Taurus in a confident and showy square to Jupiter in Leo.
Helen Crawfurd, 9 November 1877 4pm Glasgow, a Scottish suffragette and communist activist, had a determined Scorpio Sun opposition Pluto and trine a hard-edged Mars Saturn in Pisces. She also had an Earth/Fire Grand Trine of Neptune trine Venus Jupiter in Capricorn trine Uranus in late Leo. Her Uranus was in a revolutionary's square to Pluto. Her upbringing looks tough which would make her fight for the underdog.
Susan Anthony, 15 February 1820, an American suffragette and anti-slavery campaigner, had a Sun Jupiter in Aquarius sextile Uranus Neptune conjunction which is turn squared a passionate Venus Pluto in Pisces.
What isn't surprising across the charts are strong Plutos, especially in aspect to Venus; and high confidence from Jupiter. Less expected is a Neptunian theme across most – many of these women were not only idealistic but had strong religious beliefs.
  If there is a difference between the suffragettes and the later feminists Like Gloria Steinem, Betty Friedan and Germaine Greer, it's a sense that the later generation were less emotional (Water signs) and more cerebral (Air signs). The feminists relied on words and communication, not actions to get their message across. Steinem has an assertive, go-ahead Sun Mars in Aries with a revolutionary T square of Pluto square Uranus and in a confident square to Jupiter; plus Venus Saturn in Aquarius.
Friedan had an Aquarius Sun opposition Neptune with an emotionally intense Moon opposition Pluto square Venus. Greer has an Aquarius Sun opposition Pluto square Moon Uranus in Taurus.
Overall what is needed for an activist is a burning sense of injustice for the underdog, confidence, courage and undentable determination.