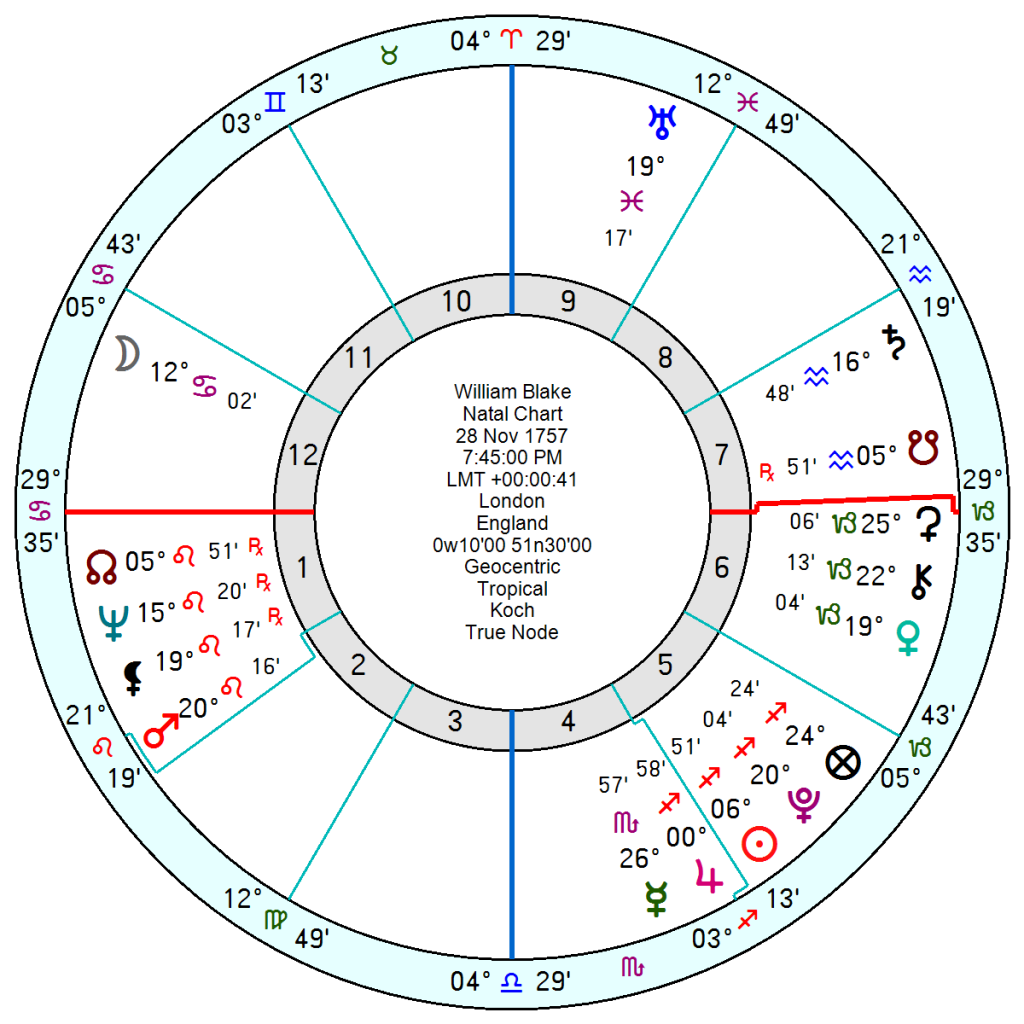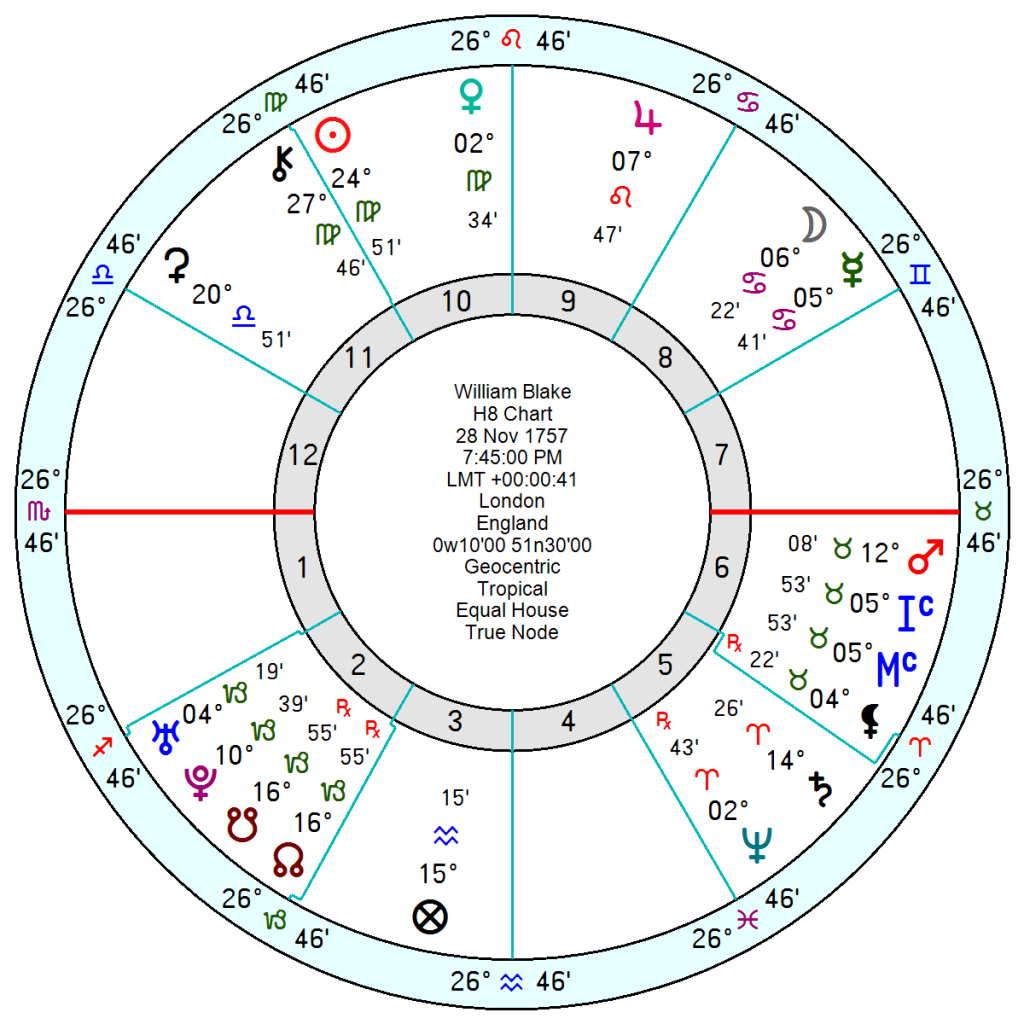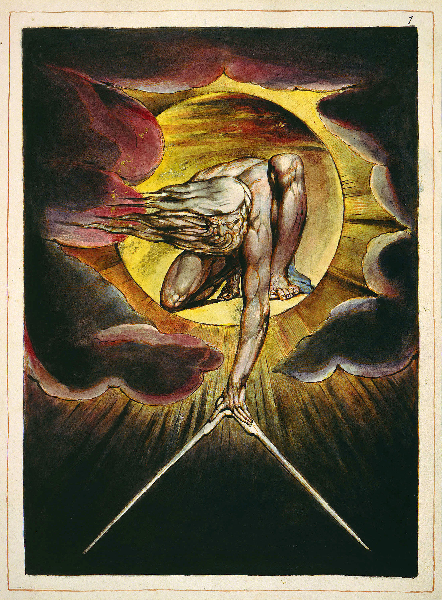 William Blake, the 19th century visionary writer and artist is such an influential giant in literary and artistic circles it is astonishing he was regarded so negatively during his life. One review of his illustrations called them a display of "nonsense, unintelligibleness and egregious vanity." His obituary in the Literary Chronicle described him as "one of those ingenious persons … whose eccentricities were still more remarkable than their professional abilities." Since his death, his influence and stature have risen to establish him amongst the greats.
He was born 28 November 1757 7.45pm (from memory) London, was home educated, with the Bible having a profound influence on him, began writing at an early age, claiming to have had his first vision, of a tree full of angels when he was 10. His visions had a lasting effect on his art and writings. He trained as an engraver and later produced his own illustrations.
He was an enthusiastic Sun Jupiter in Sagittarius in the 5th house on this birth time. Though with a life filled with visions I'd have expected a stronger 8th house so the timing may be out. His Jupiter would give him the vision, ideals and enthusiasm to keep going even in the face of little appreciation. What may have held him back in his lifetime was an afflicted Mars in Leo which was conjunct Neptune, trine Pluto, opposition Saturn and on the focal point of a Yod inconjunct Uranus sextile Venus in Capricorn.
Mars in Leo is flamboyant but blocked by the Saturn opposition it would not be ego-supportive. Mars Pluto tends to accompany a lifetime of frustrations, milder since in trine than a hard aspect, but still in operation. A Yod focal point Mars can be self-defeating and being out-of-tune with himself, he'd also present an awkward face to his environment.
His Leo North Node does point to him being a trailblazer but looking to his harmonics to explore why he made so little headway in his life he did have an exceptionally strong 8th Harmonic –
8: A fated number. "Karmic debt". Soul wounds, bad luck or loss may follow this number, which also gives an abundance of strength and stubbornness in the face of difficulties. The road to success is often bumpy and hard, and if it comes easy, or at all, it will not necessarily bring happiness.
Notable also are his 20th harmonic and 13th.
20: A major upheaval that leads to an awakening which changes the ambitions, ideals, goals or plans for one's life. Not a good material number, but is considered good for spiritual development. Delays and obstacles.
13: Upheaval, change and rebirth. This number is associated with exploration, genius and breaking with the orthodox. It warns against the unknown and the unexpected. It requires adaptation to change to be successful.
He also had marked leaving-a-legacy, immortality 17H; a creative 5H; and global-name 22nd.
[Interesting, not the chart I would have expected with such a raging Mars – and I would question the birth time.]
"To see a World in a Grain of Sand
And a Heaven in a Wild Flower,
Hold Infinity in the palm of your hand
And Eternity in an hour."
― William Blake, Auguries of Innocence
"He who kisses joy as it flies by will live in eternity's sunrise."
― William Blake
"In the universe, there are things that are known, and things that are unknown, and in between, there are doors."
― William Blake
"I was angry with my friend:
I told my wrath, my wrath did end.
I was angry with my foe;
I told it not, my wrath did grow.
And I water'd it in fears,
Night & morning with my tears;
And I sunnéd it with smiles
And with soft deceitful wiles.
And it grew both day and night,
Till it bore an apple bright;
And my foe beheld it shine,
And he knew that it was mine,
And into my garden stole,
When the night had veil'd the pole:
In the morning glad I see
My foe outstretch'd beneath the tree."
― William Blake, Songs of Experience