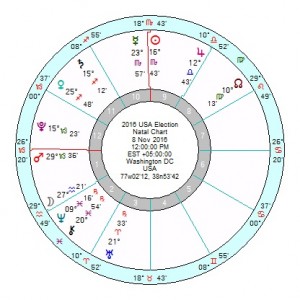 It's anyone's guess as the dreaded day is upon us after 575 days of campaigning and $2.1bn spent. The greatest 'known unknown' since whenever as it goes down to the wire, too close to call, with polls all over the place. Scandals galore tarnished both candidates, though in an odd way sticking more to Clinton than Trump – in the USA anyway. As far as the rest of the world is concerned, it awaits in horror at even the possibility of a Trump Presidency.
Hollande of France said: "His excesses end up giving a retching feeling." Only North Korea described him as "a wise politician and a prescient presidential candidate."
"It needs no underlining that a Trump win would be an indelible, eternal stain on the US. How a pussy-grabbing, race-baiting, tangerine-hued pantomime ogre with the attention span of a labrador puppy, the moral sensibilities of a slum landlord, the verbal dexterity of a stroke victim, and the default vindictiveness of a mafia capo could be so close to such an office remains indescribably hard to believe." Matthew Norman, Independent uk.
But here we are. The midpoints for Election Day do give a clear indication of the over wrought nerves, alarm, consternation and trepidation around as the world awaits the verdict.
Sun = Saturn/Pluto – fanatical, mass struggle, cold, stuck.
Sun = Uranus/Neptune = Uranus/Node, which like Saturn/Pluto are all at 0 degrees Cardinal – upsets, confusion, can be violent, family quarrels, lack of self-control, highly strung.
Saturn conjunct Sun/Pluto and = Mars – ruthless striving for power, stuck, discouraging, angry.
Uranus square Mars/Pluto = Neptune – violence, calamity, cunning and deceit.
Pluto = Sun/Saturn – road blocked and depressed.
The Sun Saturn Pluto theme repeats in various combinations.
From the Astrological History of the World on Saturn Pluto:  "Tremendous resistance to adversity and a formidable defensiveness come to the fore when these two tough, essentially masculine energies come together. Their appearance in tandem is usually an invitation to a walk on the dark side of life. Saturn, rigidly disciplined, status-driven, melancholy and authoritarian, has no reason to mellow when combined with Pluto's power–hungry need for control. If anything, both planets become more entrenched when their energies are merged. Achievements of substance can occur, but only through slow, patient hard labour and usually a good deal of suffering, too. Stamina counts when they are around; some sacrifice is always demanded. Liz Greene talks of the obsessiveness, intense frustration and self-destructive quality of the merging of these two energies." Intimations of what is to come with the Saturn Pluto conjunction in Capricorn towards the middle and end of this Presidency.
Though for Clinton fans there is the hope of this year's, now waning, Saturn square Neptune which usually favours women in power.