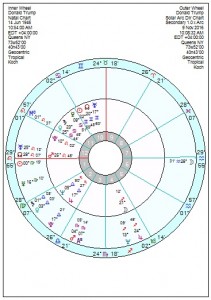 Repressive Saturn Pluto, historically associated with suppression of religious difference and the imposition of great hardship on underdogs, clearly won out over the more liberal minded Saturn Neptune. Trump's victory may be taken as a victory for the little man against the capitalist overlords; but it is in part xenophobic and racist, a vote against those-not-like-me.
An astrological apology: It's where getting invested in or repelled by one candidate rather than staying detached gets in the way of interpretations. Trump has his Solar Arc Pluto conjunct his Jupiter, exactly now and over the Inauguration. On anyone else's chart I'd have said a win was a no-brainer. But it was so beyond unthinkable, I wriggled around trying to find other reasons for some other giant success in his life.
Tr Pluto is also back to square his Jupiter from early January, and repeating on and off till late 2017. This will puff up his self-importance and, as last year, push him into going a step too far, careering off like a loose cannon, making wild comments and assuming in his grandiosity that rules don't apply to him. More minutiae in later days.
His aggravated/likely war zones are China with his Mars Descendant there. Libya and south through central Africa and north through eastern Europe where his Mars MC runs. And the eastern seaboard of the USA – relocating his chart to Washington DC puts his bombastic, over-bearing Mars in Leo exactly on his Ascendant.
Hopes for restraining him lie with Mike Pence, his VP, who made a decent showing at his debate – right-wing, evangelist, not pro-LGBT, but with political experience and spoke out against Trump's more intemperate remarks about women and Muslims, and not a huge fan of Russia's efforts to prop up Assad in Syria.
He could be well positioned in 2020 with tr Pluto sextile his Jupiter, having lived through some rough patches before then.
That just about puts the tin lid on this year. I could make some unwise comments about democracy being too important to be left to the mob, but probably I shouldn't.