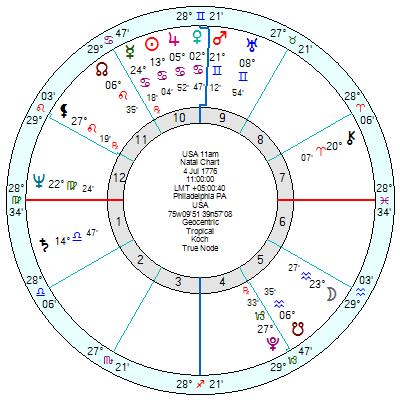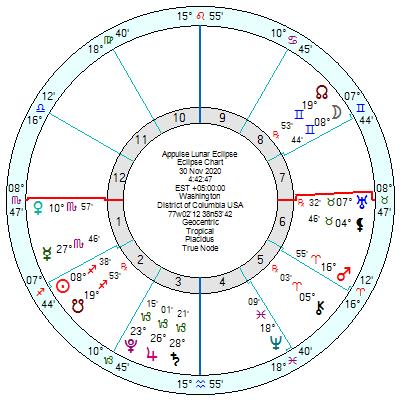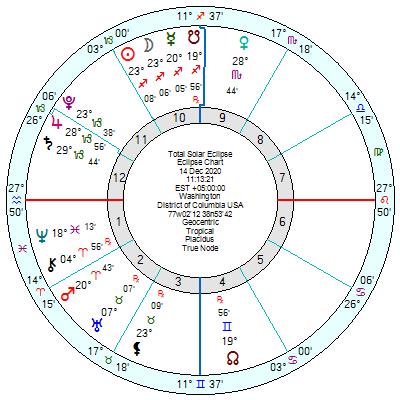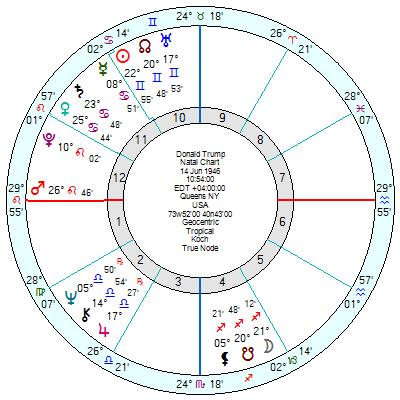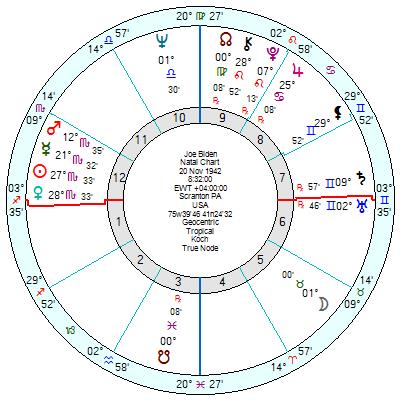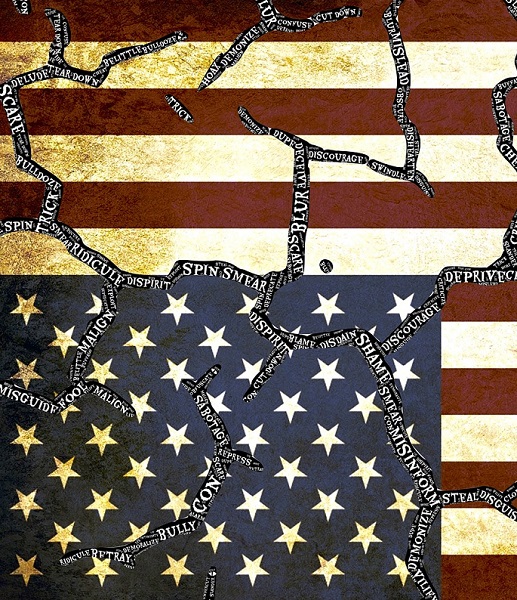 The astro-signposts to look out for in what is undoubtedly going to be an acutely muddled and aggravated few weeks after the USA election. Even if Trump loses by a landslide he's still got almost three months of the graveyard shift to cause havoc. If it is a closer result in key states, he'll flail around, spraying lies about fraudulent ballots in all directions.
The Lunar Eclipse on 30 November at 8 degrees Gemini Moon/Sagittarius Sun will collide with the USA's Uranus in Gemini which may spring a few surprises, spark off a few rebellions and wild claims. Mishandled Uranus on an Eclipse can limit freedom, though there is the potential for taking a new road. That Lunar Eclipse in addition to having the see-saw Full Moon also has a Uranus opposition Venus and a frustrated Mars square Pluto – so the divisiveness of recent times won't have settled much.
The Total Solar Eclipse in Sagittarius on 14th December, the day when the Electoral Collage convenes, is in opposition to the USA Mars in Gemini and conjunct Trump's Moon opposition his Sun. It will bring a combative mood so arguments will flare and compromise won't be the mood of the country or the states involved.
Where Trump is concerned, an Eclipse conjunct his Moon will test the foundations on which his life has been built with his public image coming under scrutiny. If he's not standing on solid ground and if he insists on hanging on to old habit patterns it could all crumble to dust. An Eclipse opposition his Sun indicates a major turning point and crisis, which will force him to face that he is not always right. If he fights the need for change it will leave him kicking and screaming.
The December Eclipse is in a Saros Series that Bernadette Brady says has a strong emotional intensity and acute frustration, a sense of fatedness and not being in control. Avoid rash action until it settles down.
December does look extremely fraught and bad-tempered up in the heavens with the final Mars in Aries square Pluto running to the 23rd, which won't be fun. Mars moves out of its long stint in Aries where it has been causing havoc for some months on January 6th. But just to be un-useful it moves into Taurus and immediately rattles up Mercury in Aquarius, squares Saturn and is conjunct Uranus so January won't be a peaceful month.
The USA chart apart from the Eclipses – has a blocked tr Saturn conjunct Pluto November 14th to 26th which will be discouraging. Tr Uranus square the Leo Node 21 December to 8 February 2021, which may be more significant than it sounds since the US 'leadership' Leo Node does get rattled easily, viz tr Neptune in opposition for 9/11.
There's also a return of the toxic-rhetoric and hostile-debate tr Pluto opposition the USA Mercury 26 December to 27 January 2021 (repeating later in the year).
  Trump's chart has tr Neptune in an undermining opposition to his Progressed Moon exactly now; a mildly upbeat tr Pluto trine his Mars/Jupiter until November 20th and then a raft of difficulties. Tr Pluto from November 20th till December 26th will oppose his Mars/Node for enraging setbacks, with the discouraging uphill-slog of tr Pluto opposing his Saturn at the same time. Then 26 December to 27 January he has more tantrum-inducing frustrations from tr Pluto opposition his Sun/Mars midpoint; his poisonous-rhetoric and opposition his lying Mercury/Pluto midpoint; and opposition his wounded Venus/Saturn midpoint. He'll be like a cornered cobra.  His Solar Arc Saturn will also within weeks from now be on the degree of the conjunction to his 2nd house Neptune, a harbinger of the financial meltdown to come later in 2021.
Joe Biden, birth time being accurate, has two panicked Neptune transits to separate Mars midpoints at the moment. Part of which could be campaign uncertainties and also the realization of the responsibility he has to face if he gets in. One of them lifts from November 20th onwards, the other trails on until 26th January. He'll experience an upheaval from tr Uranus square his Pluto from 18th November to 19 December which can go either way – as with Netanyahu into power – or it will bring a rocky ride. He looks marginally upbeat from tr Pluto trine his Mercury/Jupiter midpoint November 20th to December 26th. And is very definitely looking enthusiastic and confident from January 26th to late February with tr Pluto opposition his Jupiter. That successful phase rolls on through till August with tr Pluto trine his Sun/Jupiter and Venus/Jupiter, plus tr Uranus square his Jupiter/Node across mid year and on. Whatever happens he looks in better spirits in 2021/22 with the exception of an insecure tr Uranus opposition his Mars late May on and off for a year.
Trump and Failure: Past experience of how Trump faces losing battles are scary and instructive. Chicago Trump Hotel ran into huge debts in 2008, which for most would have meant ruin. But he counter-sued the lender Deutsche Bank for "predatory lending practices" and sought $3 billion in damages. He was then forgiven $270 million worth of debt.
In 1973 he slammed back at the US government over its charges that Trump's rental properties had racial discriminatory practices and counter-sued them for $100 million. Two years later it was settled in private with an agreement that the Trump properties change their practices.
He follows Roy Cohn, his early mentor's diktat – Attack, Don't Settle, Never Apologize.
"You cannot disgrace a disgraceful man; you cannot make a shameless man feel ashamed; you cannot make a cockroach a cockroach, because it is already a cockroach." Mehmet Murat Ildan