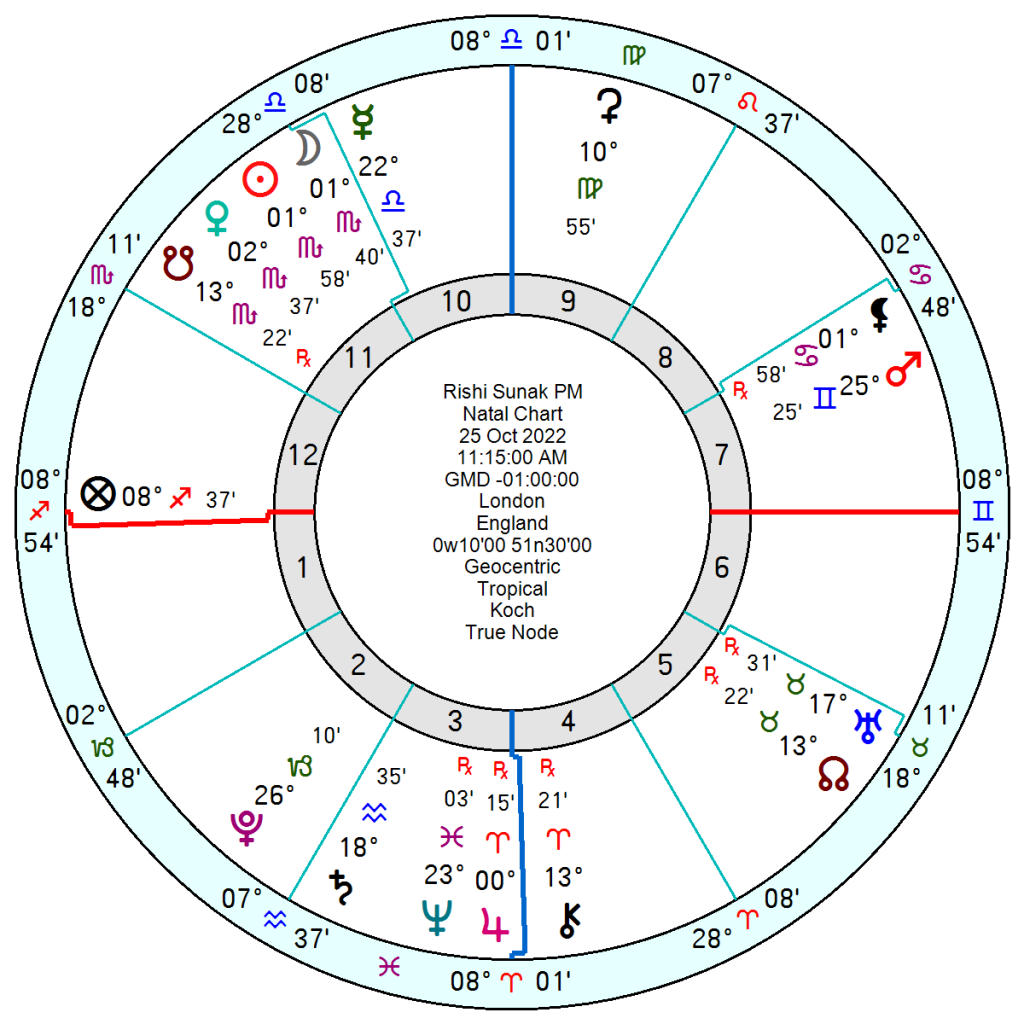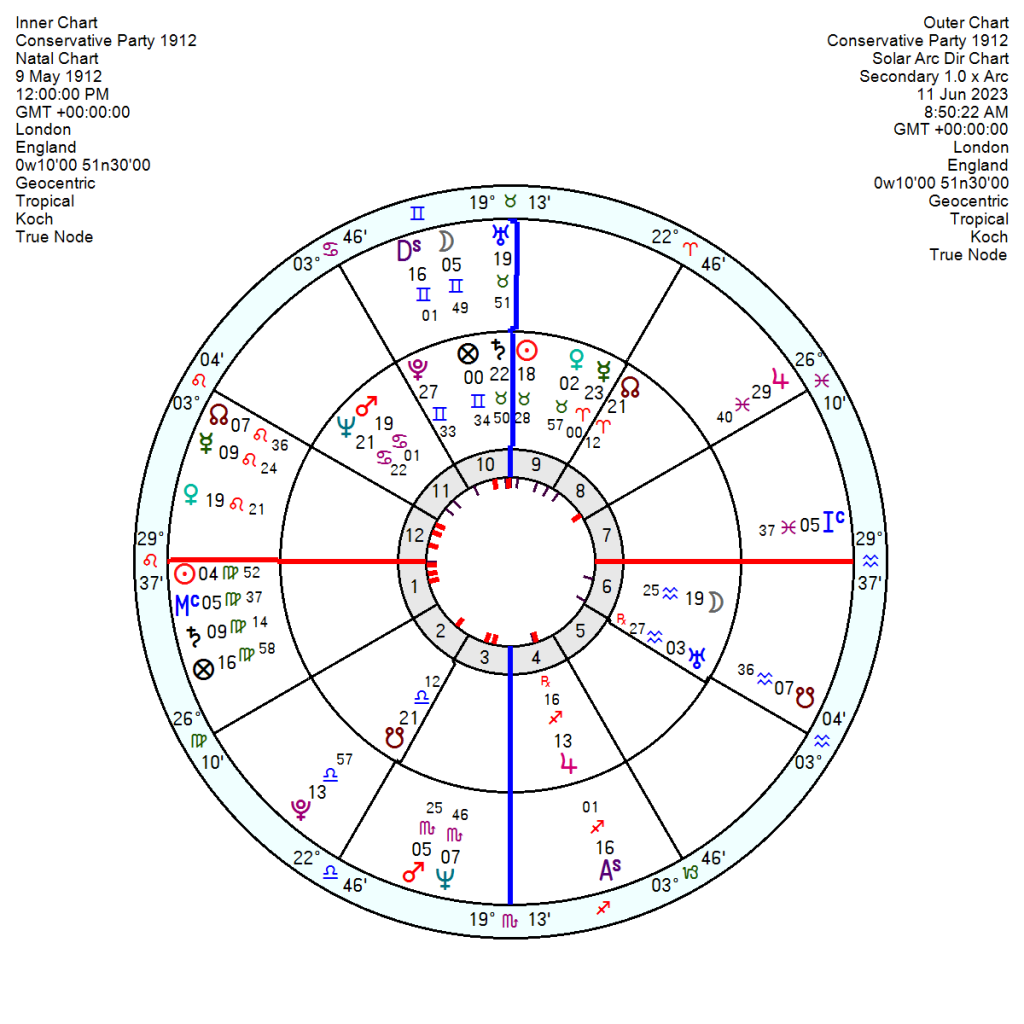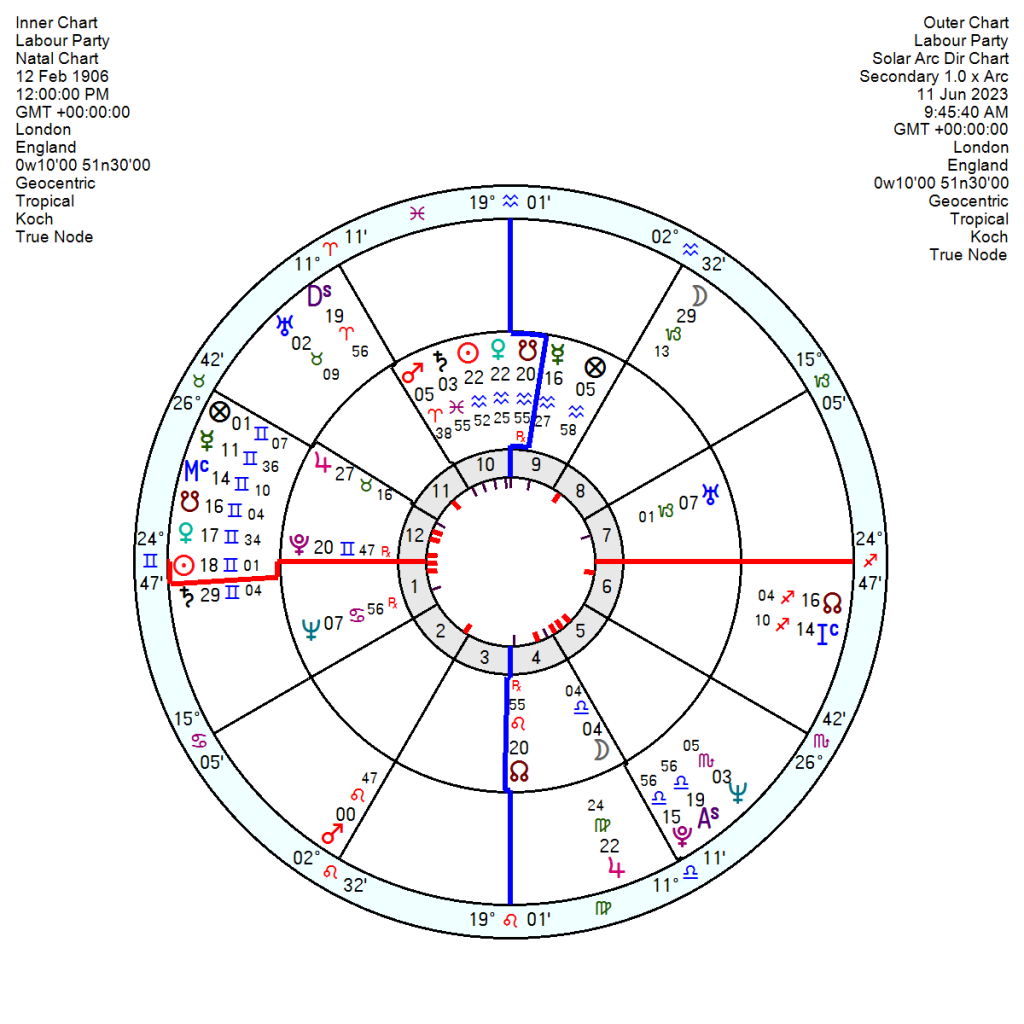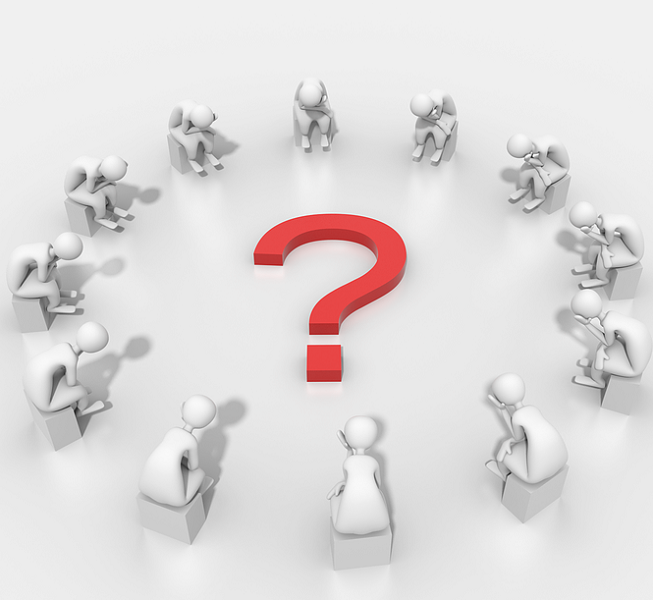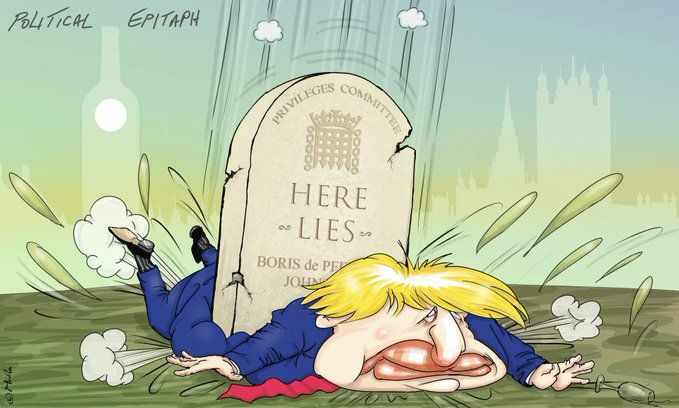 Boris Johnson flouncing off in a narcissistic rage, spewing bile and blame in all directions, appears to have shot his bolt with only a few die-hards still bleating his cause. There will be three byelections when Tories' polling numbers are down but the party on present evidence looks unlikely to tear itself apart.
Though Rishi Sunak's Prime Ministerial term, 25 October 2022 is generally in a sinking, panicky year with the failure-ridden tr Neptune square Mars back this October and in early 2024. The Tory Party 1912 chart similarly has power-ebbing-away with tr Neptune square the Pluto exactly now and running on and off till January 2025. Sunak's own personal chart has a disastrous run from this August through the autumn, repeating into early 2024.
What is interesting astrologically-speaking is Sunak's personal Sun Mercury in Taurus at 20/21 degrees is catching the tr Uranus conjunction exactly now – and rattling up the Conservative Party 9 May 1912 chart with its 18 degree Taurus Sun and 22 degree Saturn in Taurus in July – and for both that will rattle and shake right through into early 2024.
Uranus usually says – change or stagnate. And it is not a prospect that Taurus regards with any enthusiasm since Taurean strength is perseverance along the same track. Where the Tories are concerned this is only the beginning since tr Pluto will move to exert pressure on their Venus square Uranus through 2024 to 2026. Like it or not, they will have to shake off the old and get onto a new track.
The Labour Party 12 February 1906 is also on alert for change from this July onwards with tr Uranus square its Sun Venus and since that links into its Jupiter in Taurus they should be on a lucky run through 2024 into 2025, the beneficiary of Tory woes. But their winning streak may well end up running into the buffers in later 2025/2026. The Labour 1900 chart and Keir Starmer's also indicate calamities come 2026.
The LibDems, 3 March 1988, will be upbeat this year but move into disaster territory in polling terms once tr Neptune Saturn move into Aries in 2025 for several years onwards. The Greens look to be limping as well.
Into confusing times – more of them. Except for Boris who once he recovers from his tantrum will sail off into the sunset to earn gzillions from speaking, publishing and the like with Jupiter moving through his 8th house from this July and thence onto his successful 10th. Regrettably since life is unfair he will continue to be a vengeful presence somewhere in the spotlight. Wife Carrie does have tr Neptune conjunct her Pisces Sun this year and next which with a new baby may just mean a drifting and daydreaming spell in a backwater, but not contented.
For previous Boris Johnson posts: 30 May 2023; 15 January 2023; 23 July 2022.
Add On: Criticism of Johnson has been excoriating from several well known commentators. Max Hastings who once gave him a job as a journalist and then fired him. "Selfish, ruthless and a stranger to truth, this scoundrel destroyed respect for Britain. He is perhaps the most selfish human being I have ever met, indifferent to the welfare of anyone save himself. It is striking that he has few, if any, personal friends. He demands loyalty, but is incapable of giving it to others. —–Tony Soprano would find him a tad ruthless.
Biographer Anthony Seldon: "The damage Boris Johnson has done is beyond measure. Britain has been left weaker by a prime minister who demeaned its institutions and sullied all those who came into his orbit. He ran the government as if he were the wayward manager of an amateur theatre company, full of histrionics, changes of mind and cliques. Politicians, aides and officials whom we spoke to for the book attest to the fact that he was quite incapable of telling truth from falsehood: that "he lied morning, noon and night" was a regular lament. '
Times journalist: Jenni Russell. "Forget partygate for the moment. Think back to 2016. Johnson backed Brexit not because he believed in it but because he calculated that by doing so he'd get the backing of the Tory right and outflank George Osborne as next Tory leader. If Johnson had stuck to his europhile views Brexit would have lost, he'd have succeeded Cameron in 2018 or so, and could be heading for his second term as Tory PM in a far more prosperous Britain than today — not the divided, anxious, disillusioned, poorer country that's the Johnson legacy."
William Hague: No one in modern British political history has so quickly squandered immense goodwill — with sadly irredeemable flaws.
The most serious of those has been a tendency to damage the institutions around him – the Supreme Court was dragged into politics to strike down an unreasonable prorogation of parliament. The Conservative Party was driven to a mass resignation of ministers to terminate an untenable leadership. Now, fair-minded MPs are attacked as a kangaroo court engaged in a witch-hunt. Even as he bolts out of the door, Boris pulls out a few bricks from the wall of another vital institution, parliament, and leaves a stain on the carpet of one that is less vital but a part of British life, the honours system.