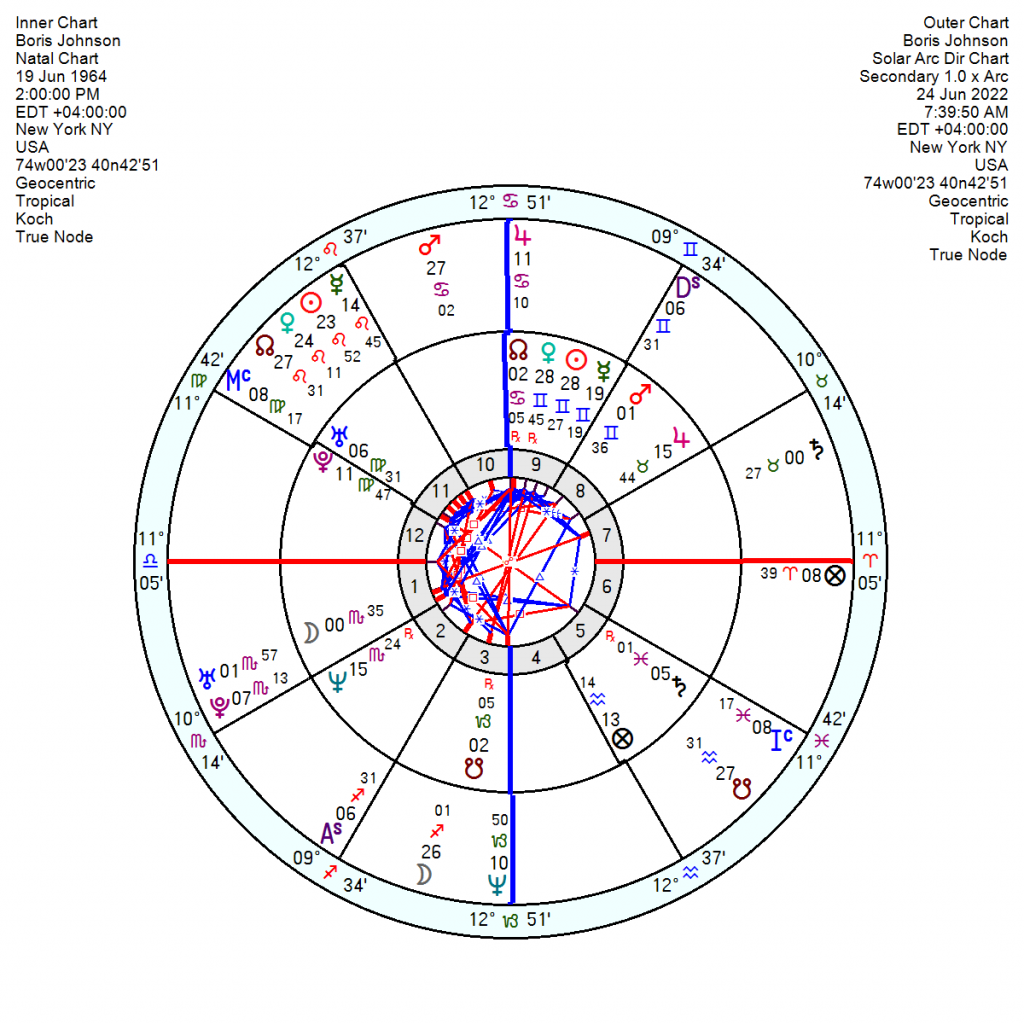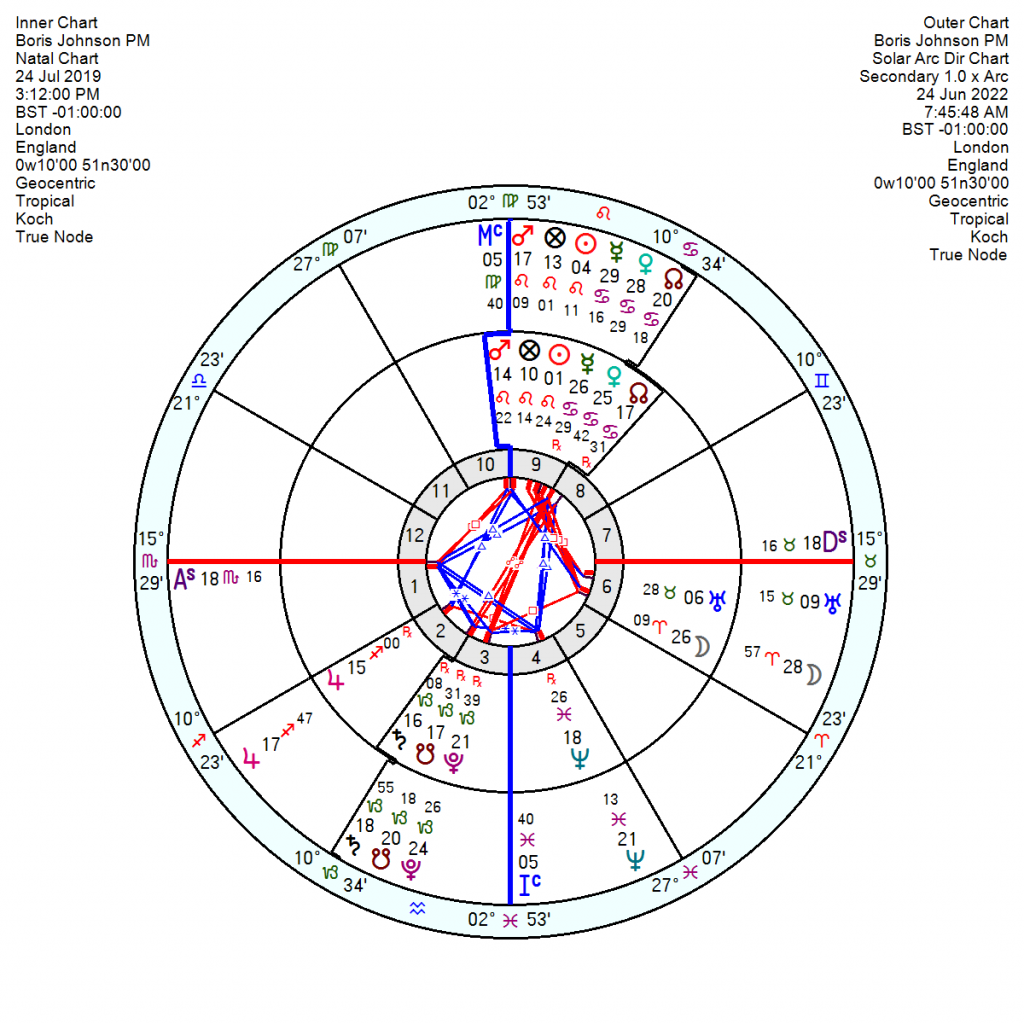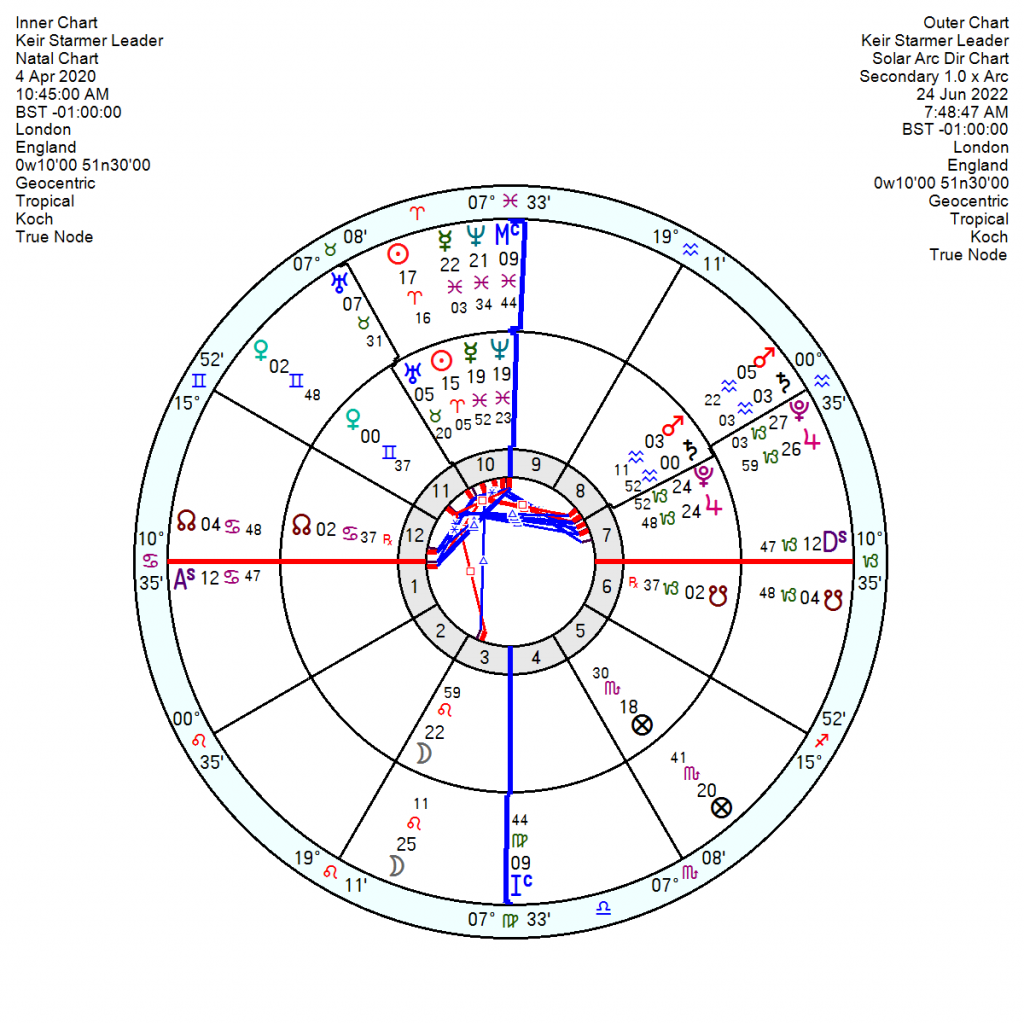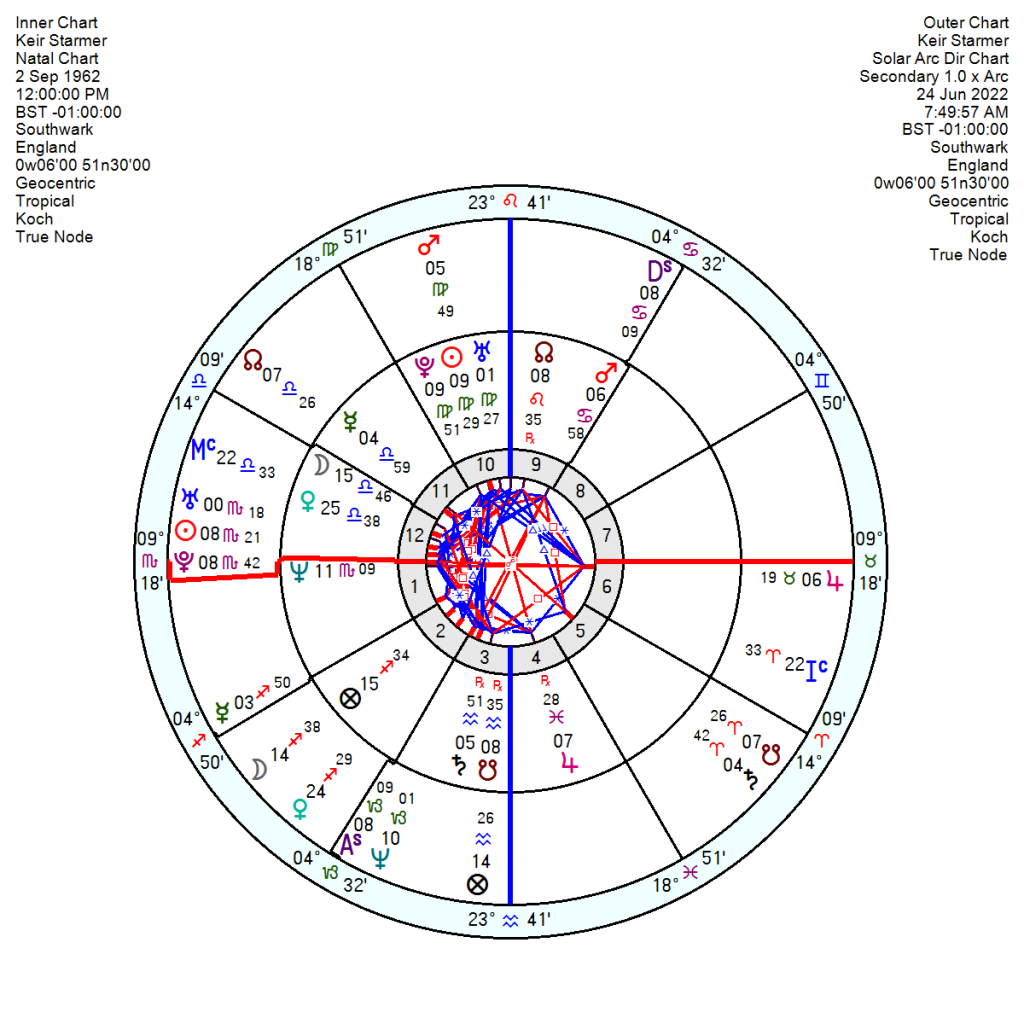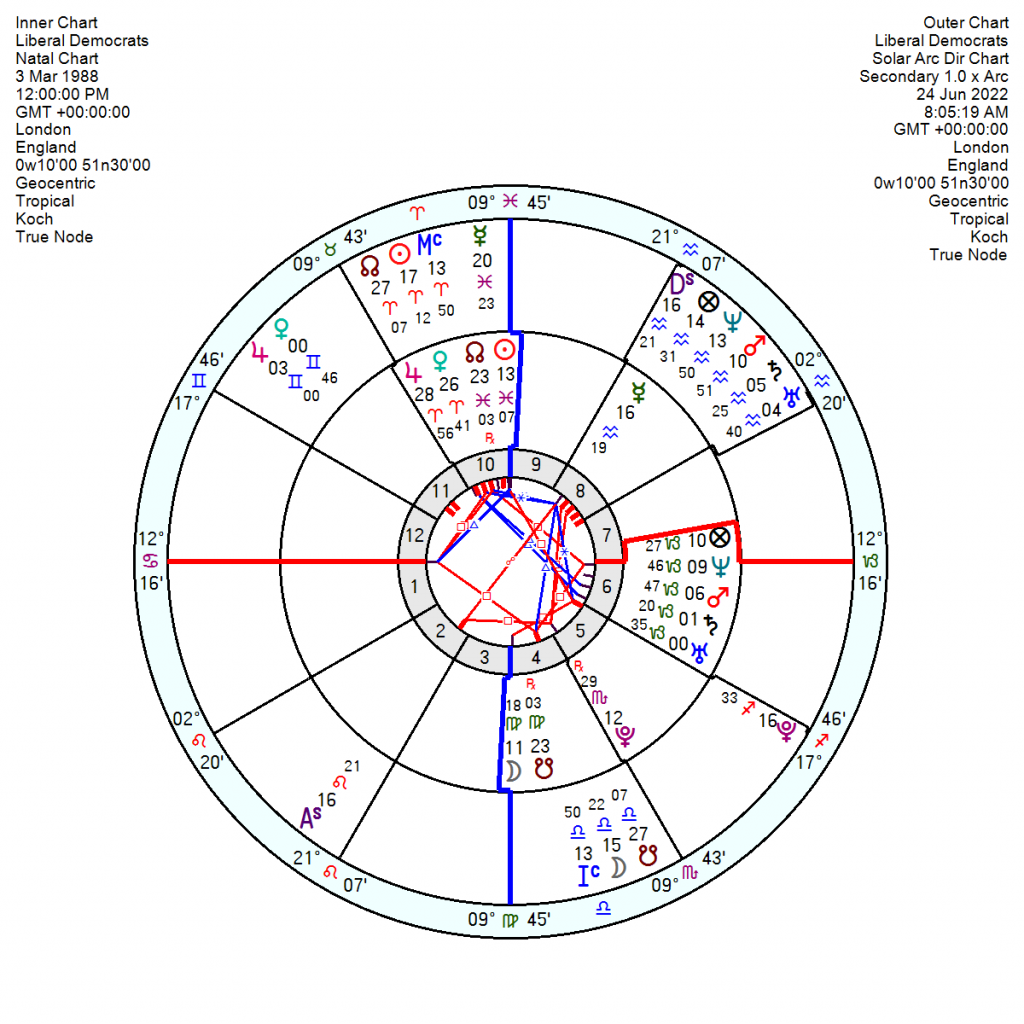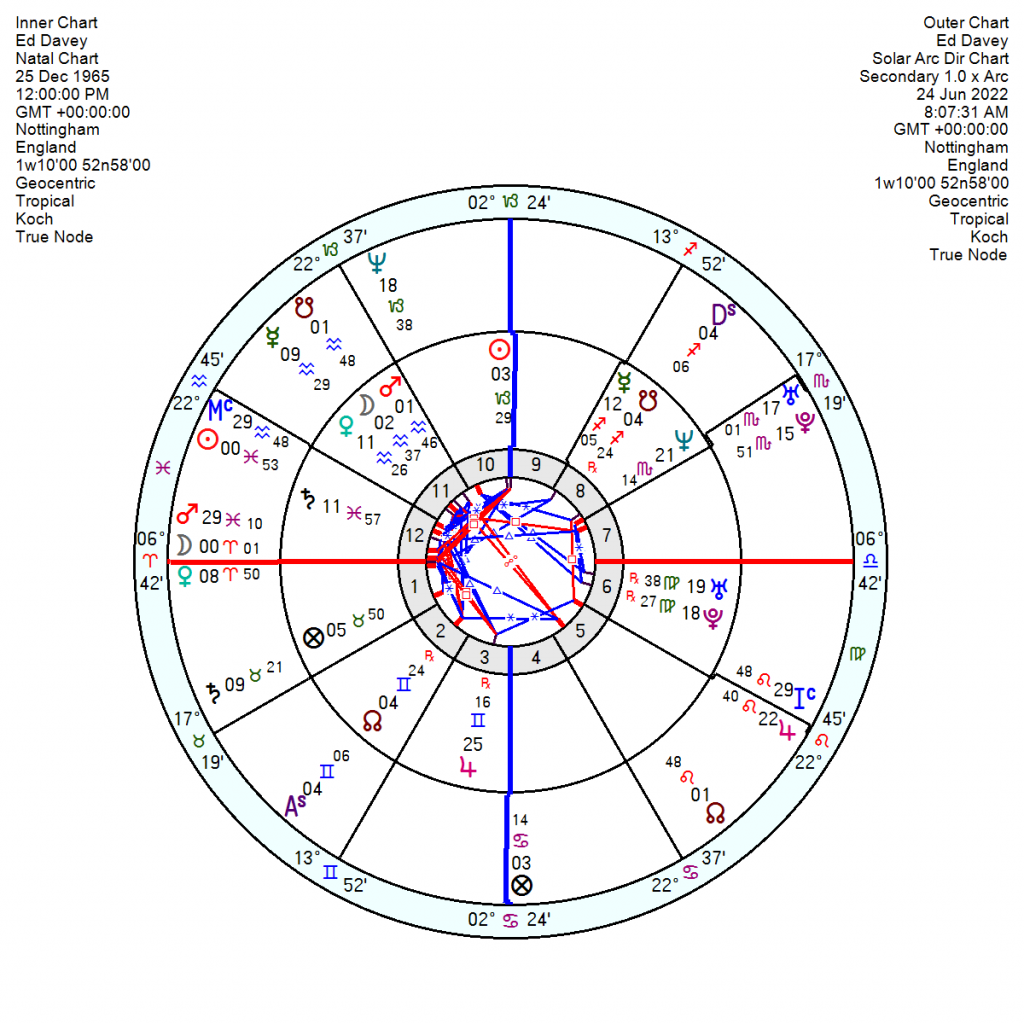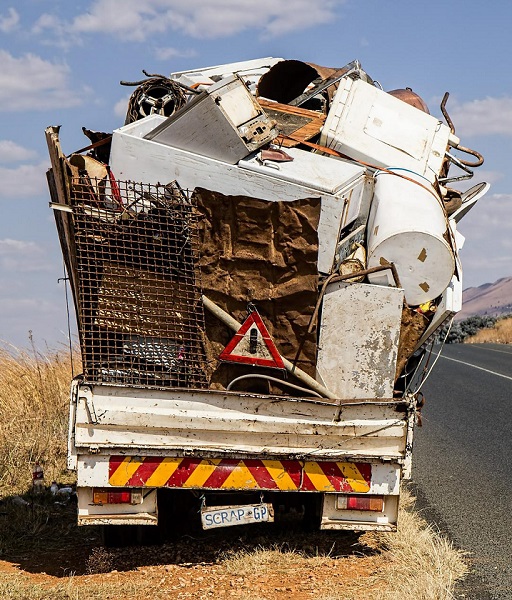 Unloved and incompetent leaders, no obvious successor and uninspiring opposition – sound familiar? Pluto in Capricorn is waging a scorched earth strategy before it exits in 2023/24 as the UK, USA and France, never mind Germany and elsewhere, survey the wreckage of their political landscape populated with fifth-rate dramatis personae.
  Boris Johnson has, as expected face-planted, in yesterday's ballots, with the worst bye-election result in history in one seat which wiped out a 24,000 Tory majority in favour of the Lib Dems; and Labour regained the 'red wall' Wakefield seat.  Also as expected, BJ is blithely brushing aside notions of resigning from a sunny swimming pool in Rwanda, whence he has escaped to brew up a diversion and duck the fallout.
This is all a rehash but useful to draw it together. BJ's personal chart has a trapped, running-scared tr Pluto opposition the Solar Arc Mars exactly now; and Solar Arc Saturn opposition his Scorpio Moon, exact within weeks, but in full effect now. The Pluto Mars restrictions and frustrations will run on through the next three years. 2023 will be discouraging and heavy-going with tr Saturn in Pisces square his Mars and then hitting his Saturn Return as well as Uranus, Pluto. But it is 2024 when his chart shows most upset with tr Neptune squaring his Sun Venus in Gemini; tr Pluto starting to hammer two key Sun midpoints; and if his birth time is accurate – a career-blocking Solar Arc Midheaven conjunct his Pluto.
His relations with the Tory Party will continue to plummet with a sinking-failure tr Neptune square the composite Mars now and into 2023; and tr Saturn square the composite Sun Venus in 2023 also – which might suggest an earlier exit.
But his First PM chart, 24 July 2019 3.12 pm flags up 2024 as the key disaster zone for him as well. So best guesses is he may stick around like an unwelcome house guest for longer than seems possible.
The Opposition leader Keir Starmer's crunch point on his leadership chart, 4 April 2020 10.45am London, is coming within weeks as the Solar Arc Saturn closes the conjunction to Mars to exact. There's nothing to suggest he'll pick up traction any time soon with 2023/24 looking discouraging on his Leadership chart. His personal chart without a birth time is gloomy at the moment, downbeat with heavy Saturn transits in 2023 though with a few hints of luck as well – and by late 2024 he's completely flummoxed and worse through to 2026 and beyond.
[I wonder whether he's in the same boat as Neil Kinnock who prayed for Maggie Thatcher's exit as he faced her weekly across the despatch box. She went in late 1990 and he stayed for only eighteen months, lost an election to John Major and departed. John Smith stepped up briefly to the Labour leadership and on his death was replaced by Tony Blair who swept to victory in 1997.]
The Liberal Democrats did exceptionally well – and for once a political party chart appears to work well. The Liberal Democrats 3 March 1988 – has its Jupiter picking up the confidence-surge tr Pluto square through 2022/23 so they should continue to prosper in the short term. Though 2024 looks like a dead-halt year. Ed Davey, 25 December 1965, is buoyed up by ambitious dreams with tr Neptune square his Jupiter now but he likewise will not find 2024 to his liking with a frustratingly trapped tr Pluto conjunct his Mars.