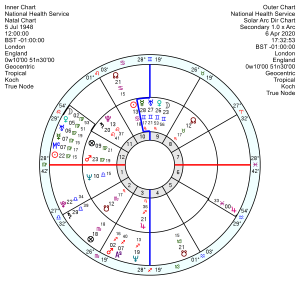 Boris Johnson has been hospitalised with coronavirus symptoms continuing into the second week. He does have tr Saturn square his Scorpio Moon until April 4th; and his Secondary Progressed Moon exactly conjunct his Neptune at the moment; as well as tr Neptune now well into his 6th house of health. That last doesn't necessarily indicate major issues but does suggest that health may be less robust than in the past. Since the 6th house also rules work, tr Neptune there for many years ahead does point to ego-driven ambitions not bringing success. Neptune demands selfless service and the necessity to put aside hopes of personal glory.  He also has tr Uranus exactly now square his Sun/Pluto midpoint late March until early April which usually coincides with a sudden change of circumstance, including arrest (confinement).
His Solar Return located to his birth place New York has his Sun in the 6th widely square Neptune and Jupiter. Though whether NY or London, the Solar Return has a completely blocked Mars Mercury opposition Saturn Pluto. And his Lunar Return for the four weeks from March 12 located to London is severely curtailed and locked in with Saturn Pluto Jupiter Mars in the 8th; and a directionless Neptune in the 10th.
Although his aides insist he'll continue running the country from his hospital bed, his deputy may have to take over. Dominic Raab, 25 February 1974, raises derision amongst commentators. He's a Sun Mercury in Pisces square Neptune, so not exactly a dynamo; though he does have a more stalwart Mars in Taurus trine Venus in Capricorn. He has an ideologue's Air Grand Trine of Jupiter in Aquarius trine Saturn trine Uranus, as befits a true believer Brexiteer. His Progressed Mars is exactly conjunct his South Node at the moment which will pull him back into a disorganised, scattered frame of mind. There's not much showing on his chart minus a birth time until 2021 when he's into a downhill slide.
Ditto Dominic Cummings, who shares with Jeremy Corbyn, a mystifyingly blank chart where major events are concerned. He looks upbeat in May and seriously rattled in June. 2021 is his disaster year.
Matt Hancock, Minister for Health, 2 October 1978, a New Moon Pluto in Libra with Mars, Uranus, Venus in Scorpio, is panicky and frustrated this year with tr Pluto square his Sun/Mars midpoint until late year; tr Neptune in a panicky-failure square to his Solar Arc Mars – with upheavals, disruptions and road-blocks from 2021 onwards for a few years.
Of the health chiefs with birth dates.
Simon Stevens, chief executive of the NHS, 4 August 1966 (net sources), has been roundly criticised for his control-freakery slowing the widespread availability of testing. He's a Sun Leo with an excitable Mars, Venus, Jupiter in Cancer trine Neptune, sextile Pluto Uranus – so although in mild aspects that Pluto will make him insist on holding the reins. His Chiron is conjunct his Saturn in Pisces; and at the moment his Solar Arc Saturn is exactly conjunct his stubborn Taurus North Node. He's not having a good year from heavy transits to several midpoints. Most notable exactly now, tr Saturn opposition his Sun/Jupiter midpoint denting his confidence; and tr Pluto conjunct his Saturn/Neptune (epidemic and illness associated) midpoint through until late 2021.
Patrick Vallance, 17 March 1960, Chief Scientific Adviser to the Government, is a Sun Pisces with Venus Mercury also in Pisces trine Neptune; with Mars in obstinate, contrary Aquarius in a brooks-no-interference opposition to Uranus. That Mars opposition Uranus has moved by Solar Arc to exactly square his Saturn in Capricorn bringing a hard reality check and a mammoth setback.
Thank heavens for the Queen. She at least exudes calm, common sense and competence.  Methinks the fall out from the virus won't just be economic.  These political charts above hint that by the time it settles (cross fingers) several careers will disappear into the dust.
ADD On: The National Health Service (NHS) was founded on 5 July 1948. The Cancer Sun has been rattled by the Eclipses of late, including the Lunar Eclipse of this July; with even more challenges from the December 2020 Sagittarius Eclipse and the June 2021 Gemini Solar Eclipse which will be shaking up its T Square of Venus Uranus Mercury (Moon) opposition Jupiter square Mars in Virgo. 2021 looks its most testing year with panics from an undermining tr Neptune opposition the Mars and square Jupiter; and a forced-upheaval and disruption from tr Uranus square the Pluto. The pressures will stay in place till mid decade; and it looks as if it will struggle mightily to cope with the workload.