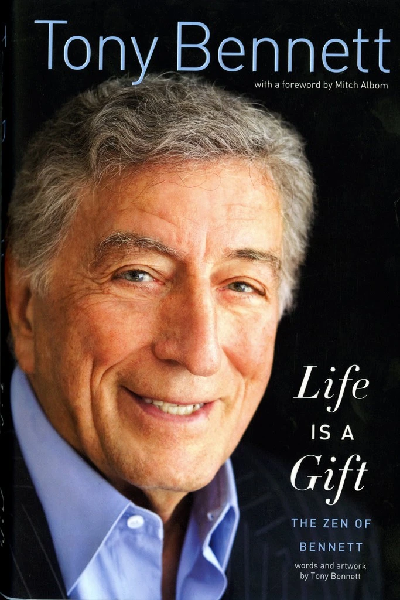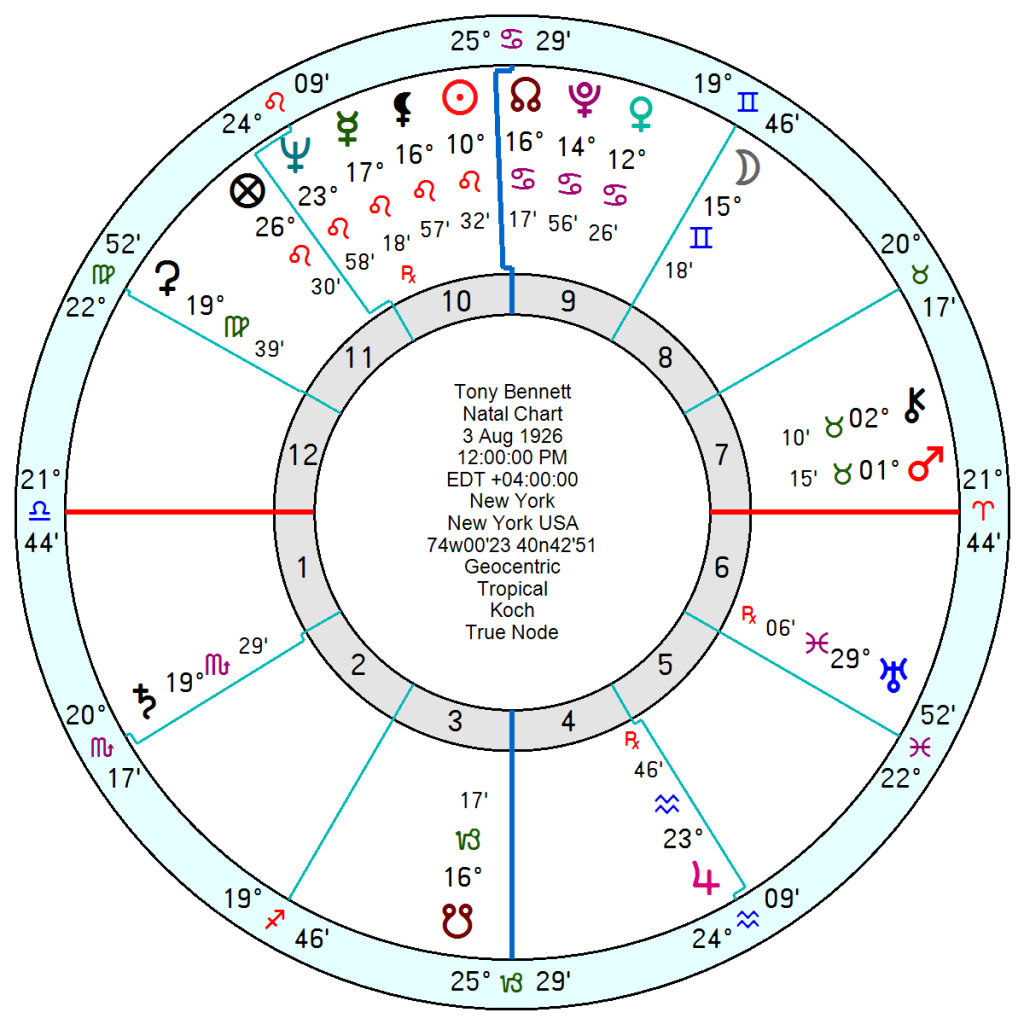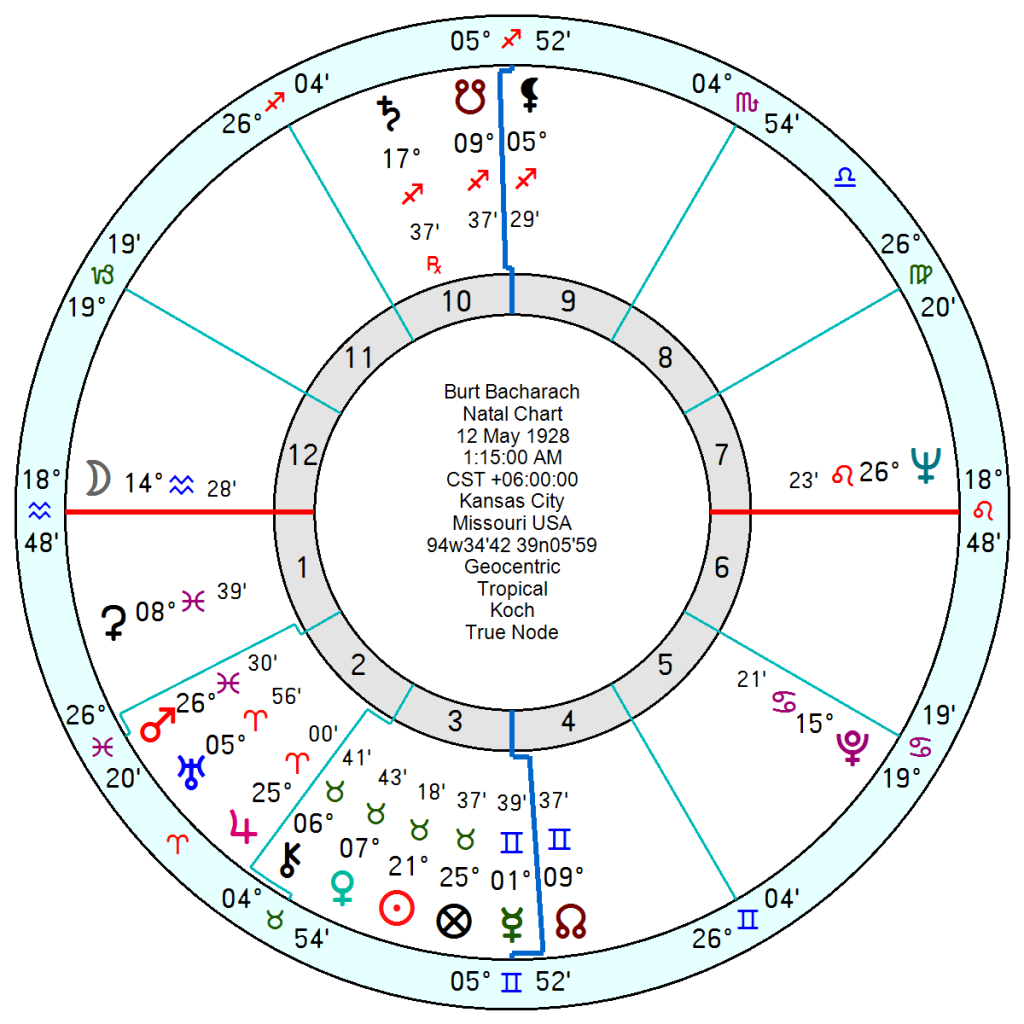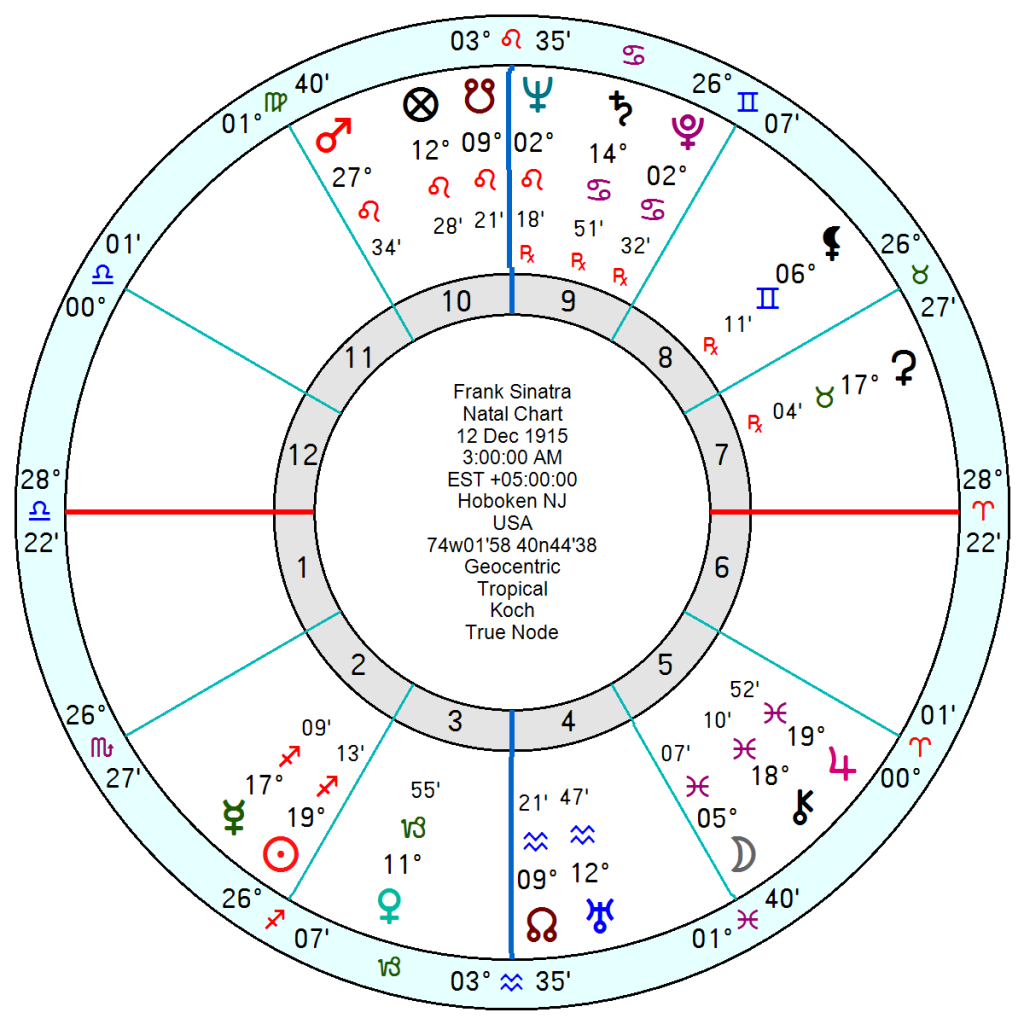 Singer Tony Bennett has died. Called "the best in the business" by Frank Sinatra, he had a career spanning seven decades and was still performing in his mid nineties on stage with Lady Gaga when suffering from Alzheimers. He released 61 studio albums between his debut, Because of You, in 1952, and his second album of Lady Gaga duets, Love For Sale in 2021. One of the original crooners, he held onto his sophisticated, emotionally understated style of jazz music through the merry go round of fashions in pop. His fortunes did slump when the Beatles appeared but after overcoming a cocaine addiction he reinvented himself, his popularity stronger than ever.
He was born 3 August 1926 in New York, no birth time, into a poor Italian immigrant family with his father dying when he was 10. Drafted into WW11, he faced racism from officers because of his ethnicity and witnessed discrimination against fellow black soldiers; and had the horror of being present at the liberation of a sub-Dachau concentration camp. It turned him into a pacifist and an activist for civil rights, marching with Martin Luther King in the 1960s.
He had started singing early in the family, then as a singing teenage waiter and after the war was spotted by Bob Hope and broke into the professional circuit.
He became known as the torchbearer for the Great American Songbook with hits including The Way You Look Tonight, Body and Soul, and (I Left My Heart) In San Francisco.
He was a Sun Leo but what probably marked him out as one of a generation of outstanding singers was his Neptune in Leo conjunct his Mercury opposition Jupiter square Saturn in Scorpio. Burt Bacharach born two years later was another Neptune in Leo square his Taurus Sun; and Frank Sinatra born in 1915 had Neptune in early Leo.
  In Tony Bennett's case his Mercury Neptune Jupiter would give him his deceptively easy-listening style which only came about through the obsessively hard work of Saturn. He also had a seductive Venus Pluto North Node in Cancer and a Gemini Moon.
During his damaging time in the forces during World War 11 as a late teenager he had the pressured, challenging tr Pluto conjunct his Sun; and a disruptive tr Uranus opposition his Solar Arc focal point Saturn; as well as a high-risk, scary and horrifying Solar Arc Venus Pluto square his Mars in Taurus. He said the experiences scarred him for life though he did not let it show. Except he did have a cocaine addiction and near suicide attempt in the late 1970s which was career-related but may also have been when old terrors resurfaced. That was when tr Uranus was conjunct his Saturn and tr Saturn was conjunct his Solar Arc Venus Pluto.
What would keep his darker feelings under control was his Venus Pluto conjunction and his obsessively conscientious Saturn in Scorpio.