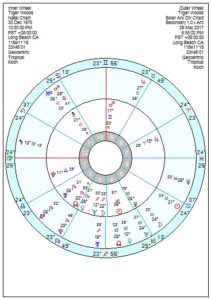 Tiger Woods has been arrested for drink driving and was released a few hours later under his own recognizance. A seriously unflattering felon mugshot is on display which can only add to his woes, having undergone multiple back surgeries in recent years, the last one a month ago. He hopes to return to professional golf at some point, though he's out of action until cleared by his doctors.
Although he'll have a high in September/October this year from tr Pluto trine his Mars/Jupiter midpoint; and (birth time being absolutely accurate) others with tr Pluto trine his Jupiter/MC in 2017/18, it doesn't look great for him. His Solar Arc MC is in a jolting square to his Uranus, within three months. And tr Saturn is opposition his MC  late June/early July and October which is usually a career-setback. Plus an unhappy tr Saturn conjunct his Moon across the summer. 2018/2019 sees a discouraging tr Pluto square his Sun/Saturn midpoint. And worse, he'll also have a smash-up, crash-up Solar Arc Mars conjunct his Saturn, exact in 17 months' time; and a decidedly not-succeeding tr Neptune square his Mars in 2019/2020.
Where he'll start to bounce is in 2021/2022 with tr Pluto conjunct his Jupiter/Uranus midpoint bringing him some much needed luck.