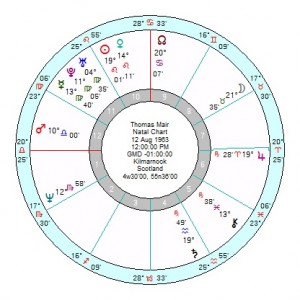 Thomas Mair has been arrested and charged with the murder of Jo Cox MP and other offences. He was born 12 August 1963 in Kilmarnock, Scotland (anyone with a birth time, gratefully received); was brought up largely by grandparents, has a history of mental illness and although known as quiet and helpful, had connections with American Neo-Nazi and white supremacist groups.
Time of birth will make a considerable difference but even without it – he has a Leo Sun Venus opposition Saturn in Aquarius square Neptune probably opposition a Taurus Moon. So both his Sun and Moon are damped down and restricted by low self-worth Saturn and delusional Neptune. He also has a wide T Square of Mars in Libra opposition Jupiter square North Node in Cancer which would give him a strand of confidence; and Mercury in Virgo conjunct Pluto and Uranus, so mentally pressured and erratic.
His Mars was square Jo Cox's Saturn Mercury Sun in Cancer and conjunct her Pluto – so there would be something about her work with the disadvantaged of other countries?, or her toughness which sparked his anger.
Their 'relationship' chart has a composite Sun square Saturn, trine Neptune and sextile Pluto Uranus – all very outer planet, so arguably less of a personal connection and more to do with what she represented.
Horrible tragedy. What is striking is how often the ISIS terrorist murderers have mental problems, and the Neo- Nazi/supremacist types ditto.